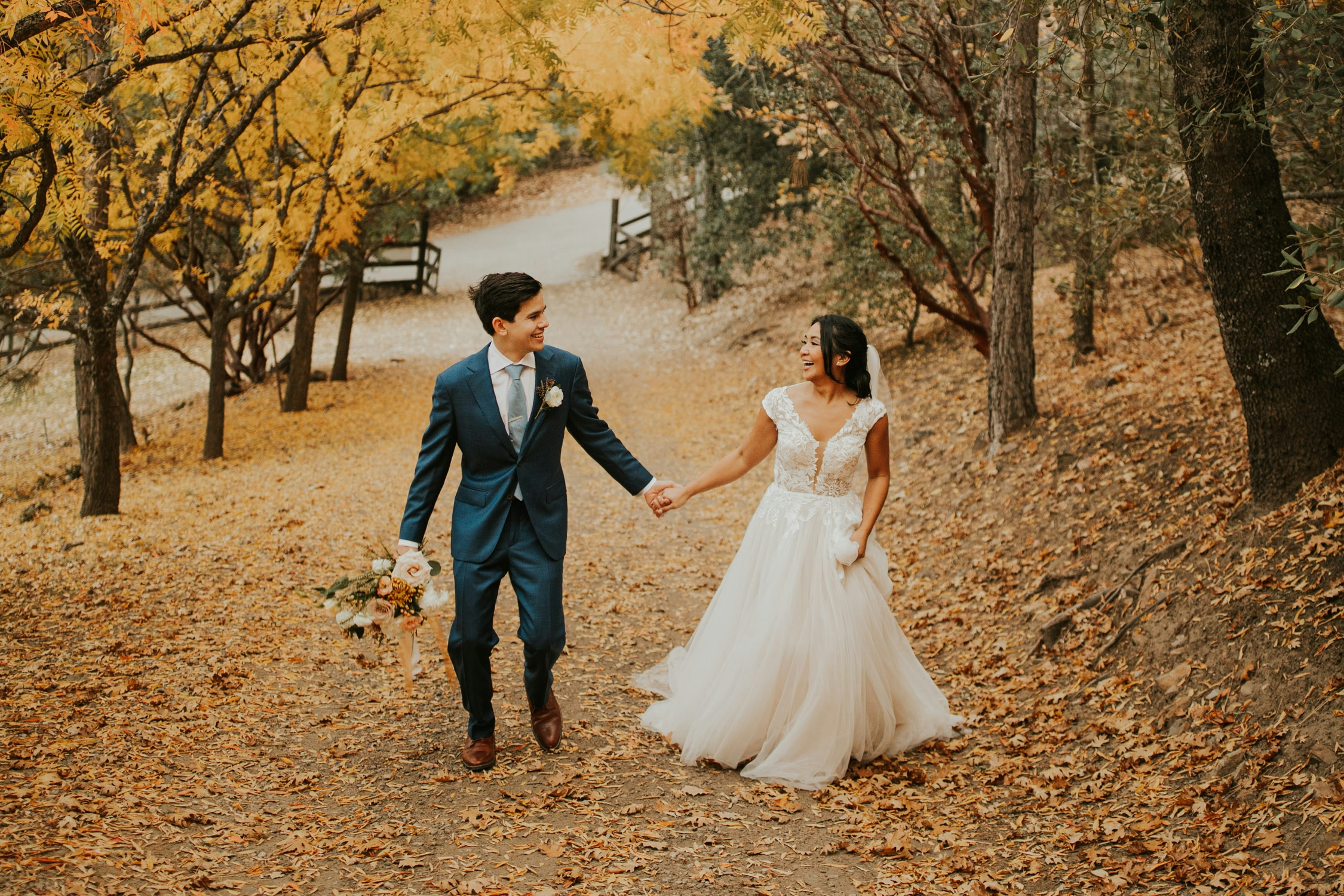 Sacred Mountain Julian Fall Wedding
Tiffany and Nathans's love story started when they were in the 7th grade. They had every. single. class together. Tiffany immediately had eyes for Nathan to the point where she wrote her AIM screen name on Nathan's hand the first day of school. But Nathan's main goal at the age of 12 was to hang out with his friends and play video games. They eventually went to the same high school, growing apart, but never too far away. Coincidentally they both decided to go to college at UC Santa Cruz, 8 hours away from their hometown. It wasn't too long after that when they hopped on a bus downtown and ate some sushi on their first date. Over the years, their time together has been filled with study nights, long-distance, camping trips, dreaming up their life together, and more. After 16 years of knowing one another, 9 years of dating, and a 6-month engagement, they FINALLY GOT MARRIED.
Tiffany and Nathan got married at Sacred Mountain in Julian this week with their immediate family by their sides with the mountains surrounding them and it was everything I would want my own wedding to be! They had the sweetest little ceremony overlooking the mountains, ran around with me in this fall goodness, and shared their first dance among twinkly lights, they enjoyed a dinner with their families and then stayed in the Honeymoon Suite there at Sacred Mountain!
Tell me that's not the most perfect, quiet + calming wedding experience?! Sign me up!!! But let's talk about these fall vibes that had me DROOLING the minute the golf cart turned into this little driveway on the property. When I tell you my eyes went straight to -> 😳😍🤤... I'm not even kidding!! Tiffany had texted me the day before telling me it was a "Stars Hollow dream" up there and she did not tell me it was going to be THAT dreamy!
Tiffany coordinated and carefully pieced together the most perfect day and Nathan's mom hand-pieced ALL of the florals - I MEAN WHAT?!
We may have been freezing but what a perfect day for the Nichols-Roys! Here's to the next chapter in your adventure of doing life together!