Arizona Engagements for Steve & Jocelyne
When Steve & Jocelyne asked me if I would embark on a road trip with them for their engagement photos, I said ARE YOU KIDDING ME, DUHHH!! So 5 of us jumped in a car and hit the road for the weekend. Along for the ride was our cutie couple, Steve & Jocelyne, Abraham on video, Kyara on hype woman, and me on photo... and let me tell you, this weekend did healing to my soul I needed so badly. Interested in seeing our adventure? Check out our road trip video, HERE! Even though we absolutely were having the time of our lives, we also were there to CREATE PURE MAGIC. Check out their full engagement film shot and edited by the incredible Abraham of Yugen Films. (This is blogged after the fact, but Abraham waited until their wedding day to show their engagement film to us... and yes I ABSOLUTELY cried, because I truly love these humans.) This trip was long, and I wanted to make individual blog posts for each one, but that just wouldn't tell the story, now would it?
(home) Temecula, Ca to Las Vegas, Nevada to St. George, Utah to Horseshoe Bend, Page, Az to Antelope Canyon, Navajo land, Az to Flagstaff, Az to Cathedral Rock, Sedona, Az to Temecula, Ca (home).
Are you ready to feel like you were there with us?! Let's go!
First Stop: Seven Magic Mountains | Las Vegas, Nevada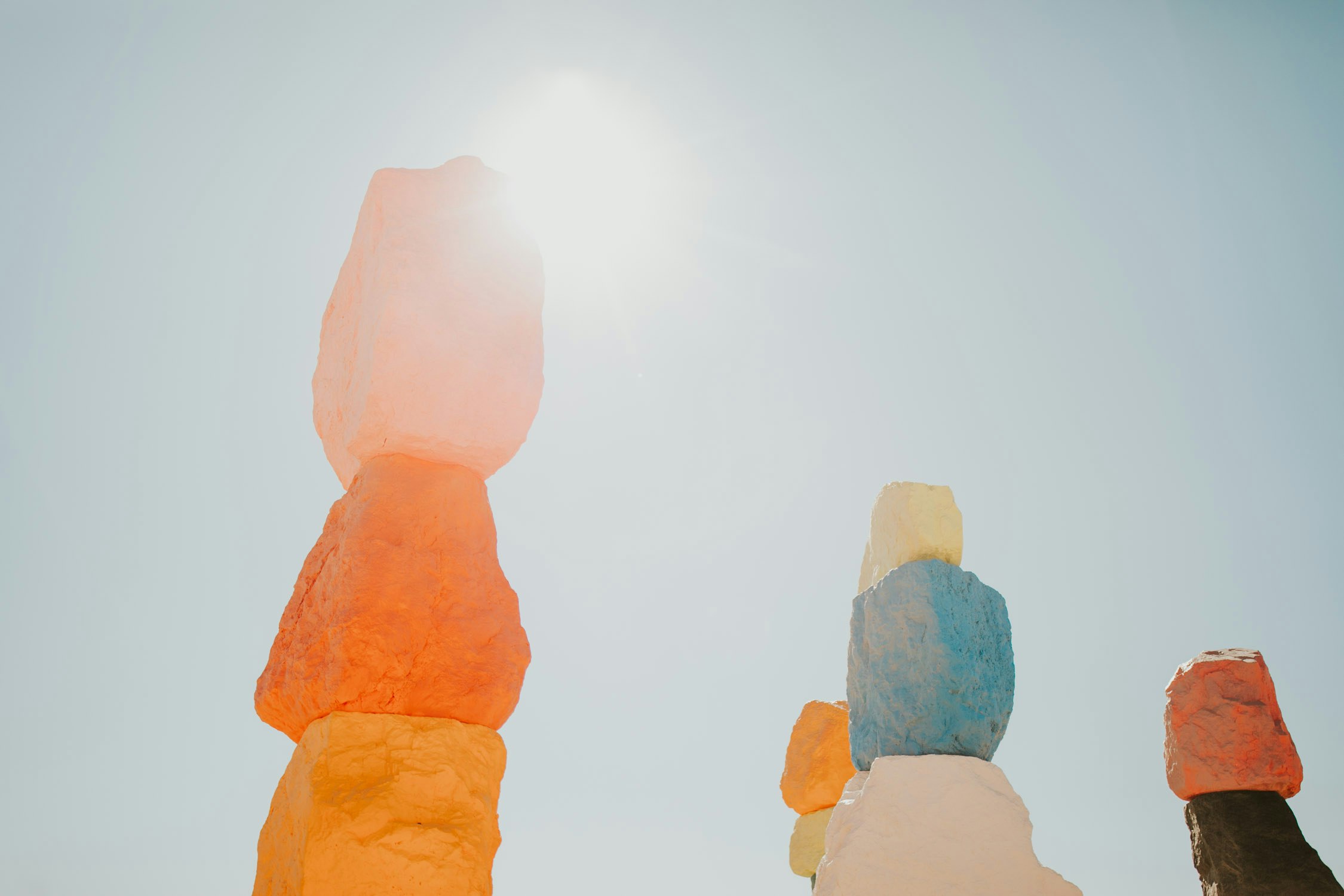 This was just a quick stop on the side of the road because none of us had ever been and we thought it would be cool! So yes, even though these aren't technically apart of their engagement photos... these images are wayyy too freaking cute not to share!! Afterwards, we got Acai Bowls, blasted our Spotify playlists, and hit the road to St. George, Utah.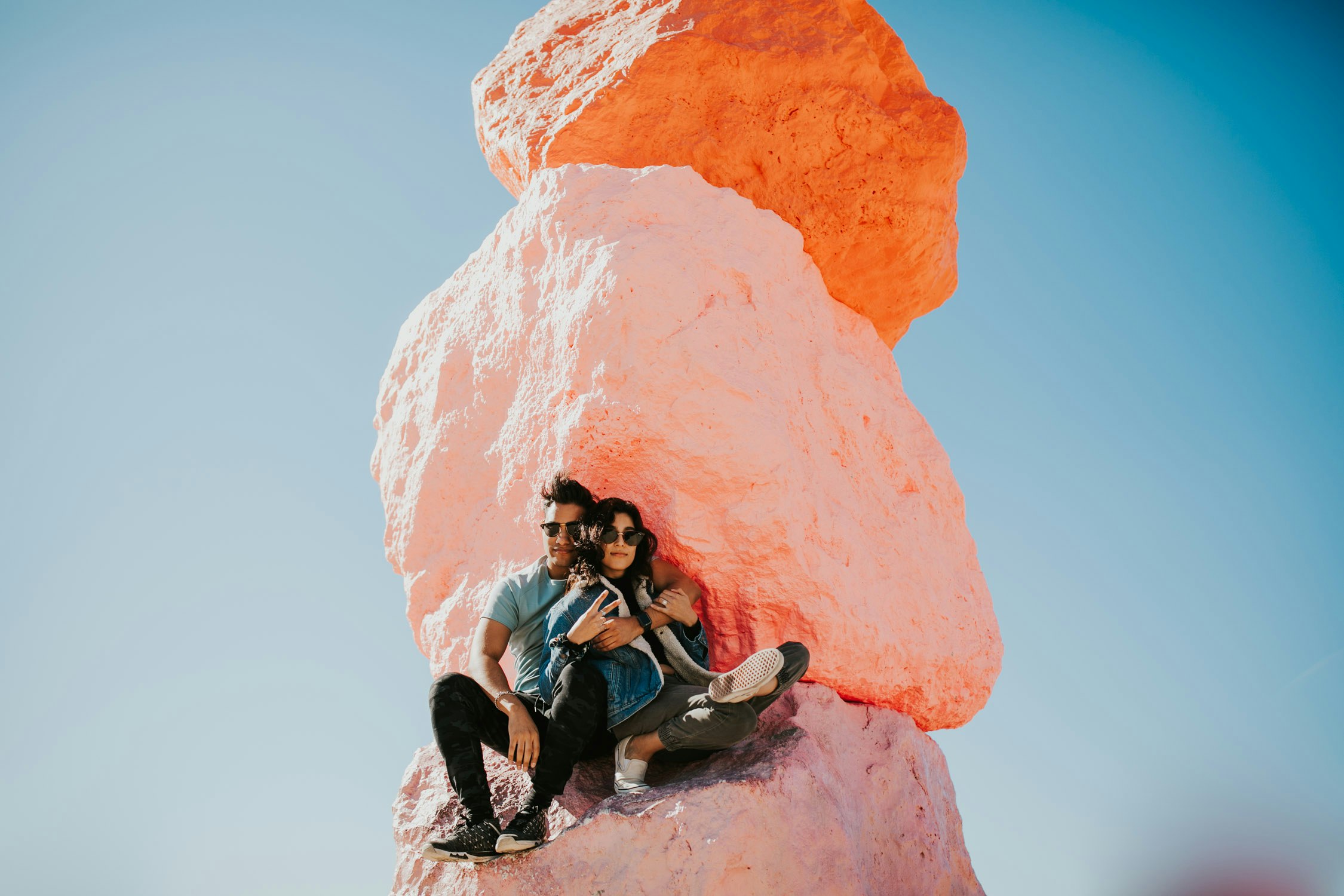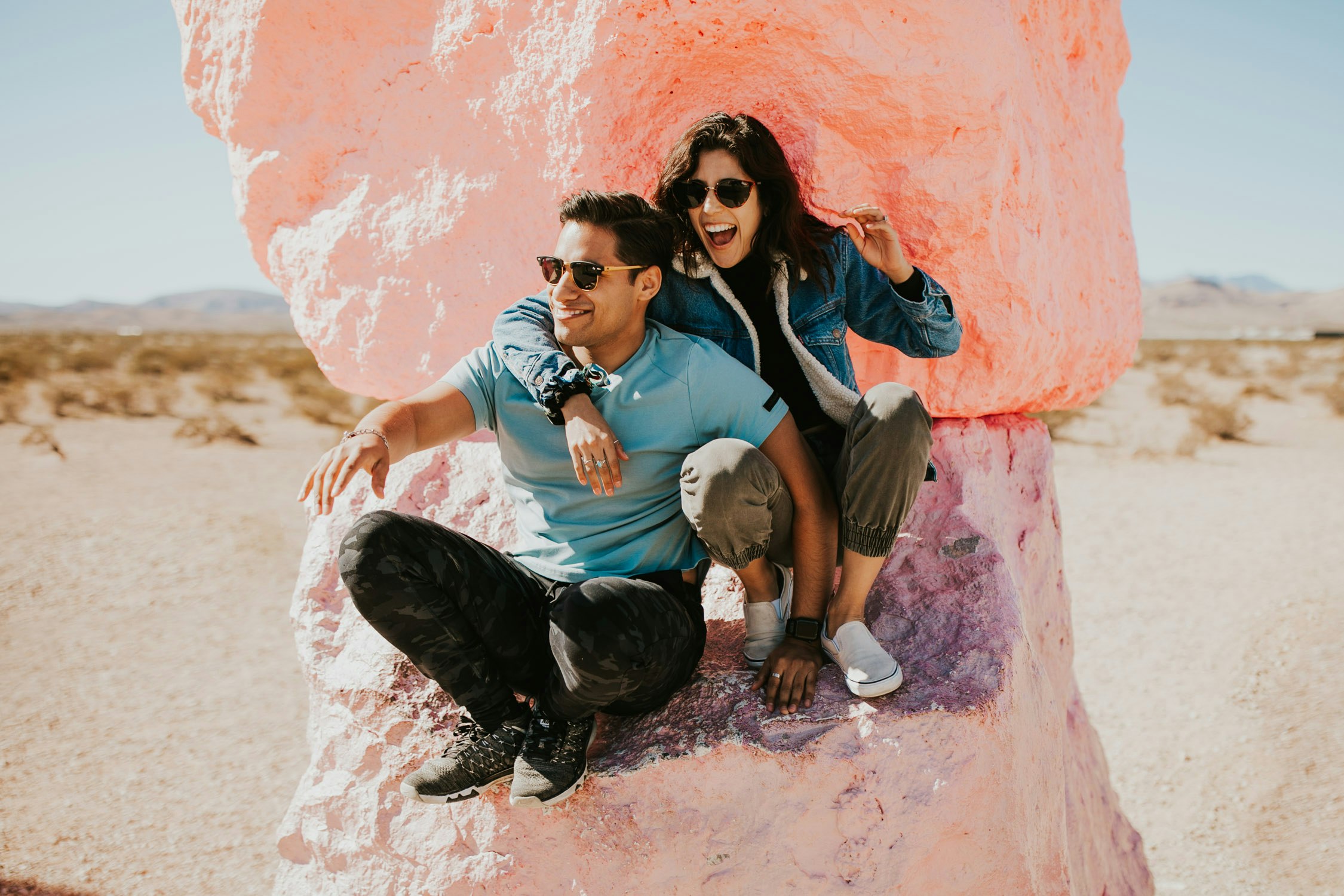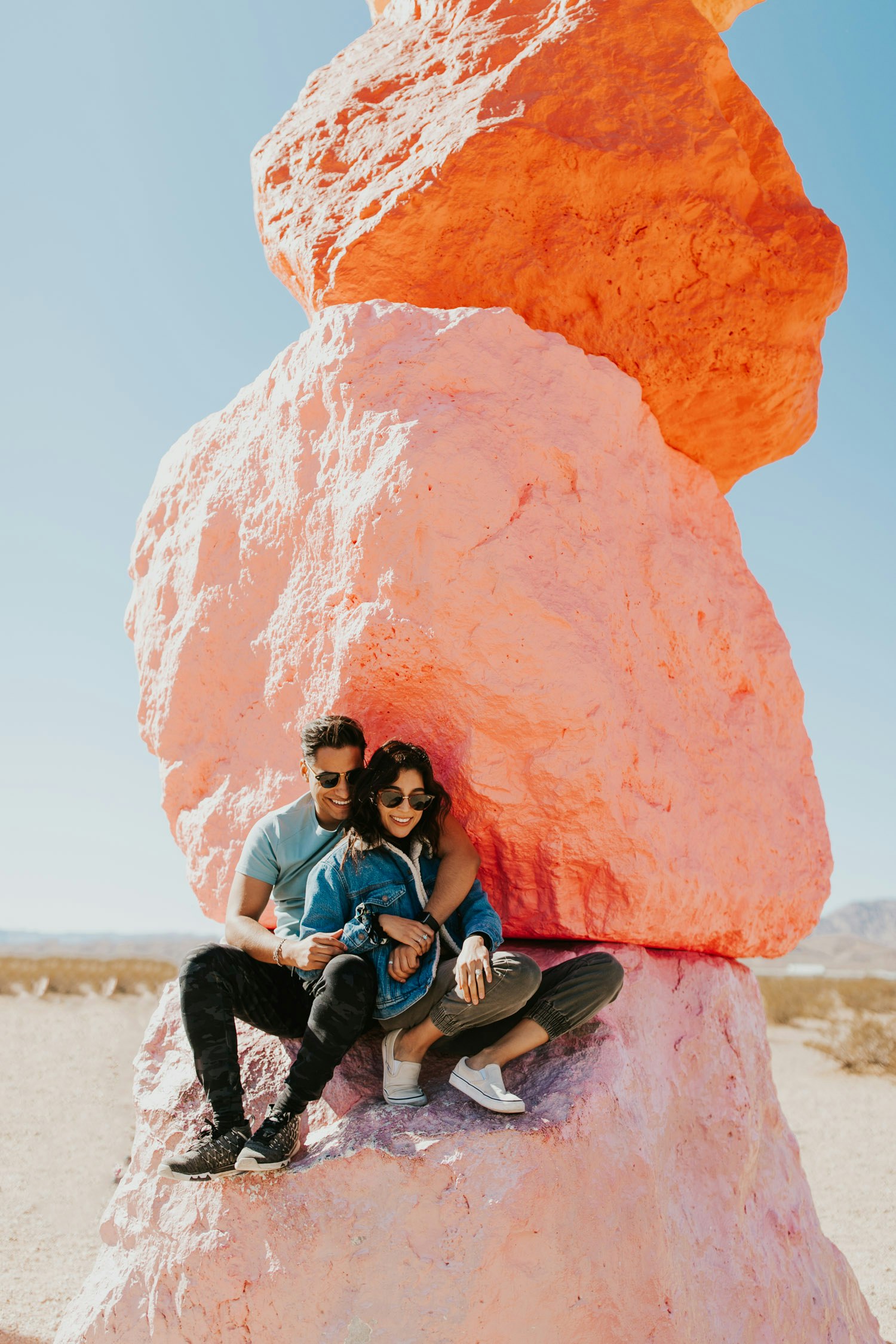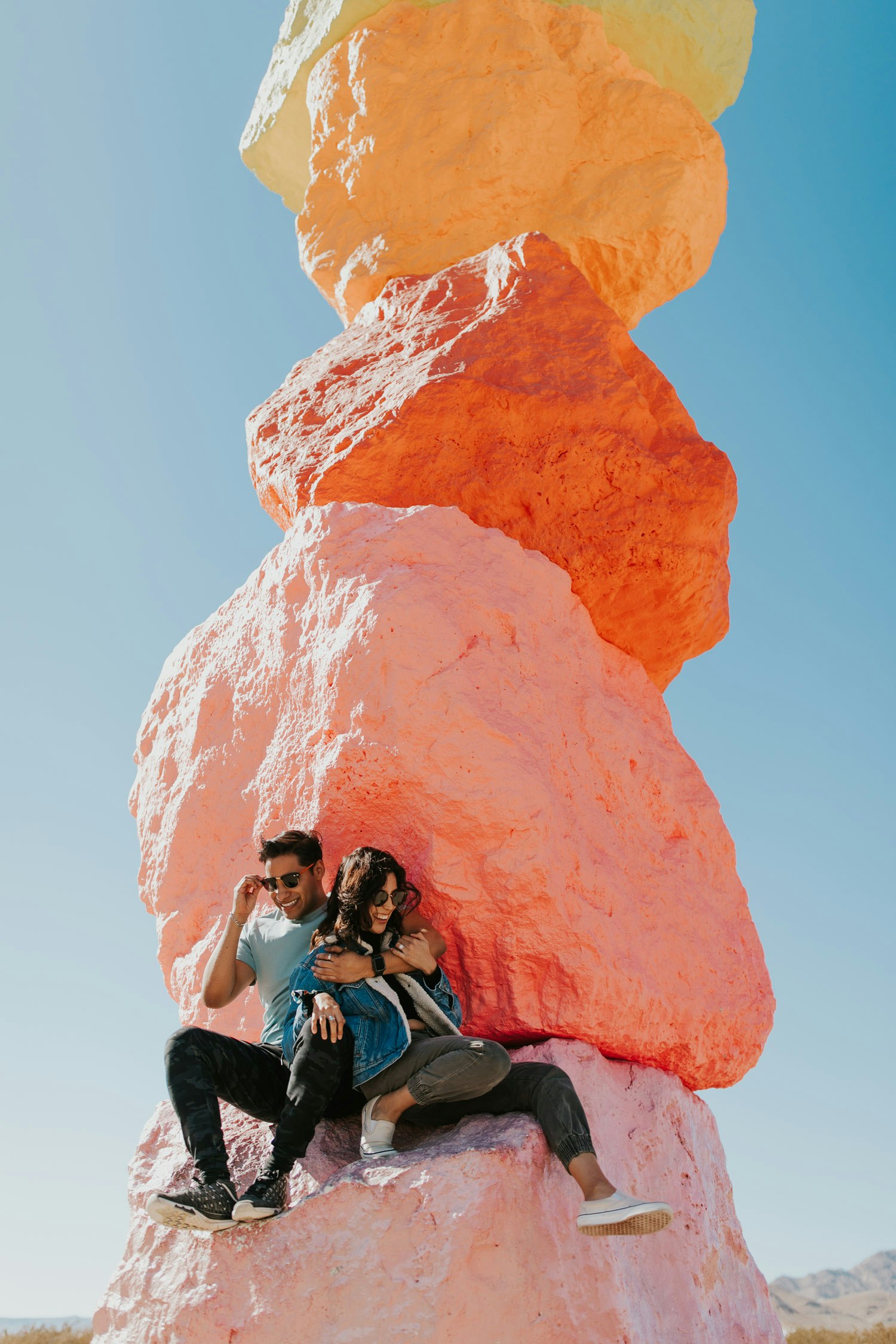 Second Stop: Red Cliff Reserve | St. George, Utah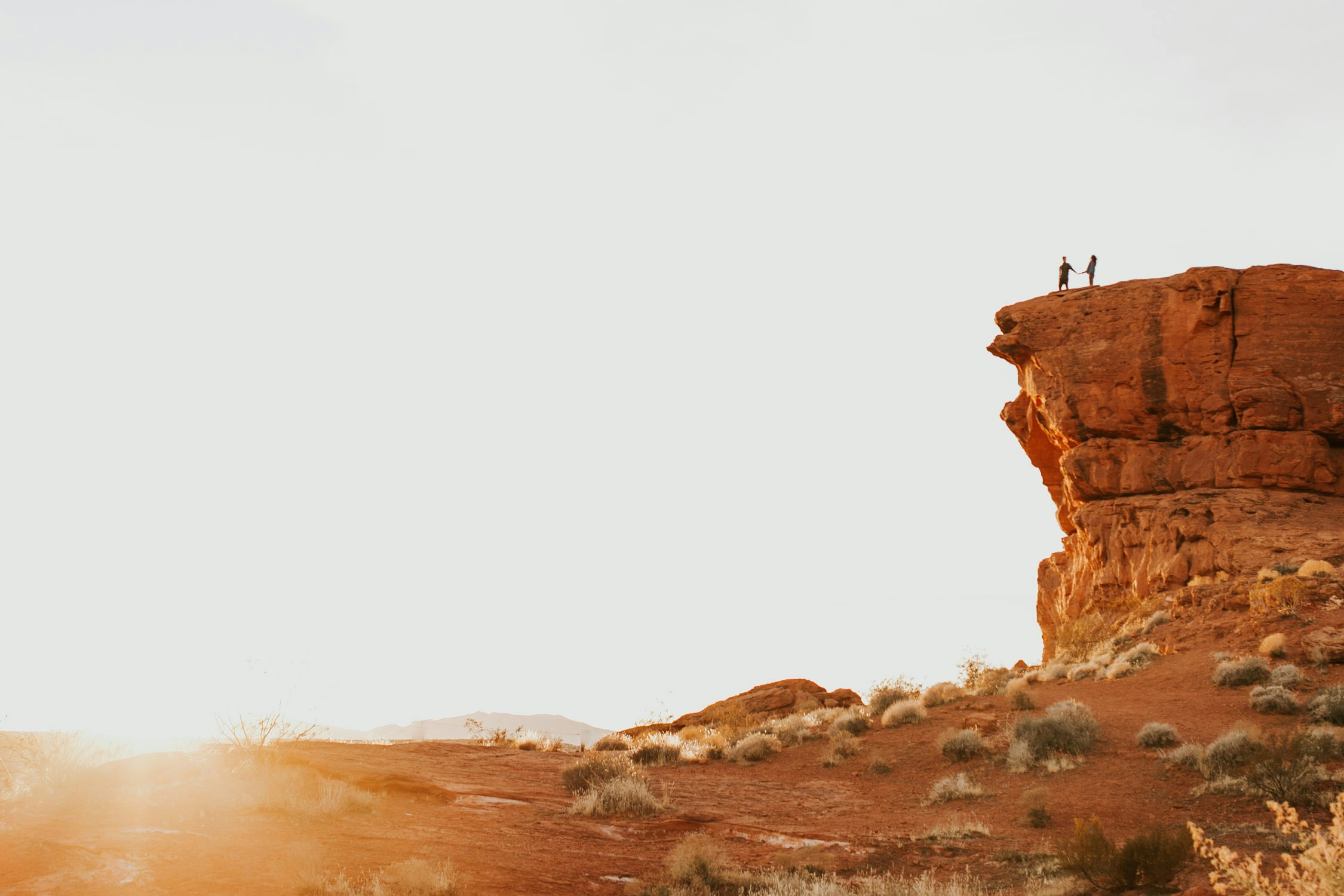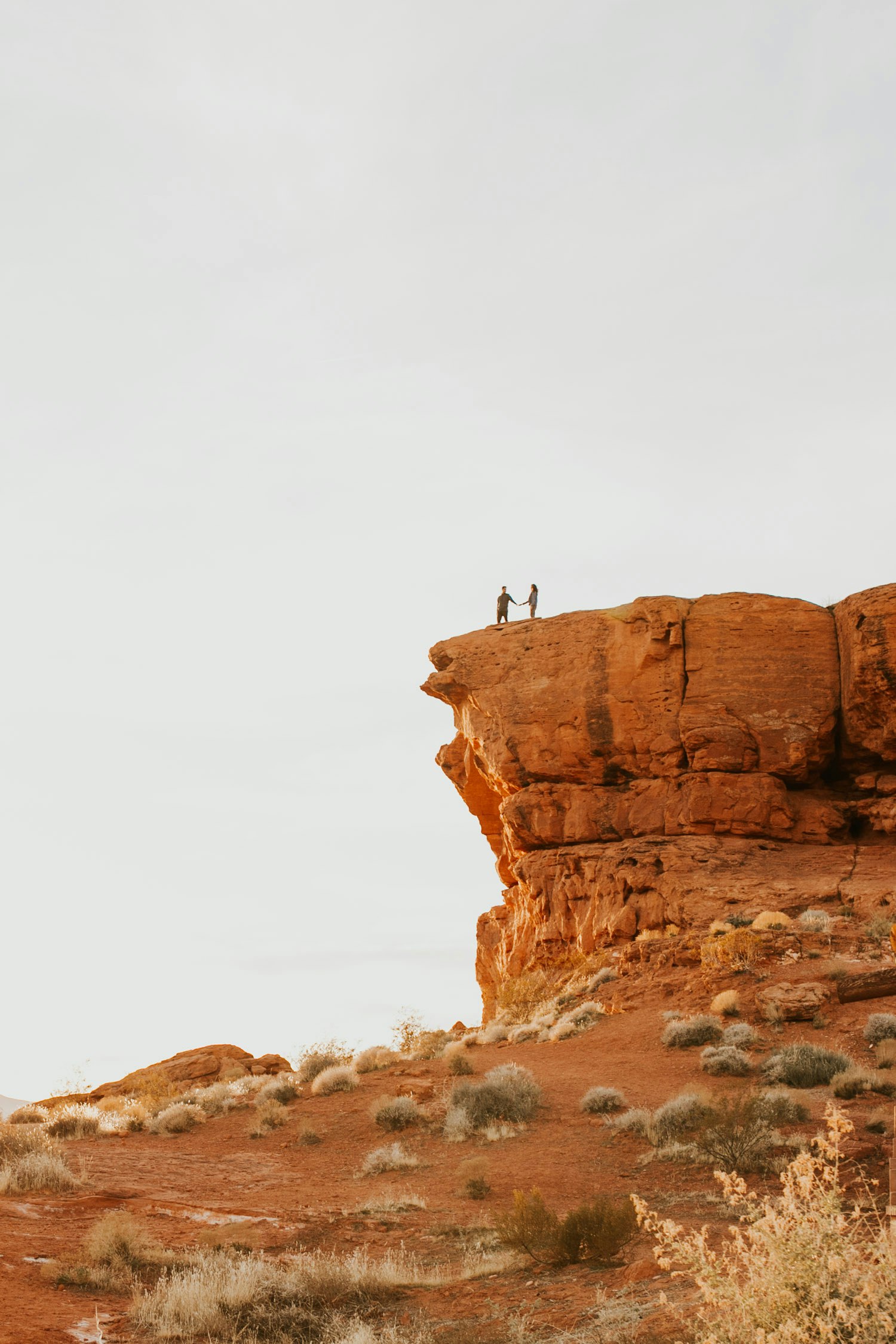 We made it to St. George, Utah just in time for sunset! We ran around and explored as we watched the sunset across the valley. In the images above, those ant-sized people on the top of the rock are actually Steve and Jocelyne! Even though this wasn't quite apart of their engagement session, I love the slow candid feeling to these. Jocelyne looks so safe in Steve's arms, and she fits within them just perfectly. After catching the sunset together, we hit a local pizza place and then we were back on the road to make it to Page, Arizona because the next morning we had plans to make some actual magic happen.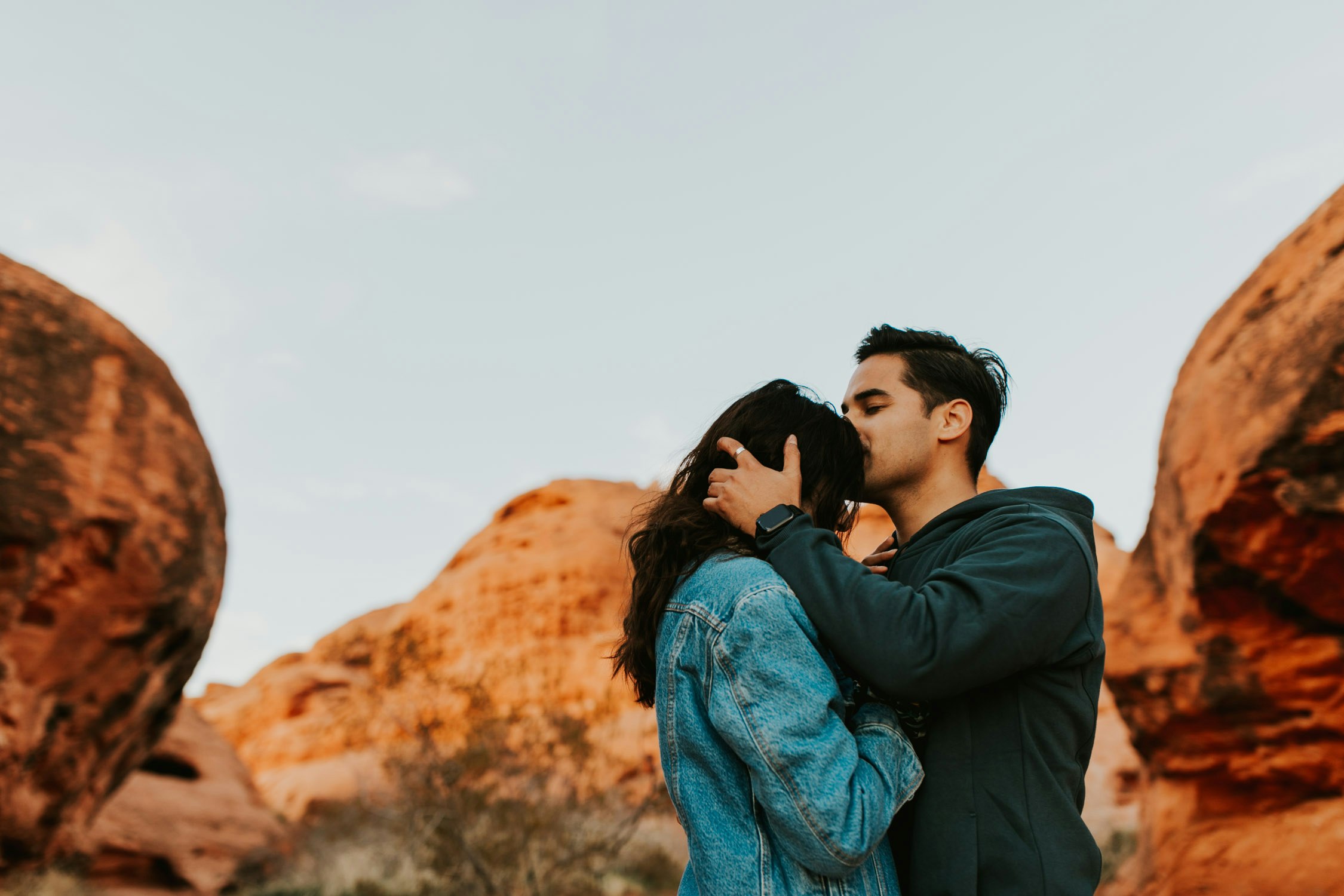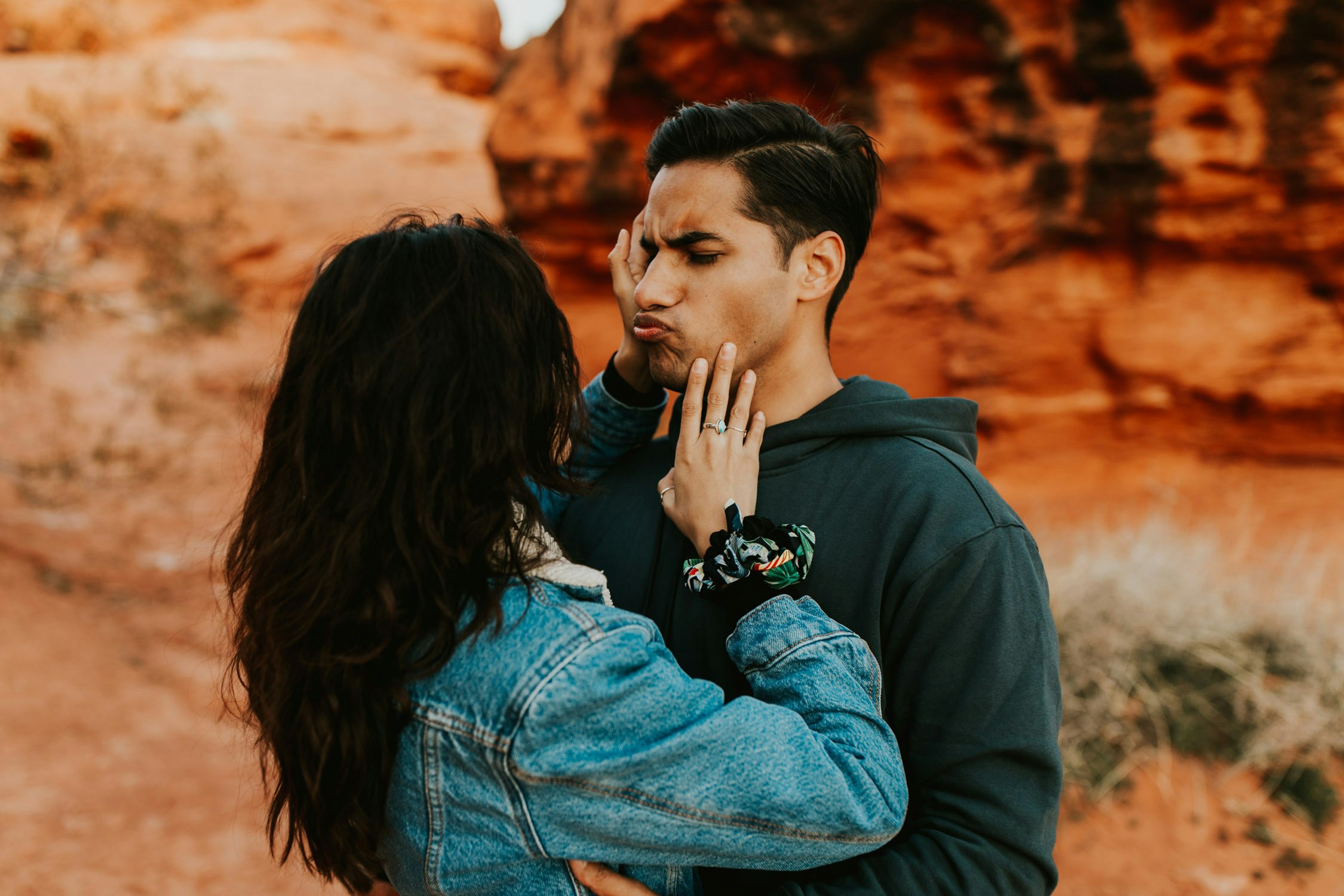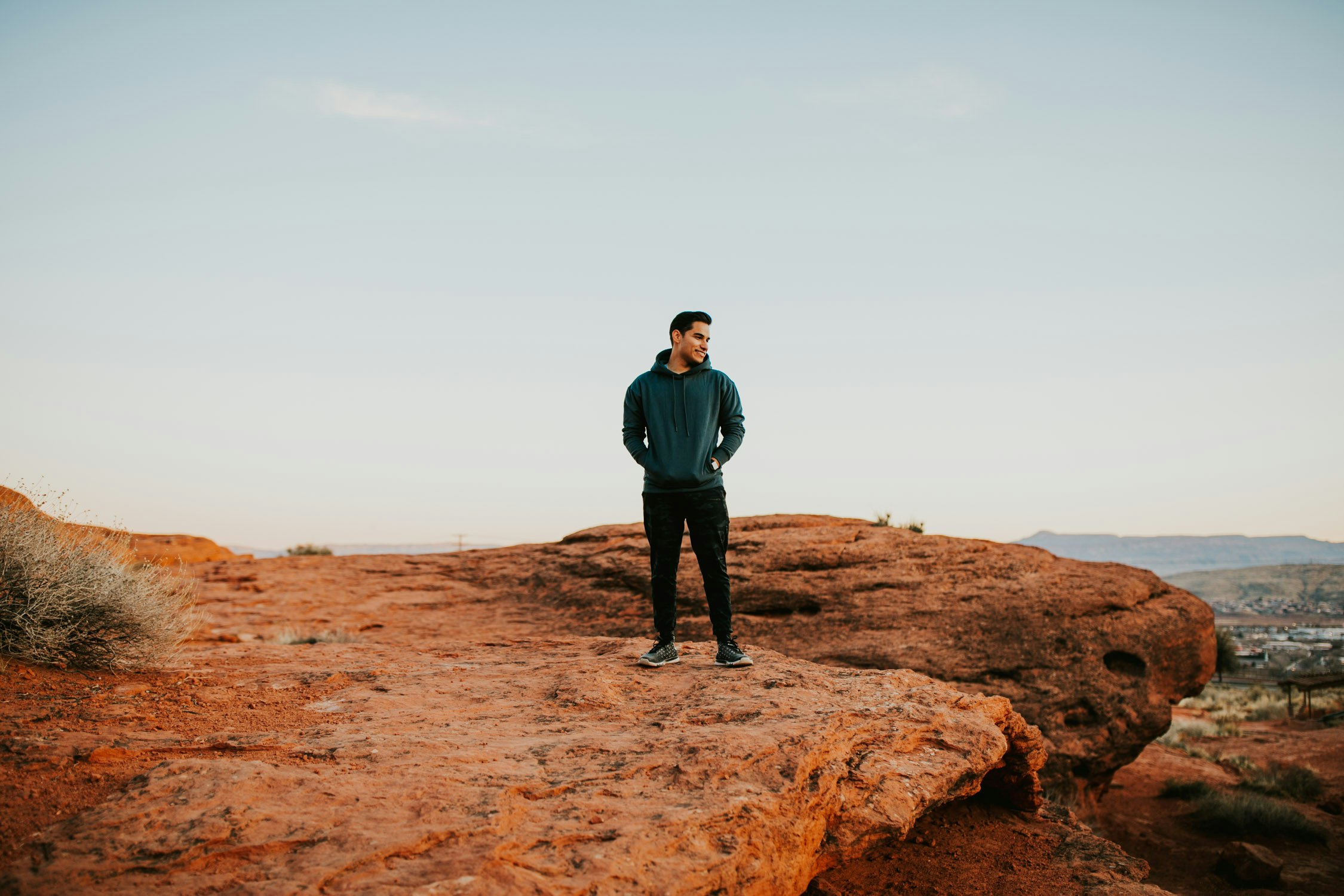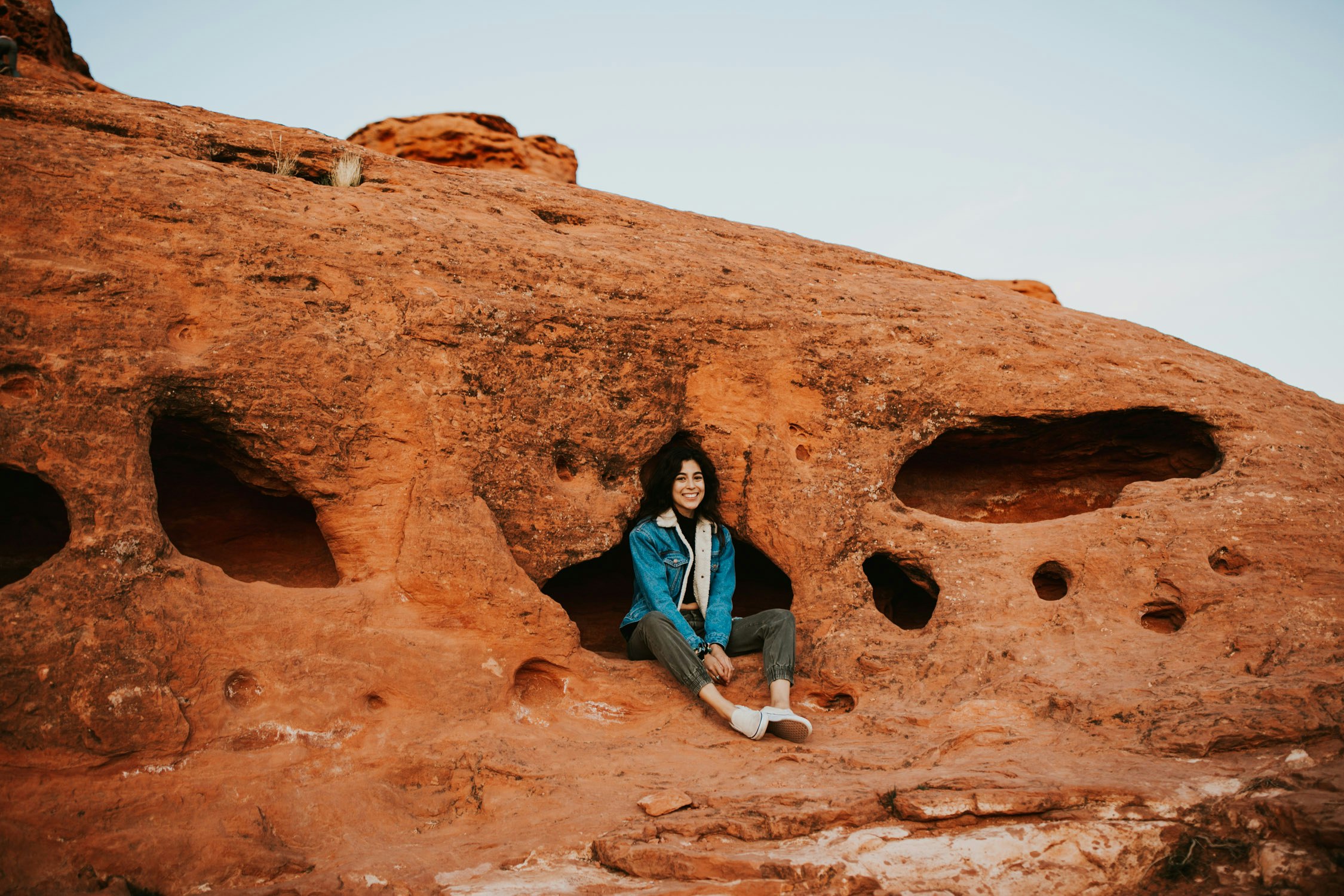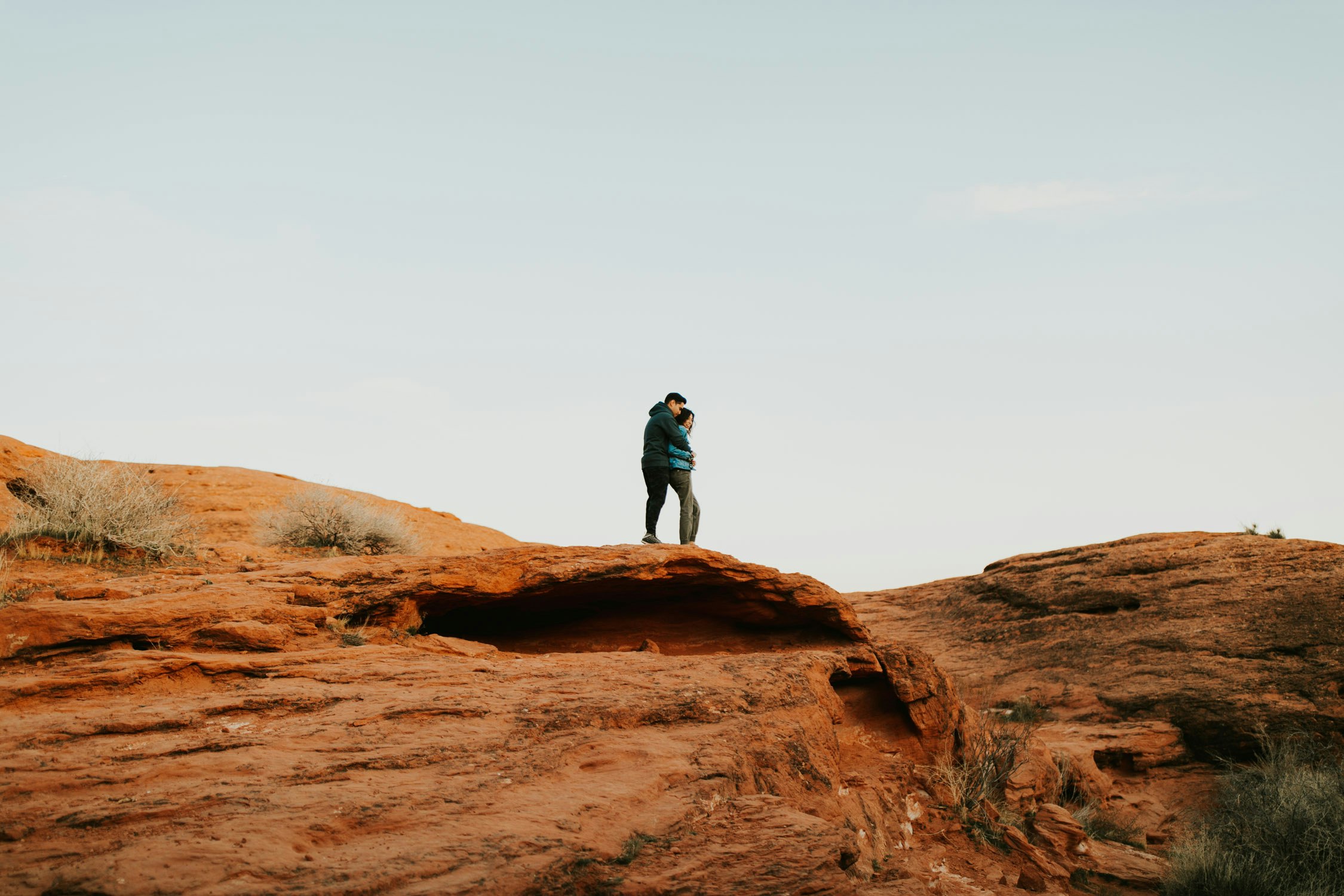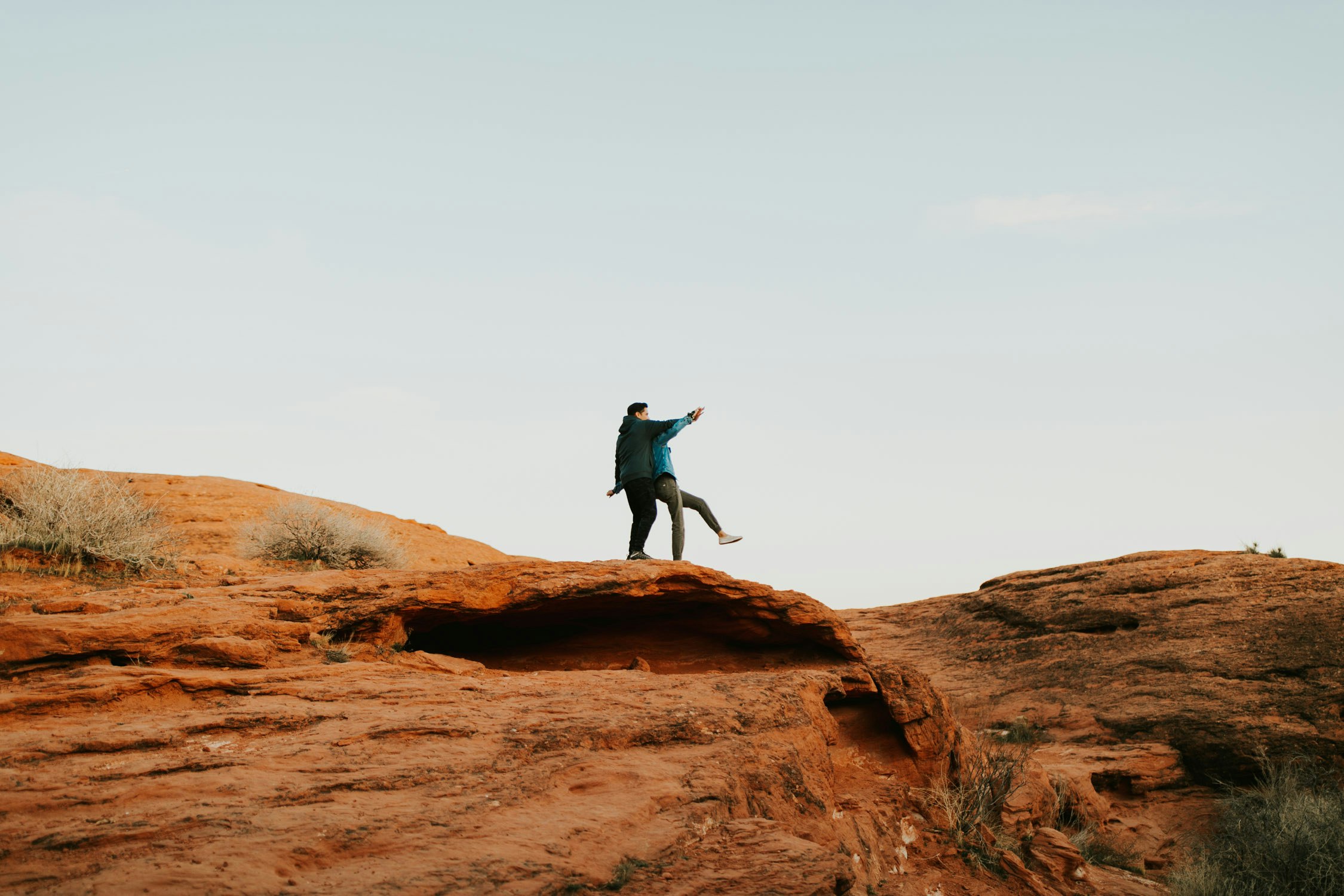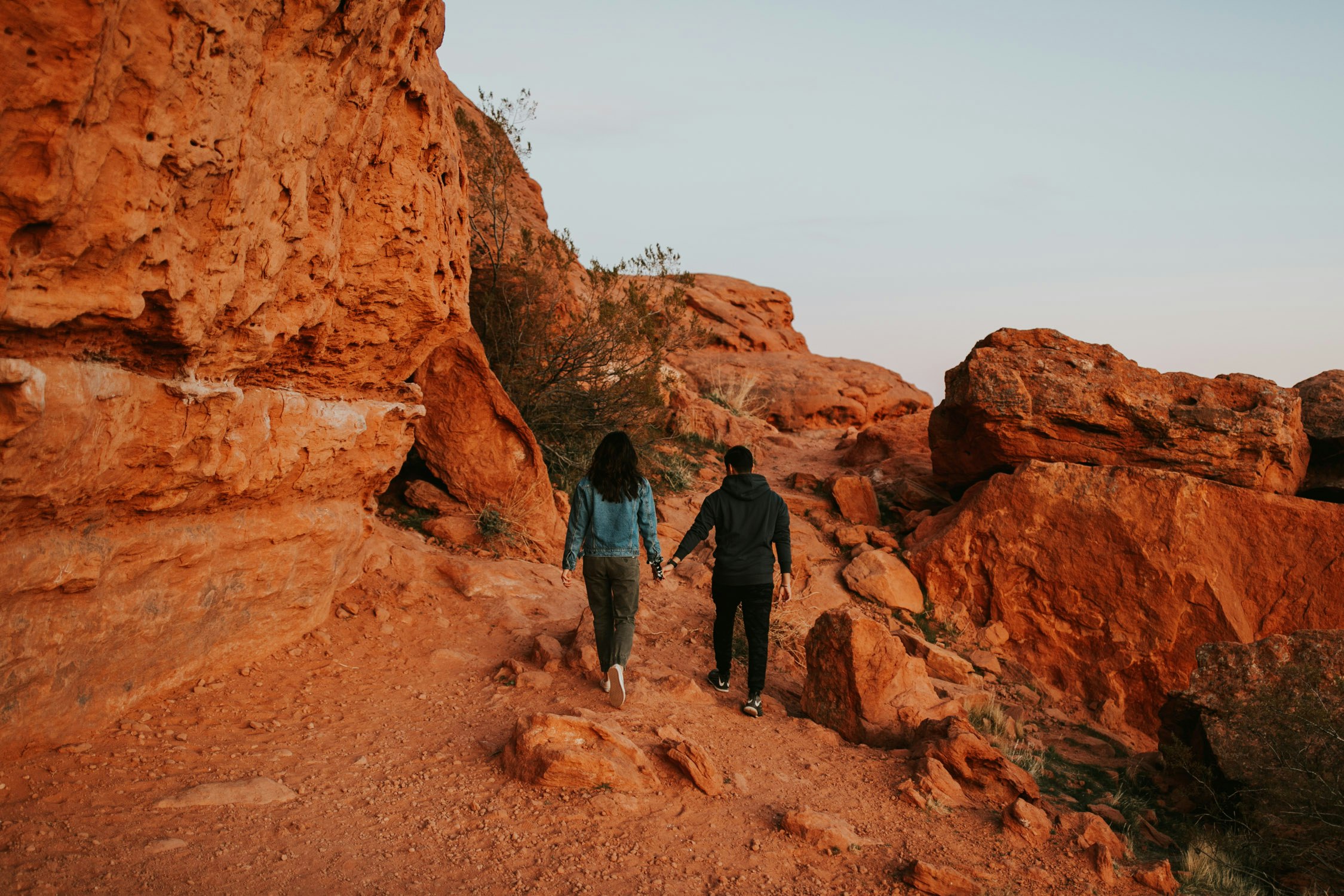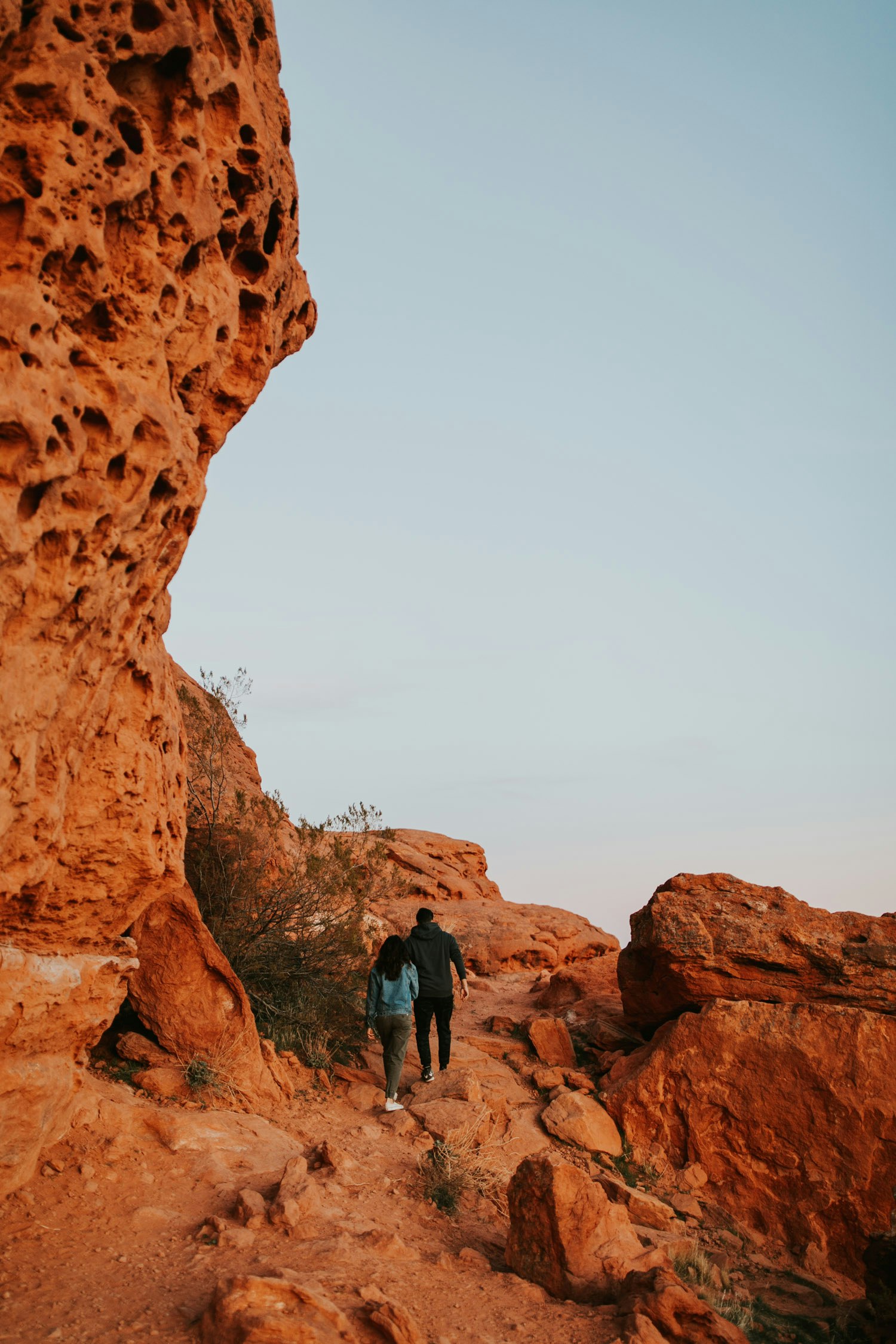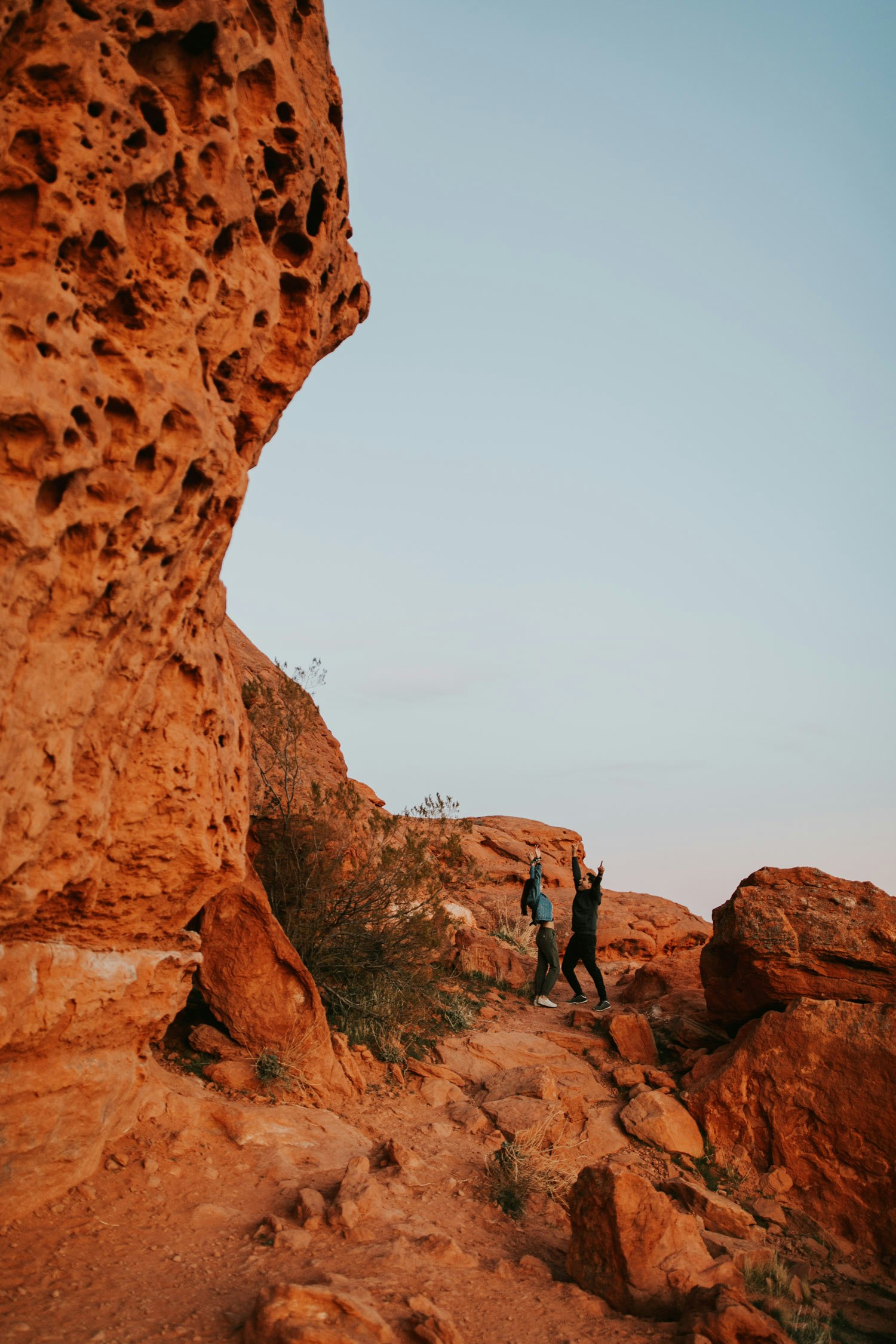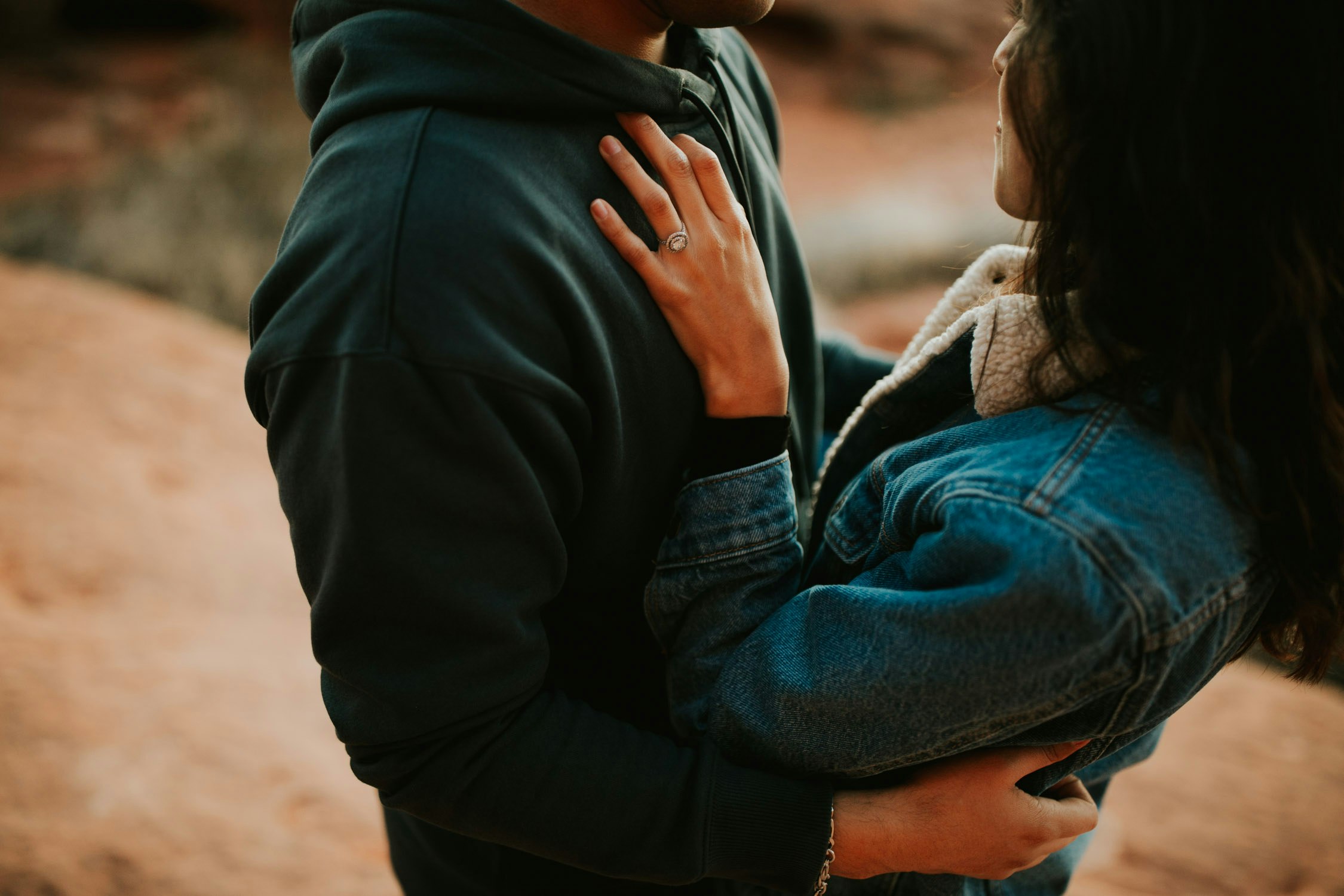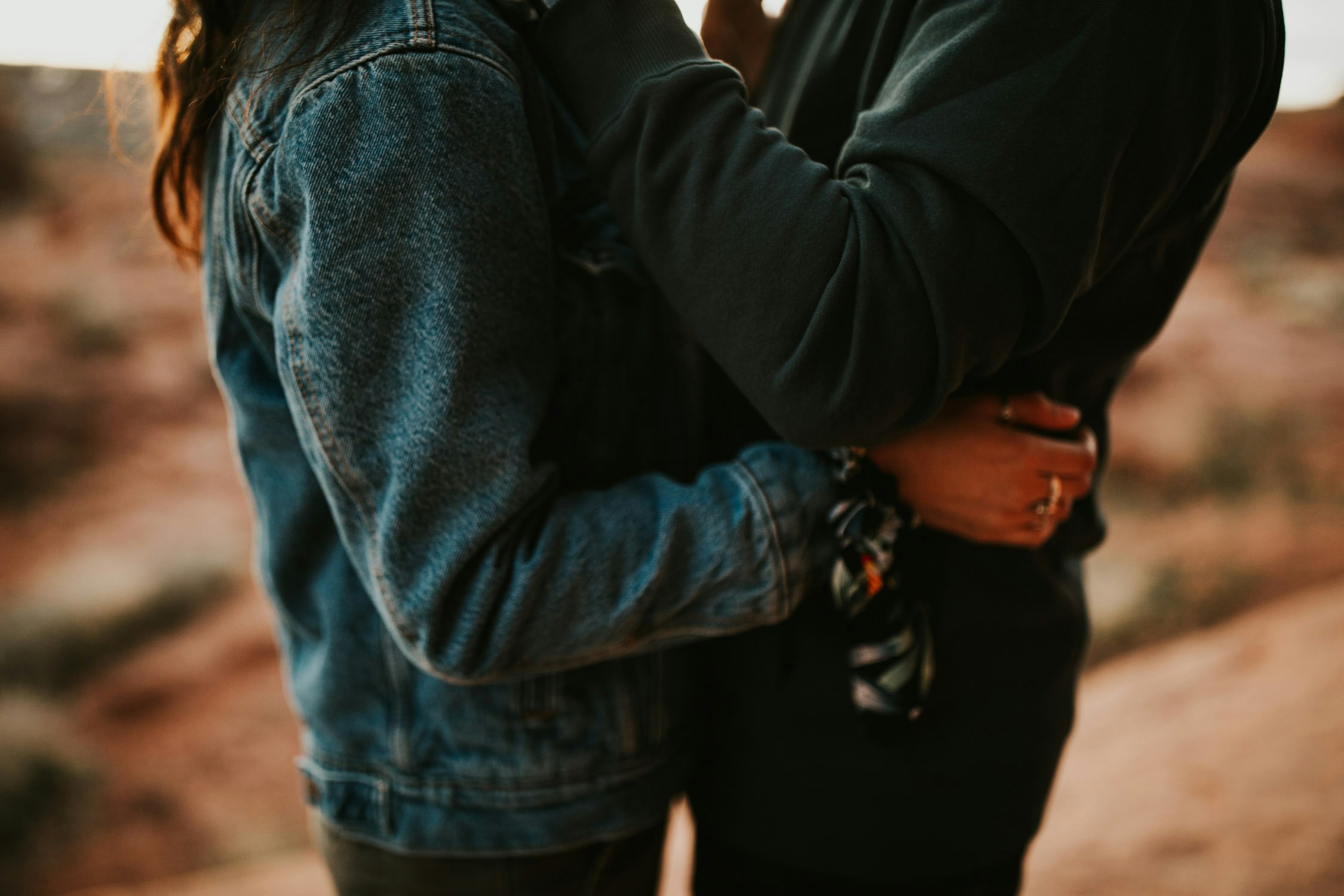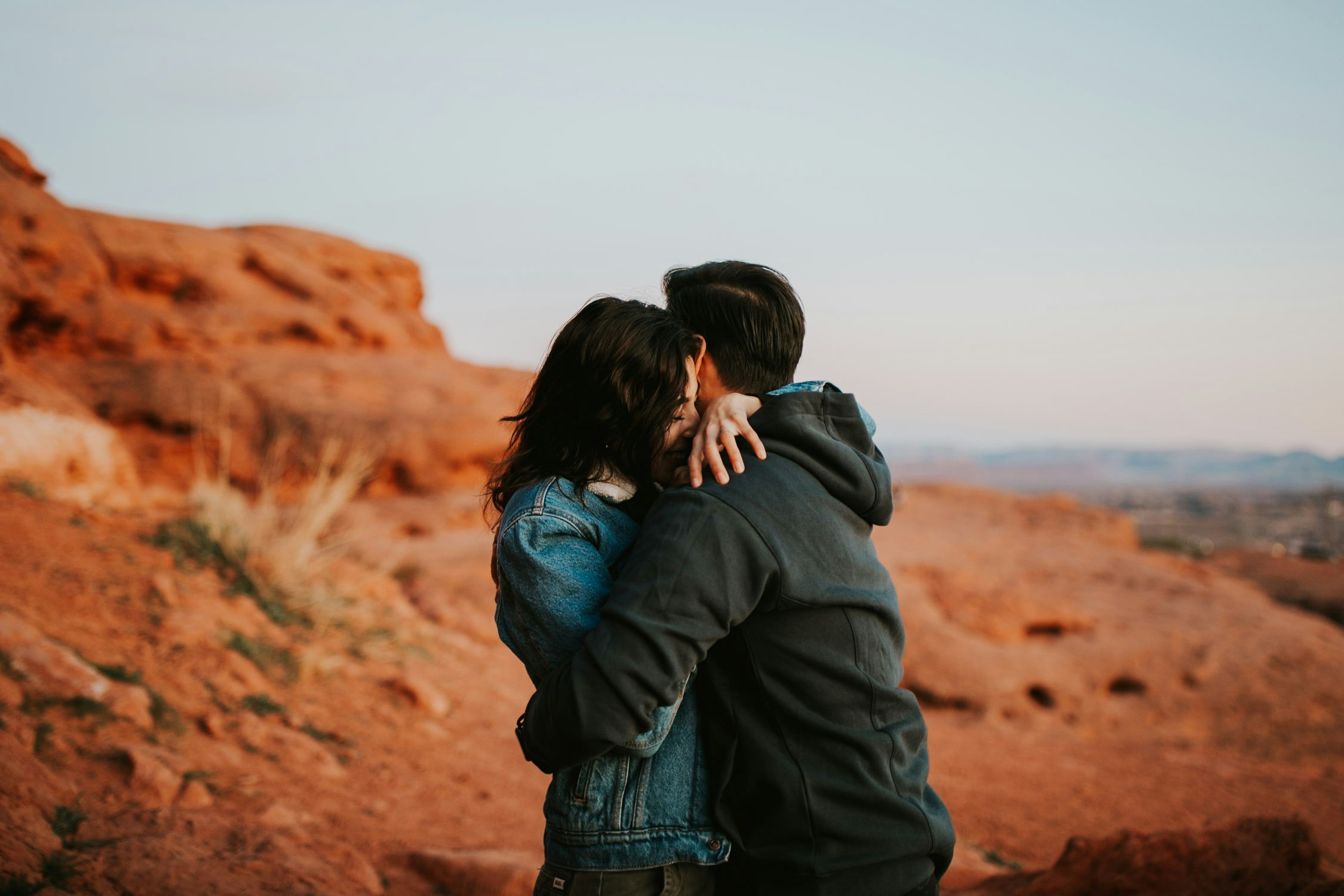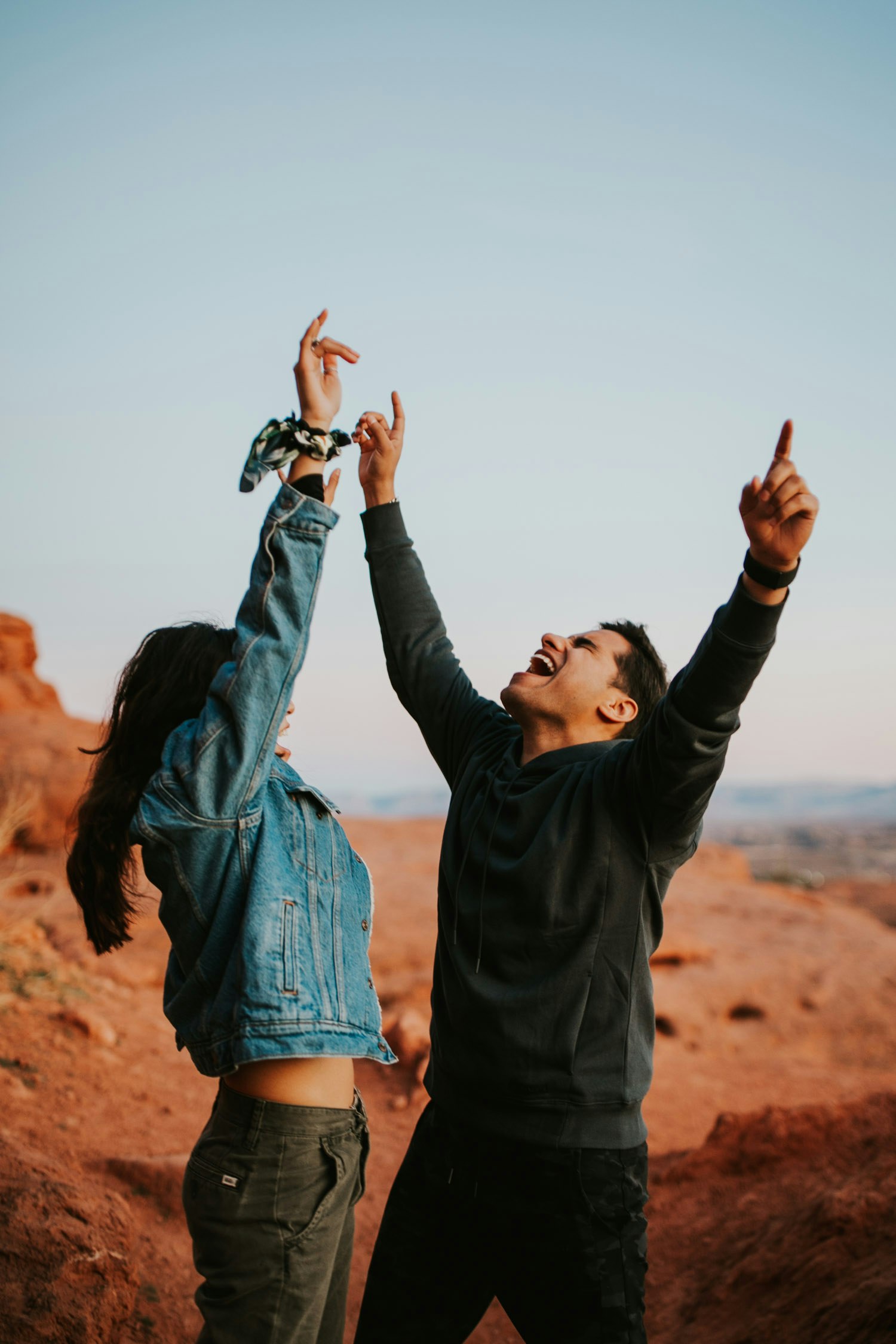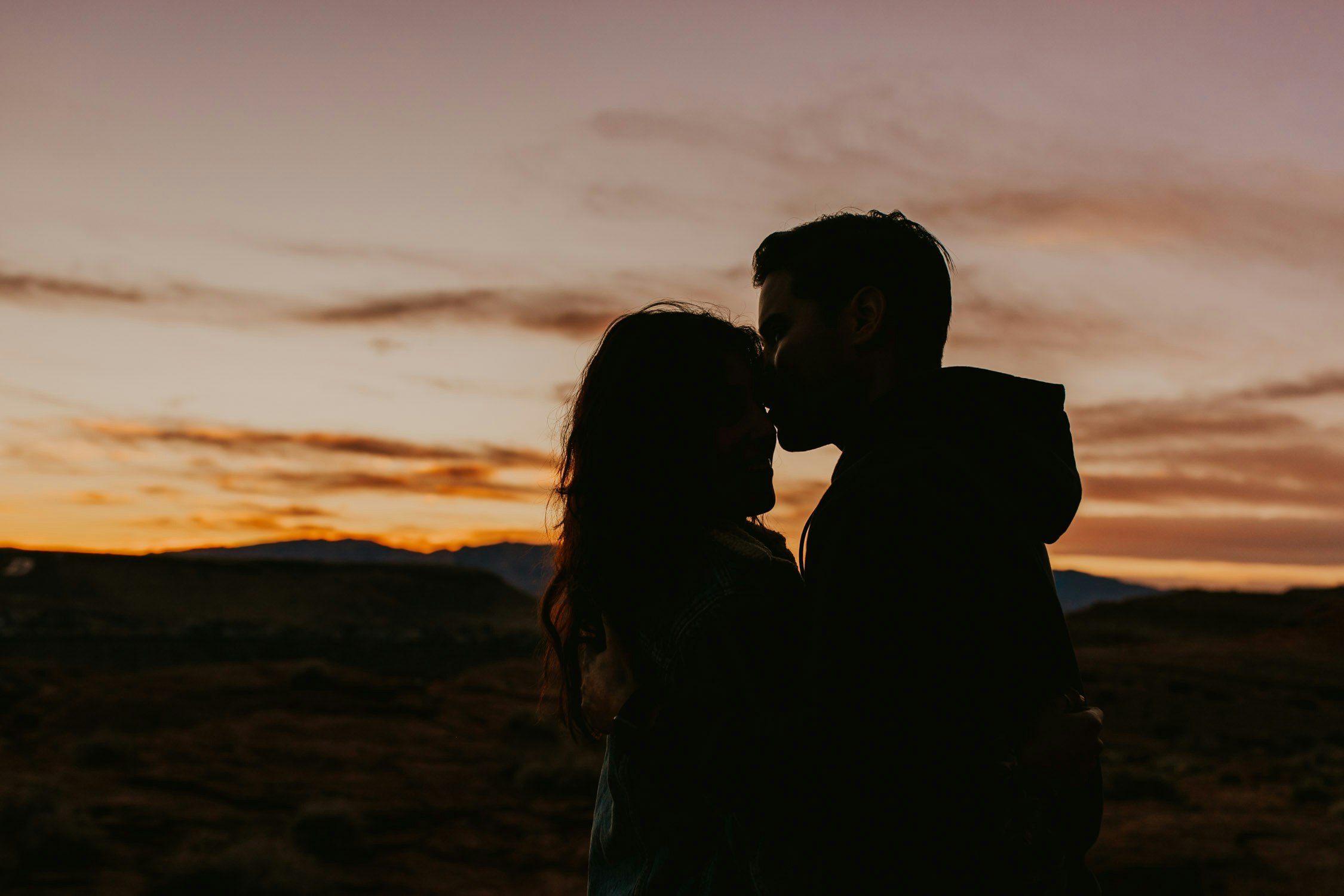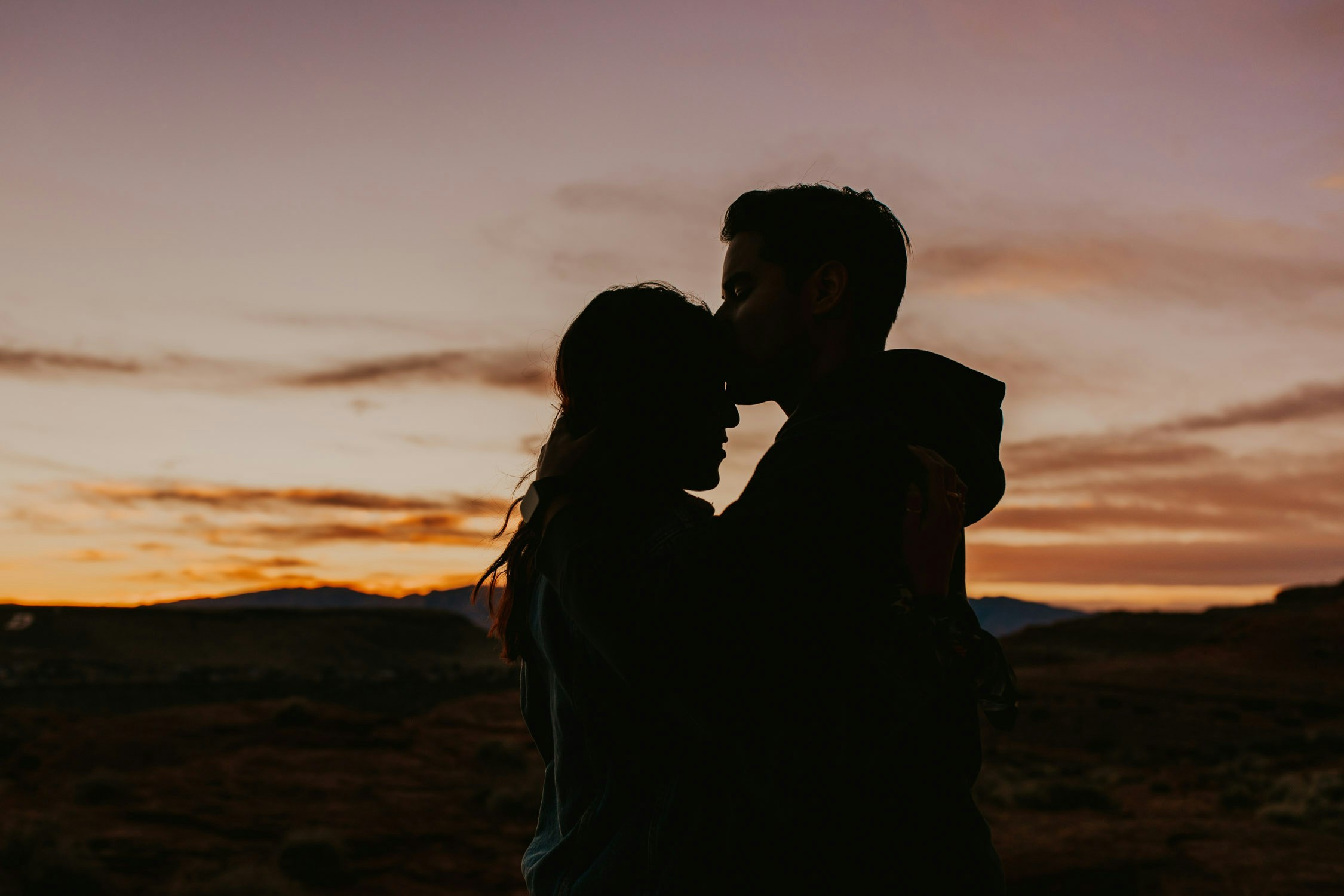 Next Stop: Horseshoe Bend, Page, Az | AT SUNRISE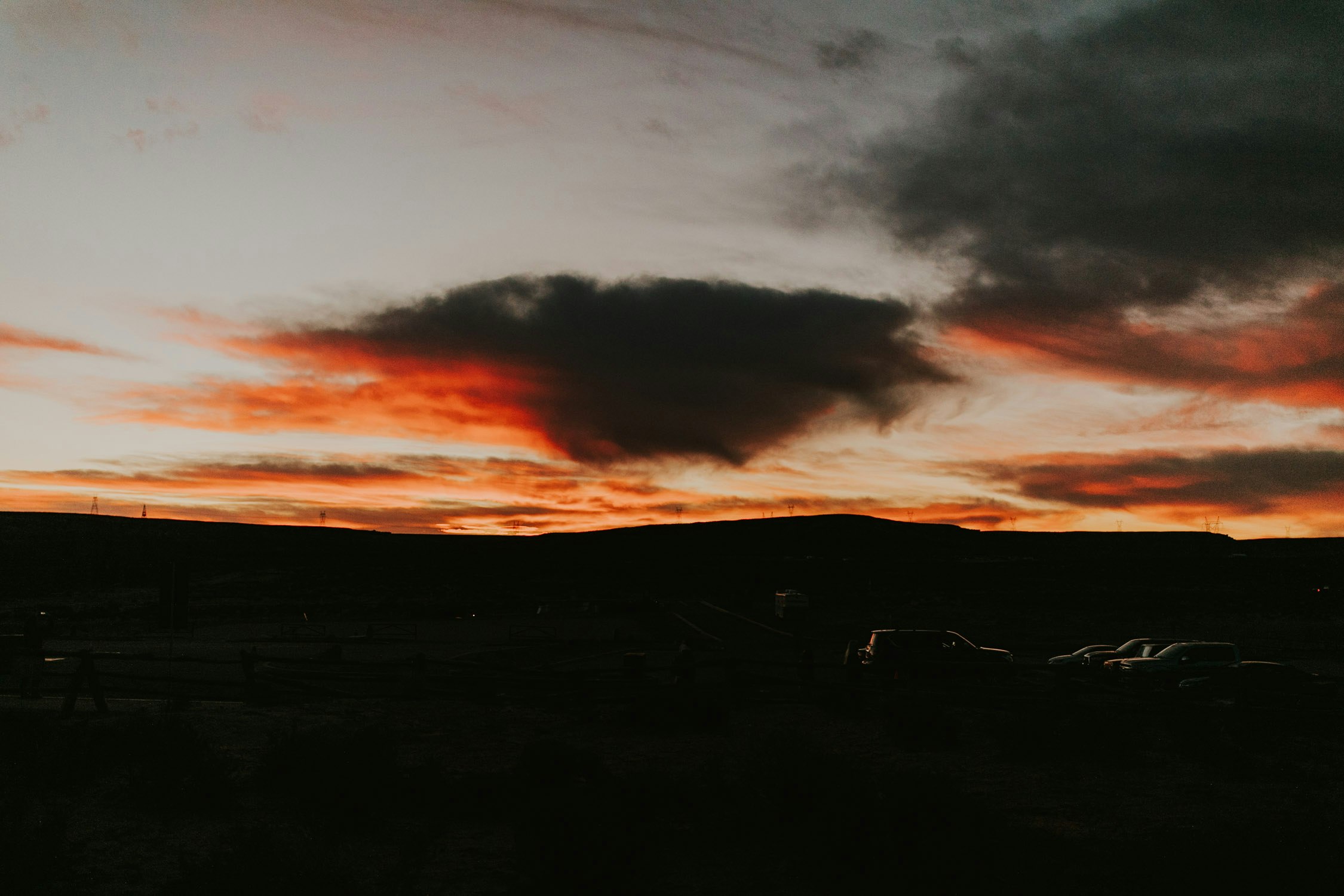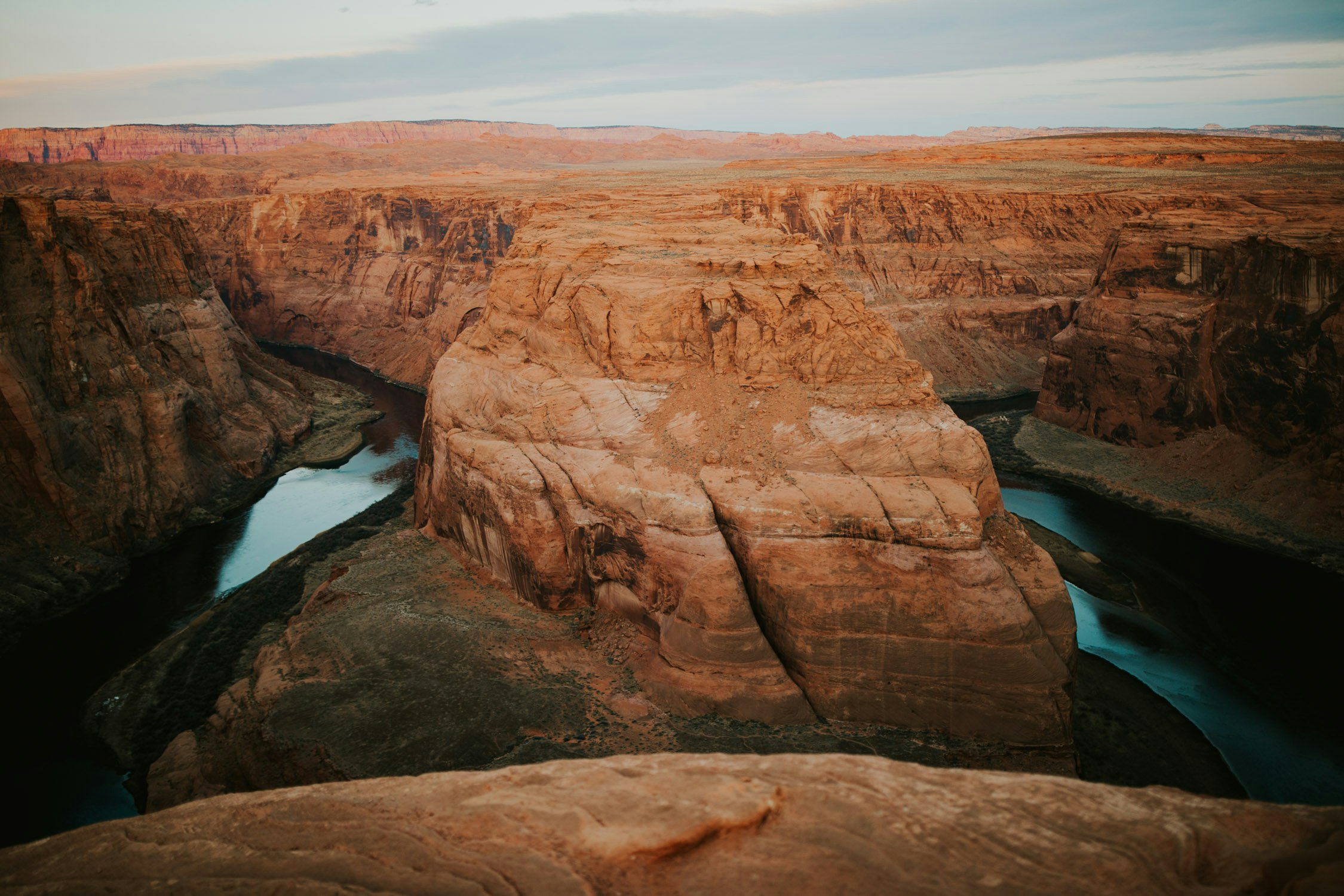 We got to Horseshoe Bend just in time to watch the sun rise over the bend, and I realized this might have been one of the first sunrises I had actually stopped and paid attention to. The chilly walk in, and the race to get a good spot for sunrise built this excitement in me for a place I had never seen before - and to be able to see it with some of my favorite people, was magical! My fear of heights definitely made me stop in my tracks for a moment, but with the guidance of my incredibly supportive friends, I made that fear my B. Watching these two, so in love, hold each other tight, and take in one of the most beautiful places we'll get to see in our lifetimes, was a pretty cool way to start the morning - so thanks S & J!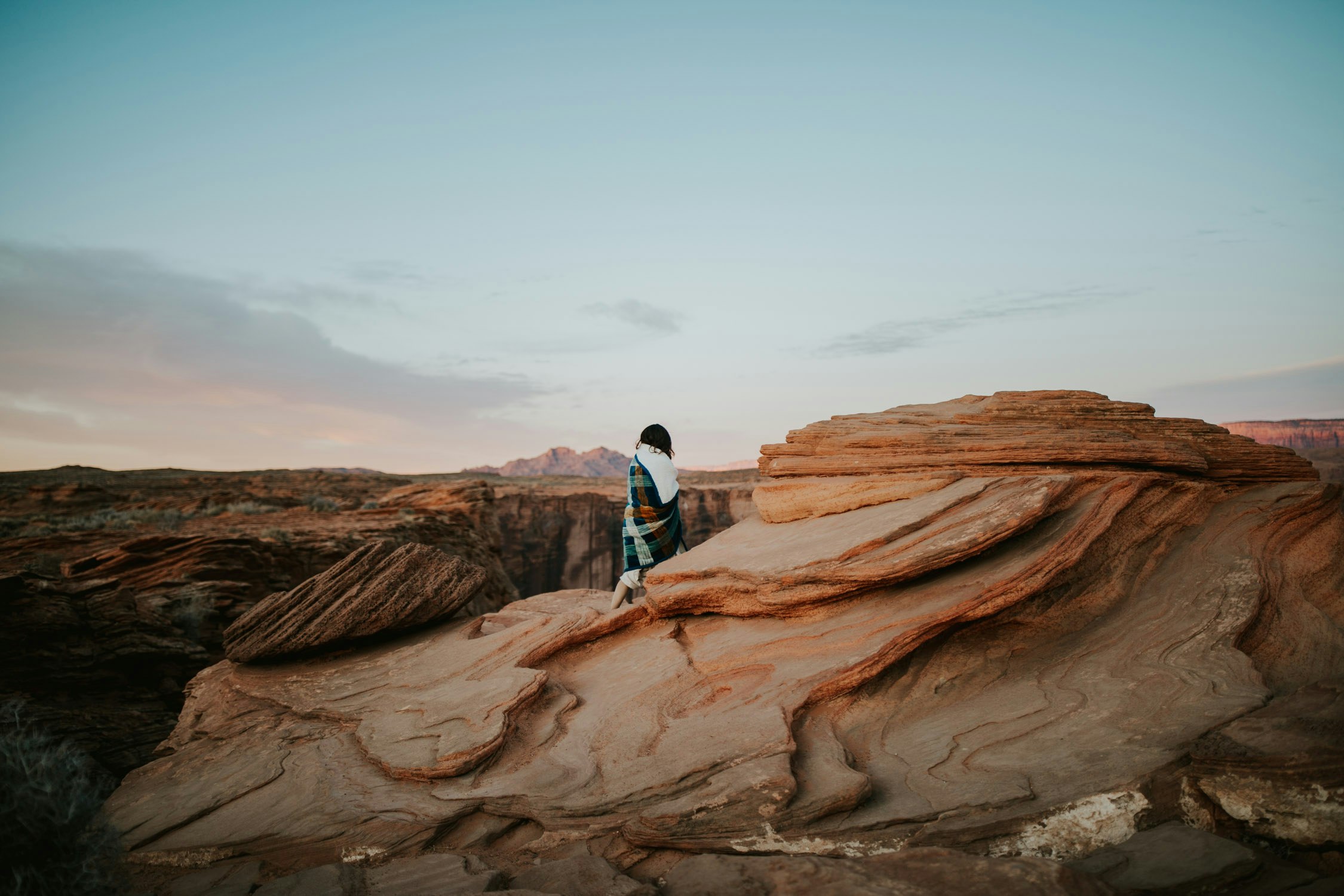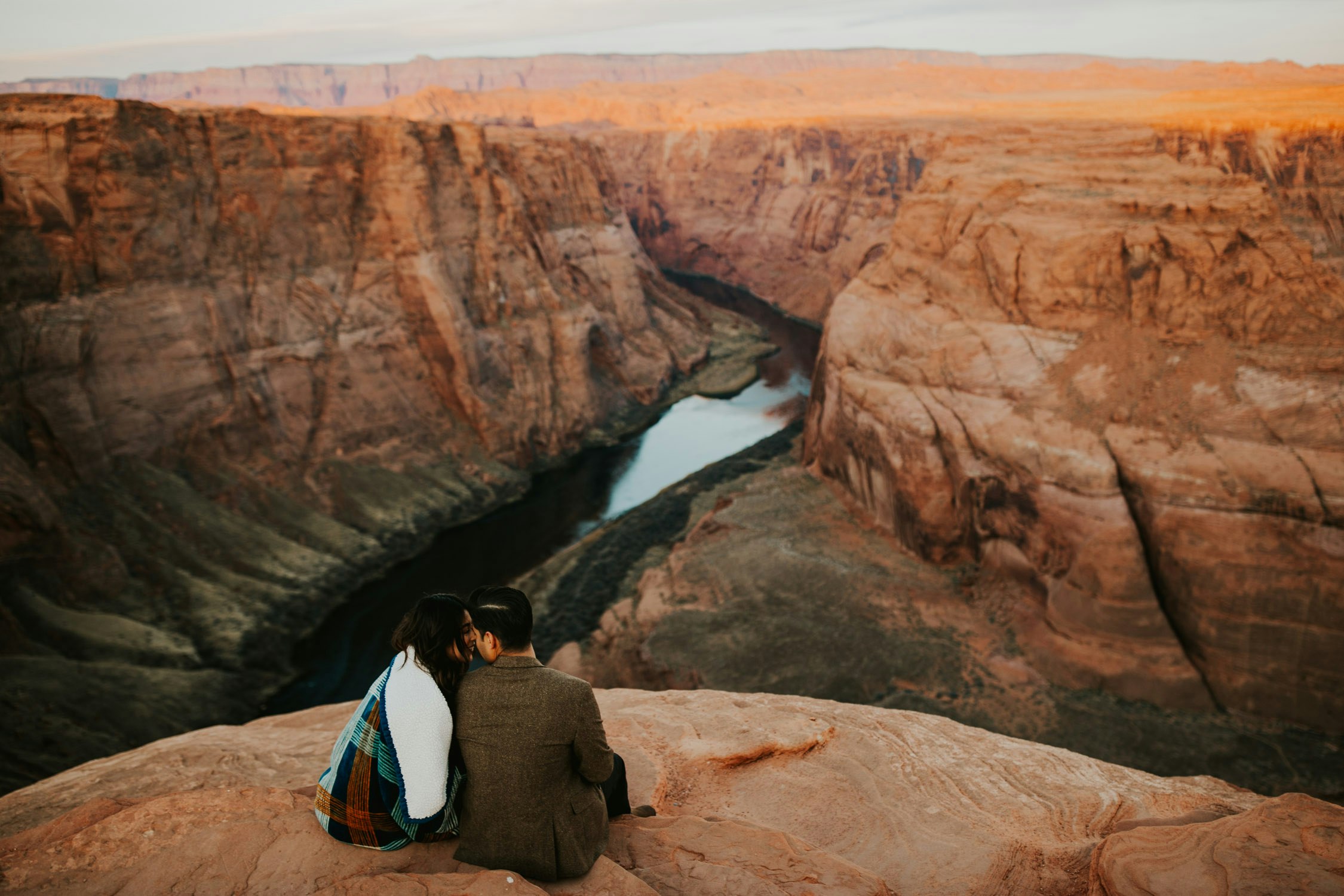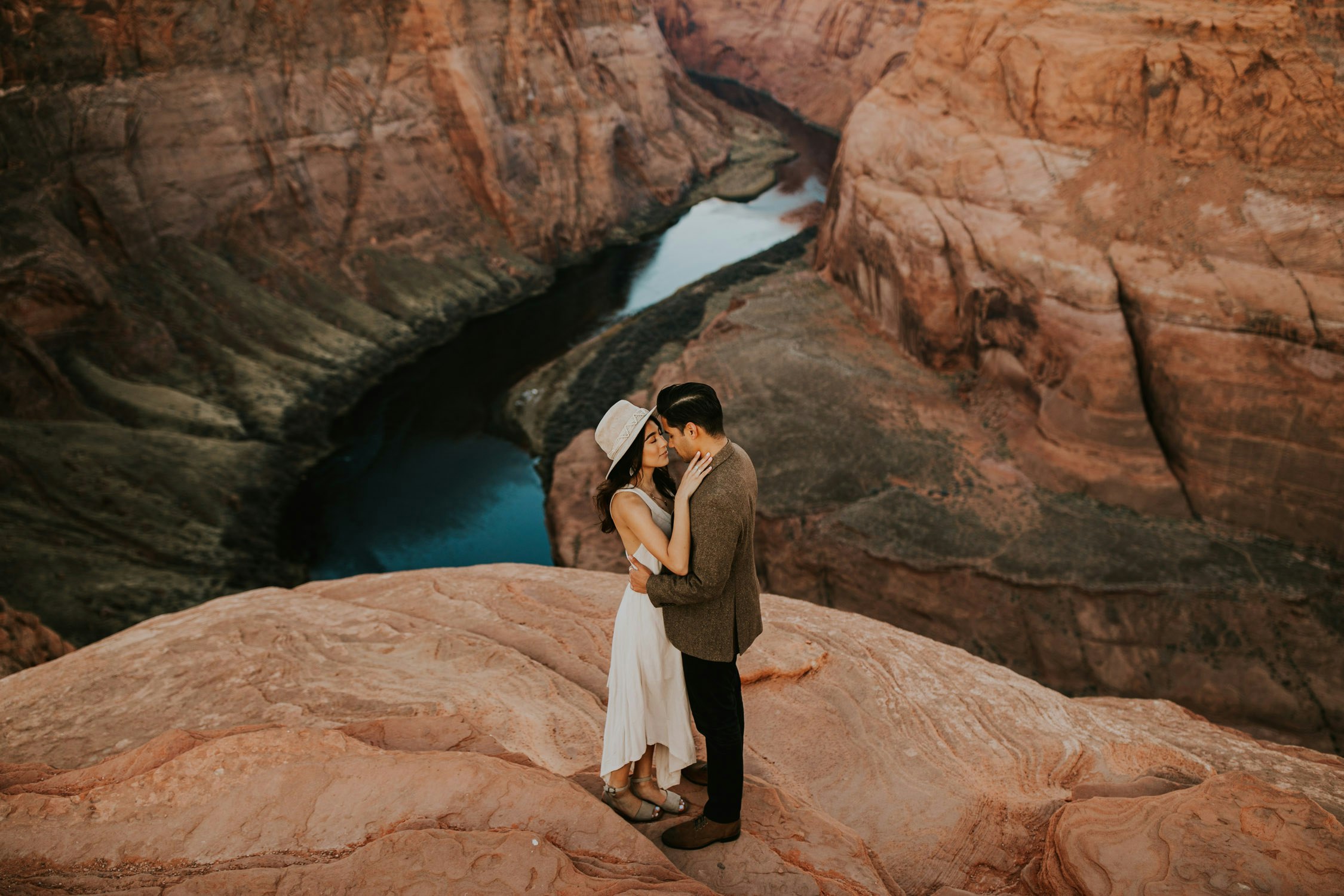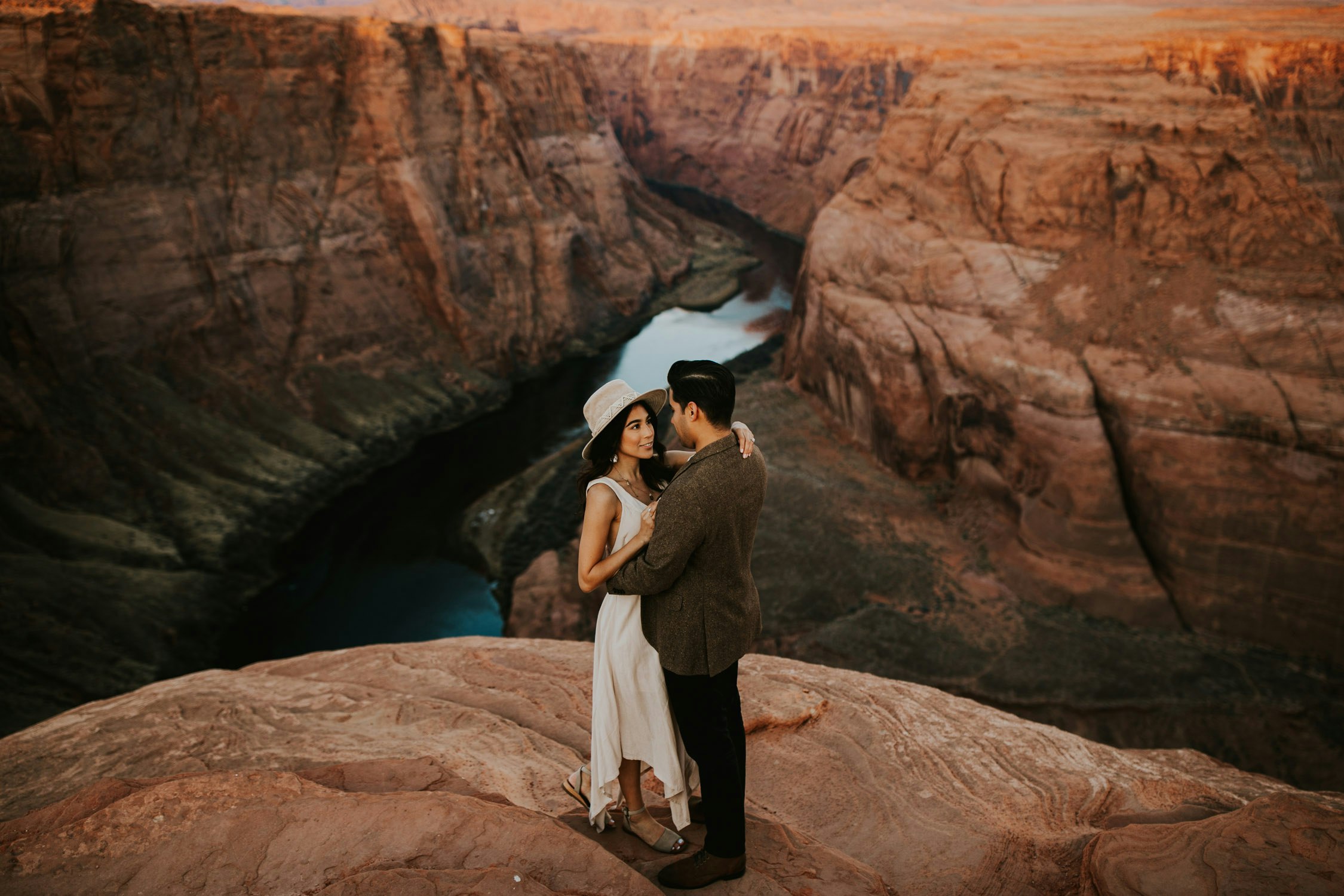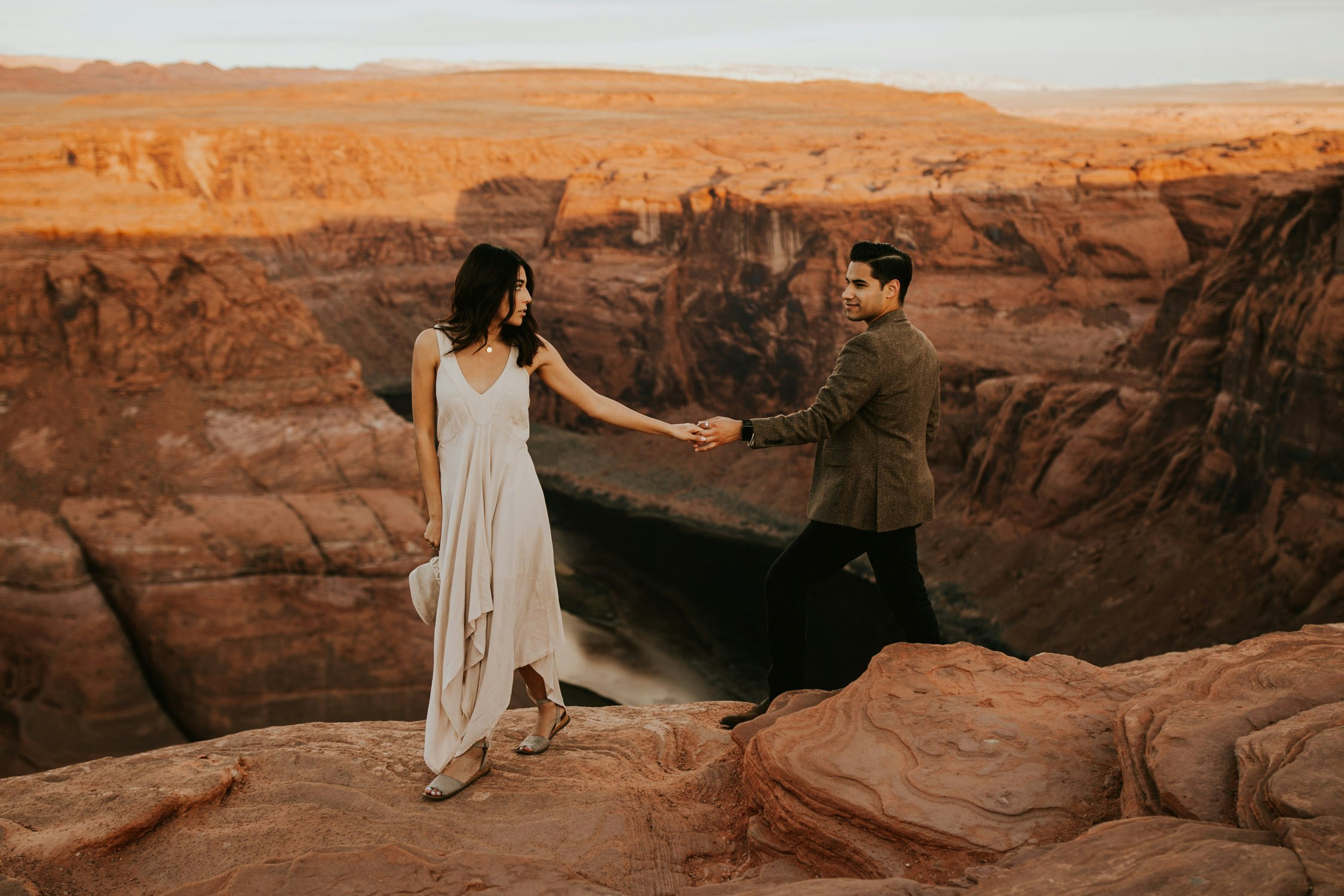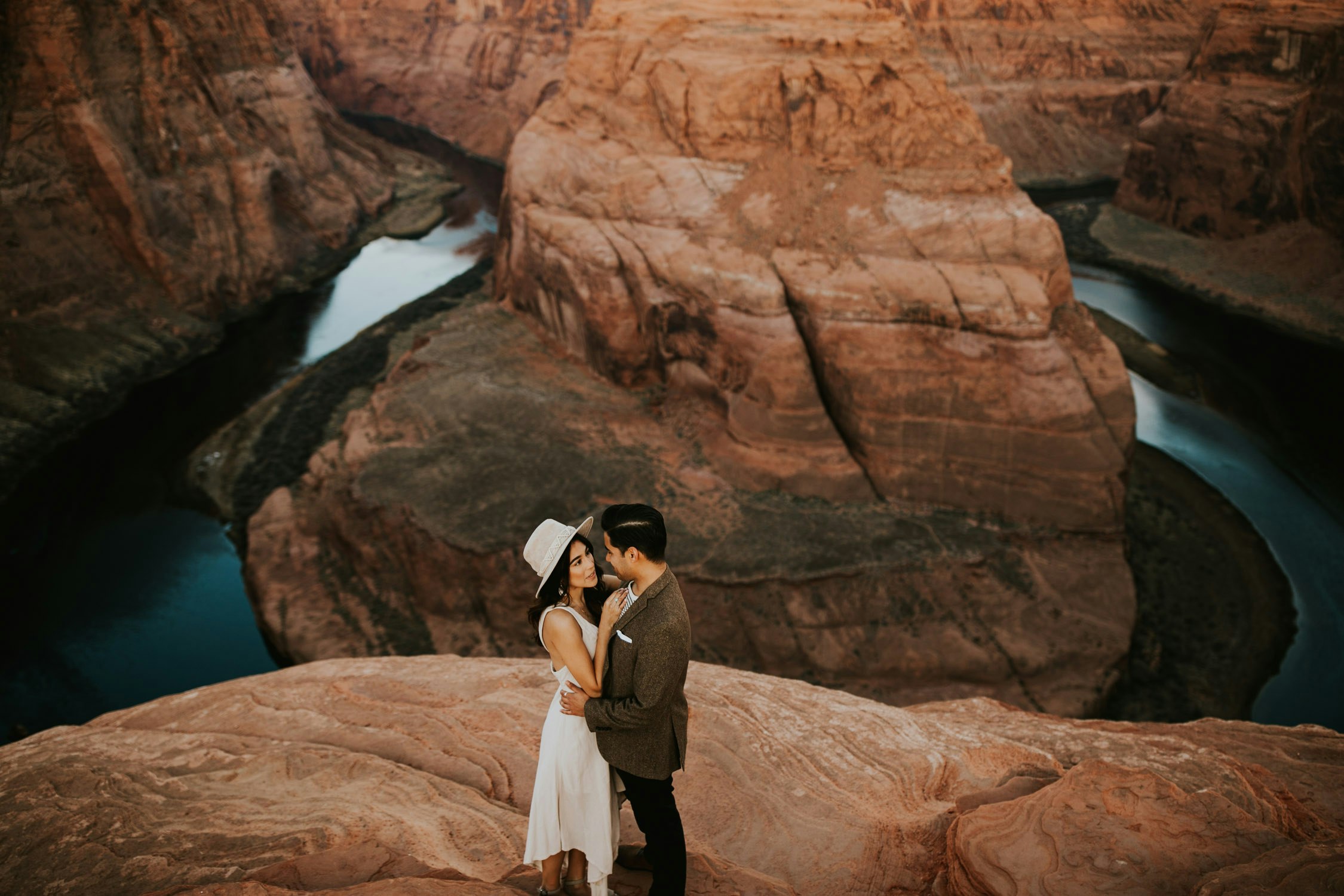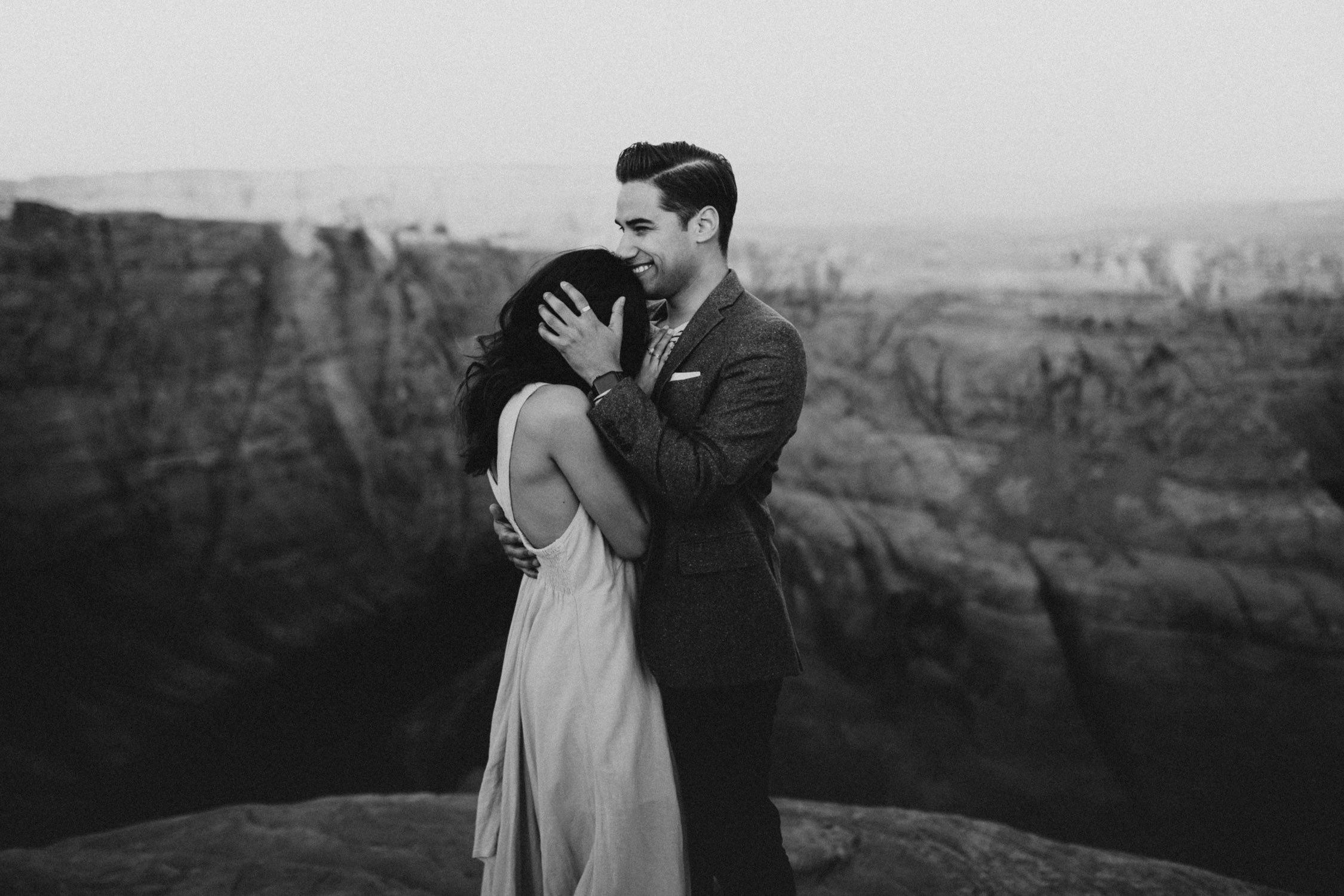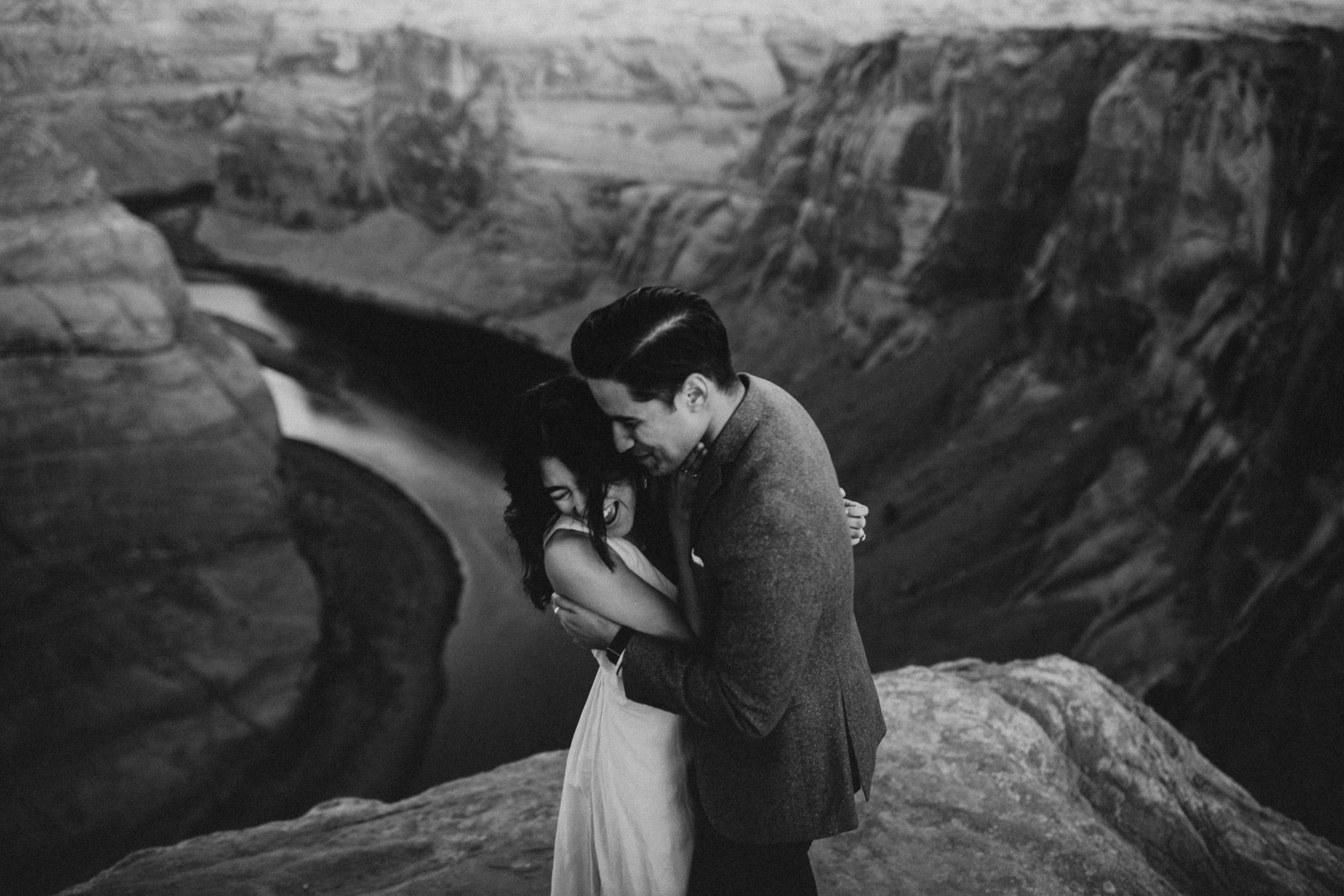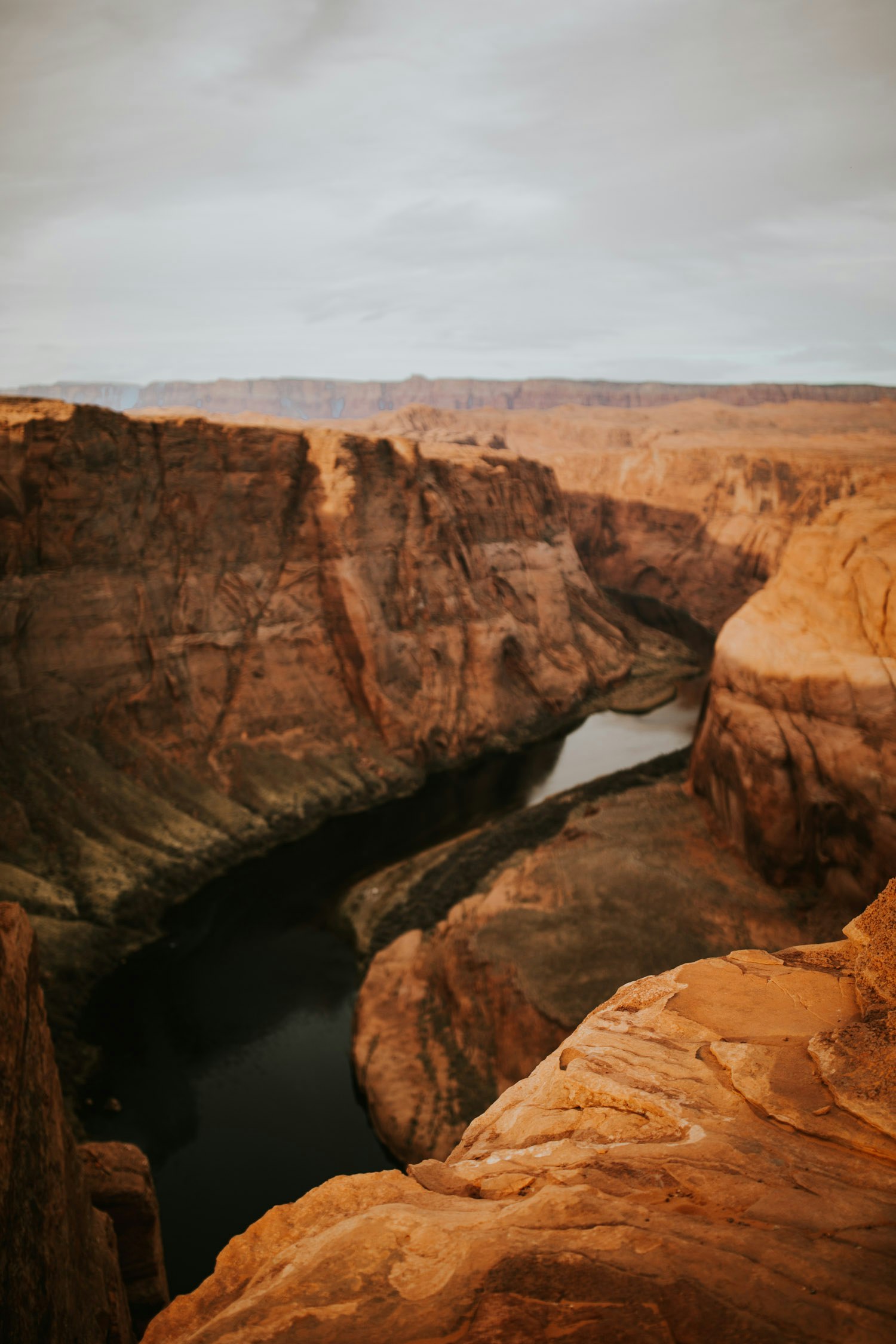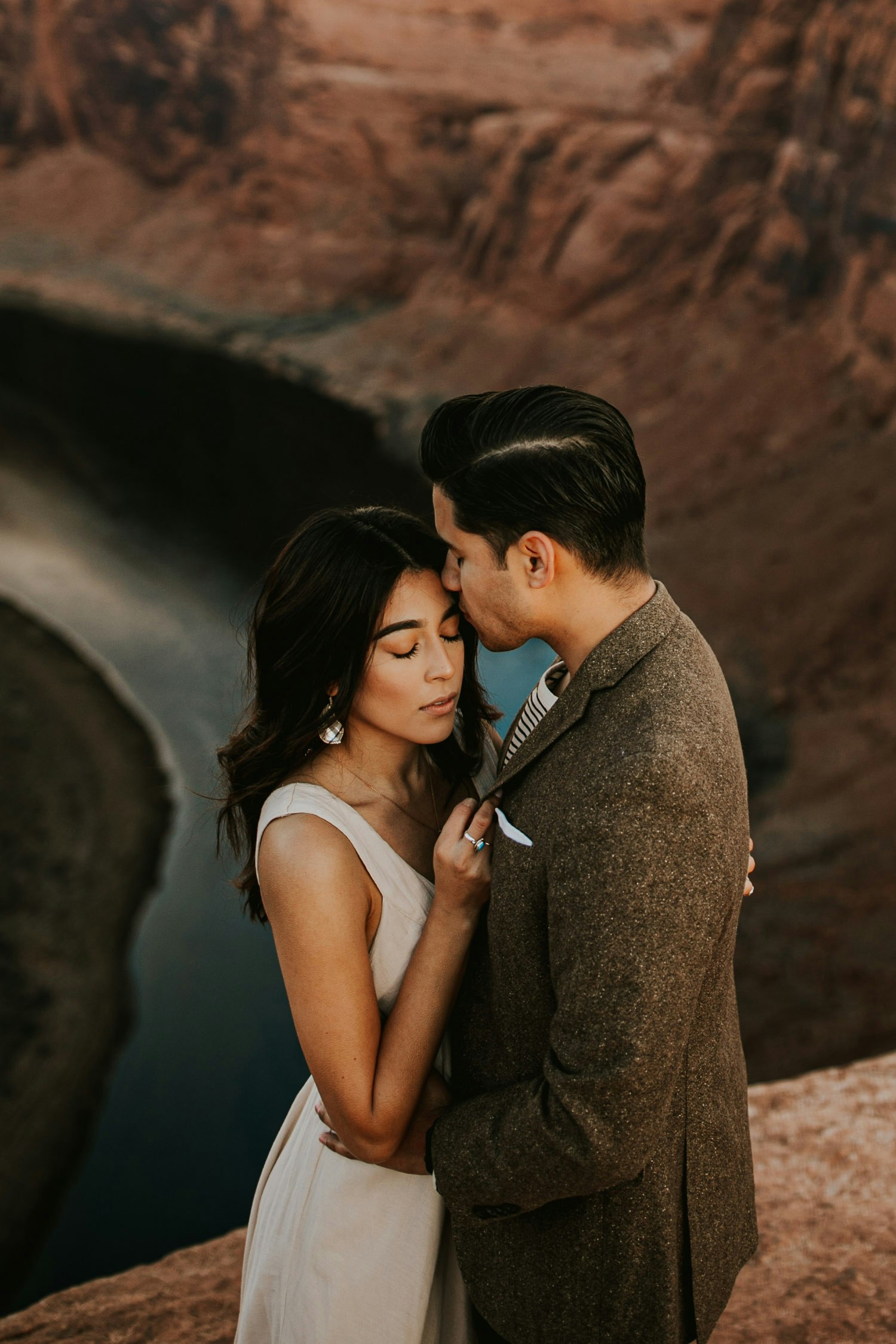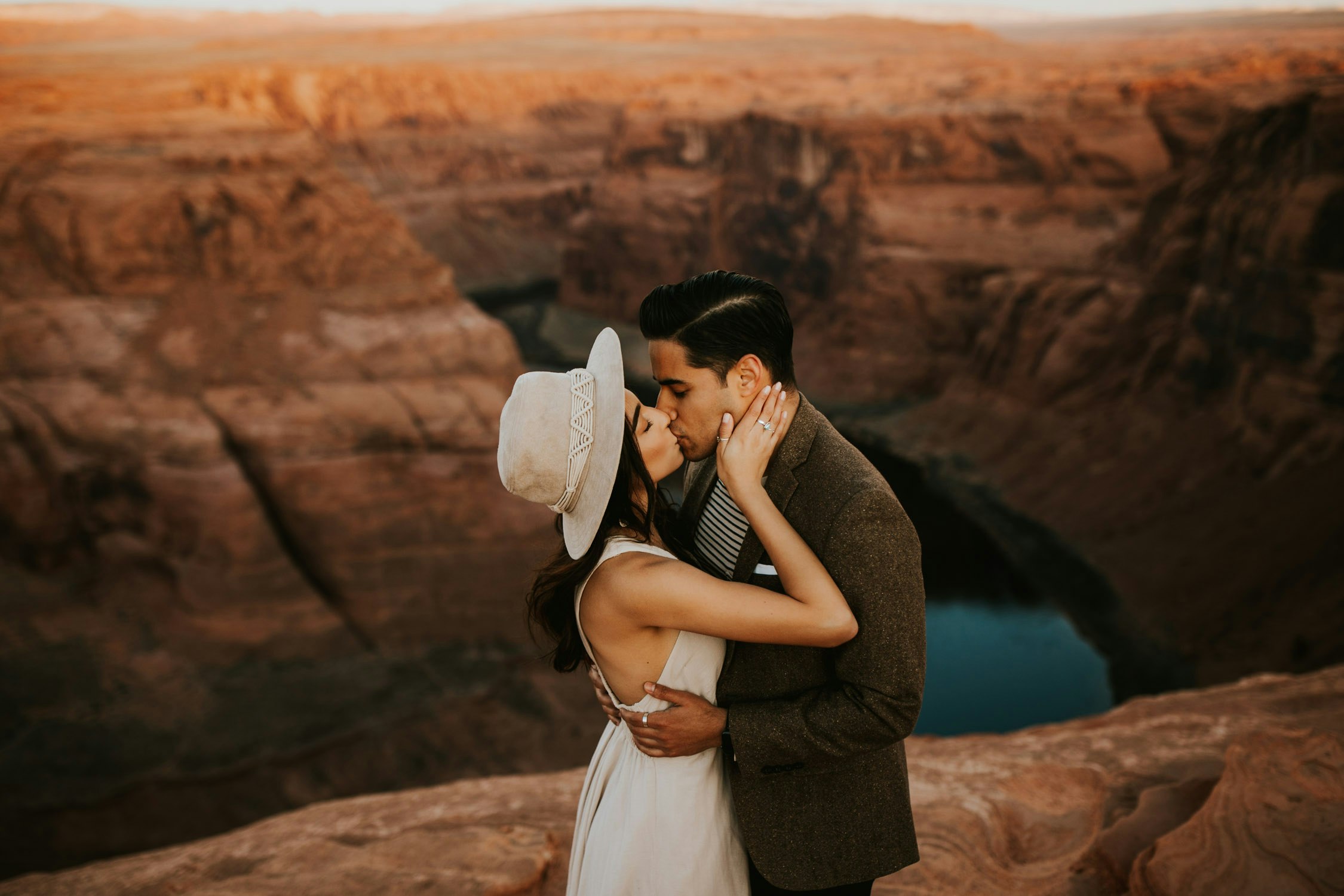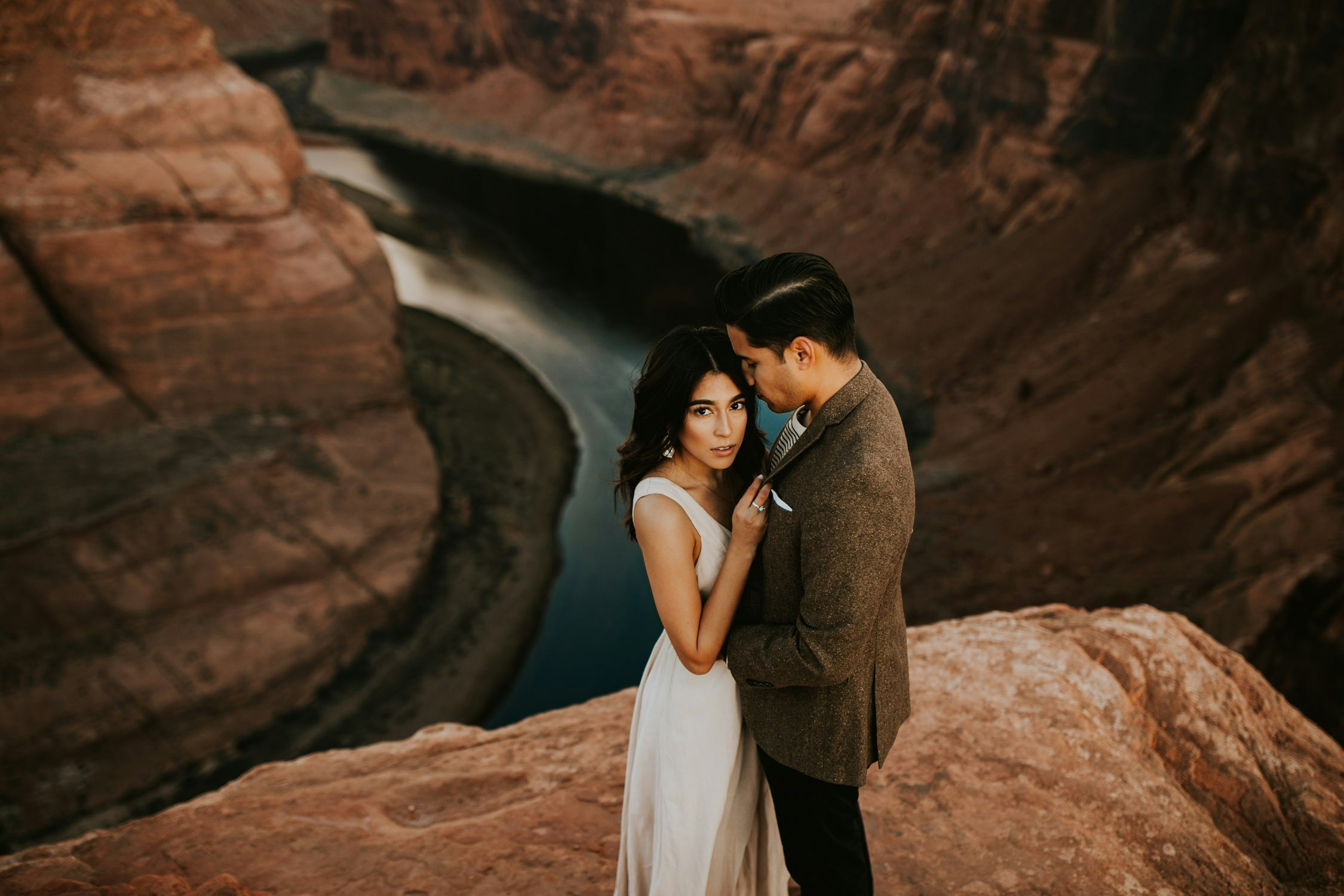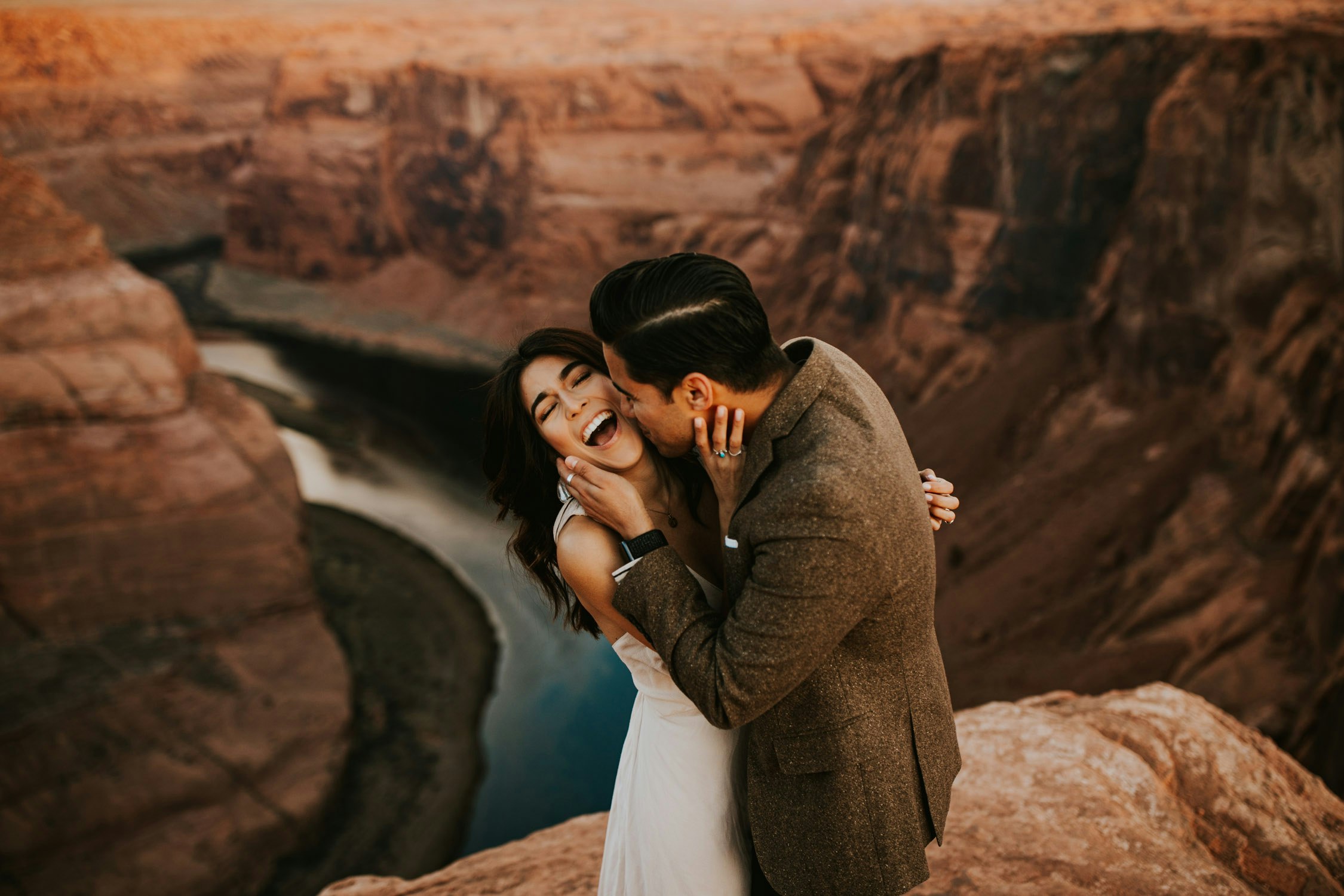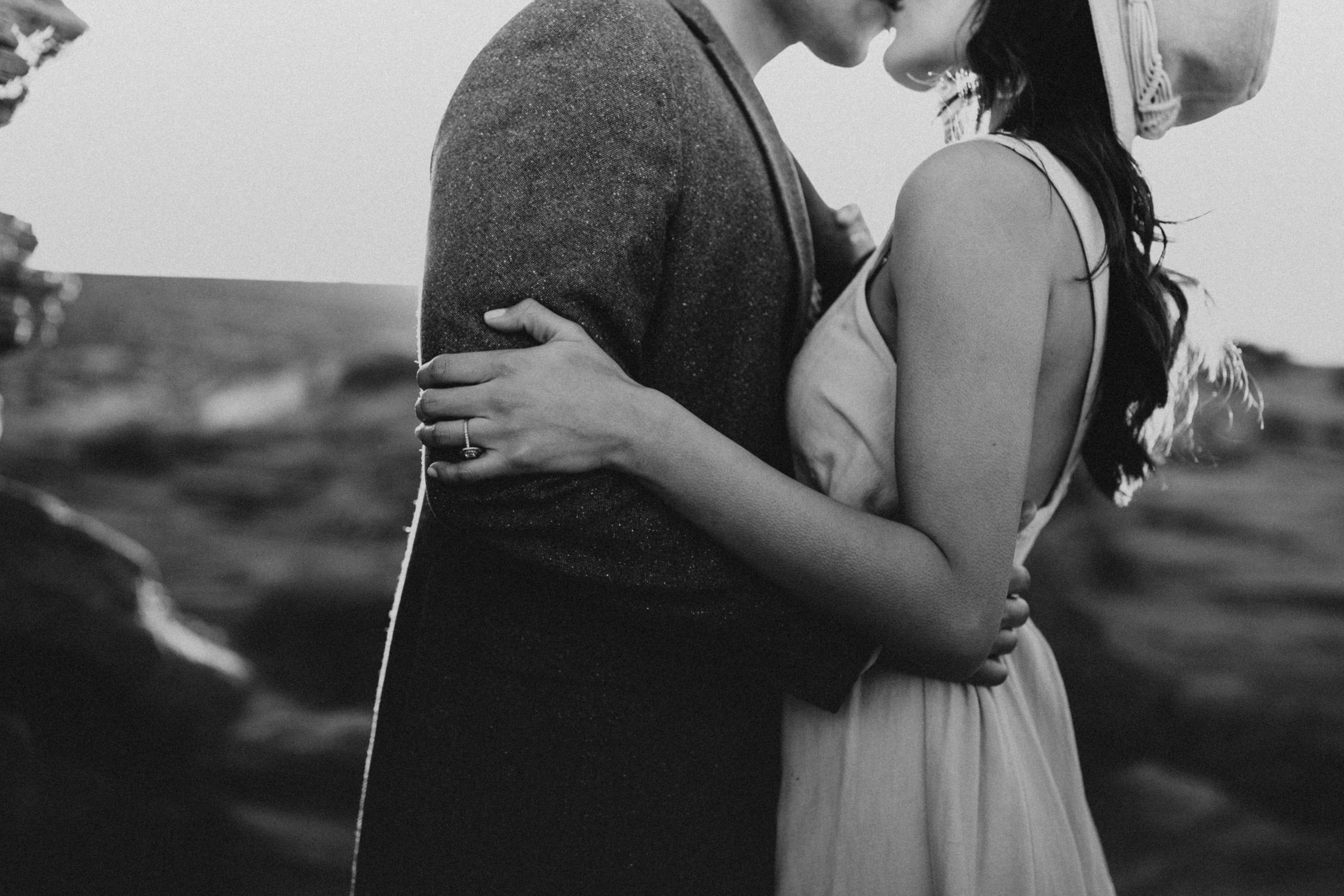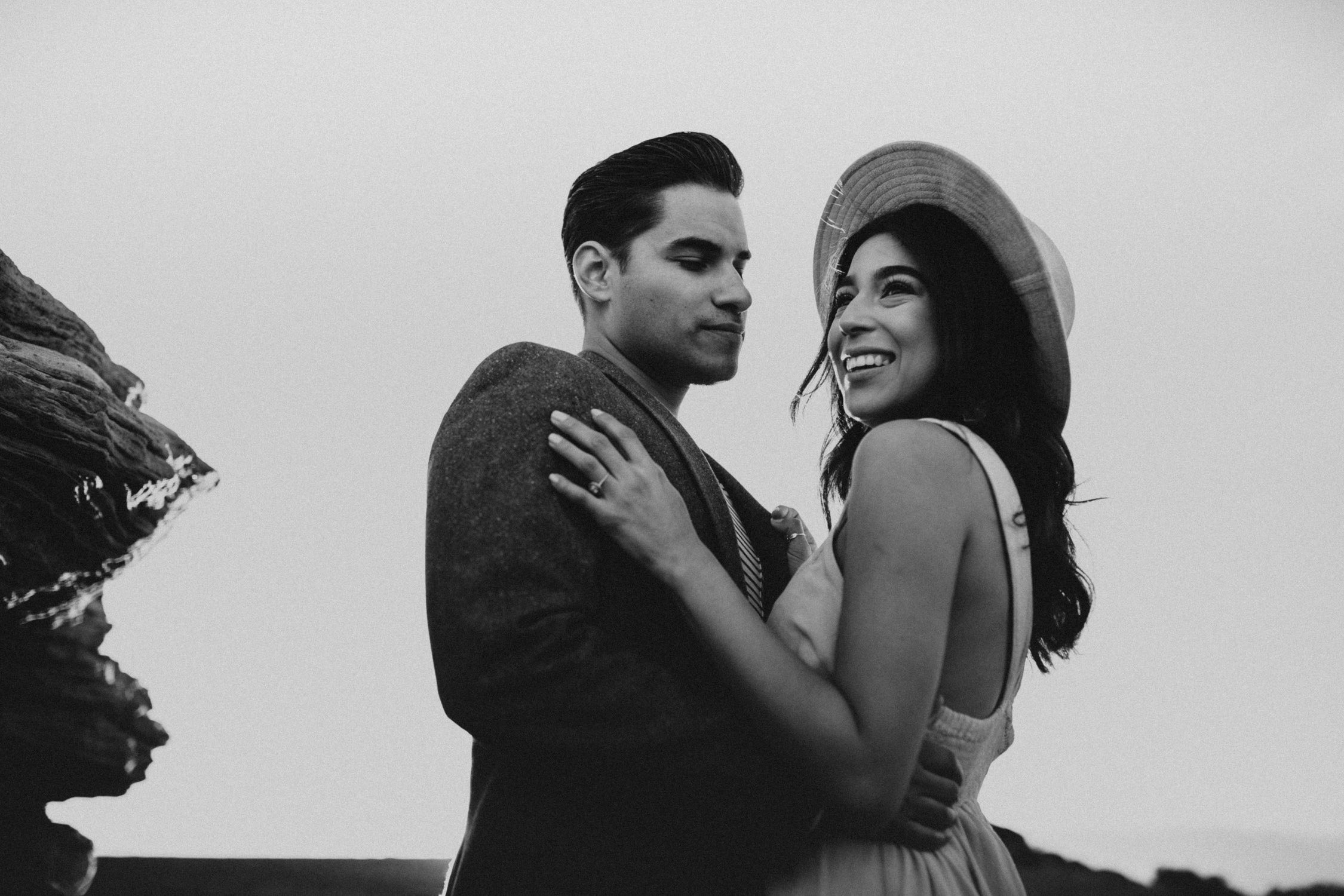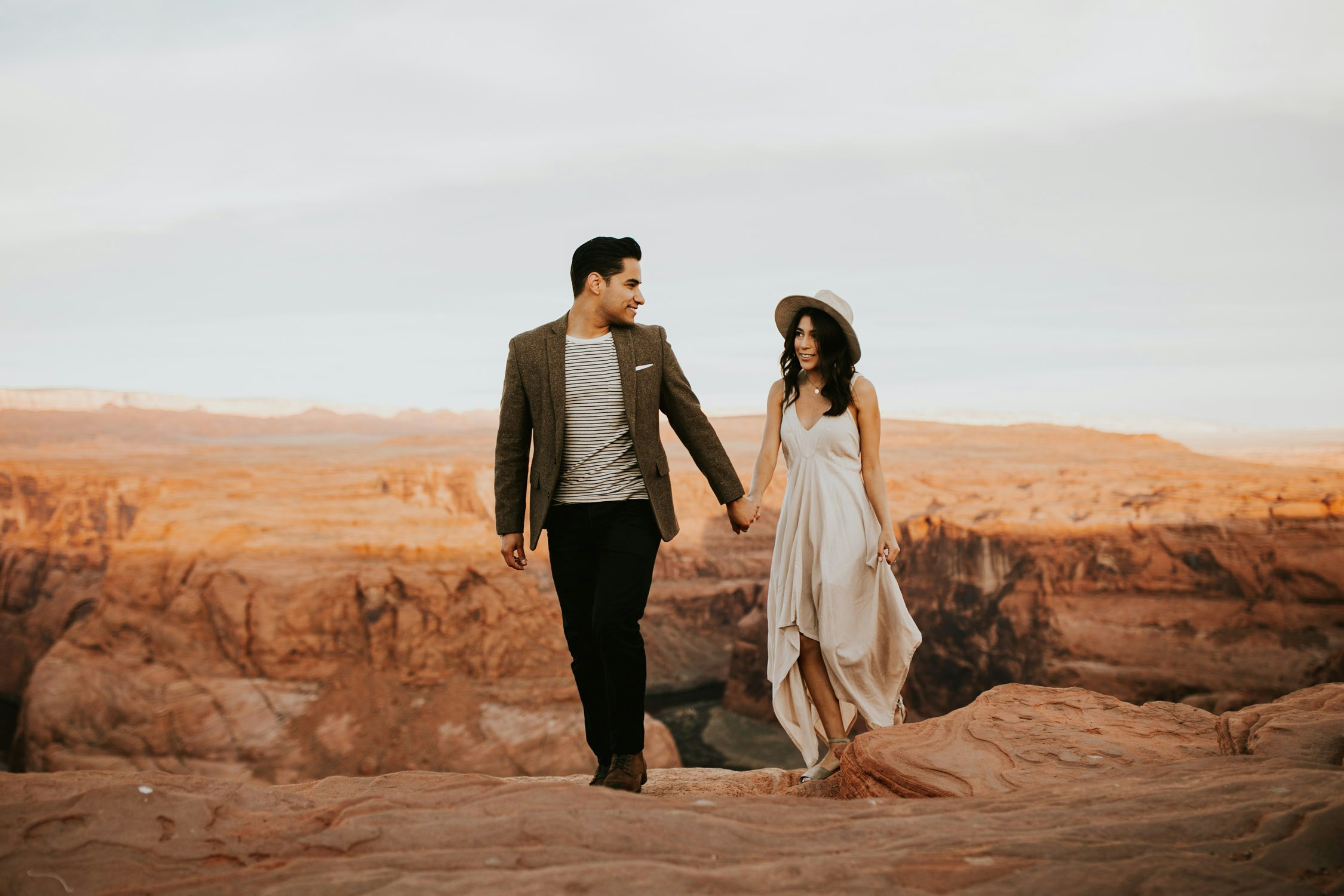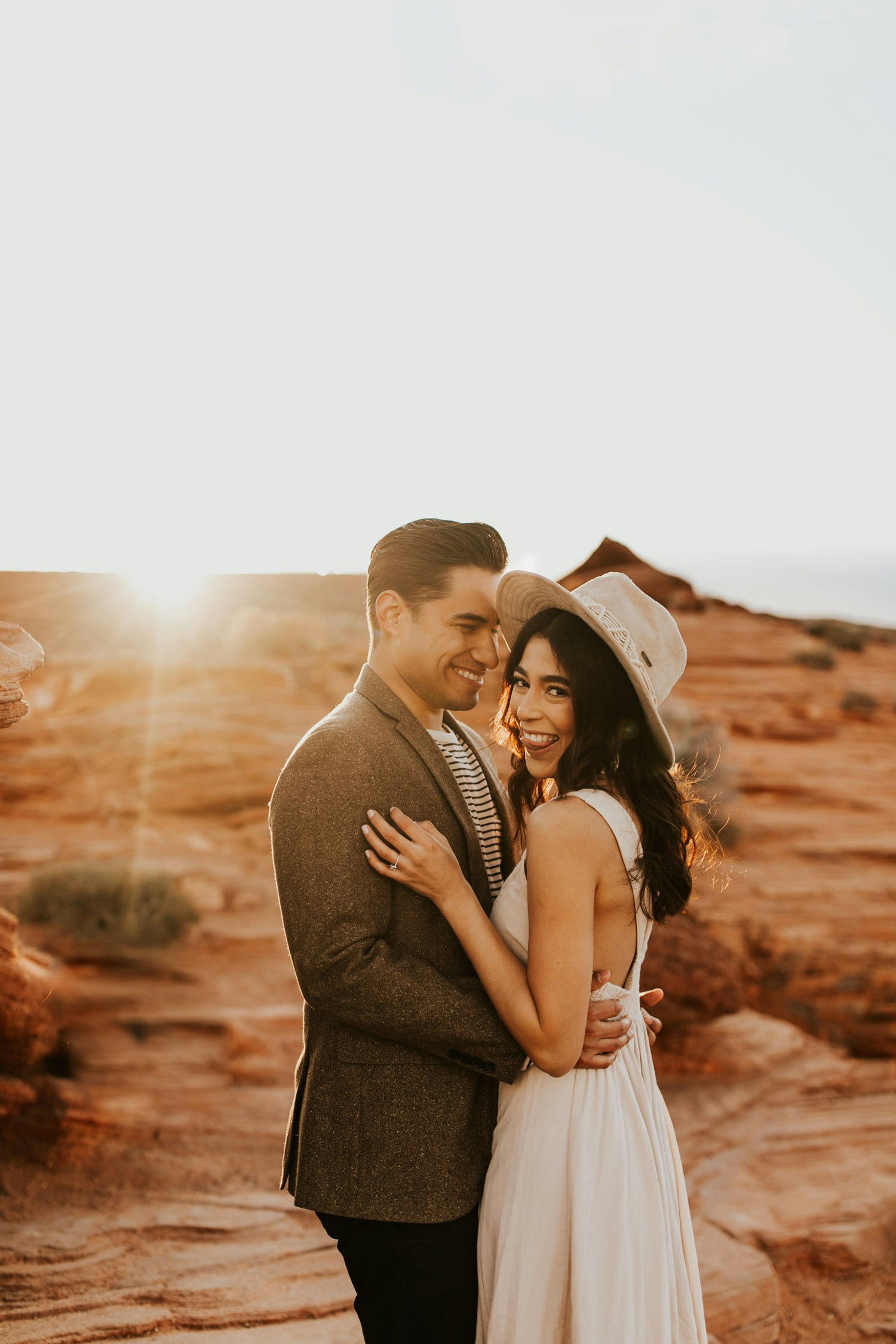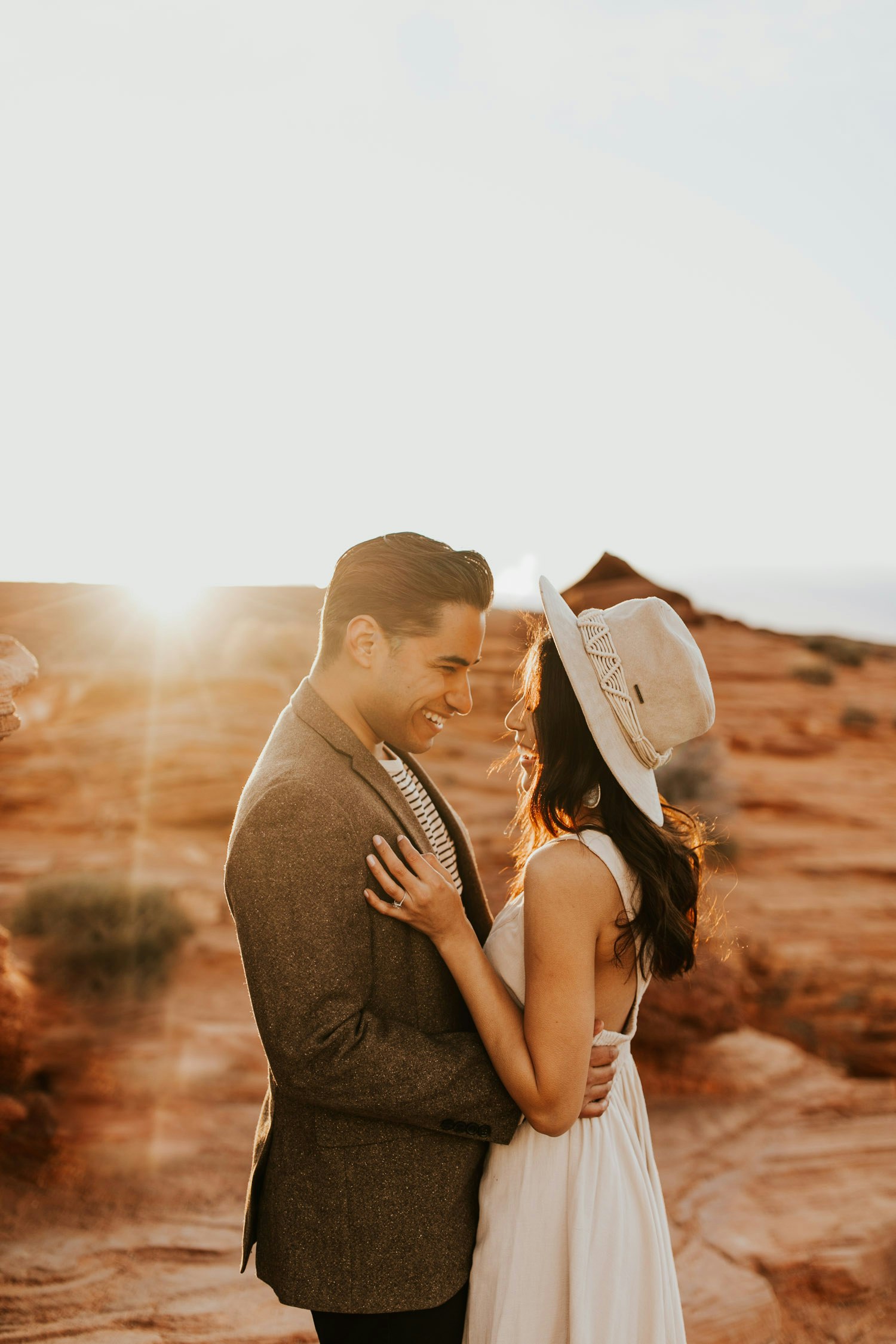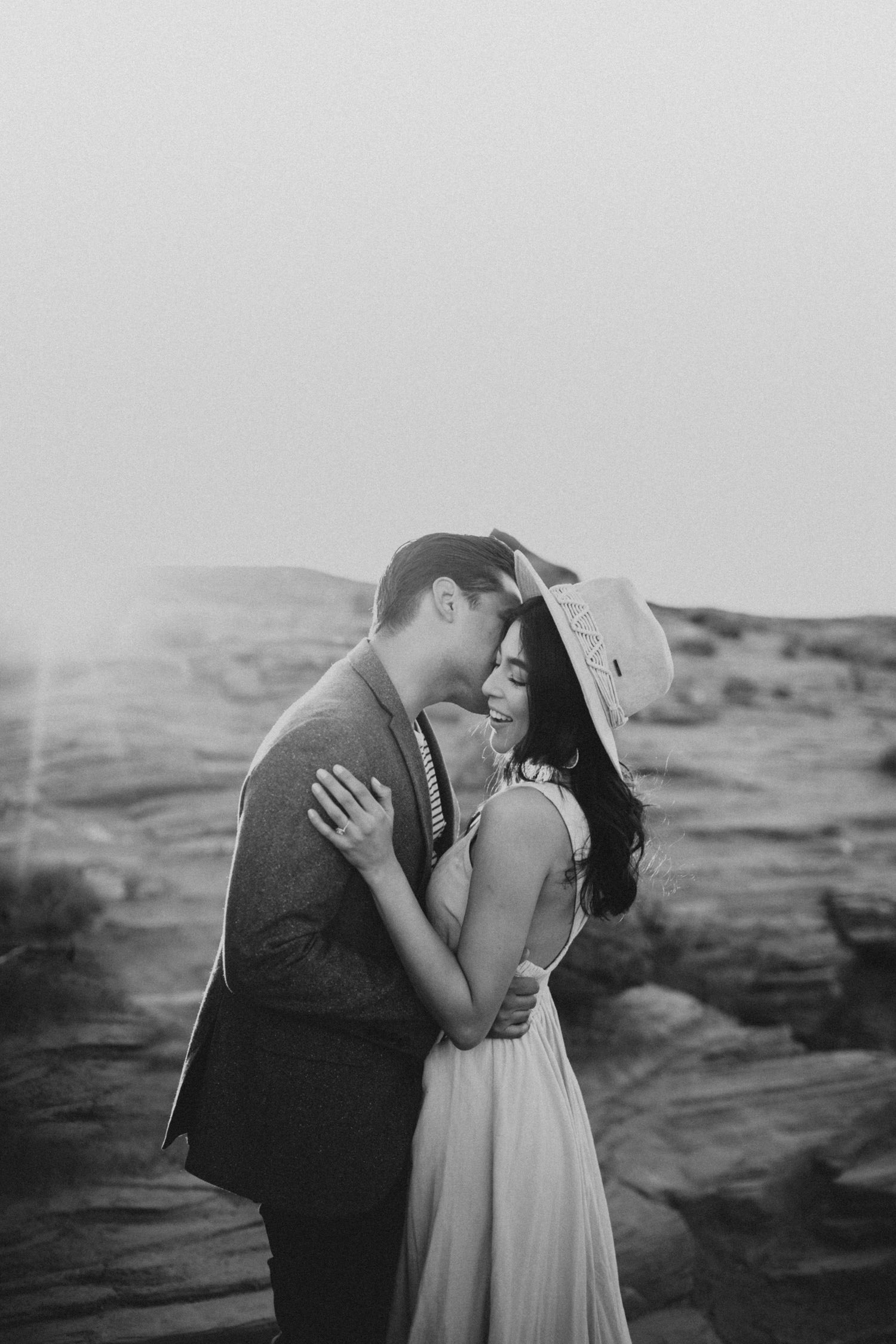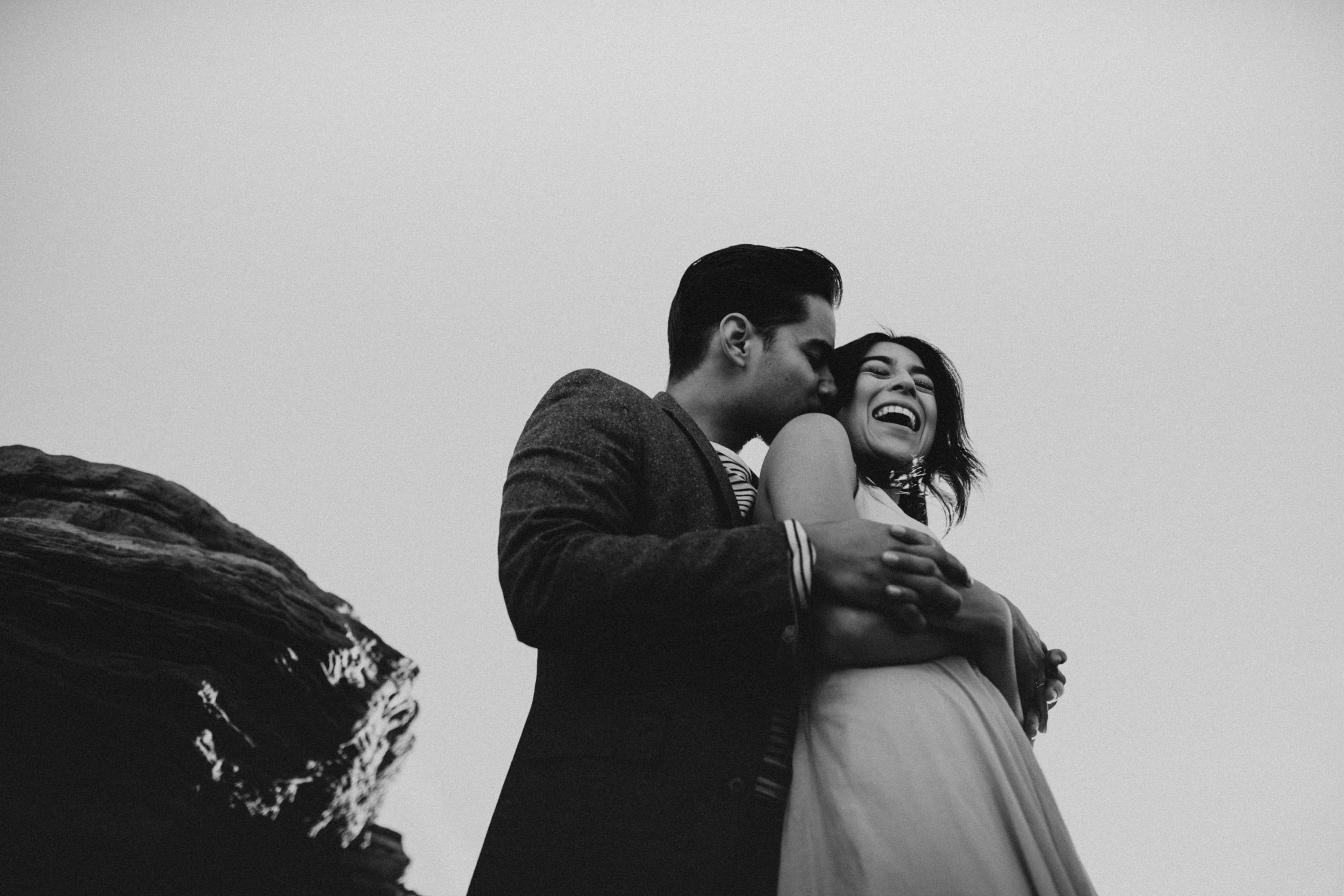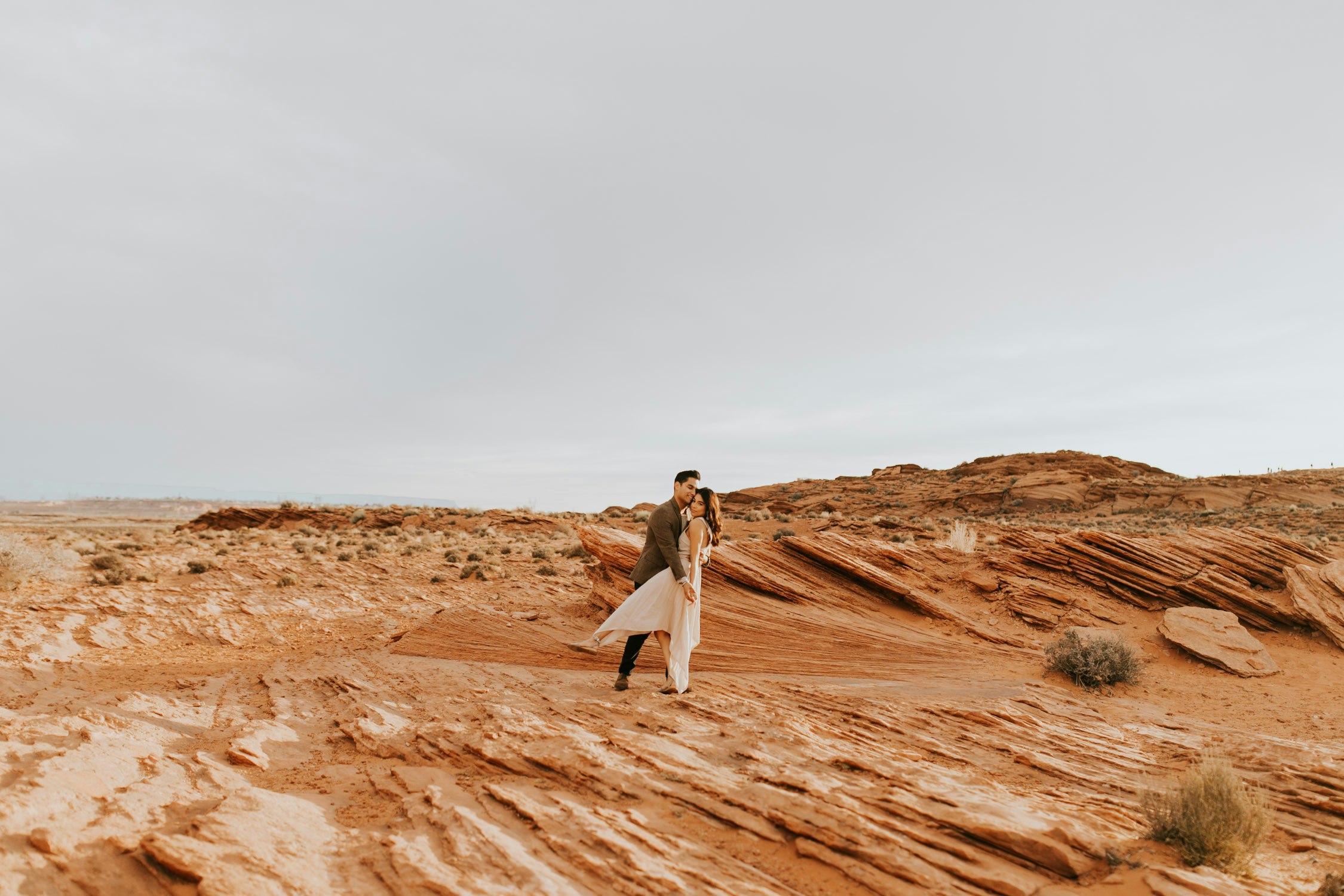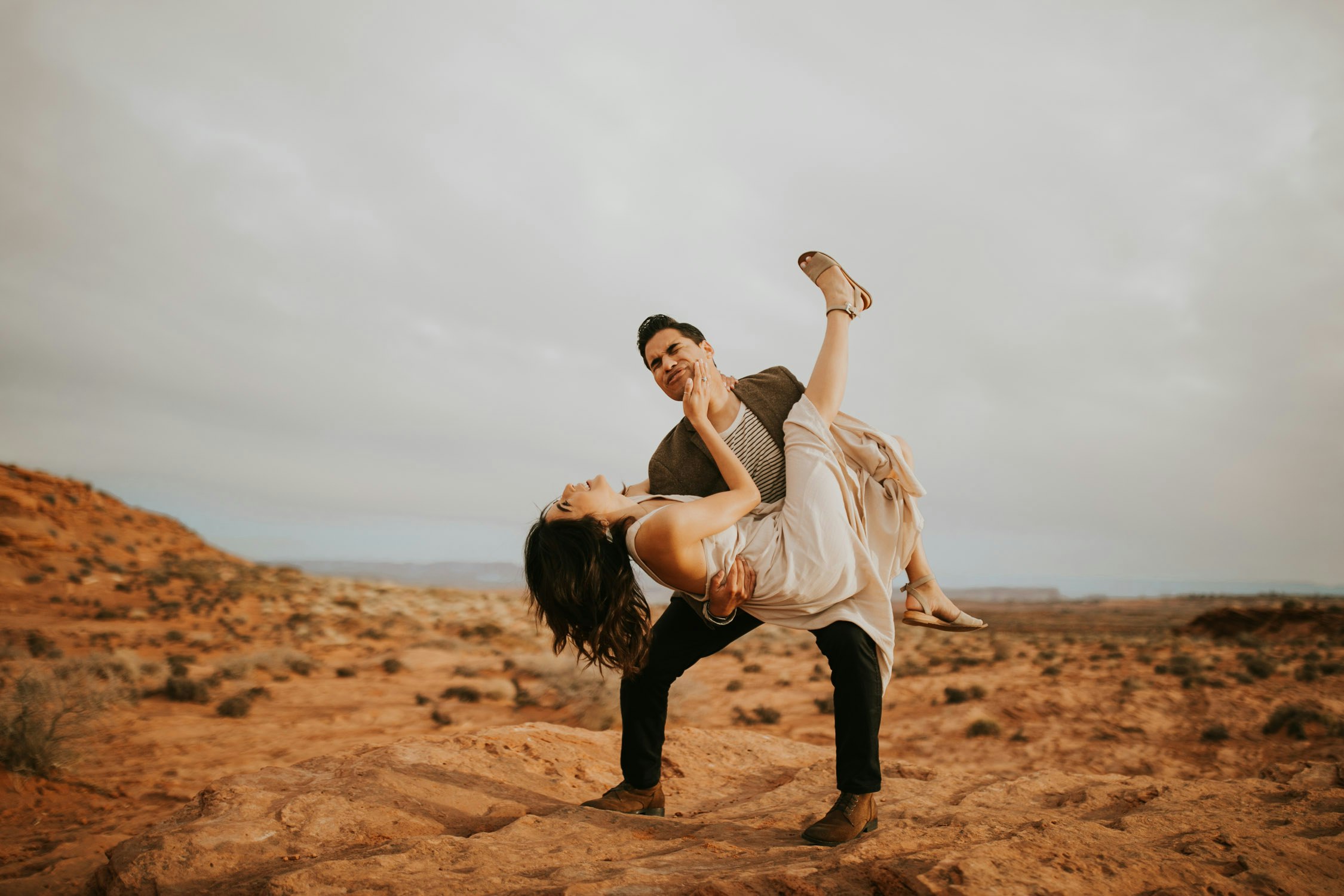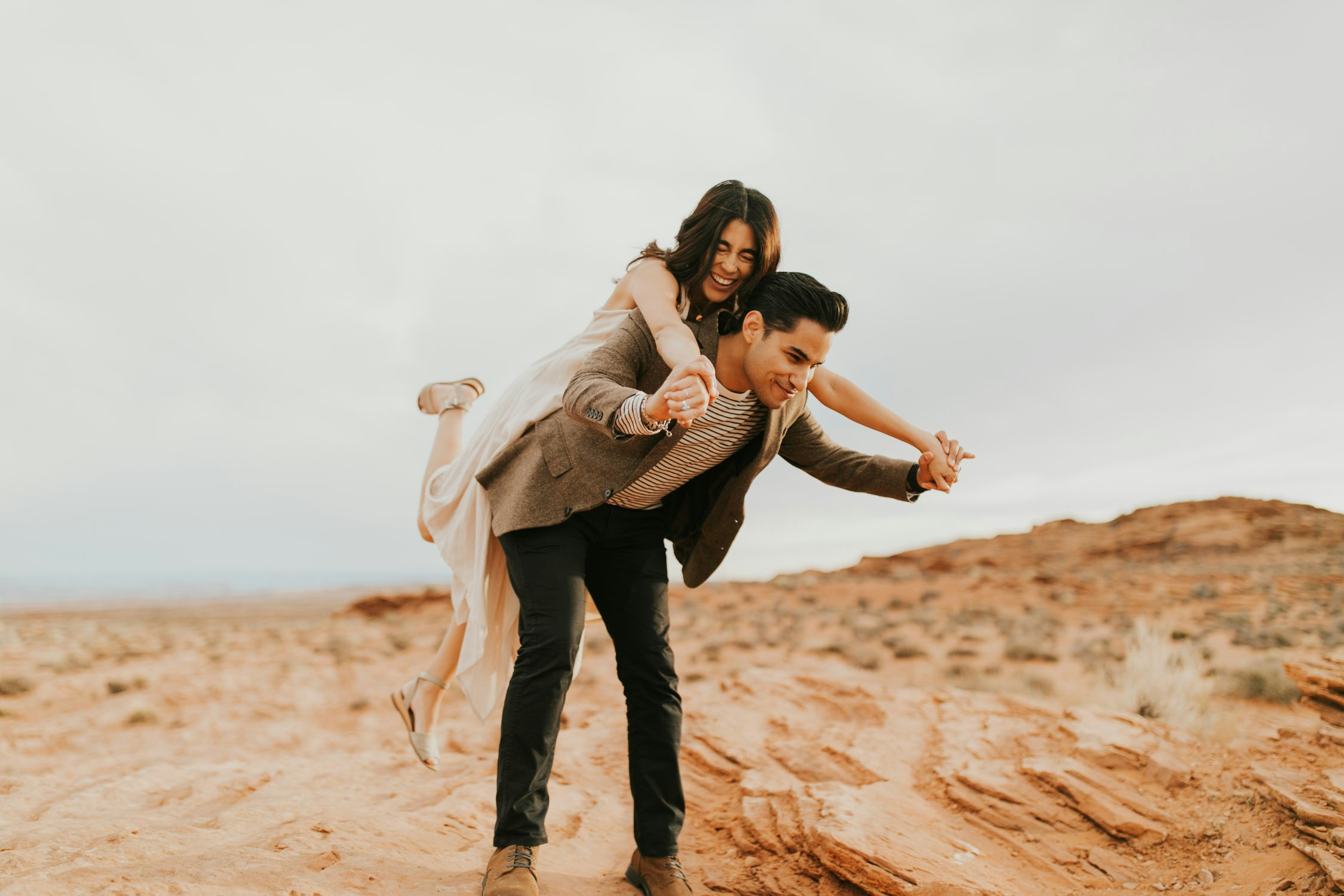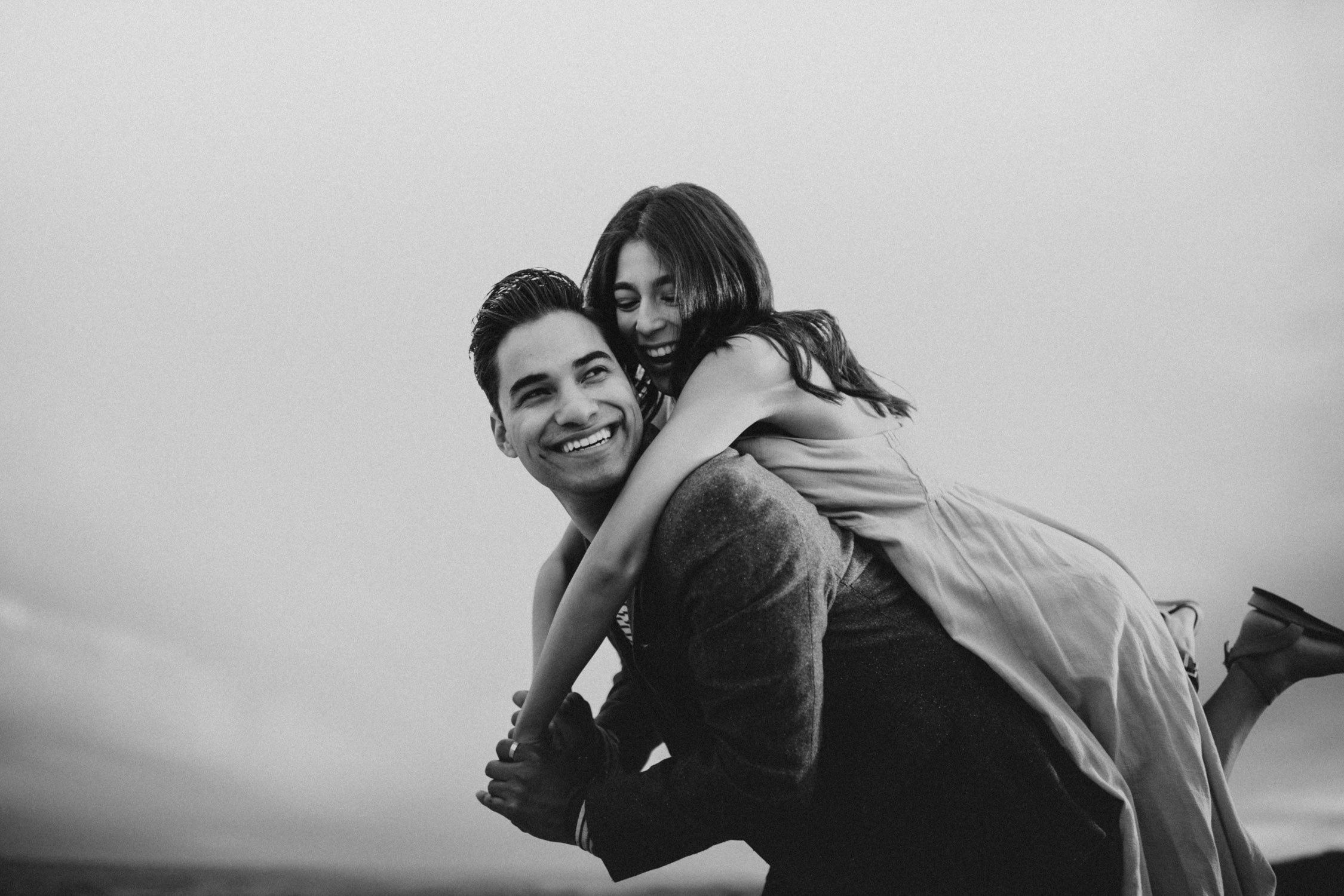 Antelope Canyon, Navajo land, Arizona + the middle of nowhere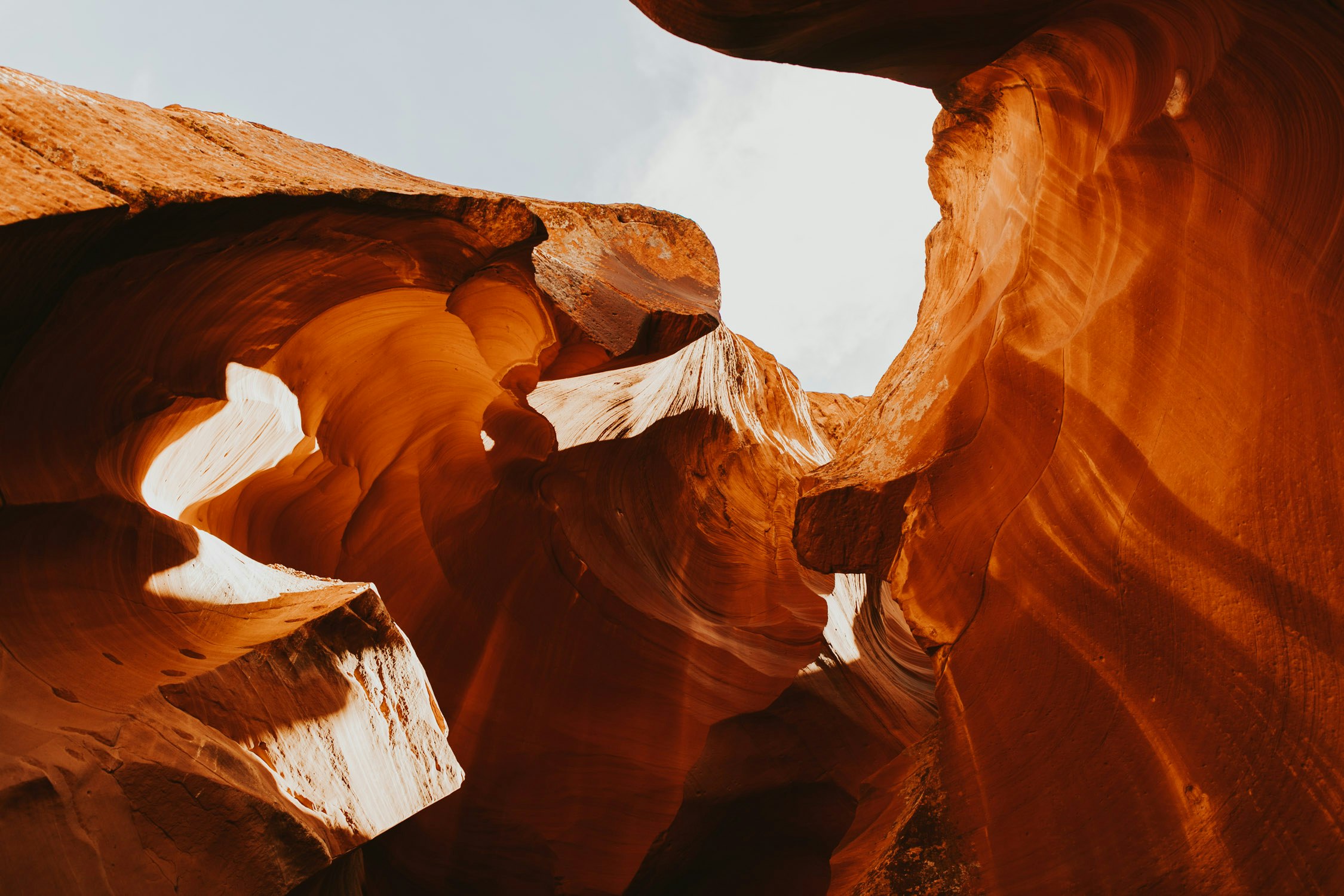 Antelope Canyon was a neat experience. You ride in on these buggies (I think you'd call them?) and you are guided in with a tour guide. The massive rocks surrounding you are actually some of the most beautiful views, and it kinda makes you think about how they might have looked say... even 10 years ago. After we did tour, we started driving to Flagstaff when I told them "PULL OVER, LET'S SHOOT RIGHT HERE" (scroll to the running in the street pictures below). Those views behind us and the rush to get out of the road before cars come, was way too exciting. (Don't worry moms, we were safe)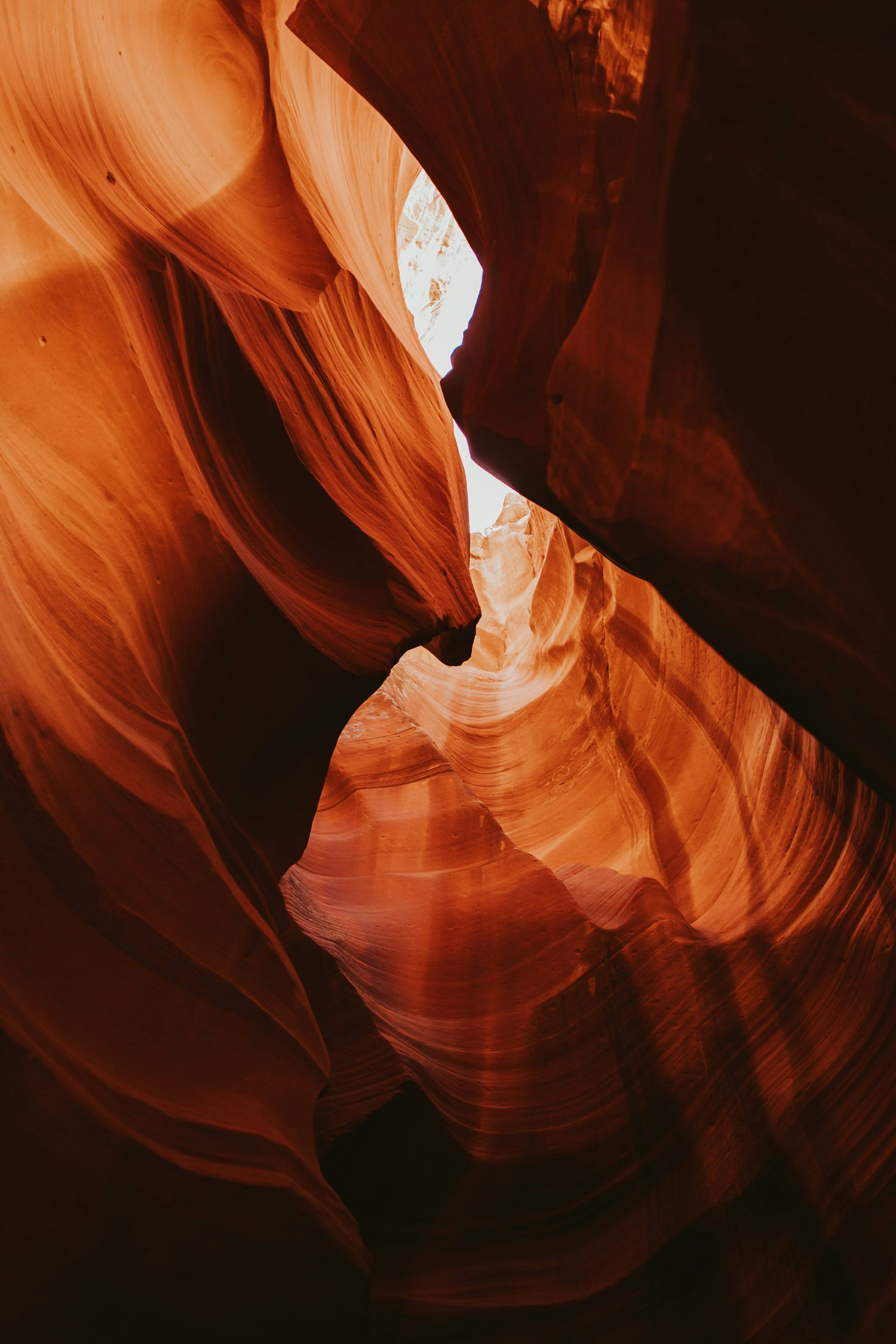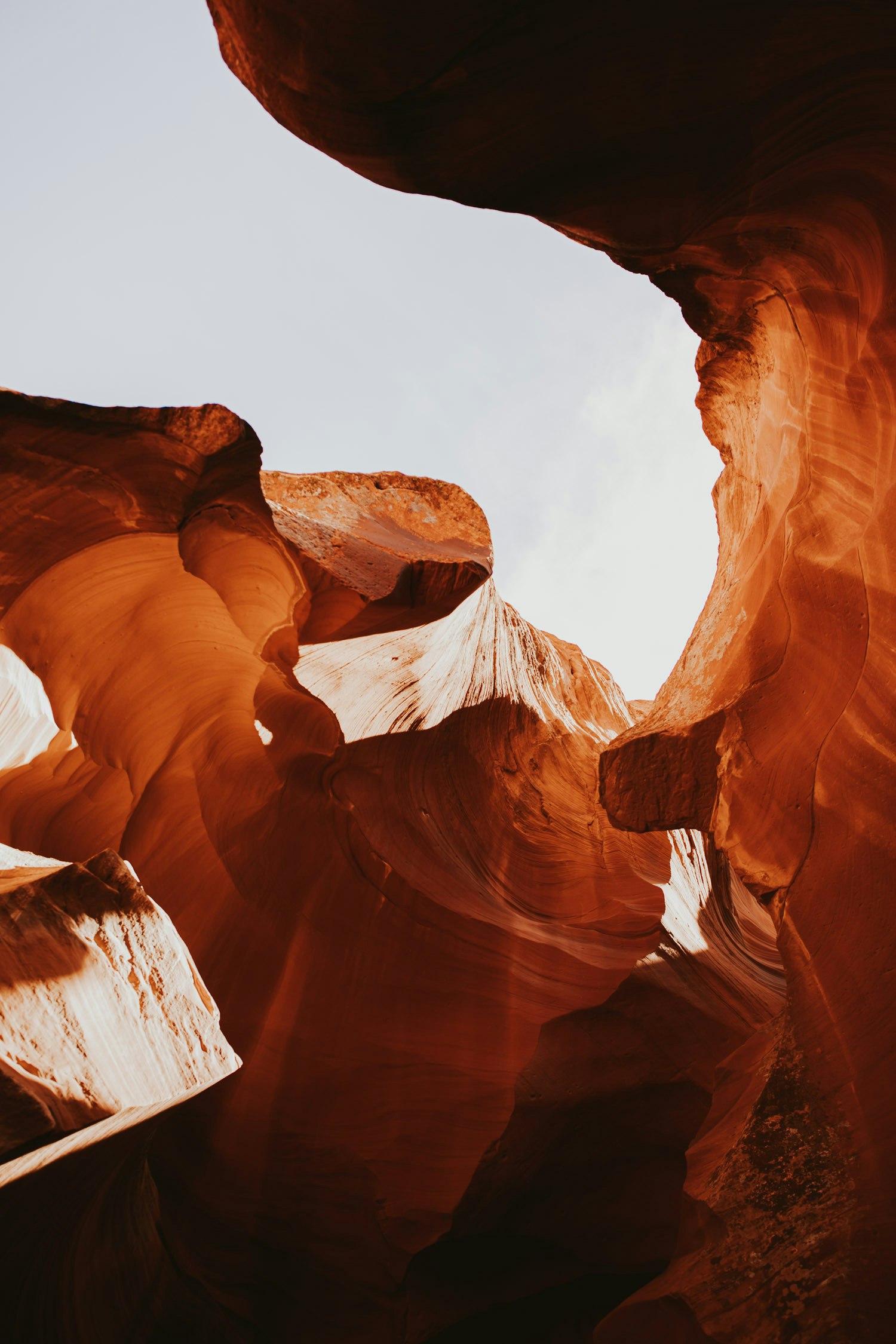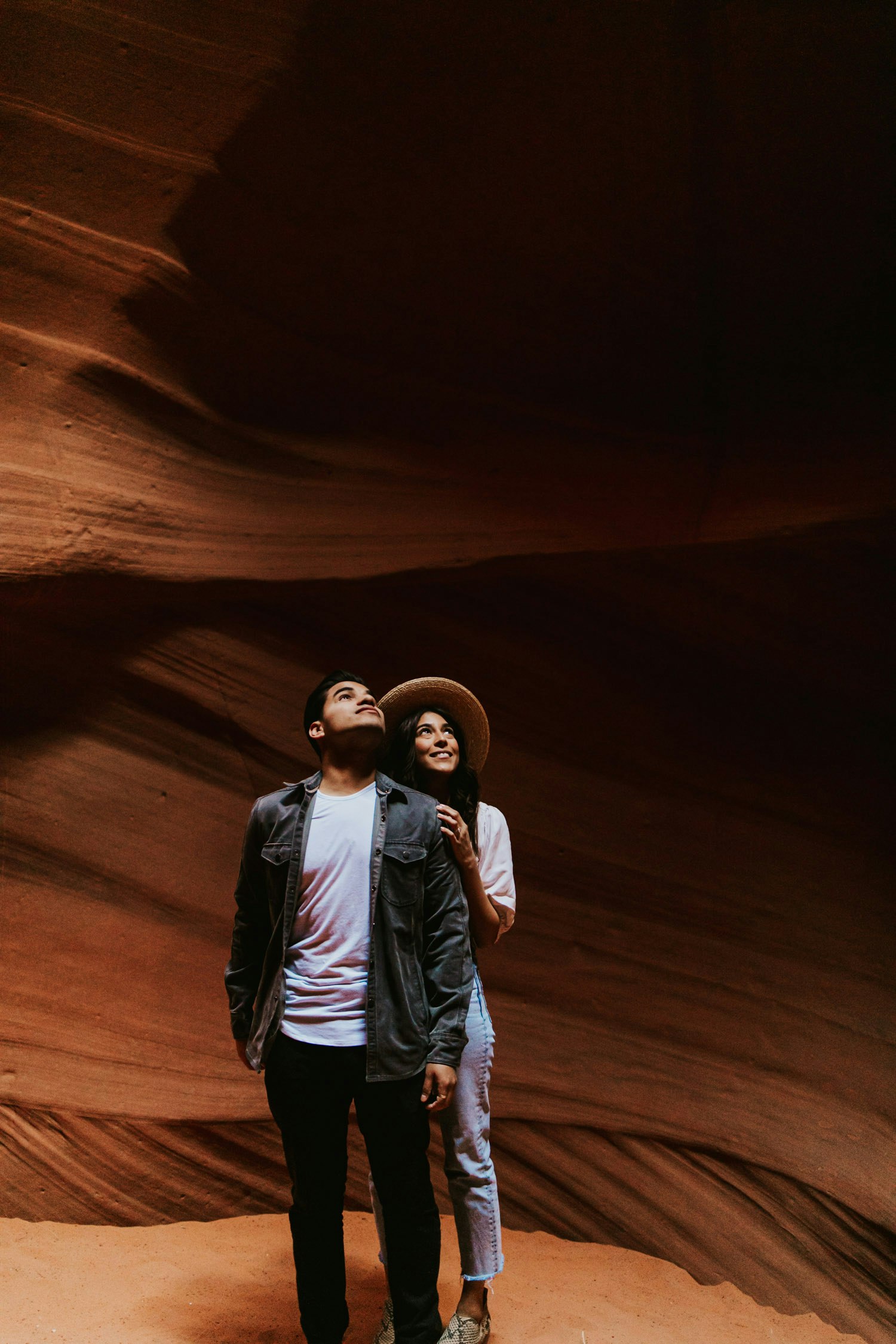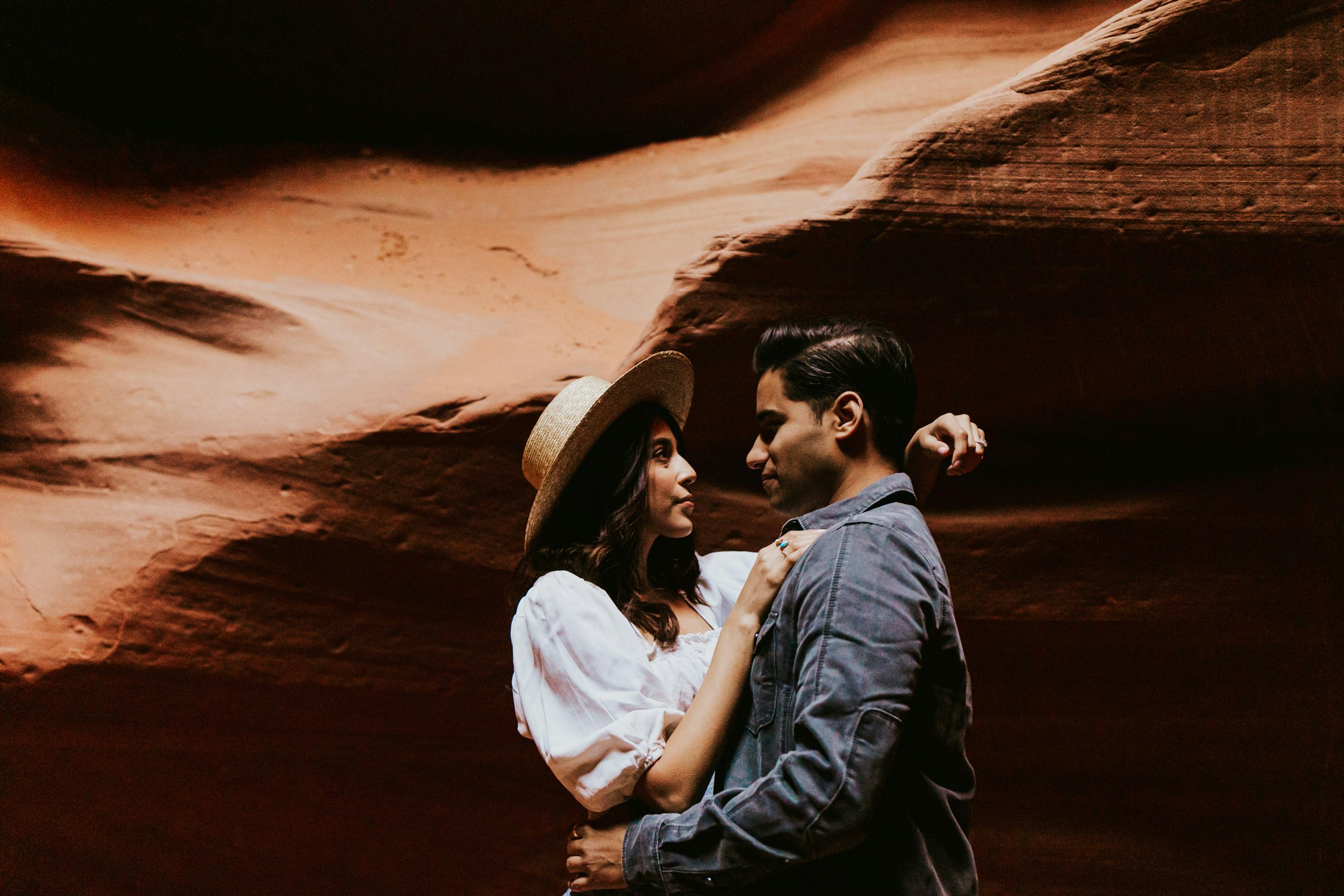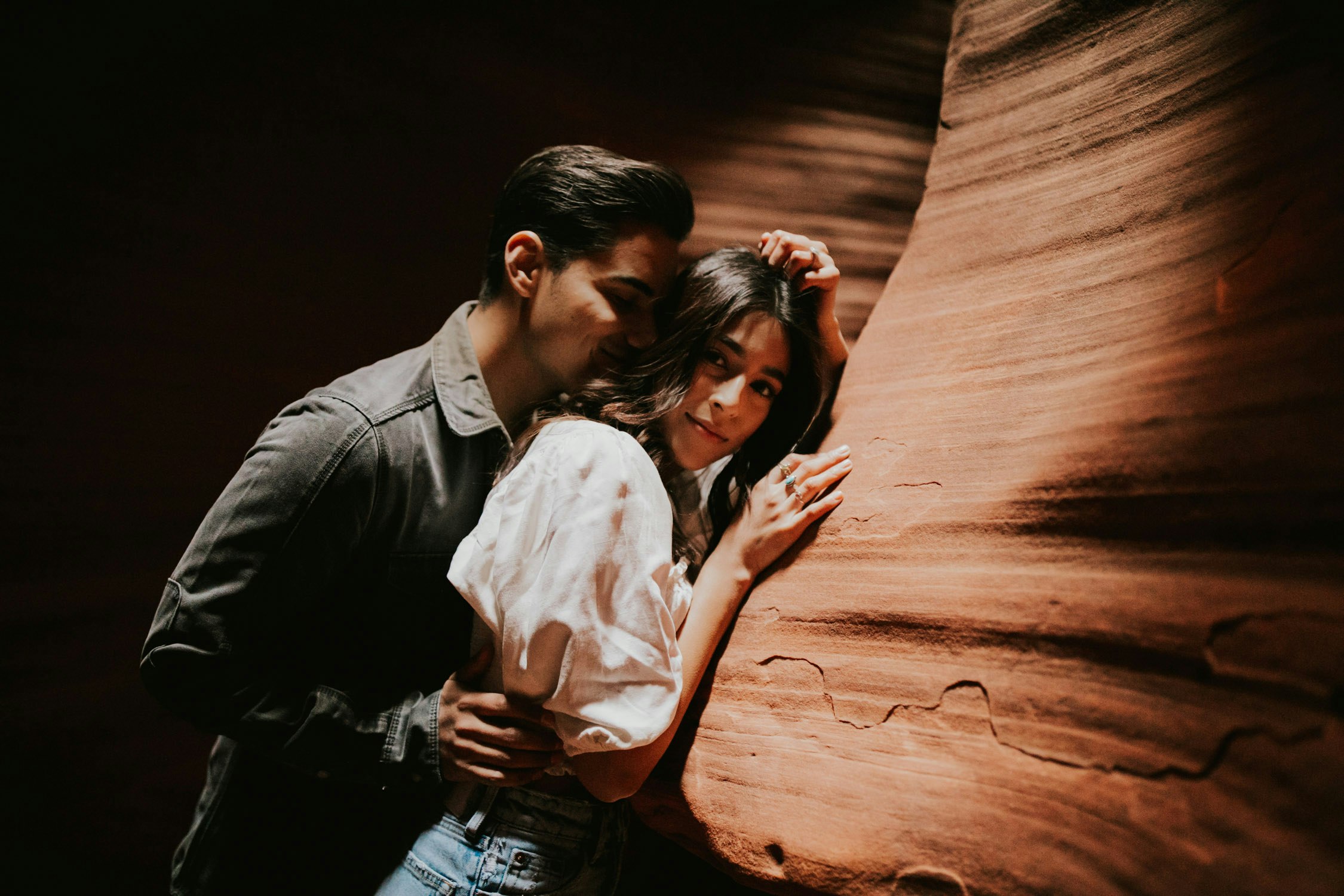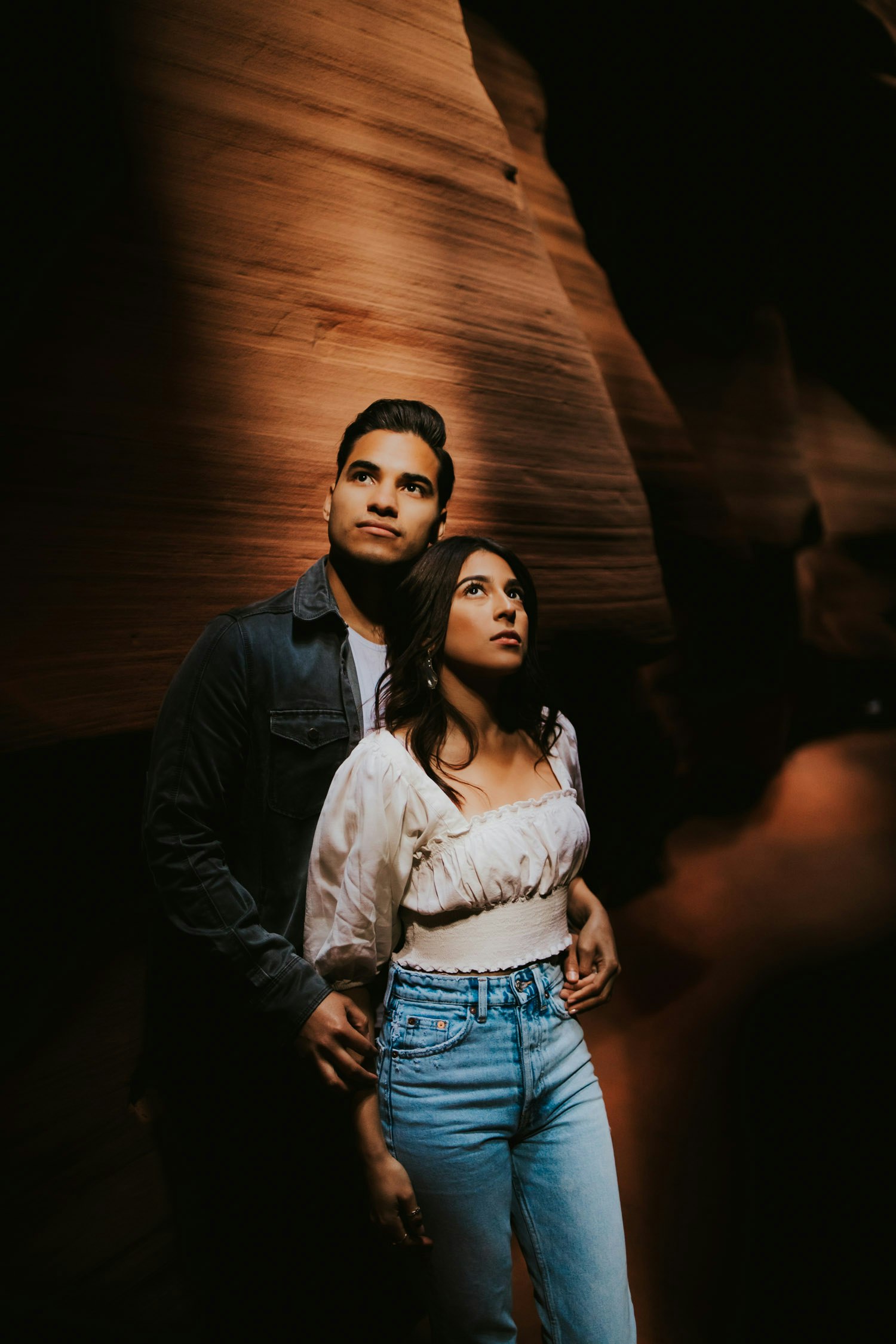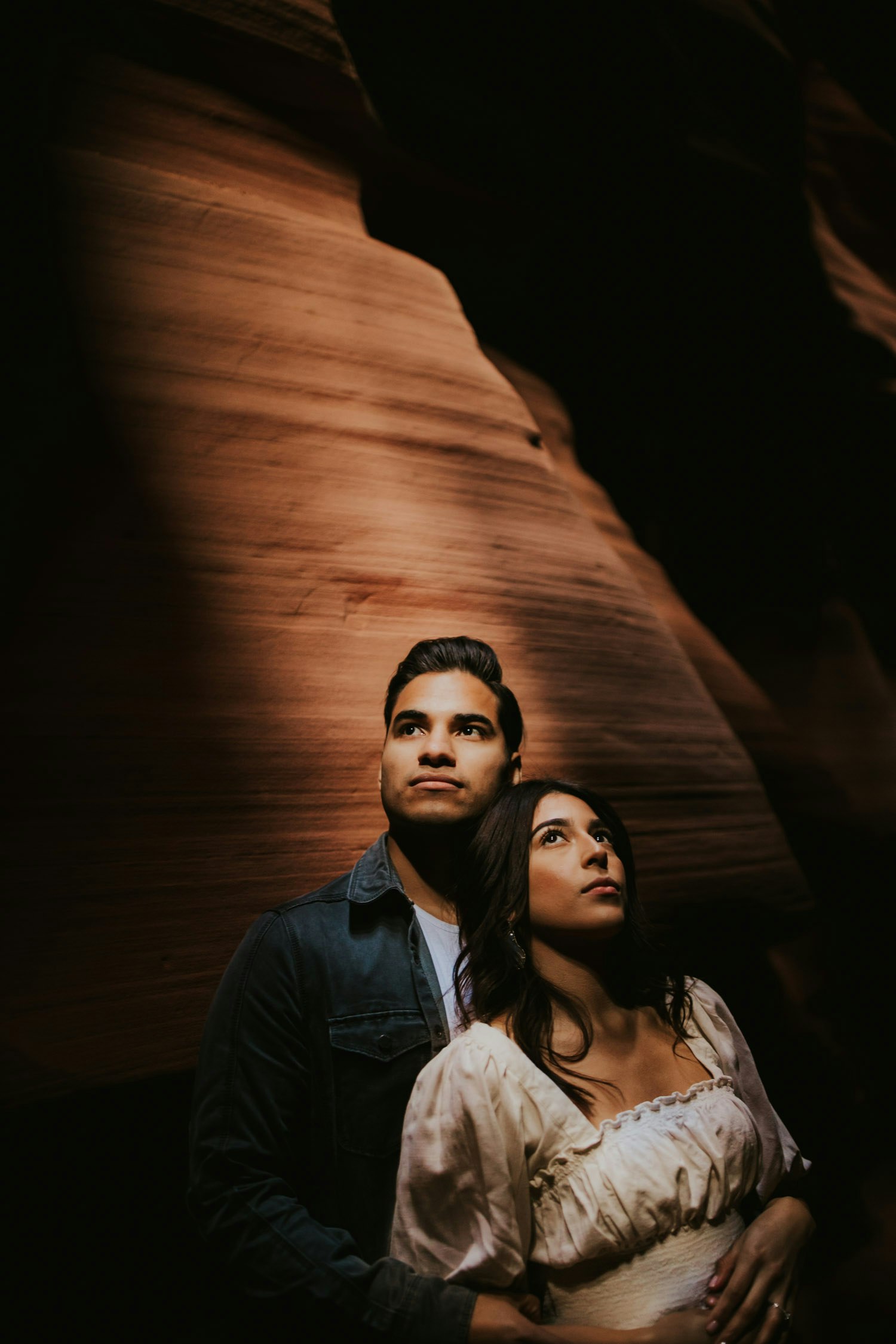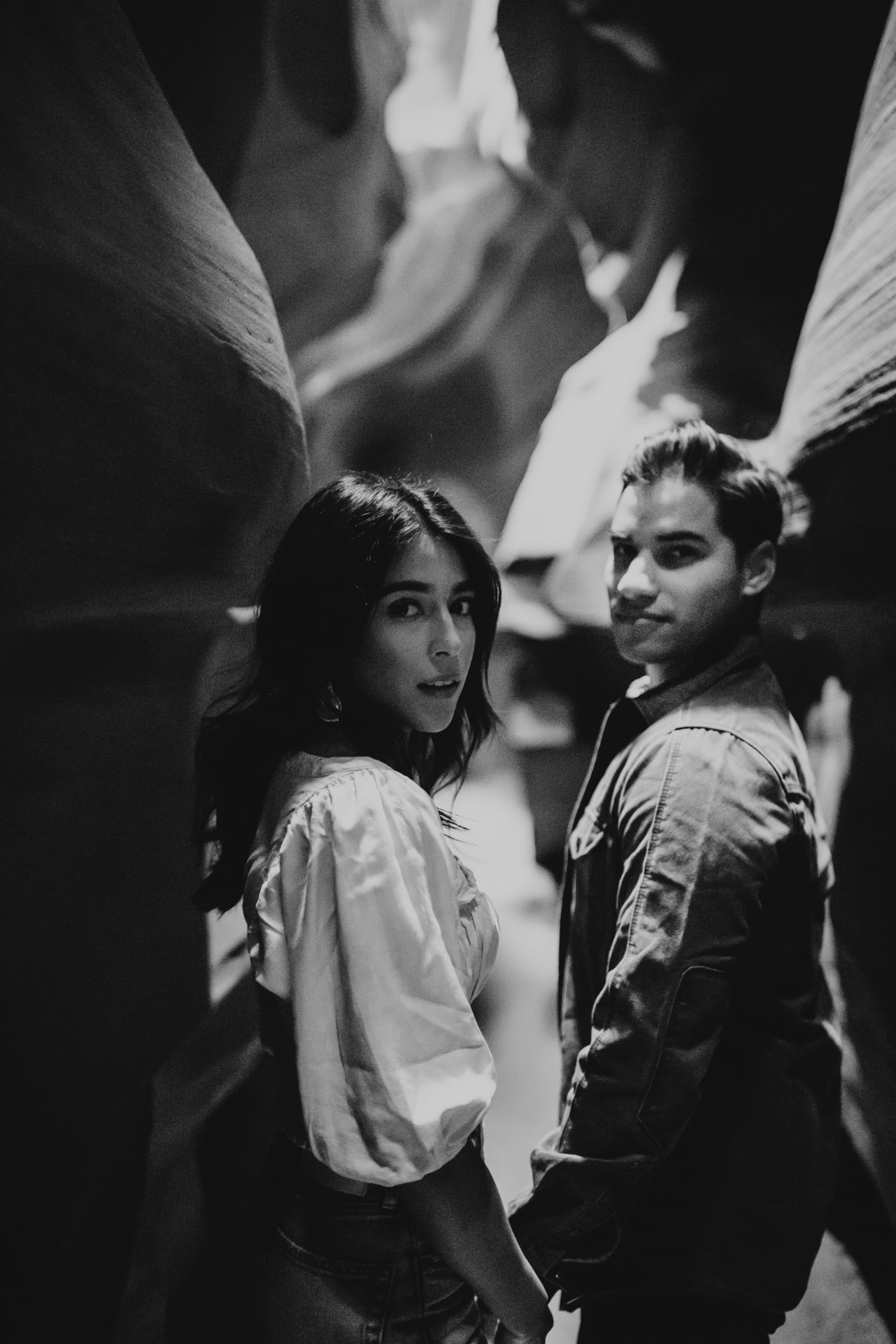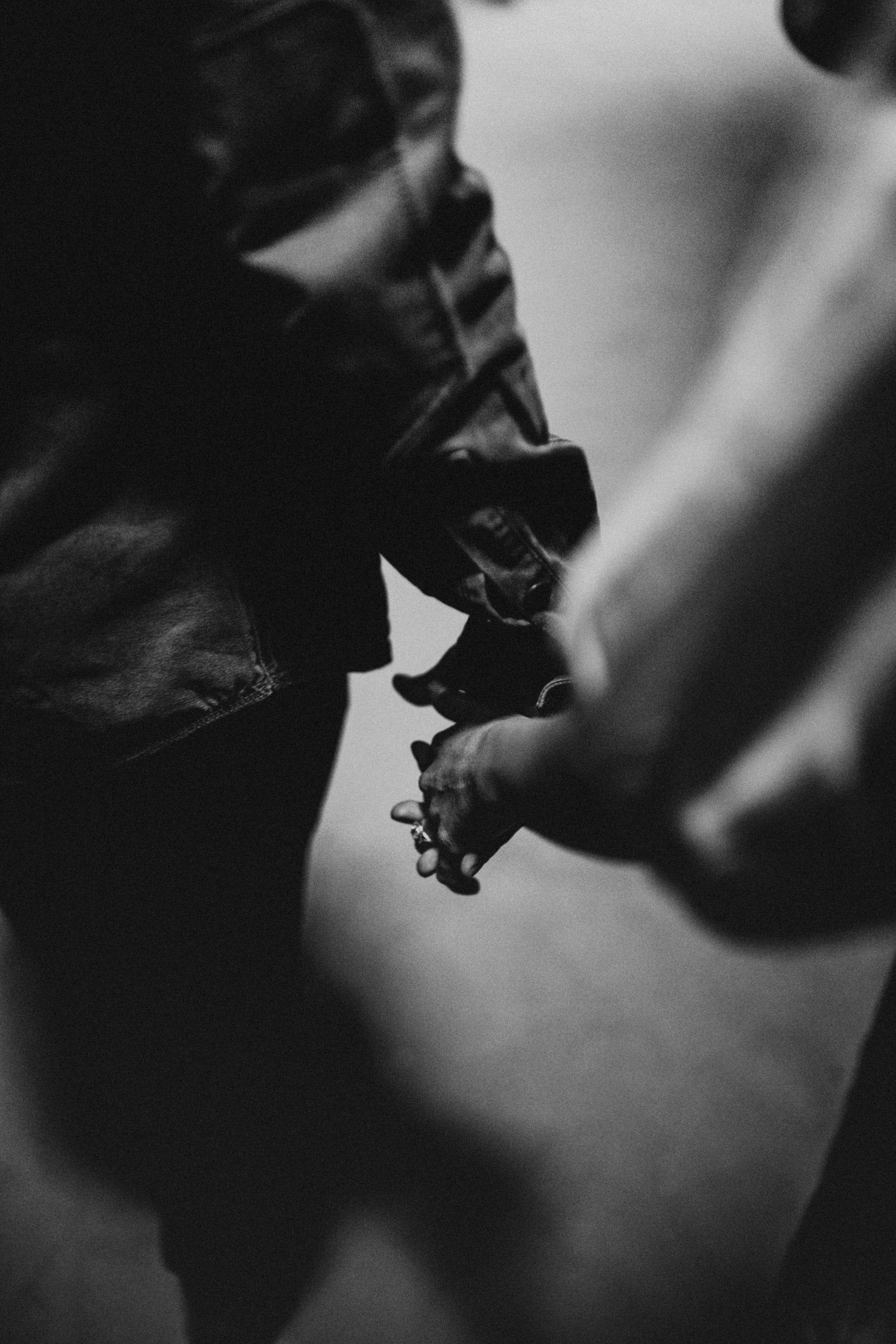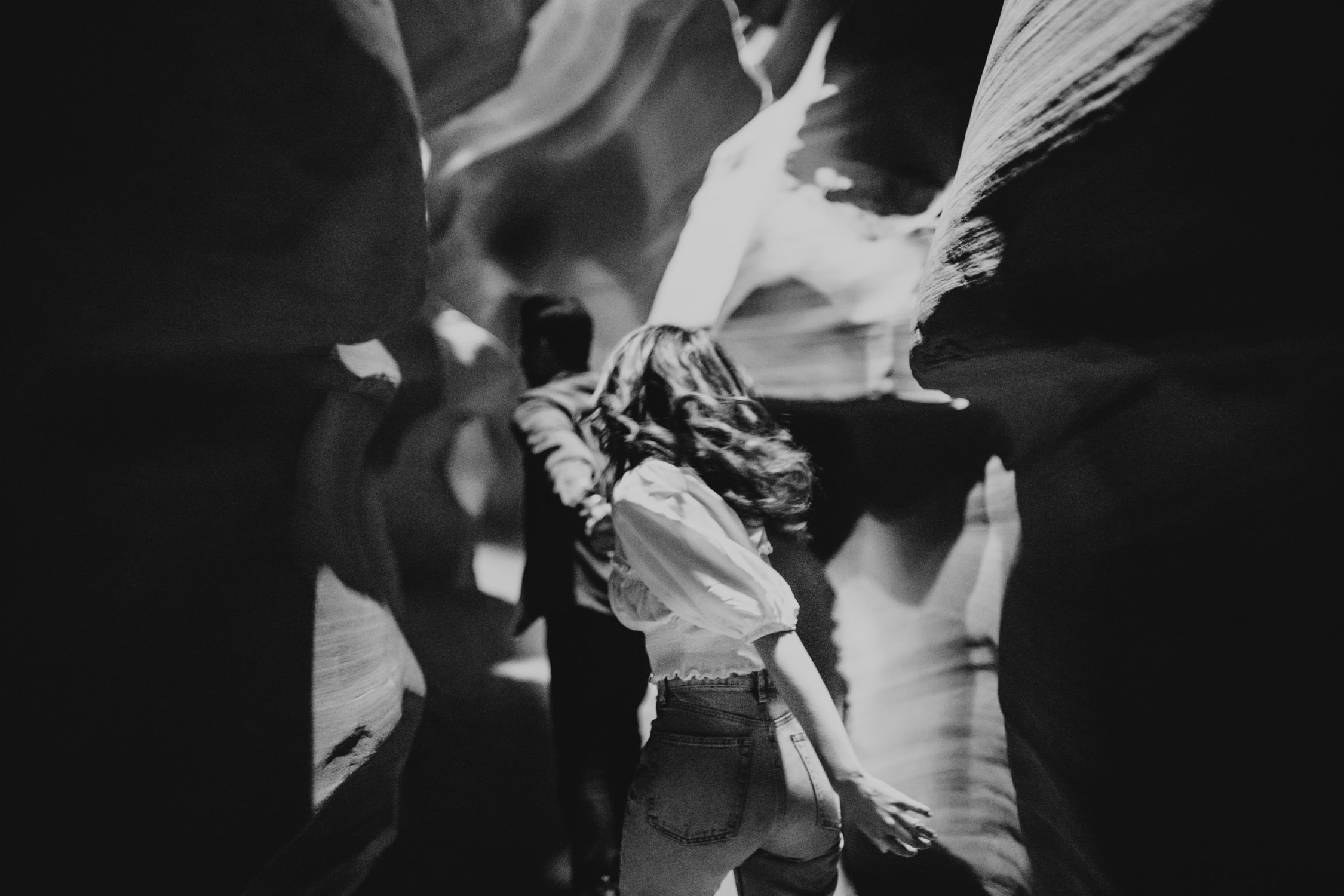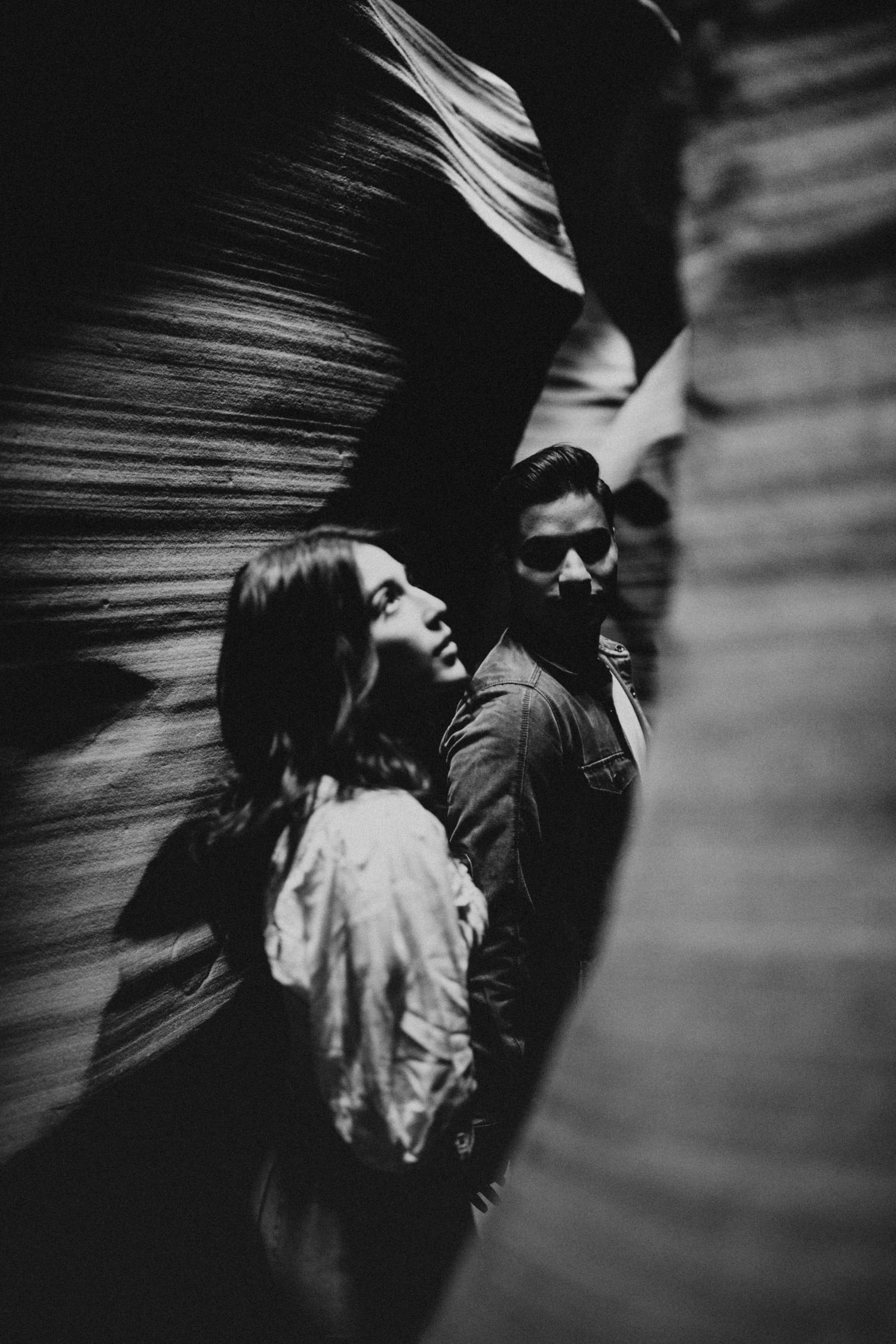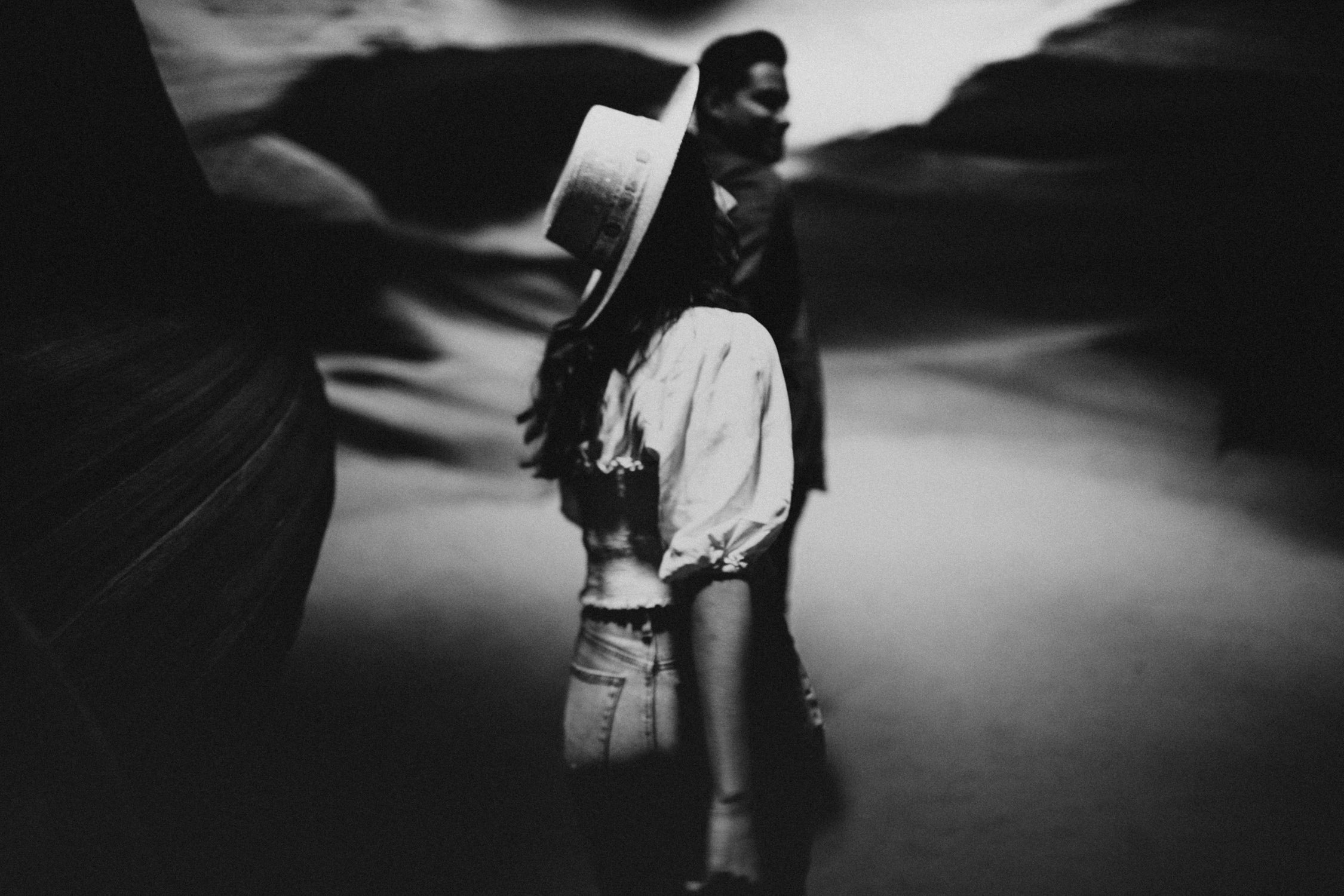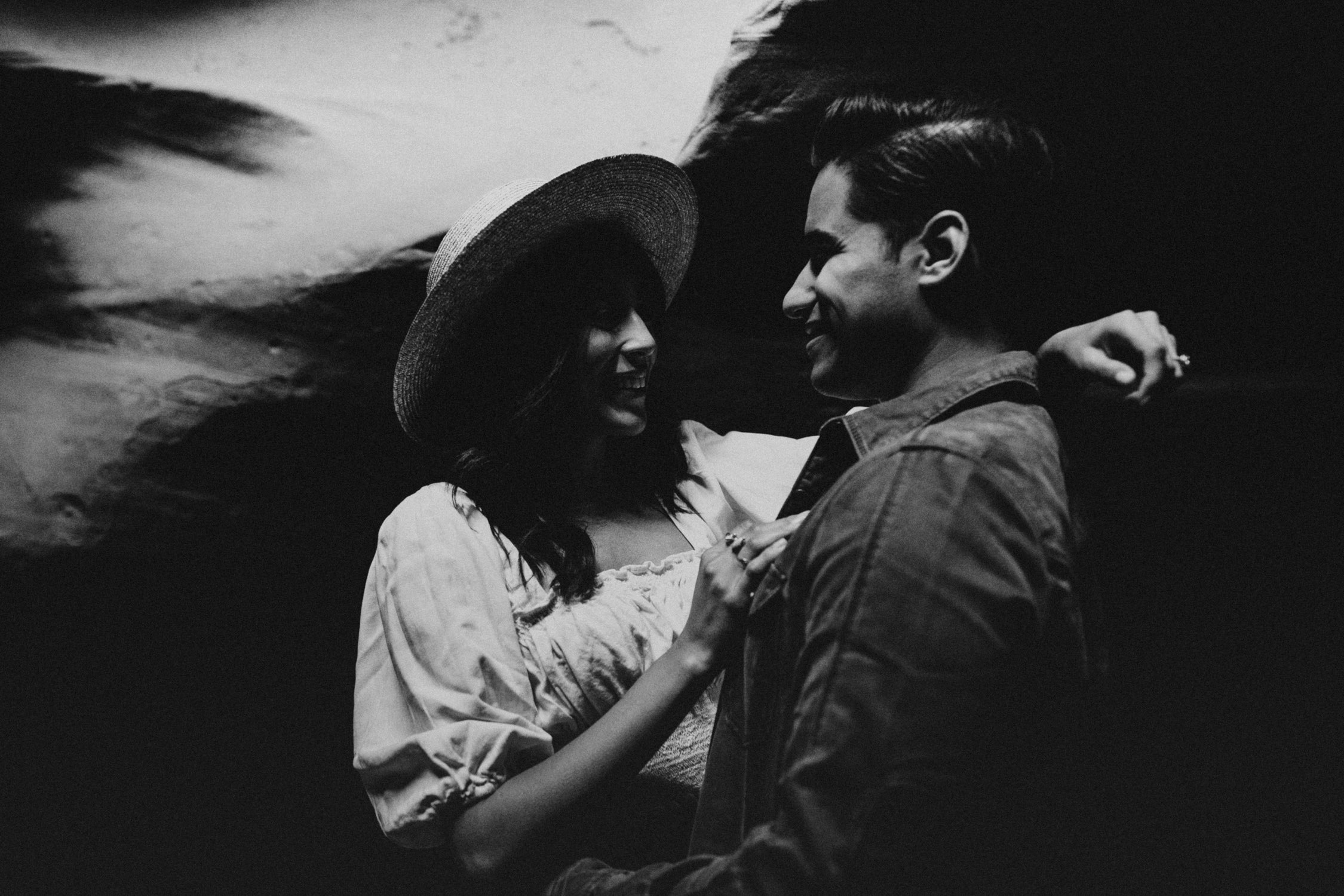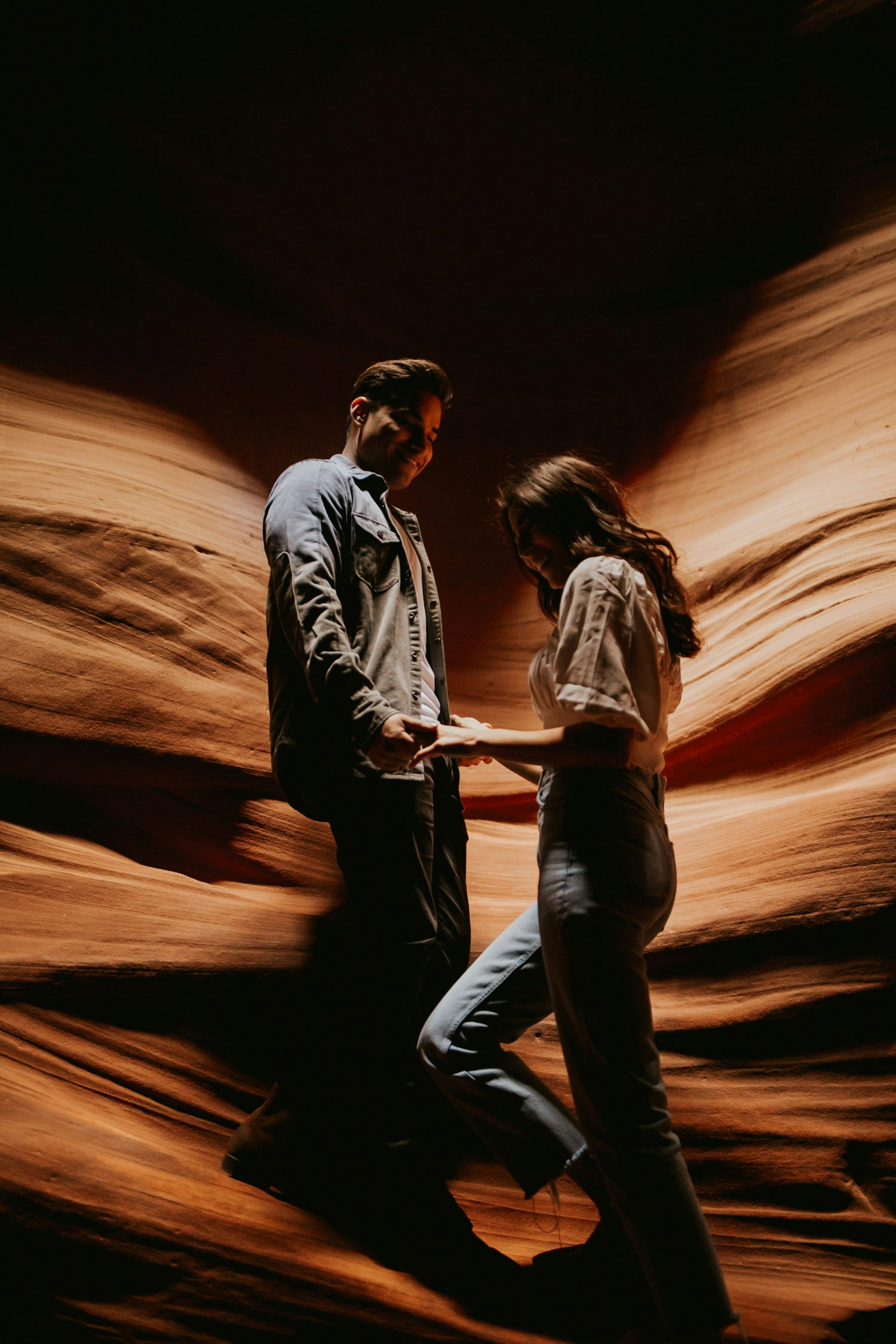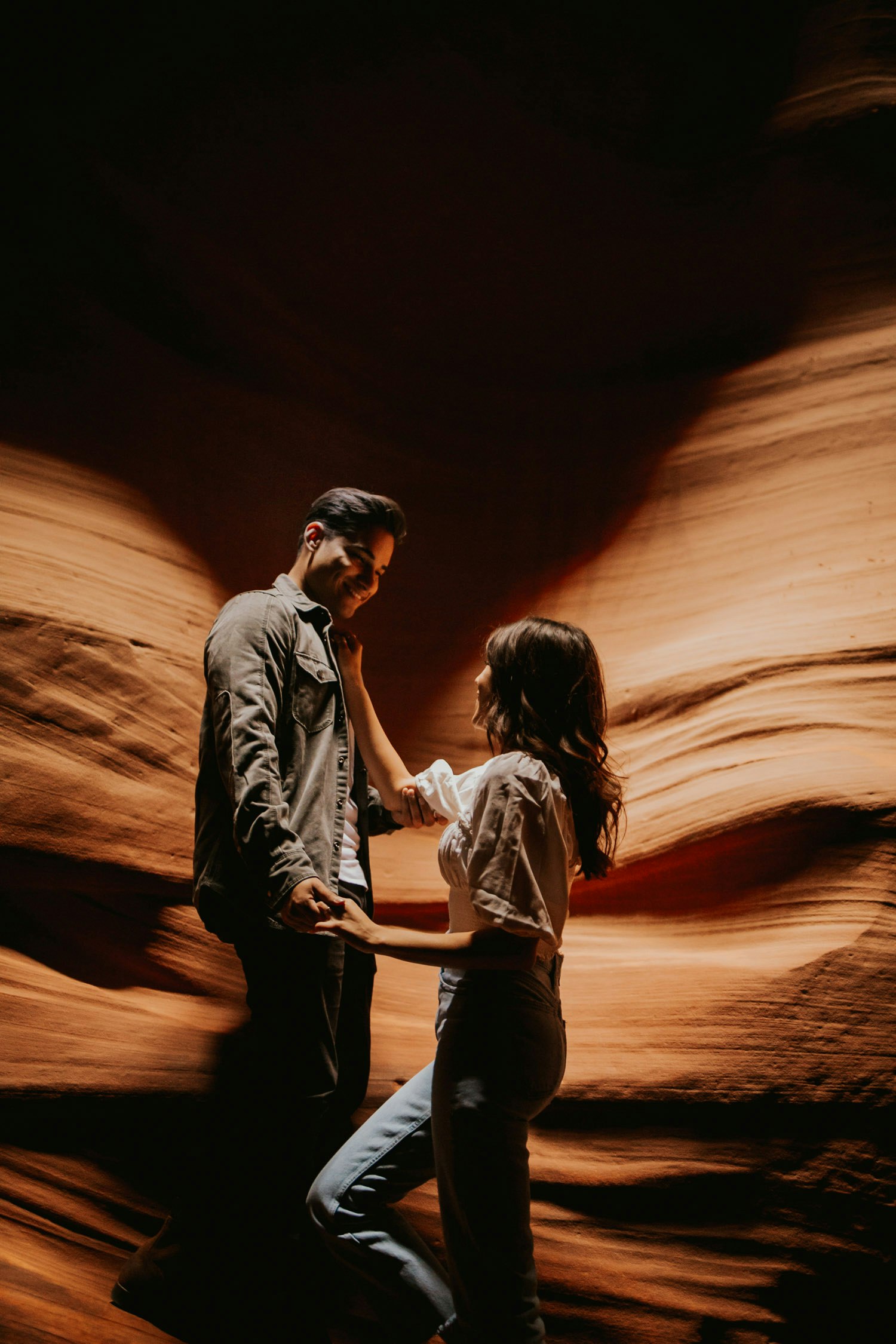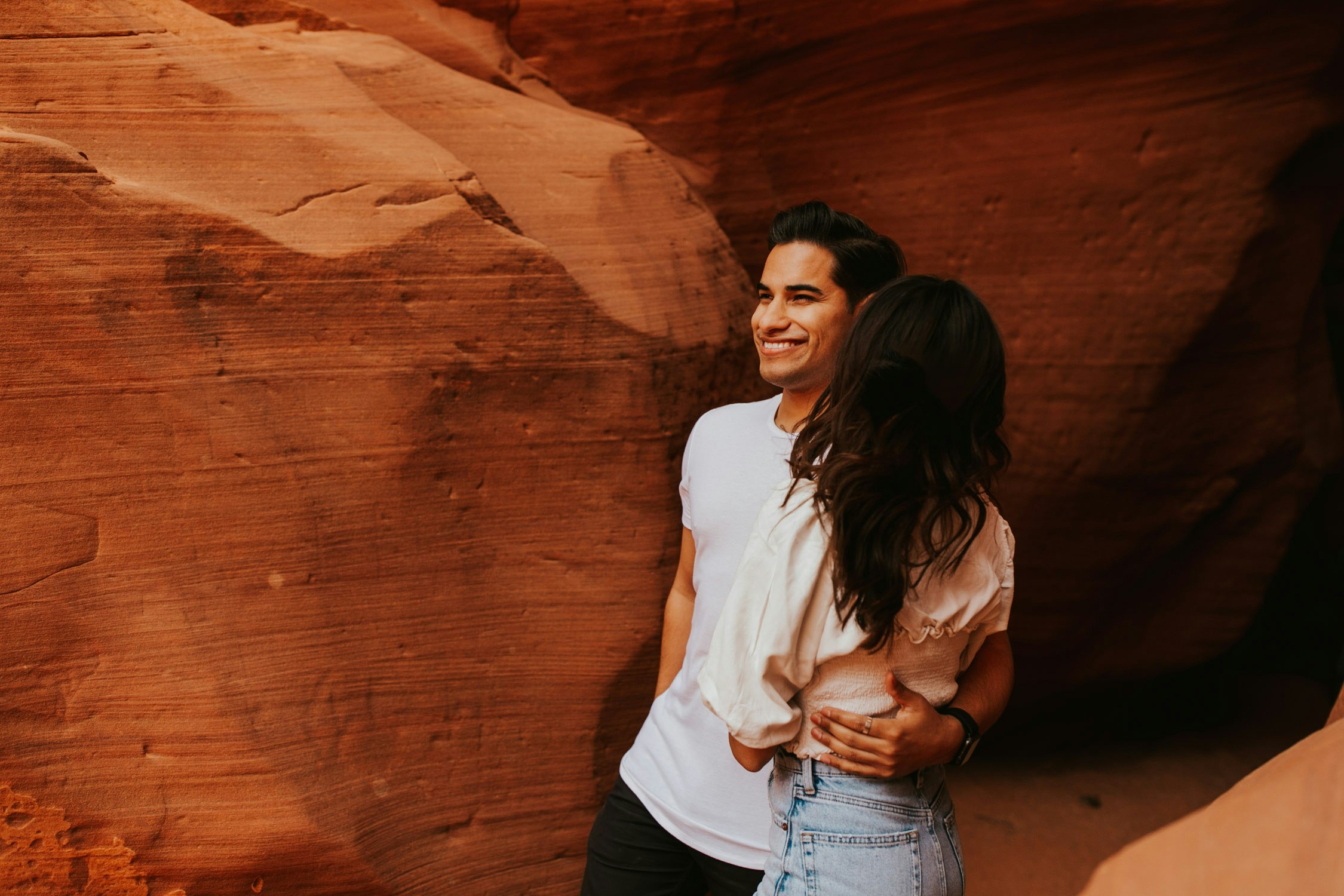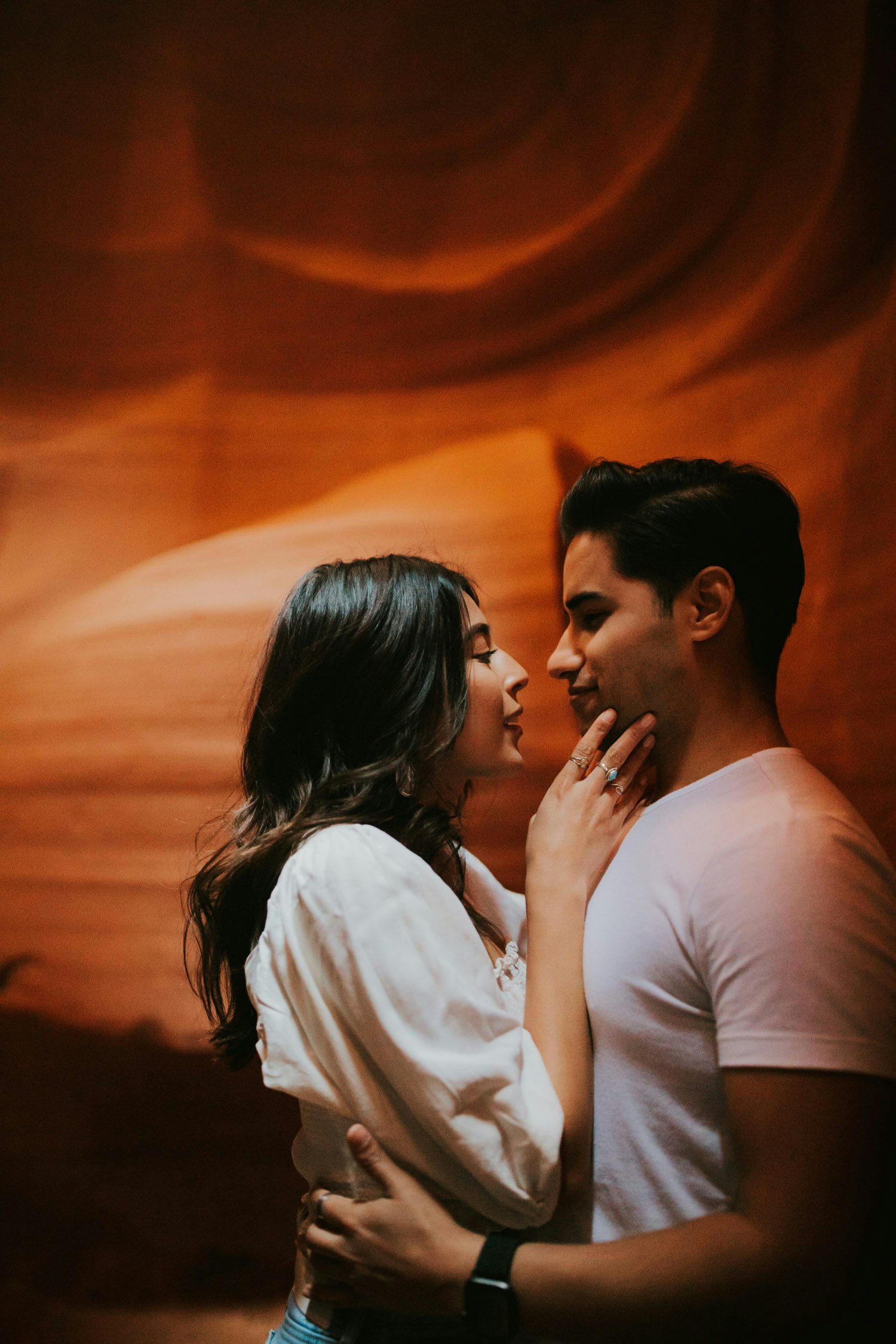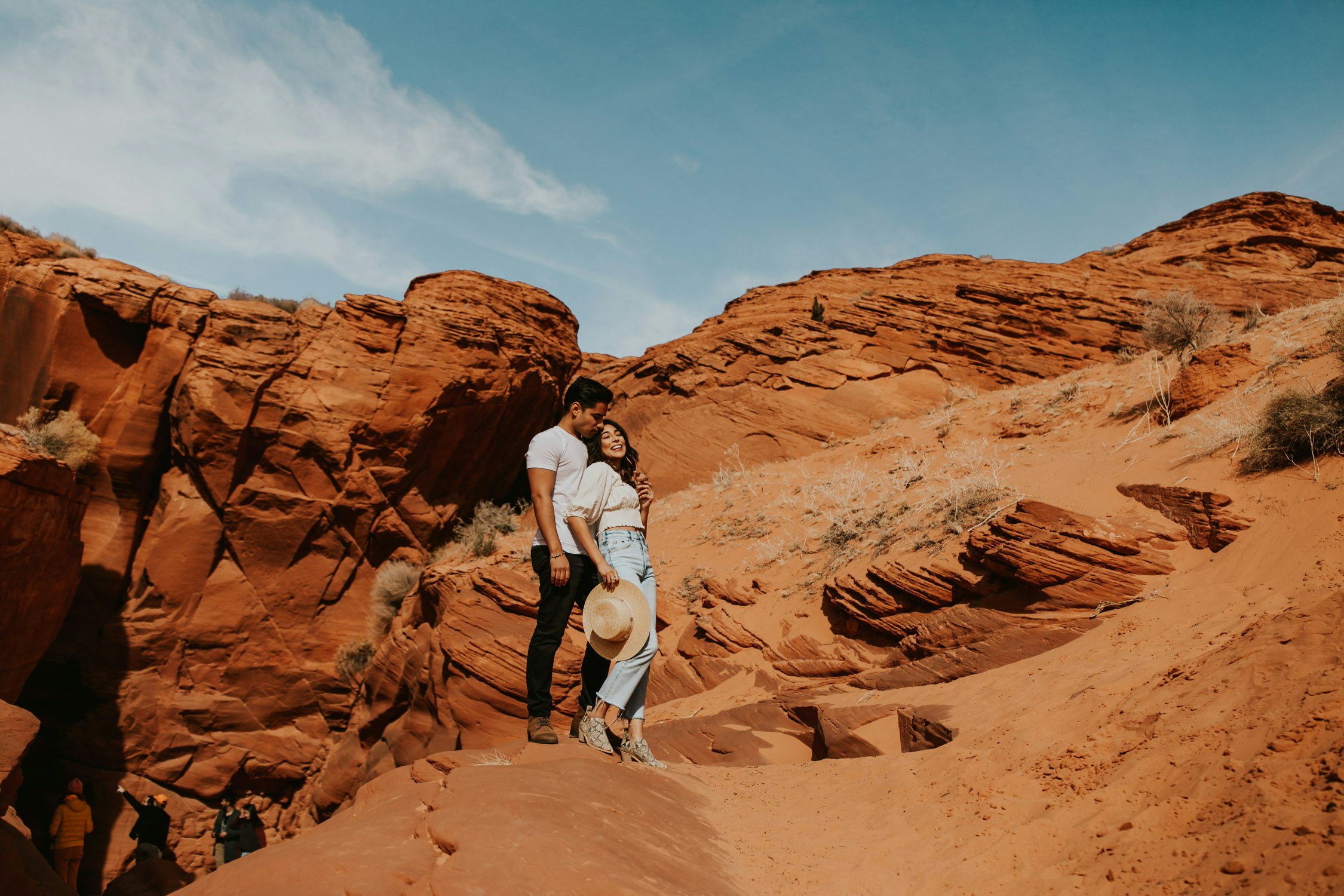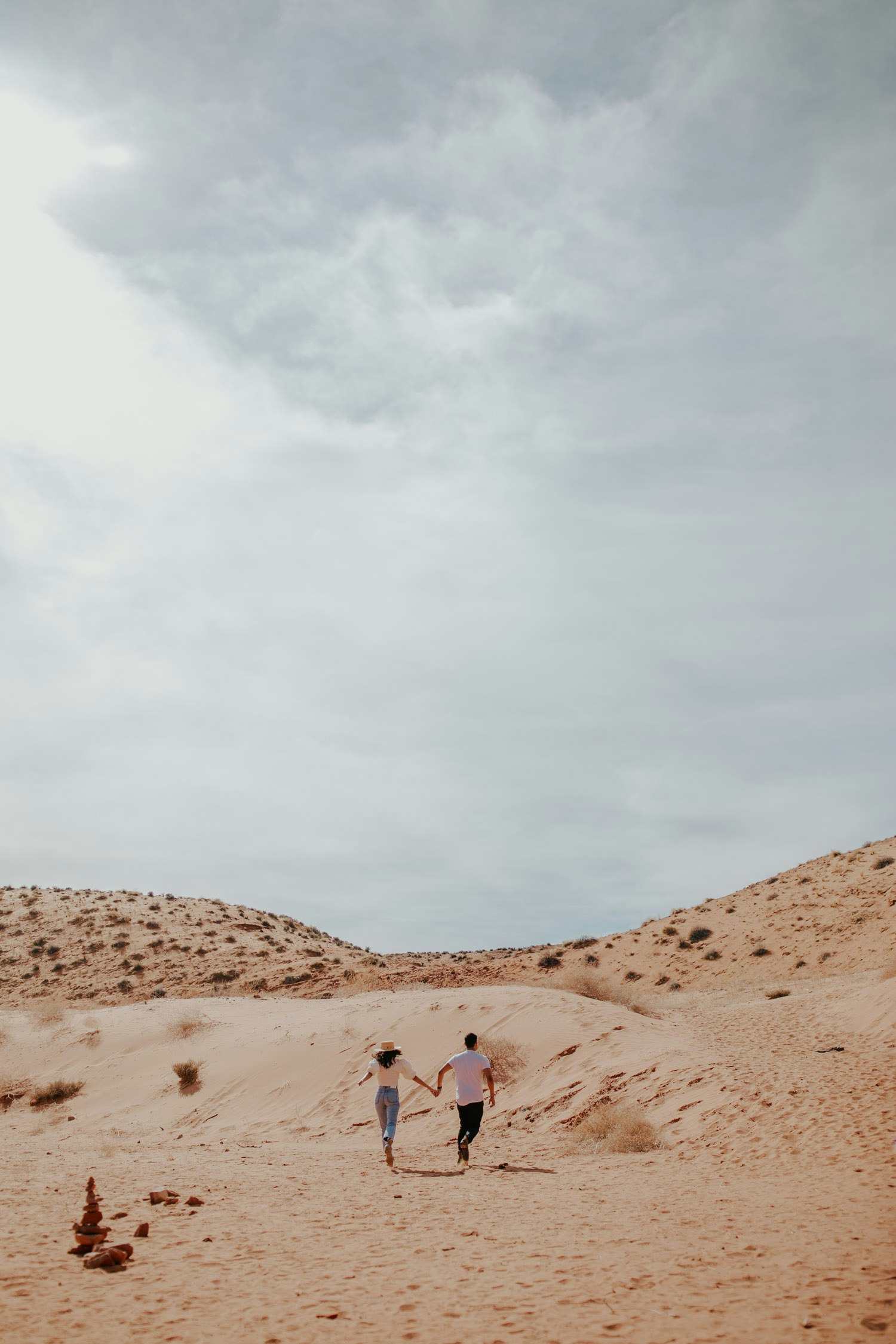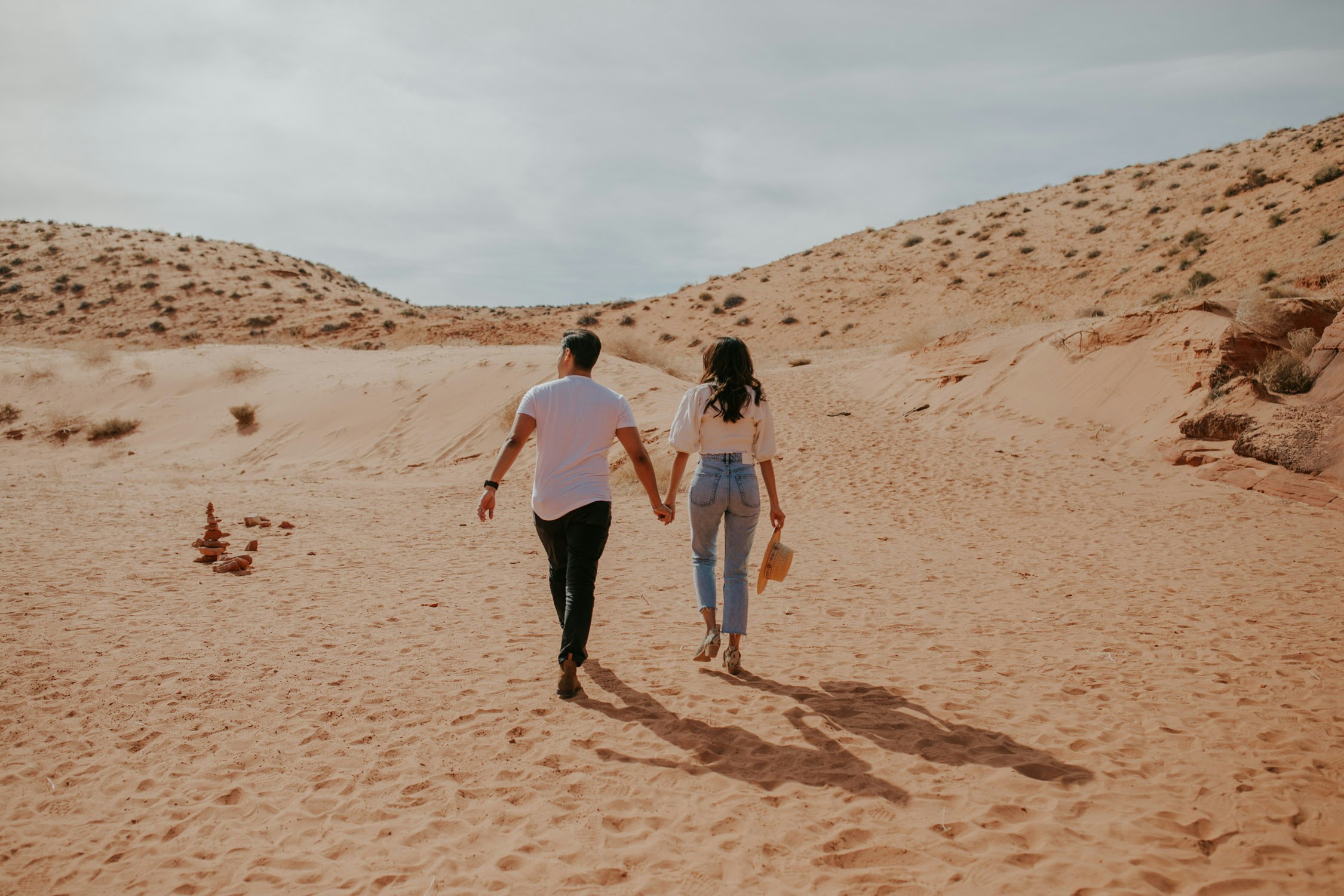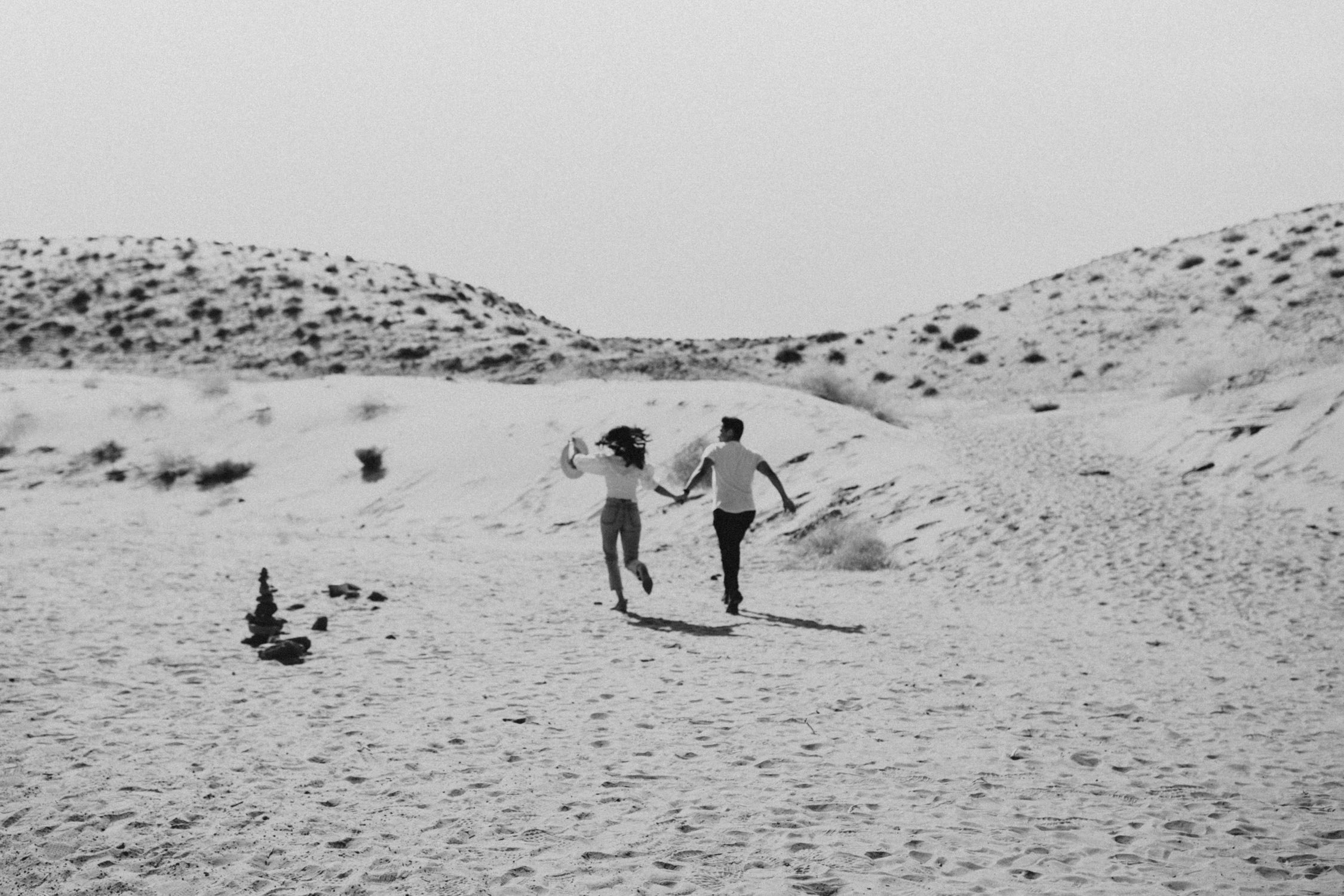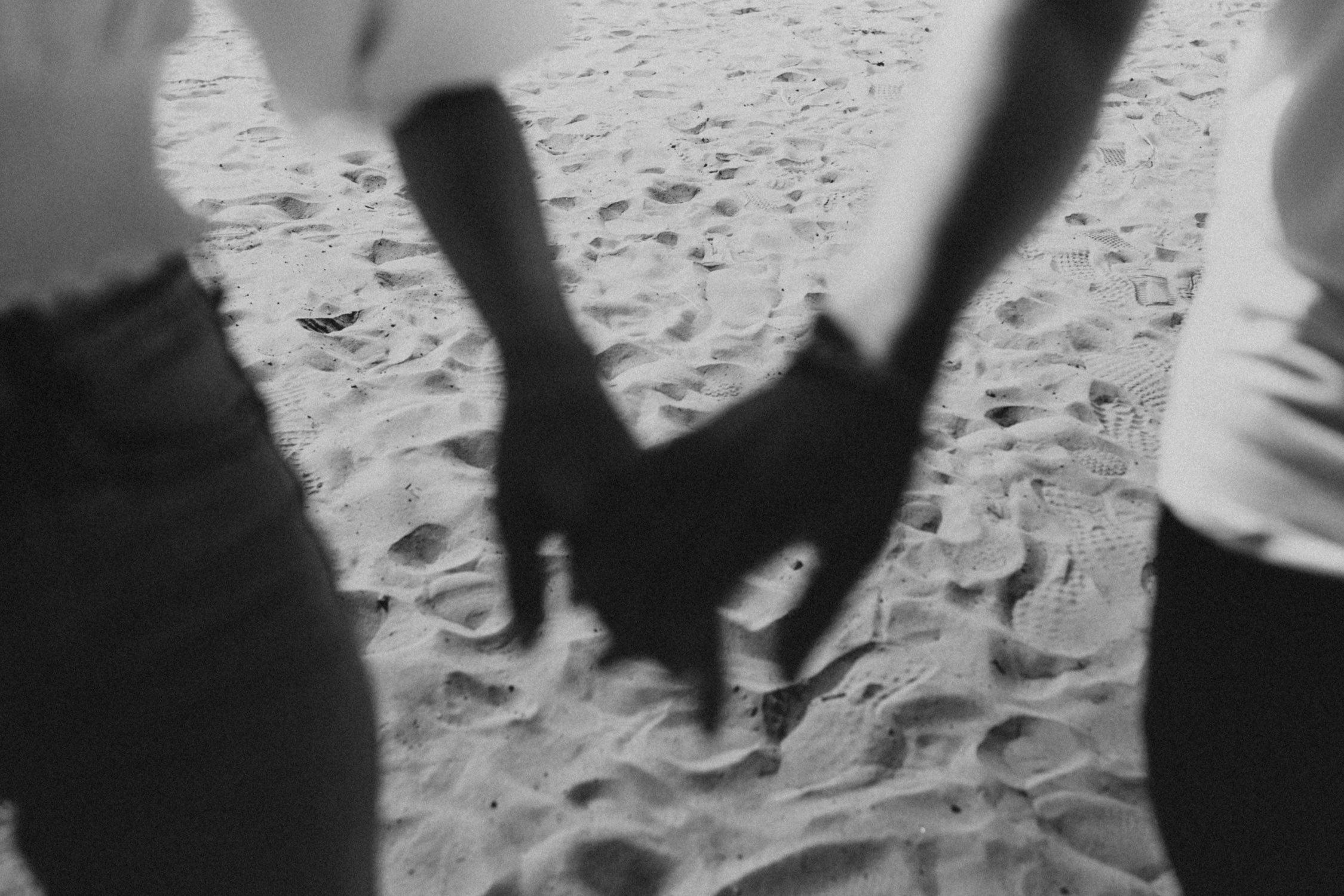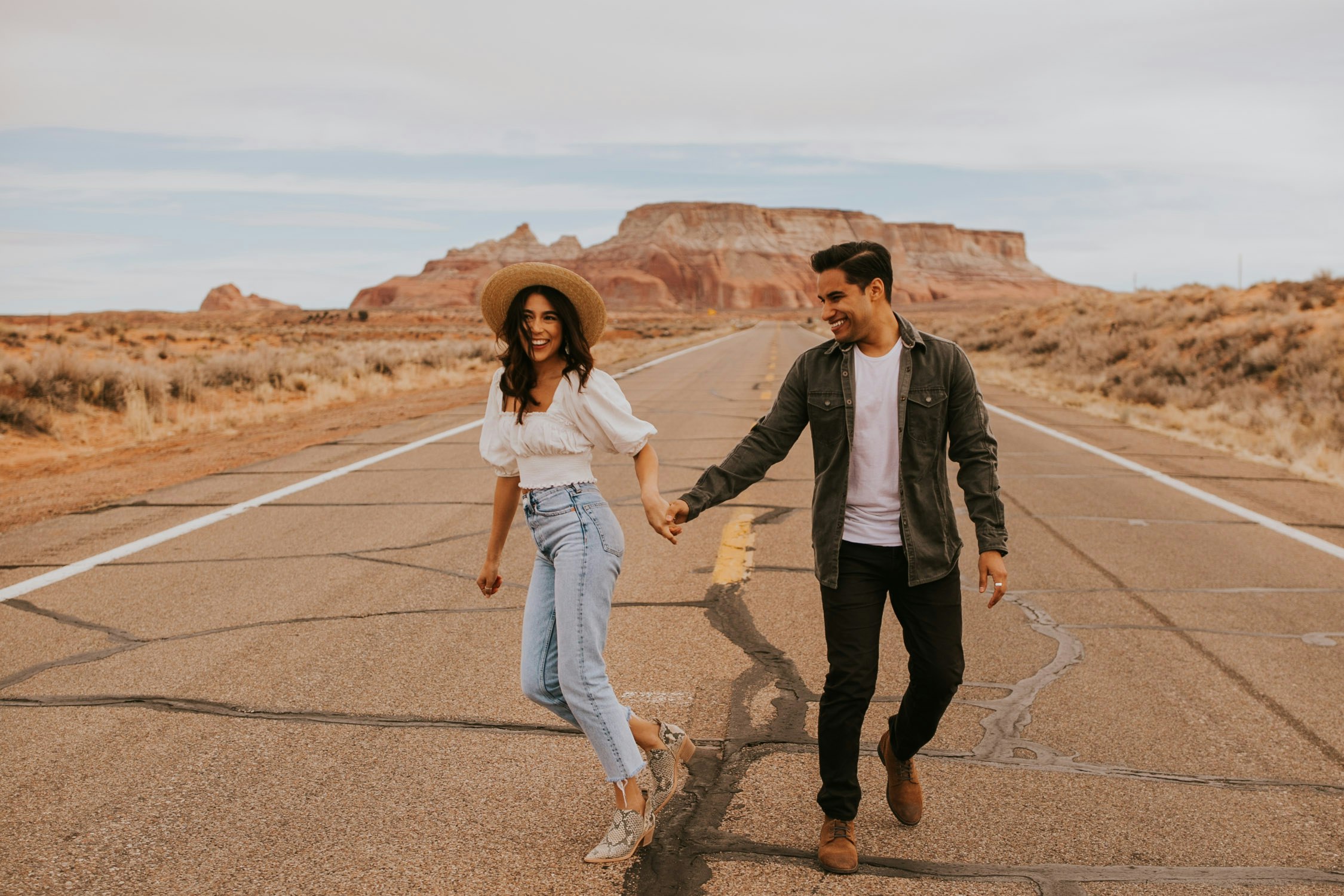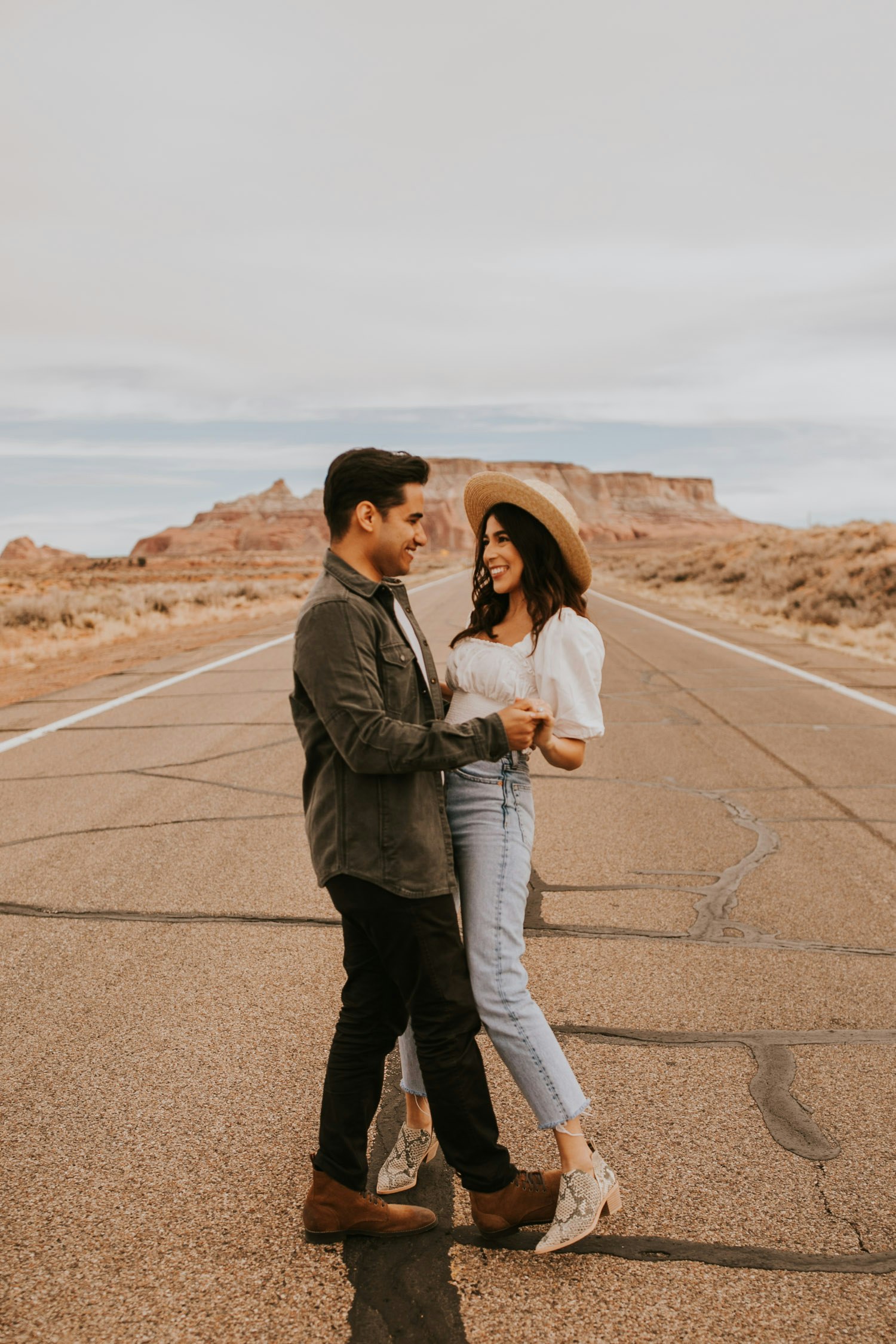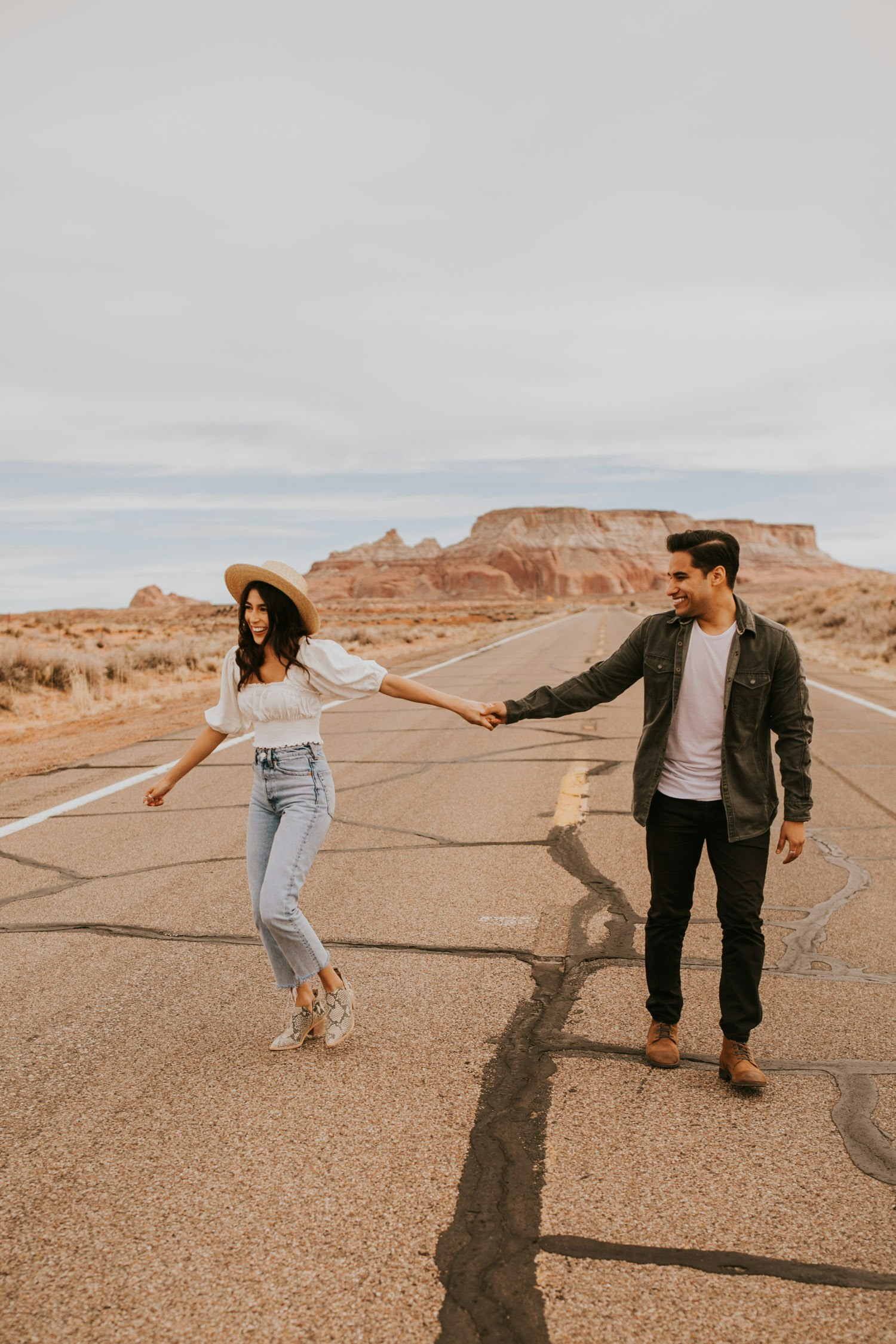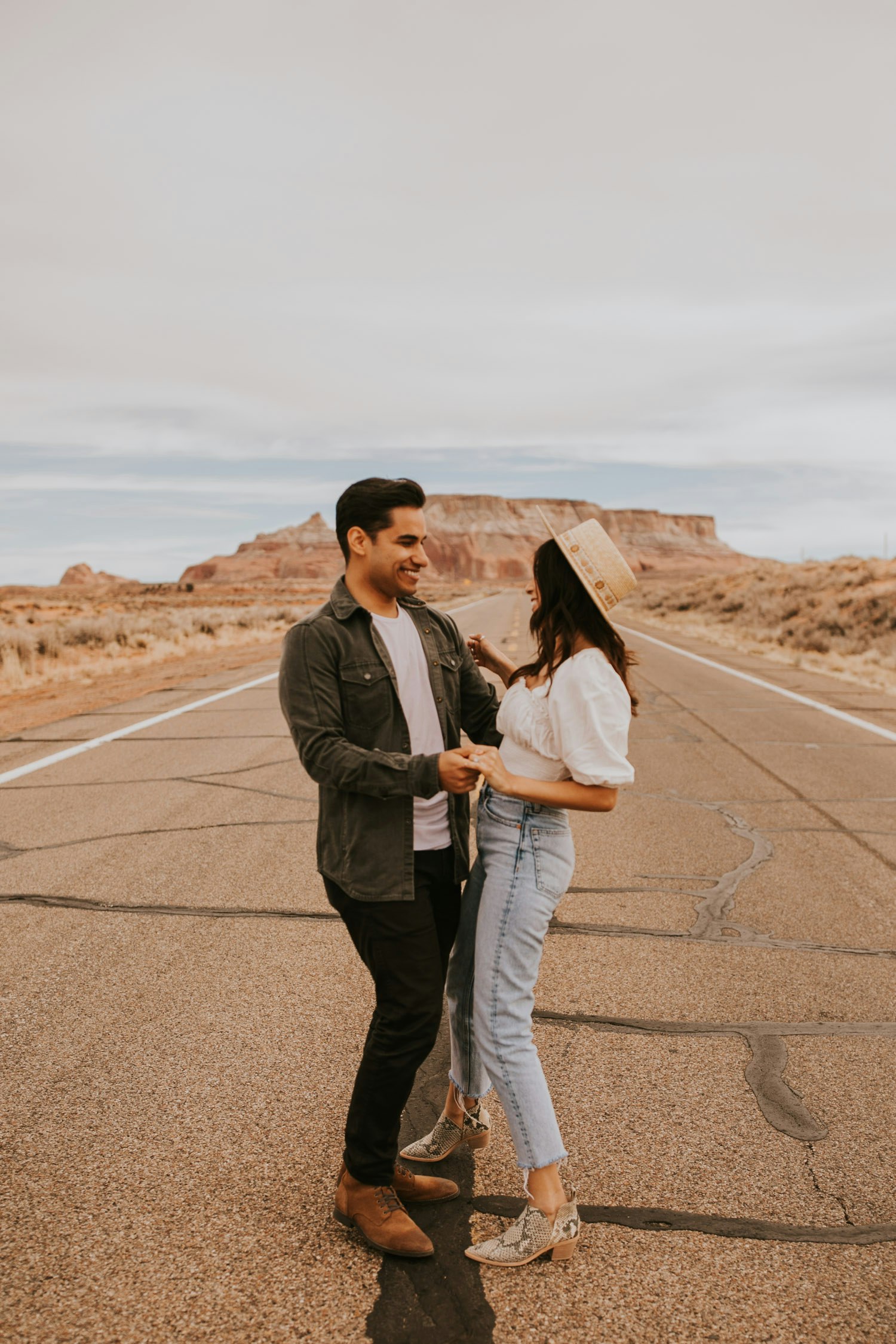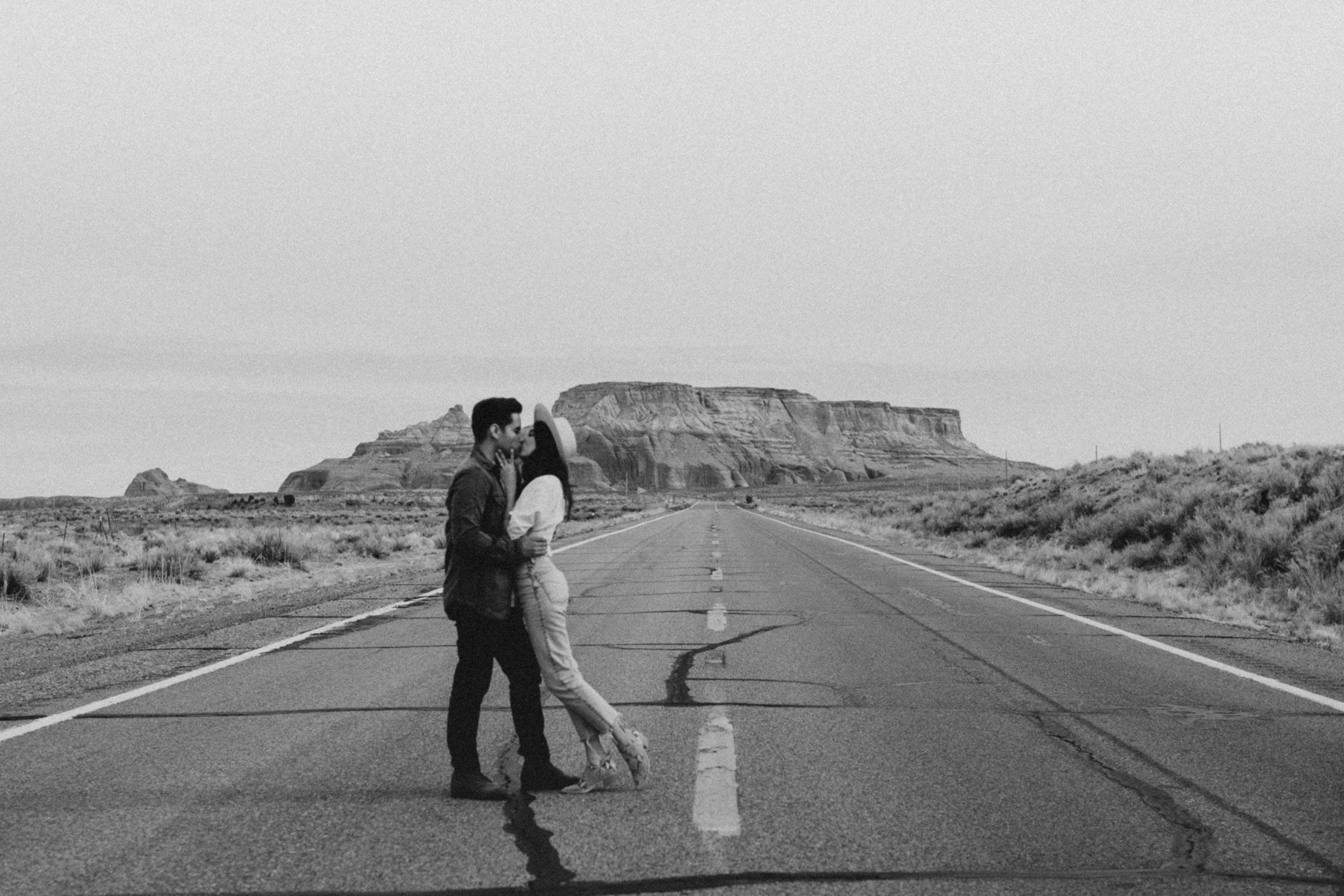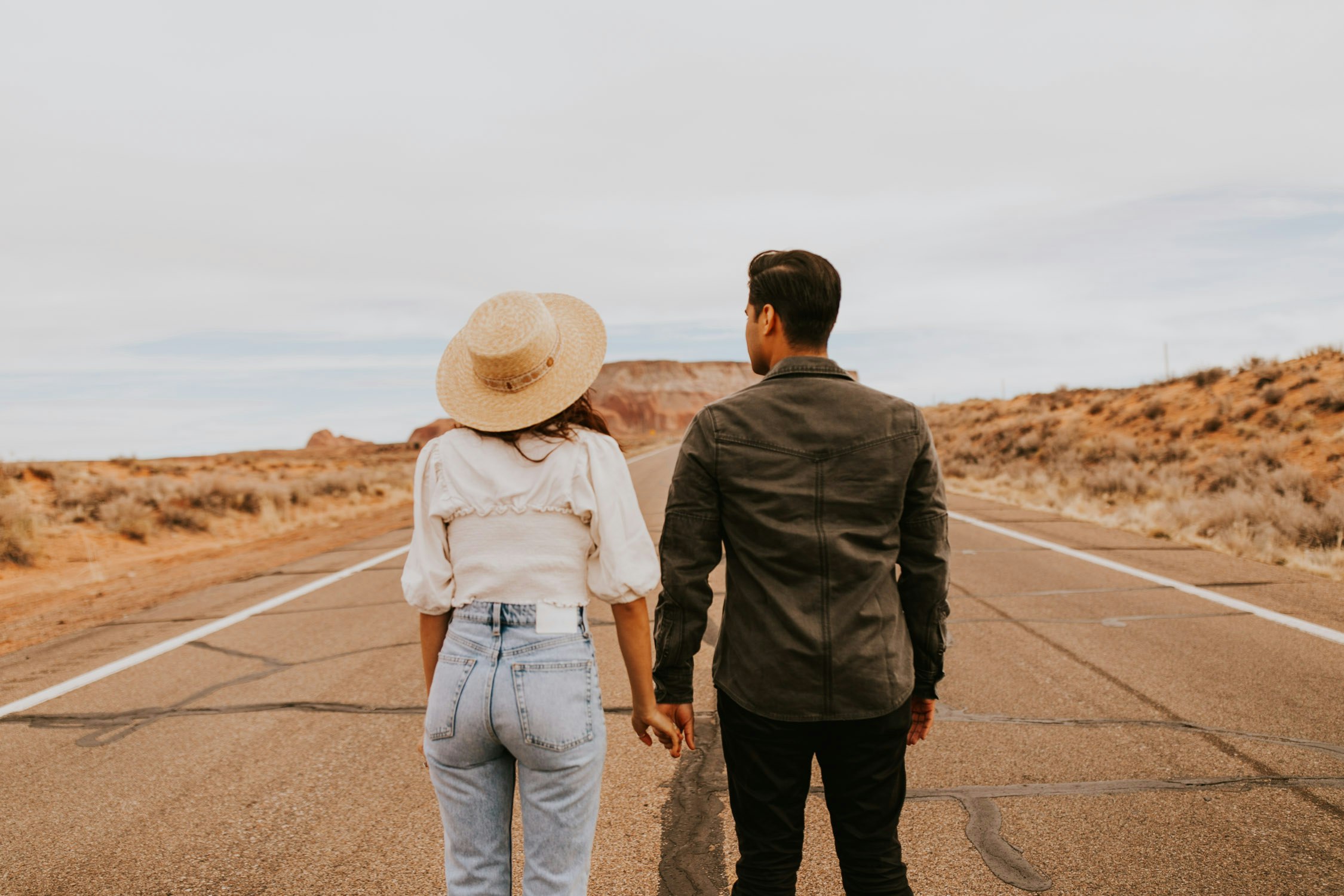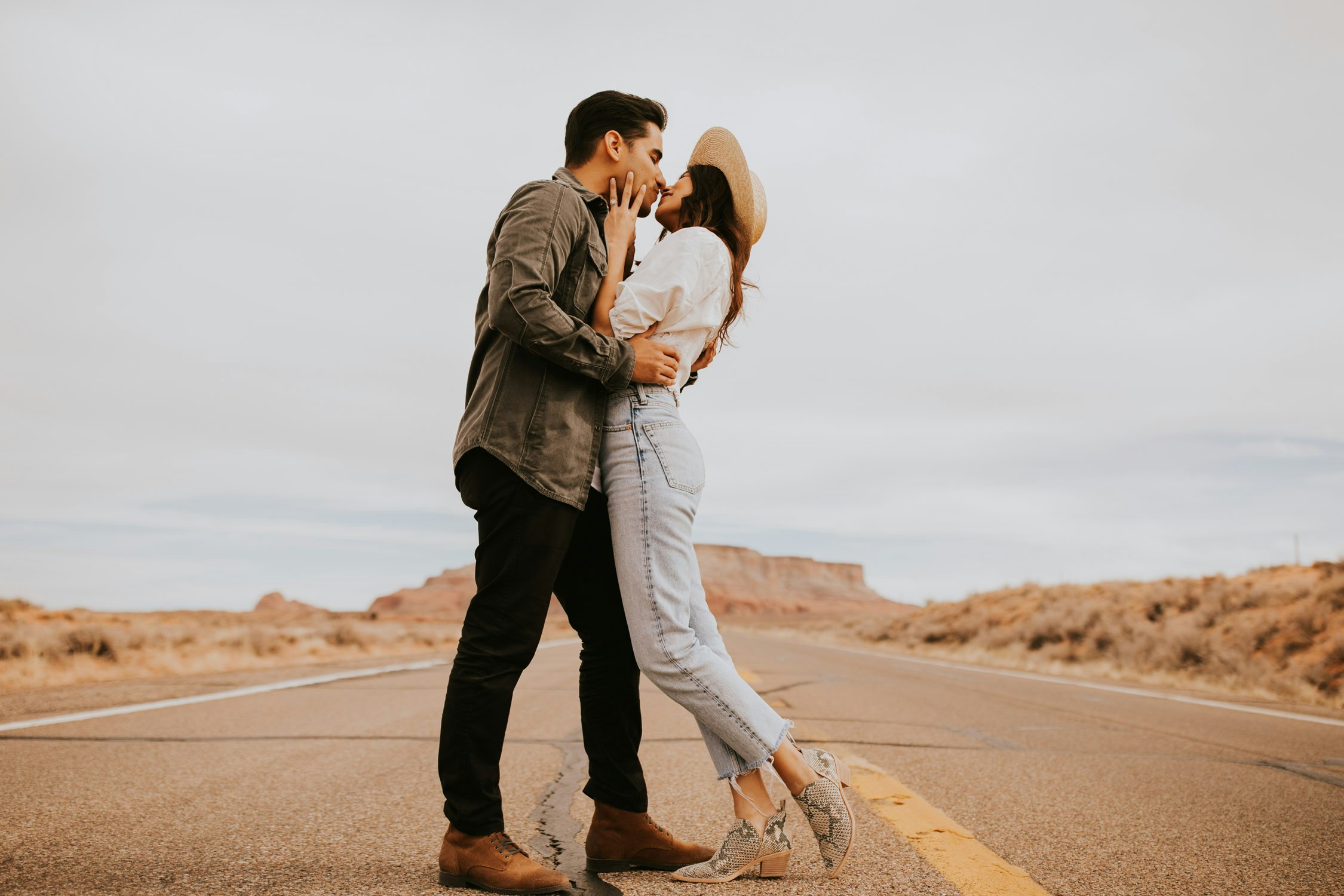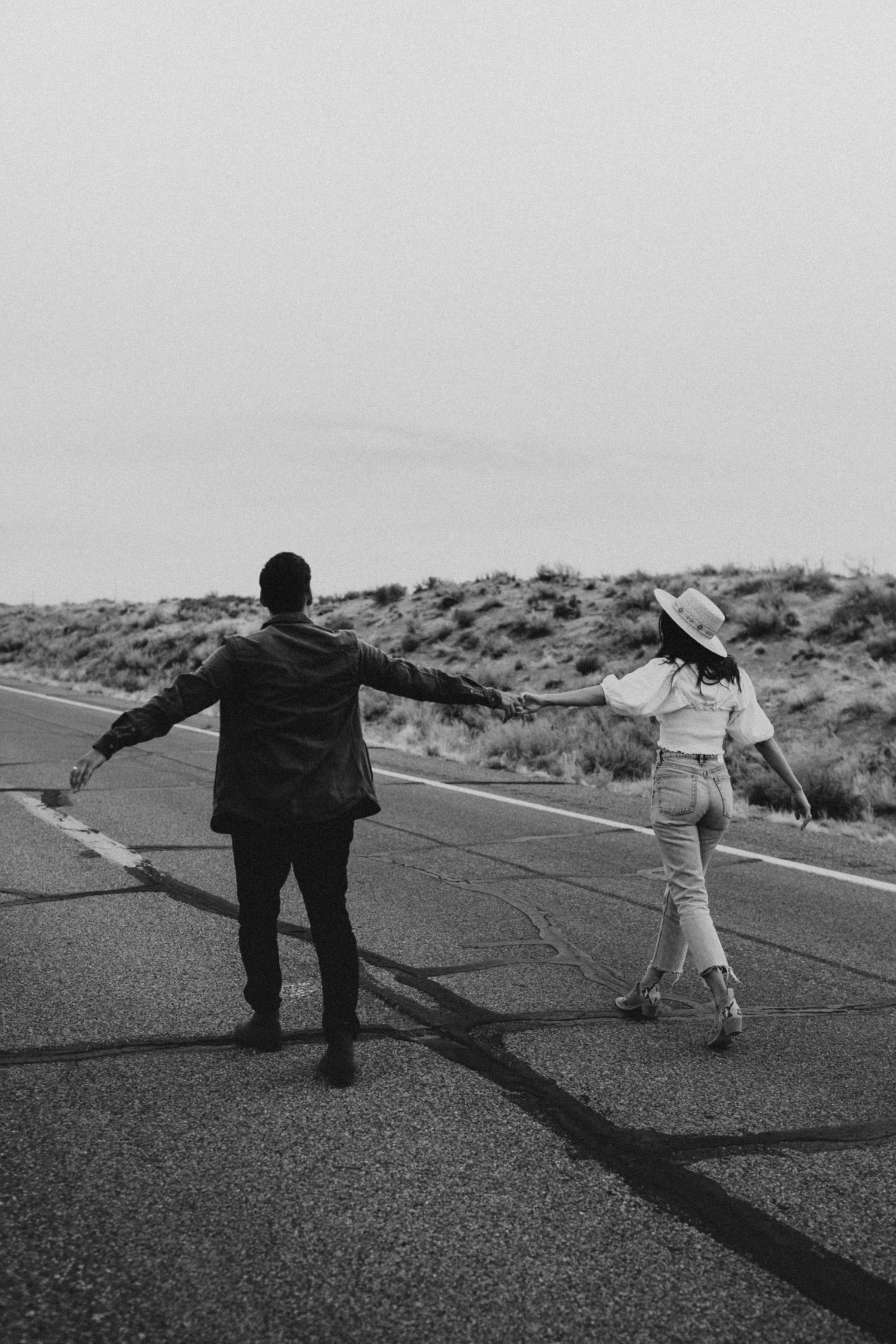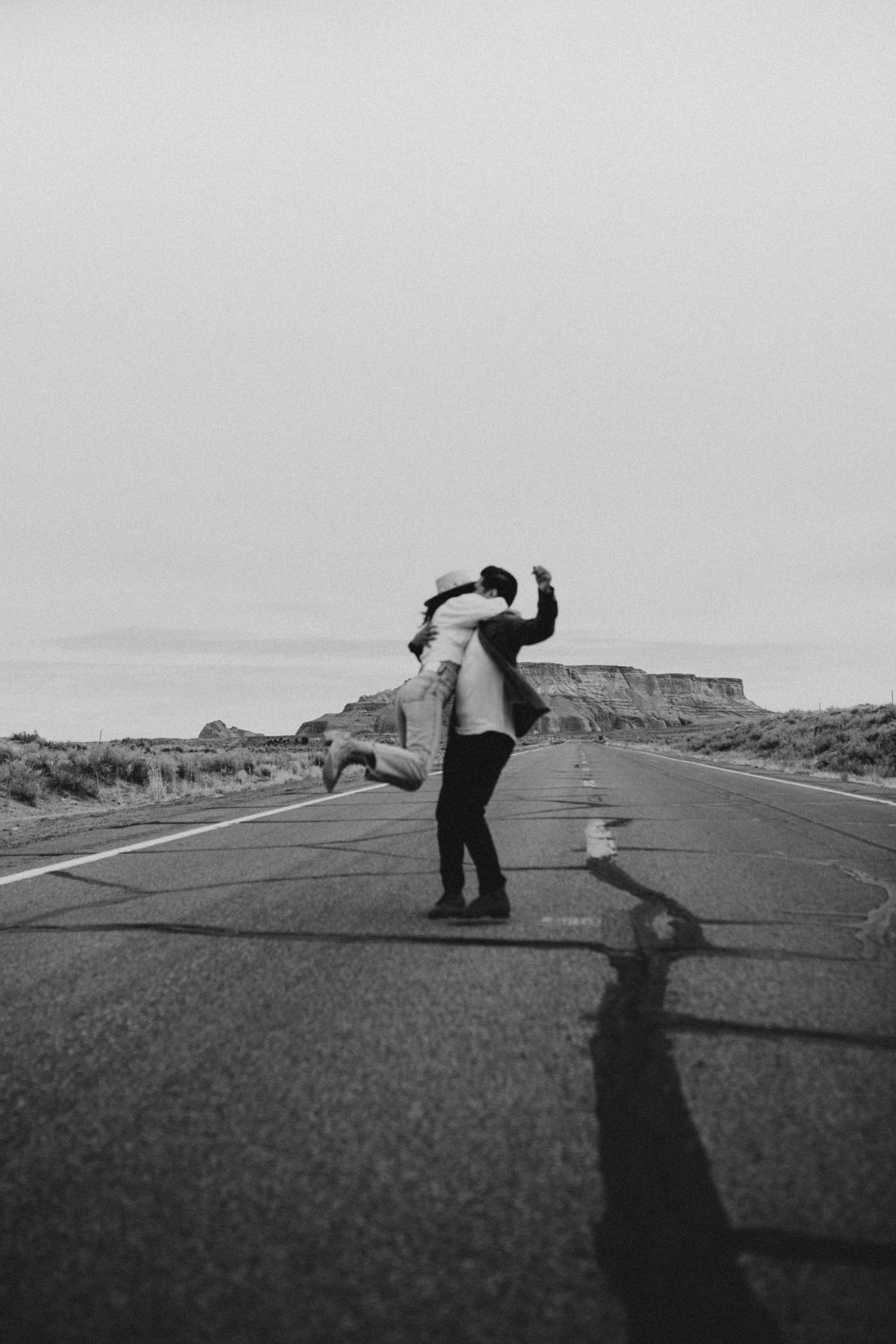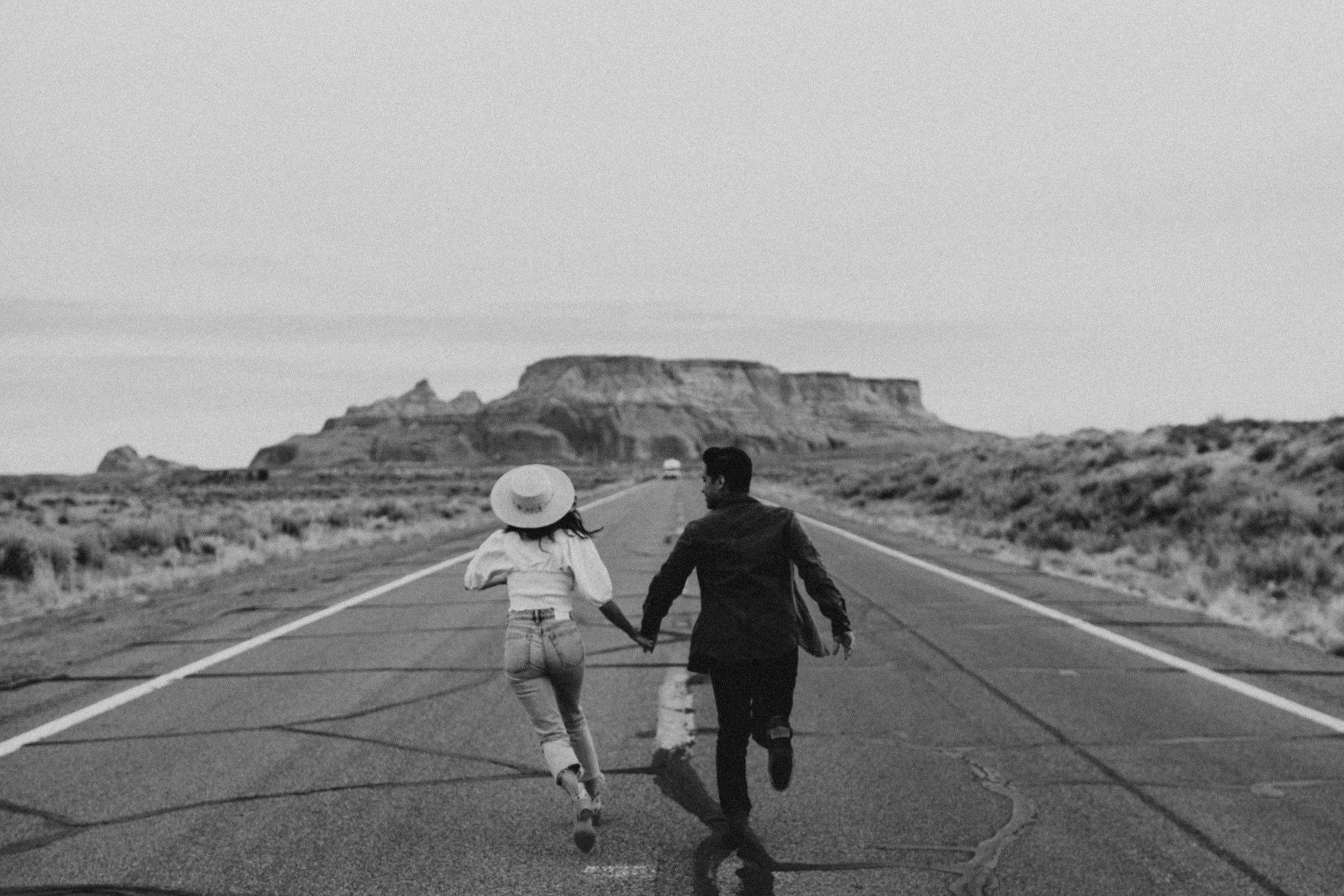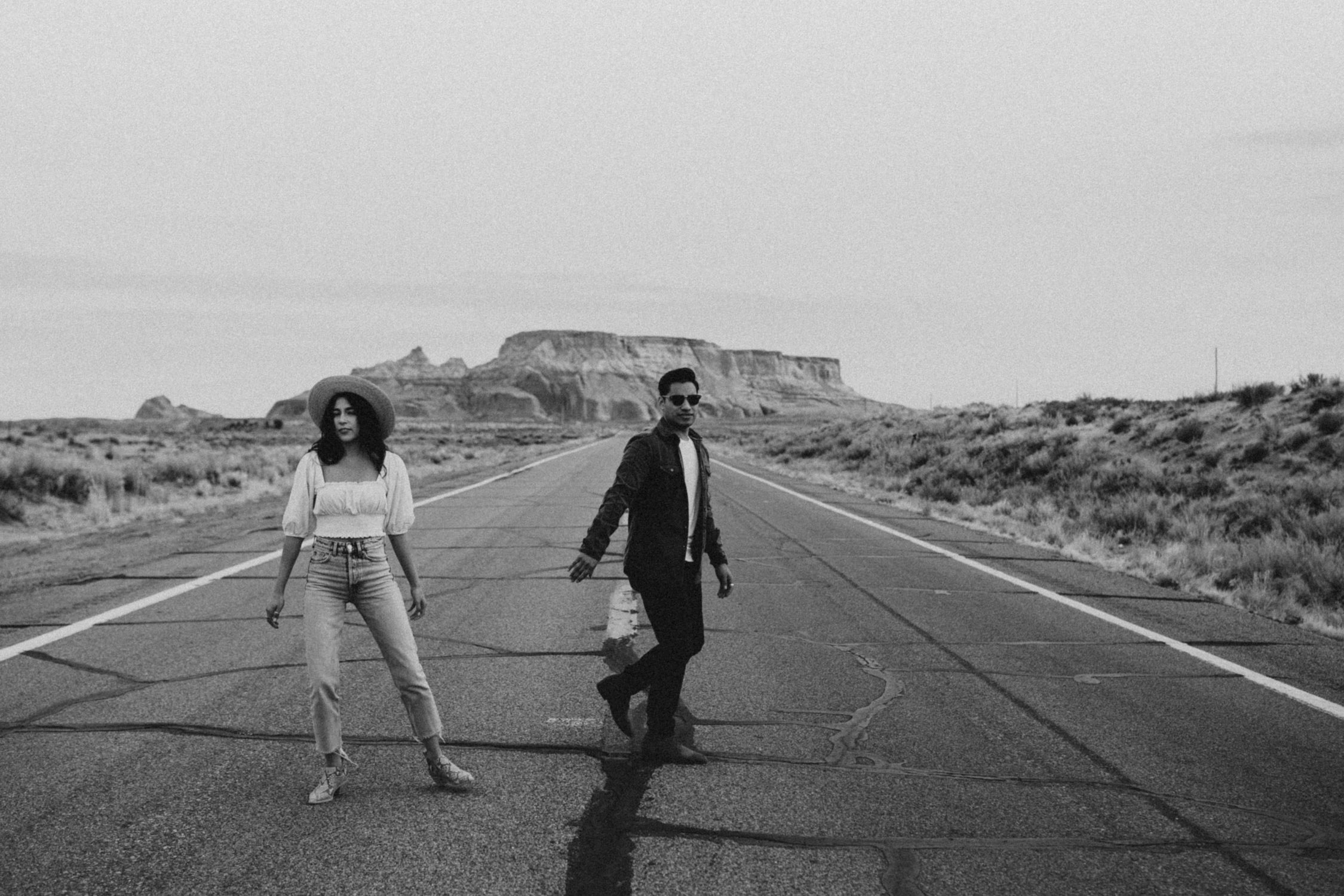 Flagstaff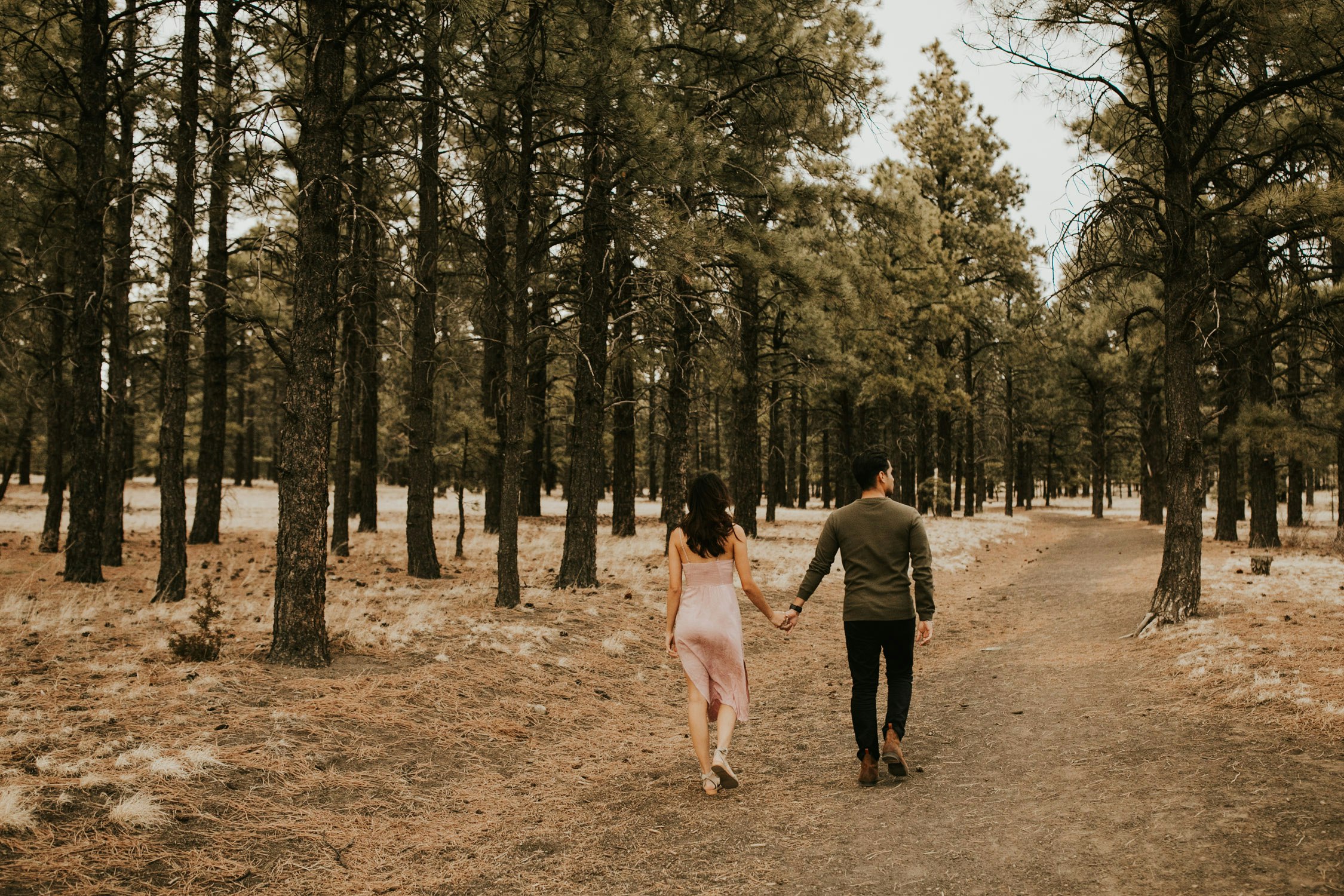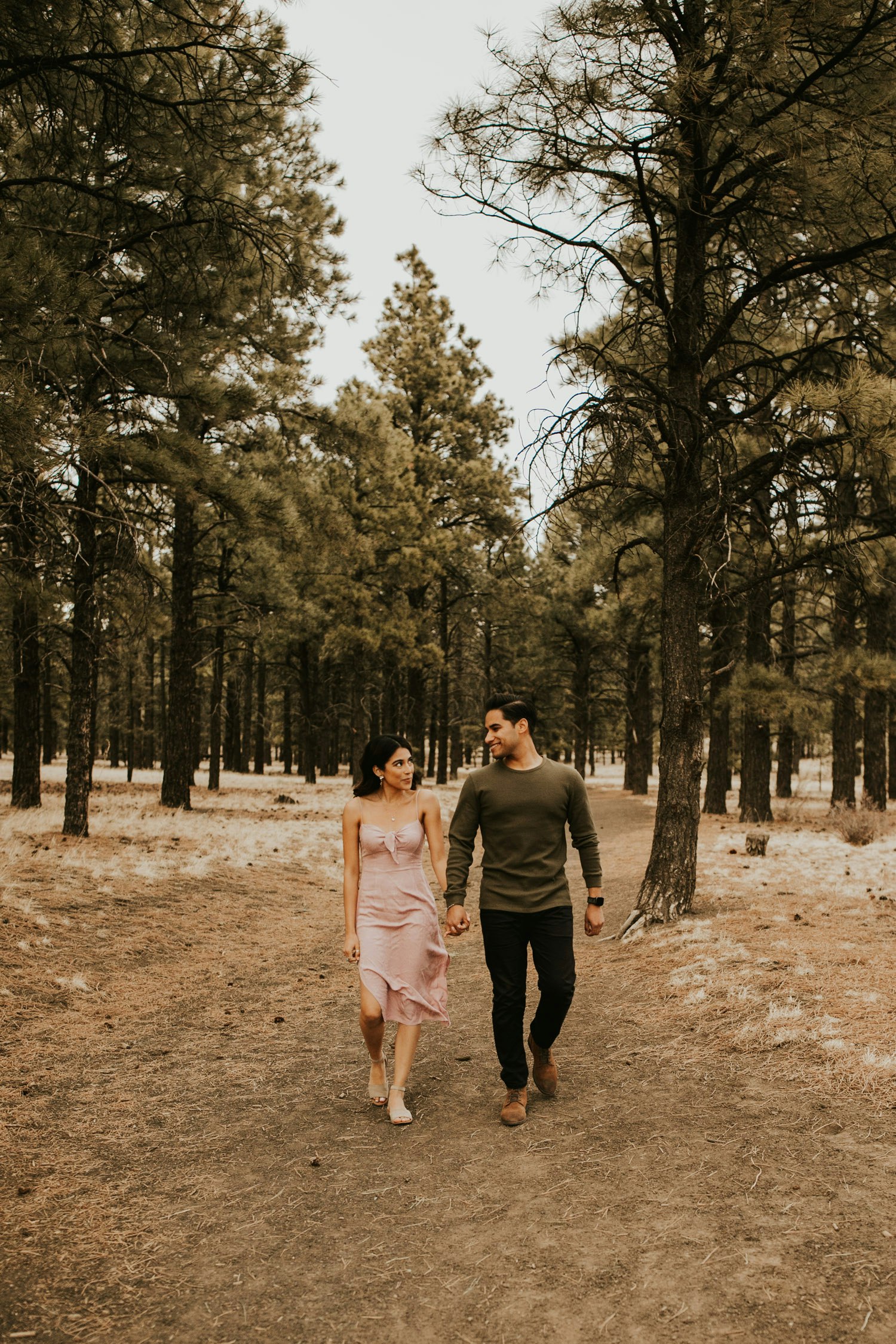 So Flagstaff, Az wasn't even a stop for us to shoot at originally - it was just a dinner and sleep spot, BUT we decided to venture into the Flagstaff forest in freezing temps, and it was so worth it! We hit up Chick Fil A afterwards, because we didn't realize it was Valentine's day weekend aka the restaurants were PACKED. Then we headed back to our airbnb and prepared for SEDONAAAAA. The next morning, we stopped at one of the yummiest coffee shops for breakfast and some latte's and then we were back on the road for more adventureeee!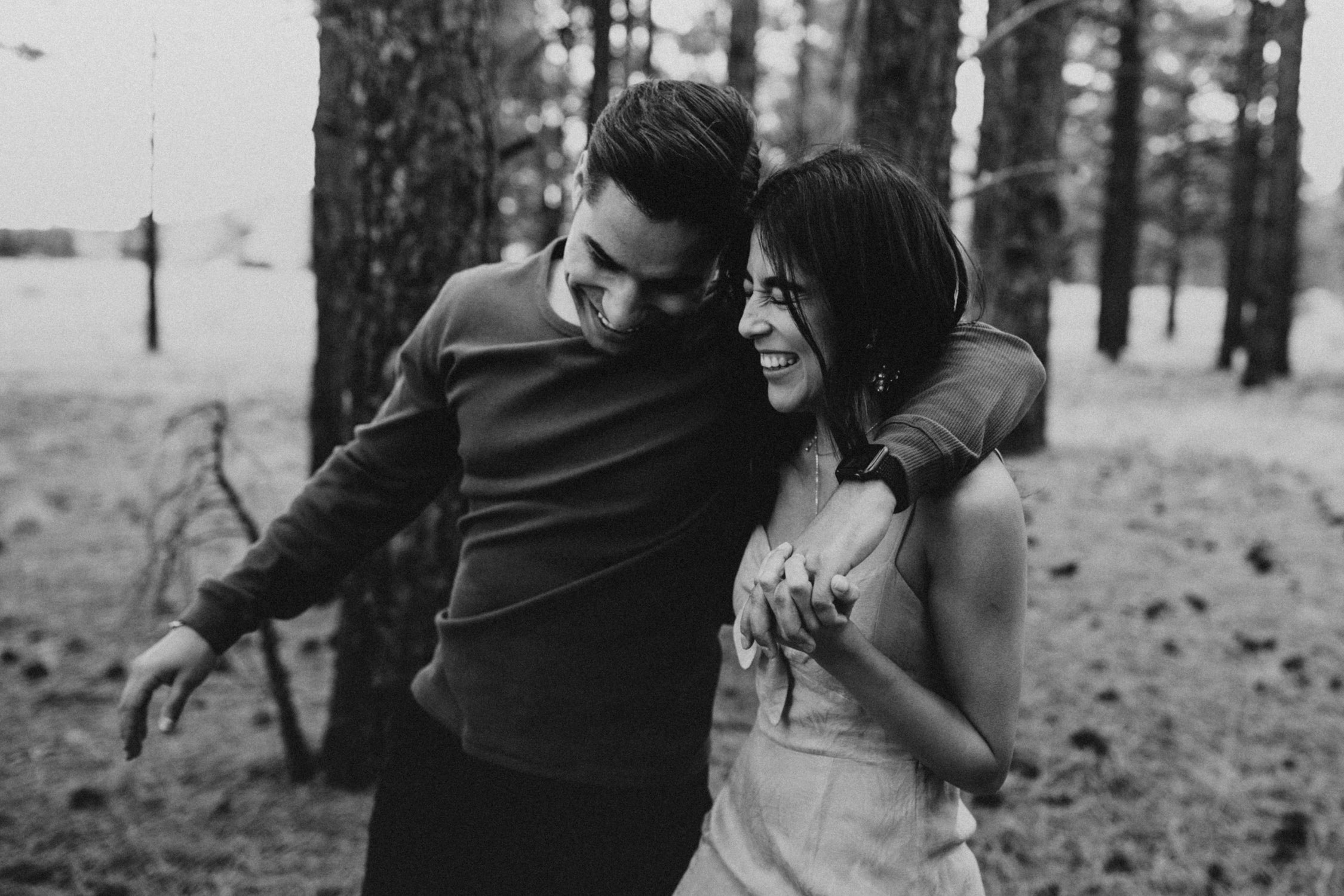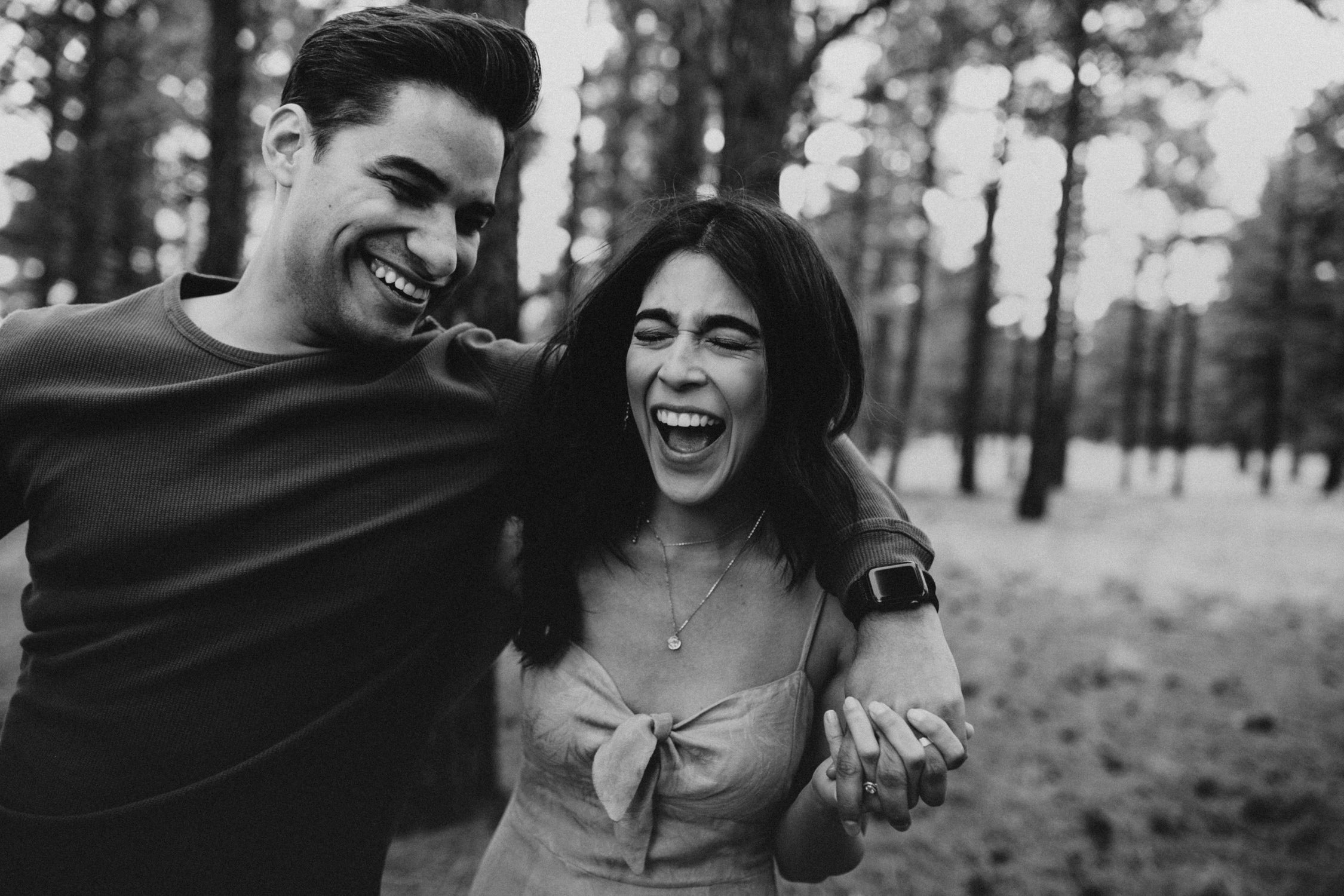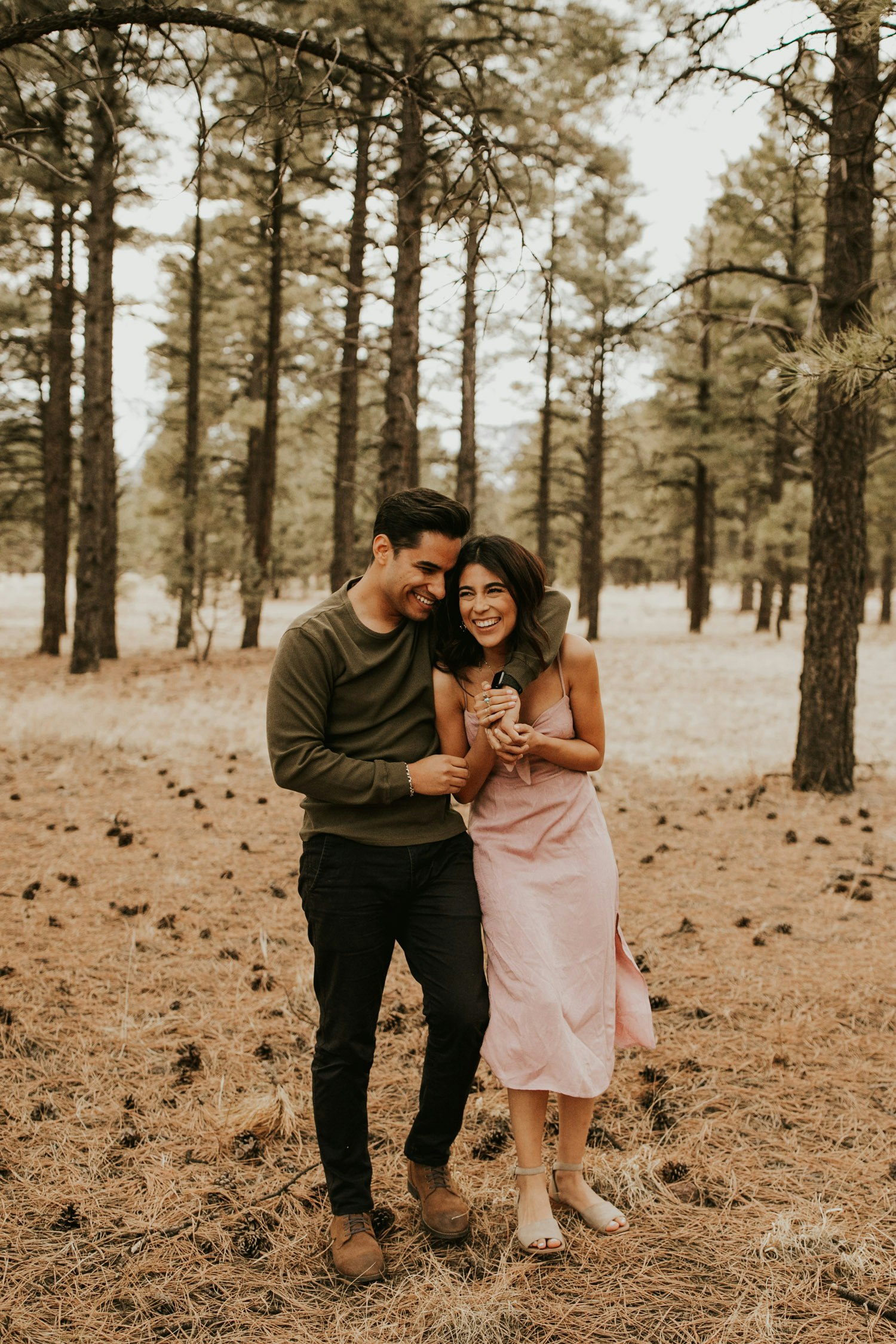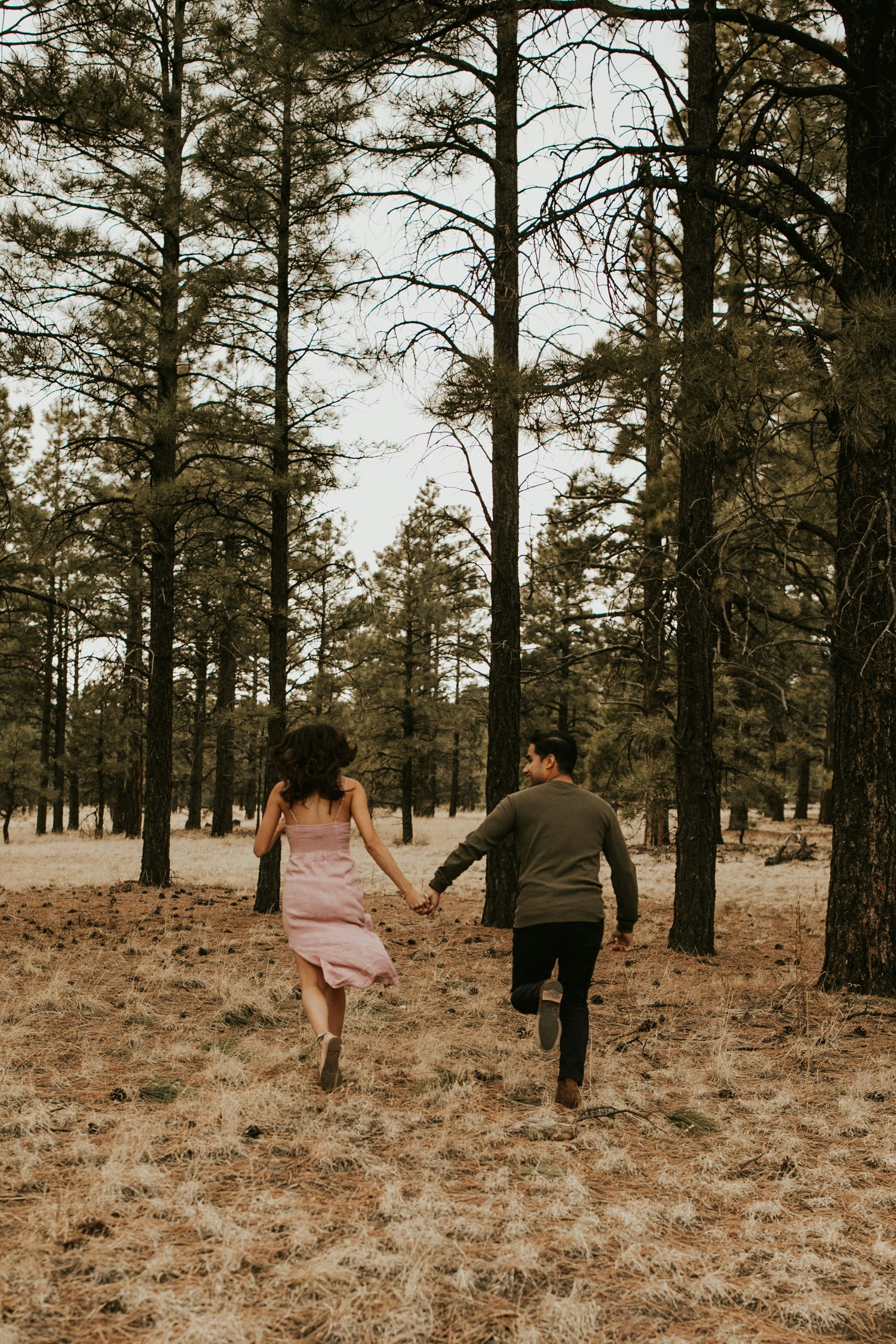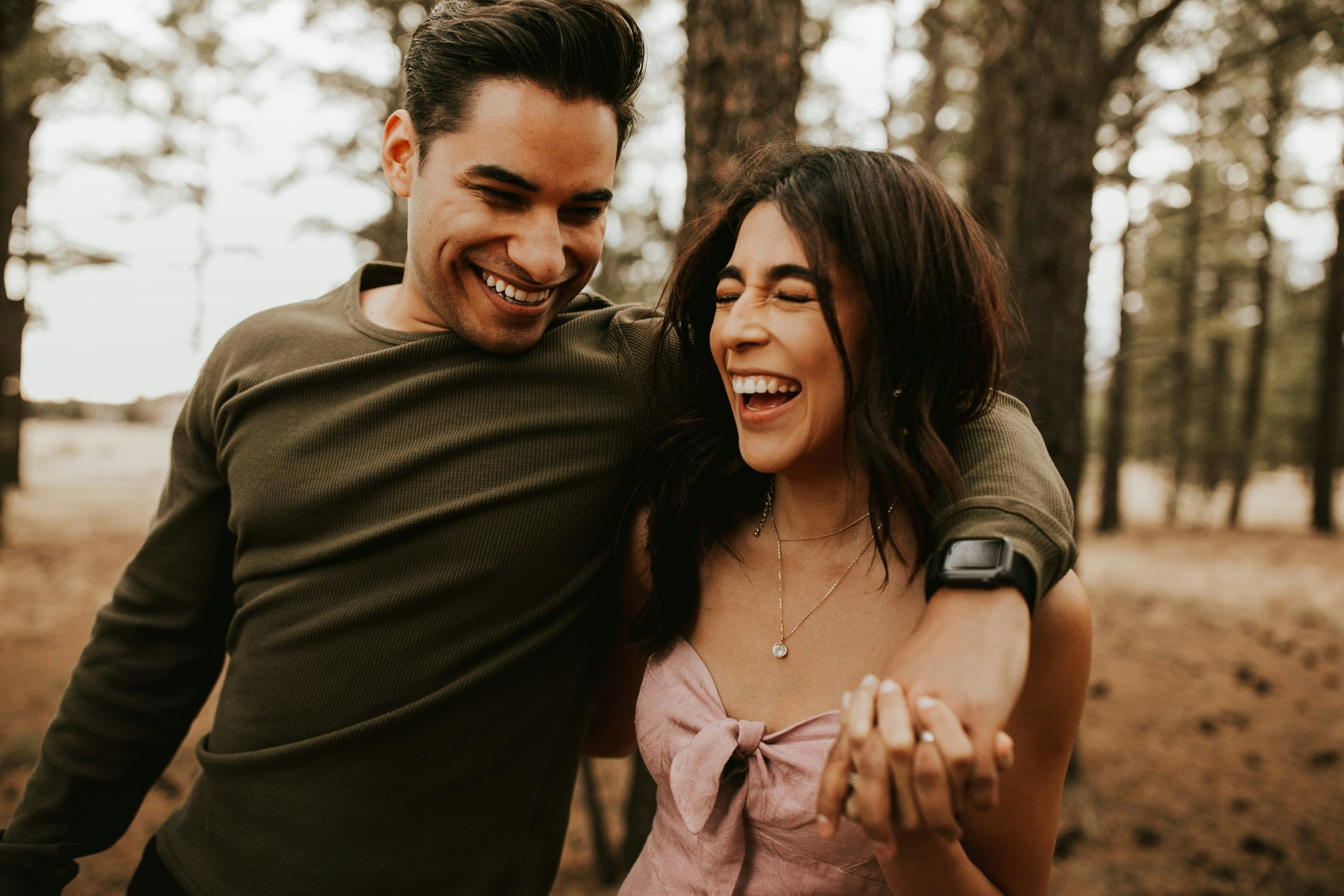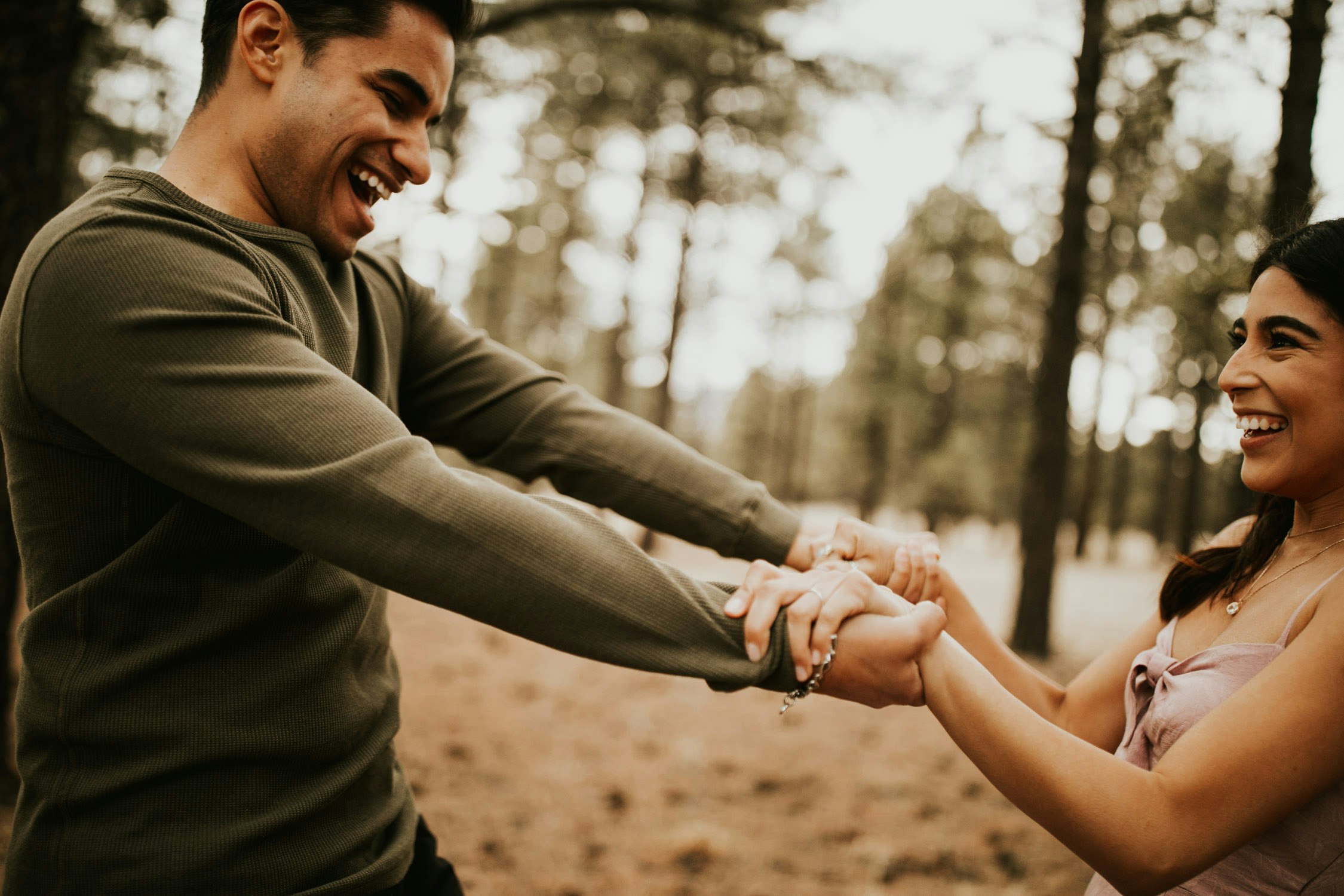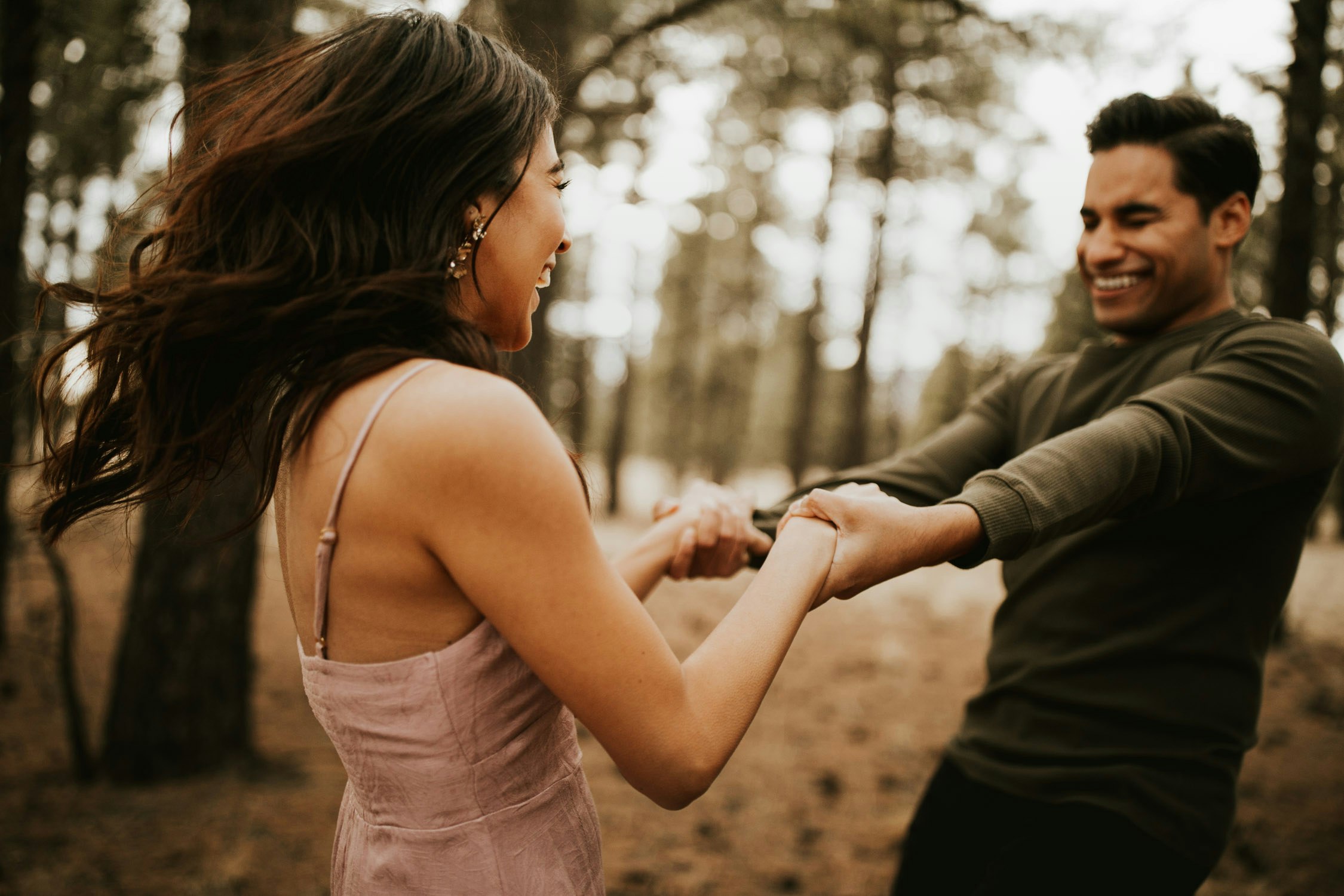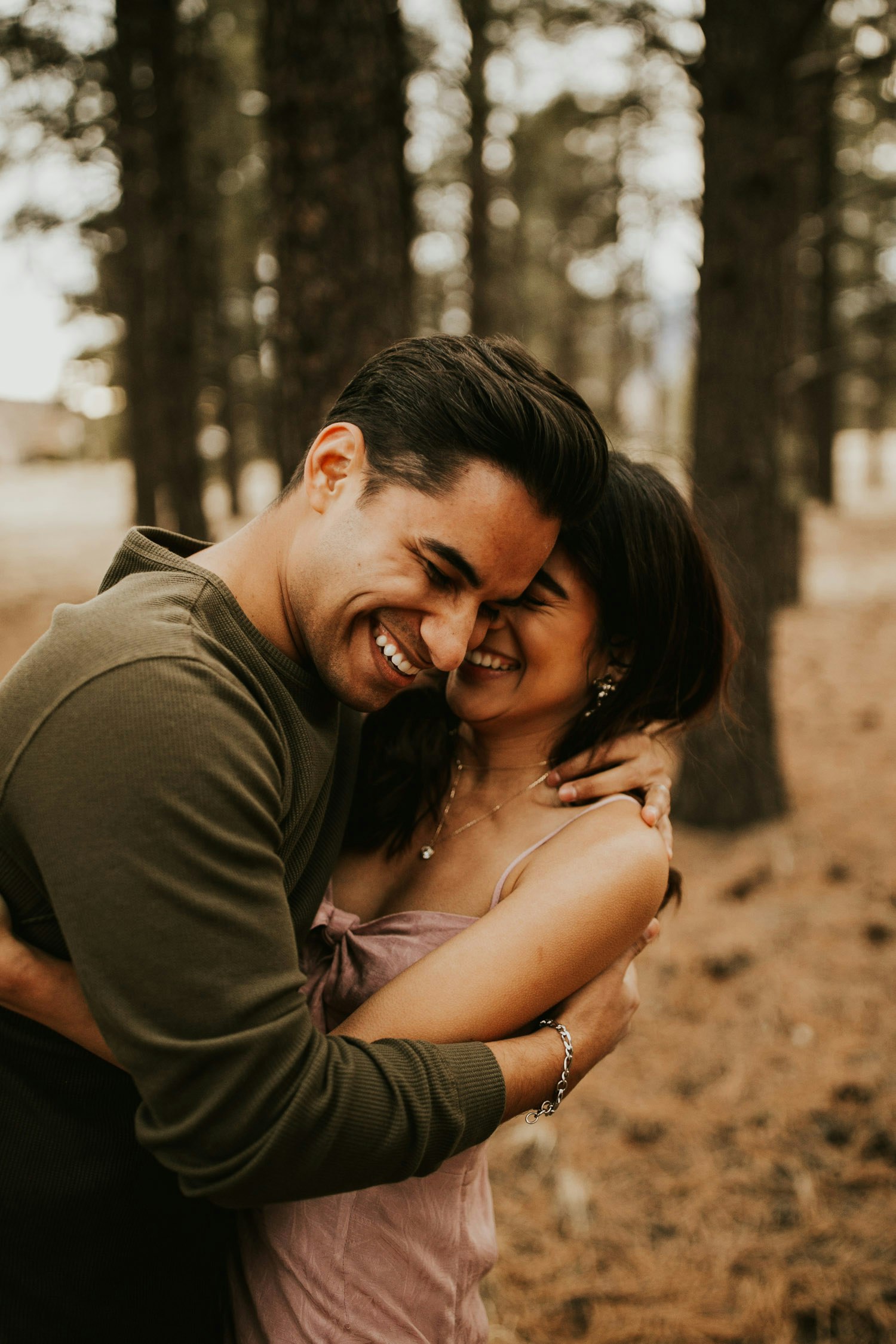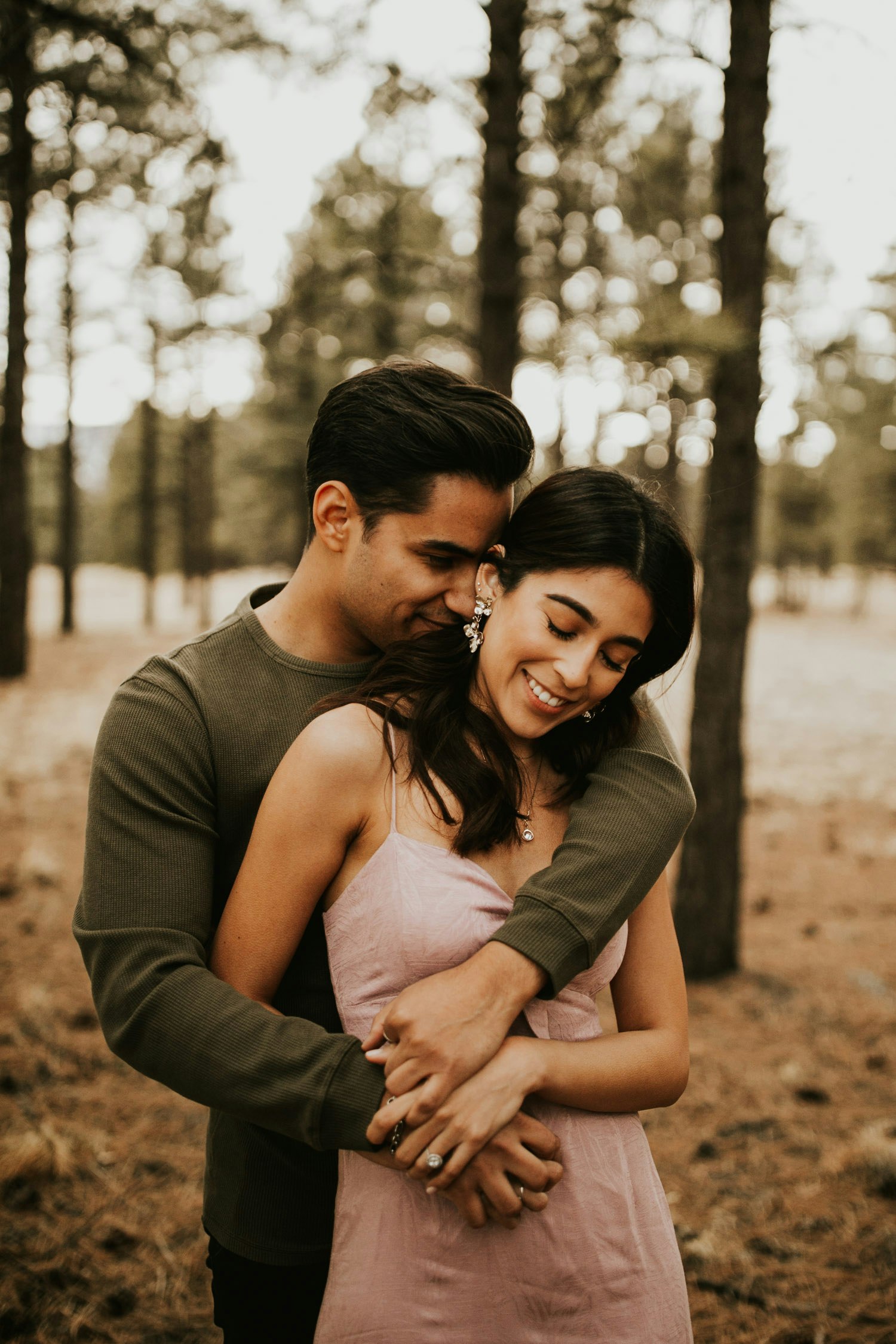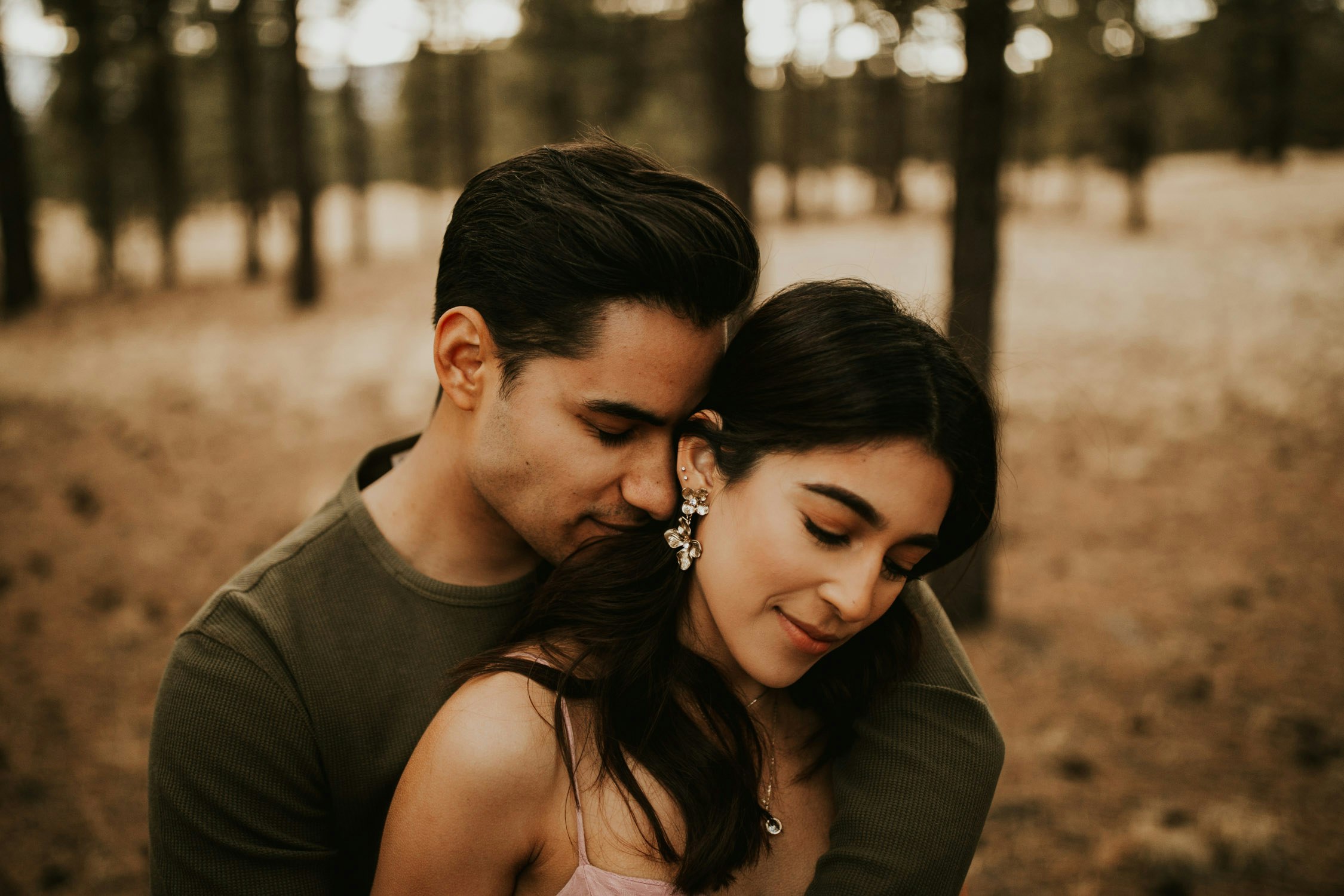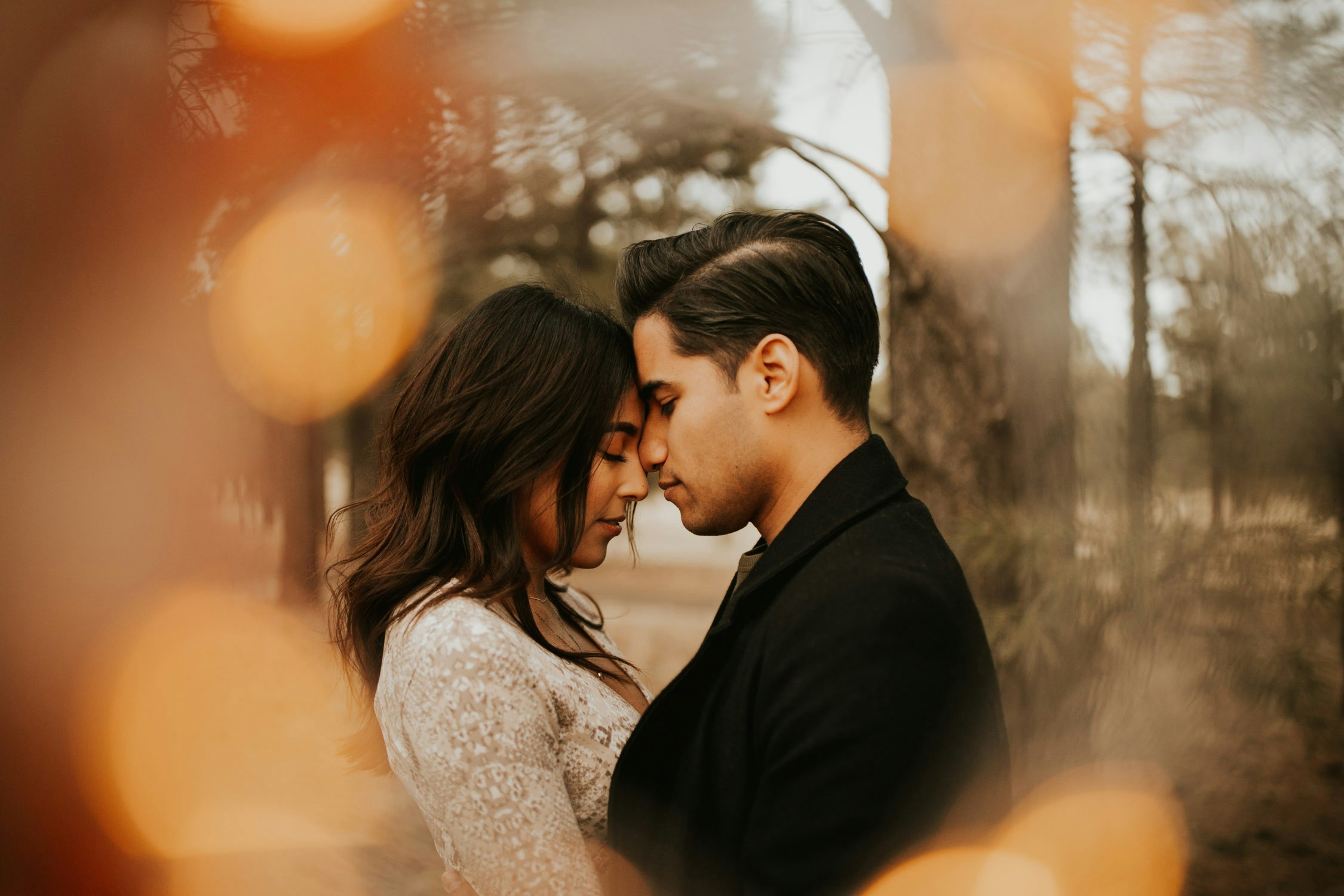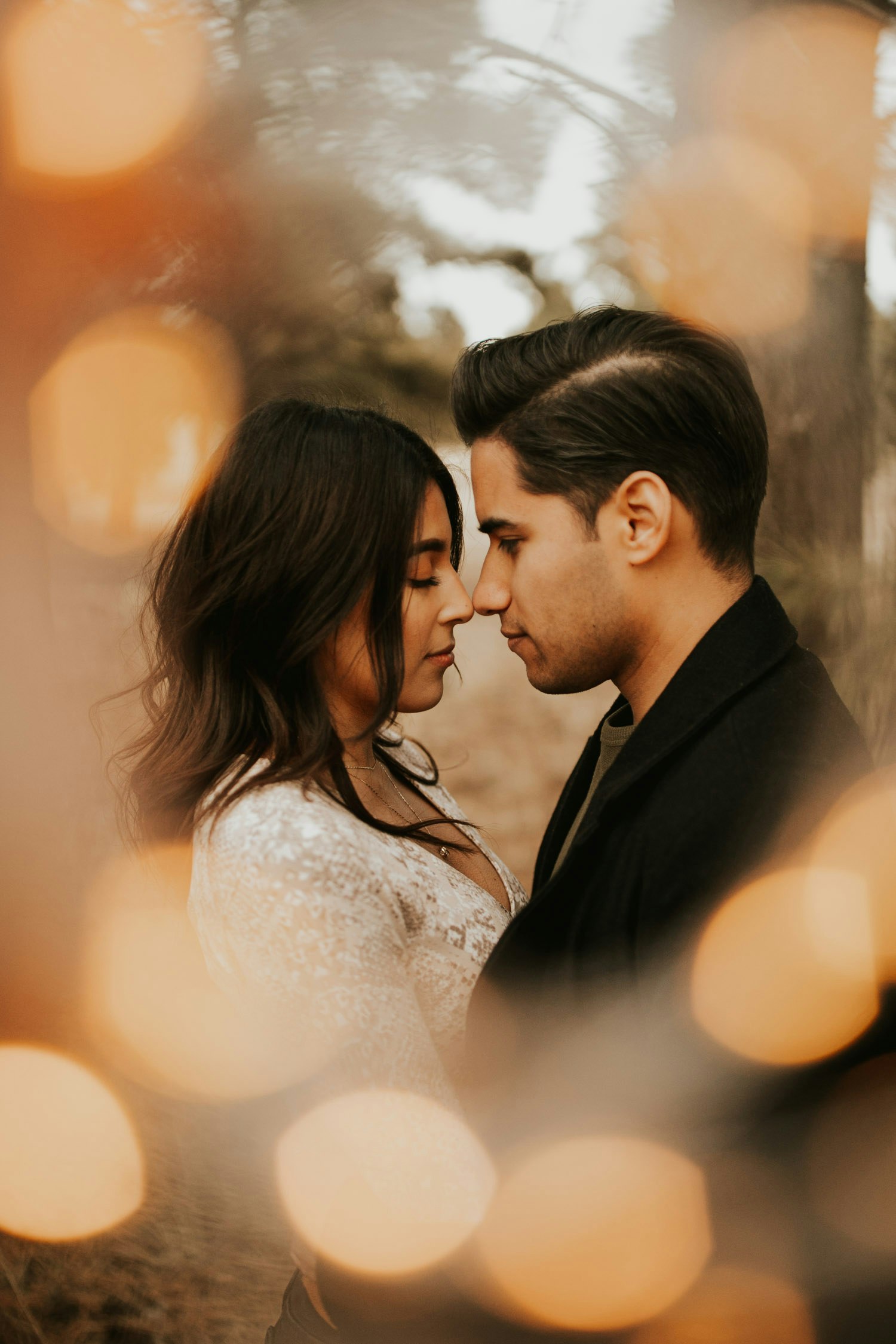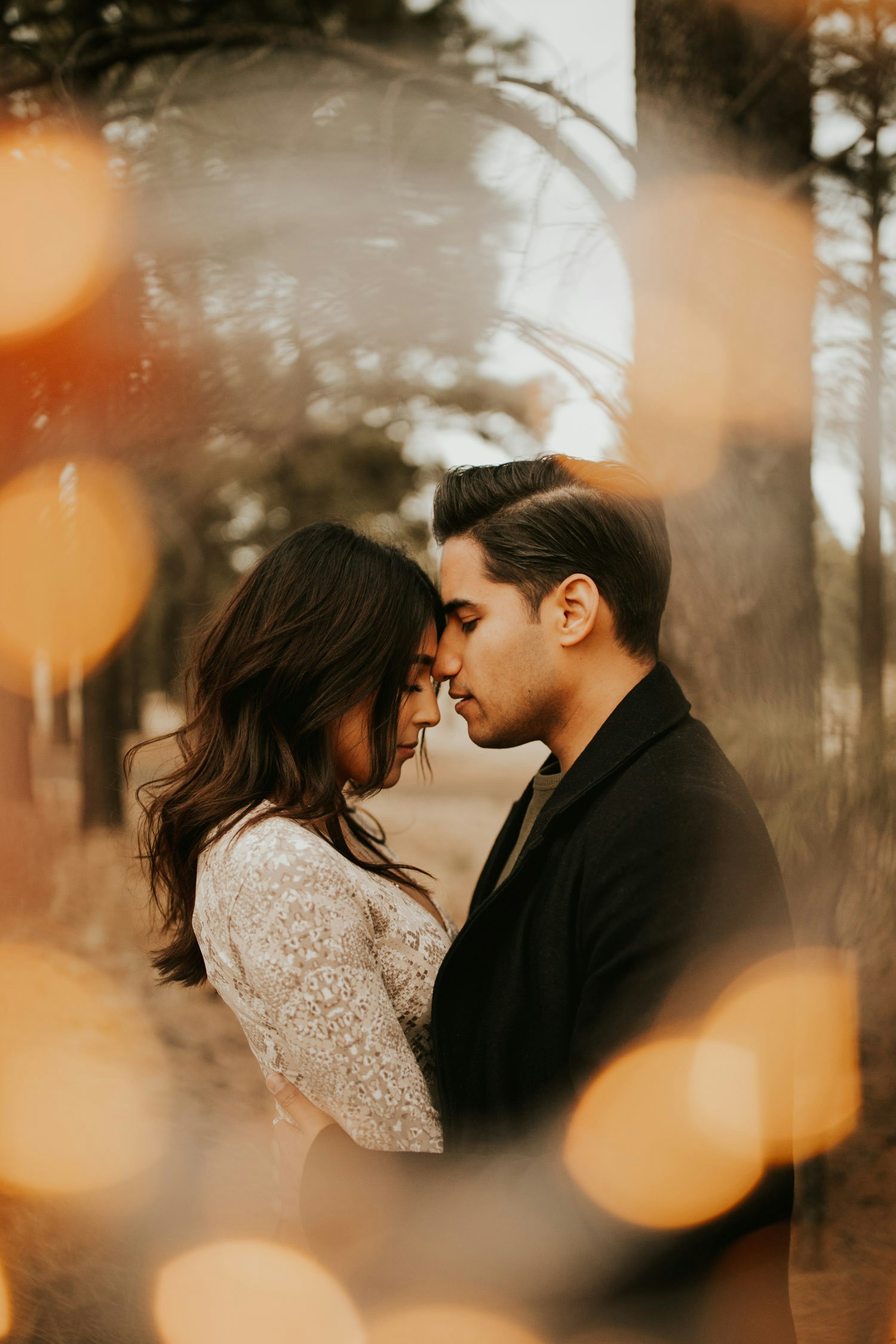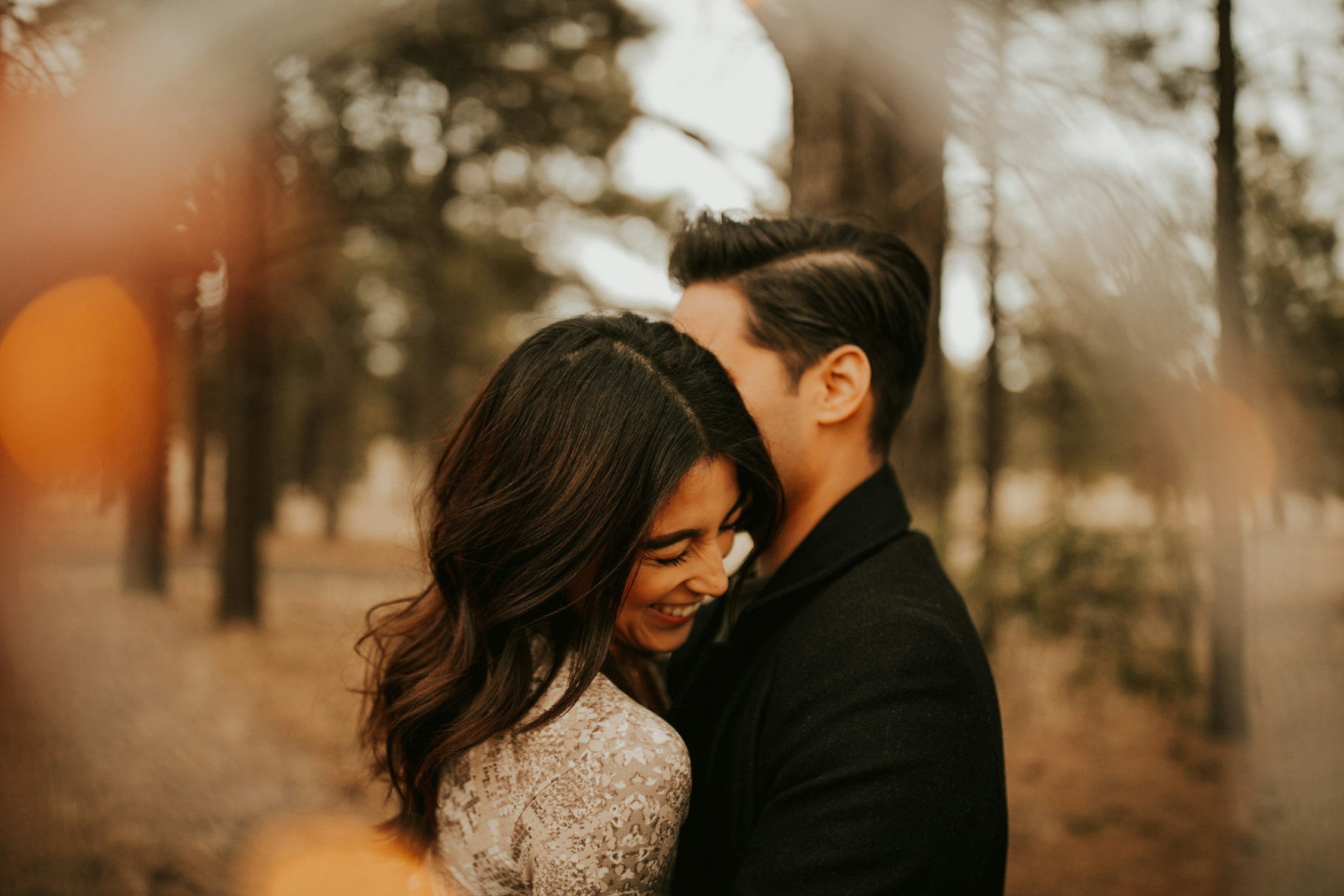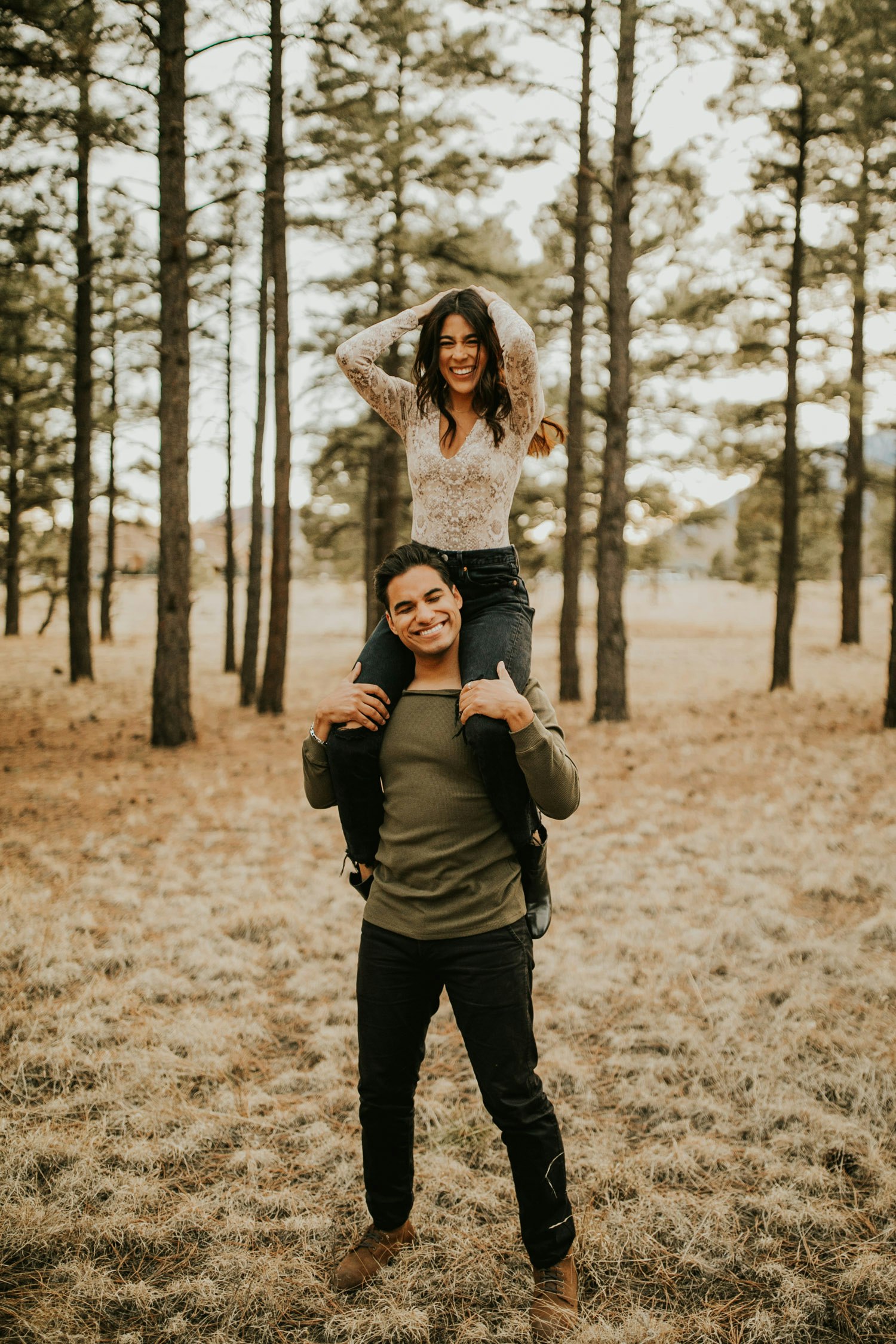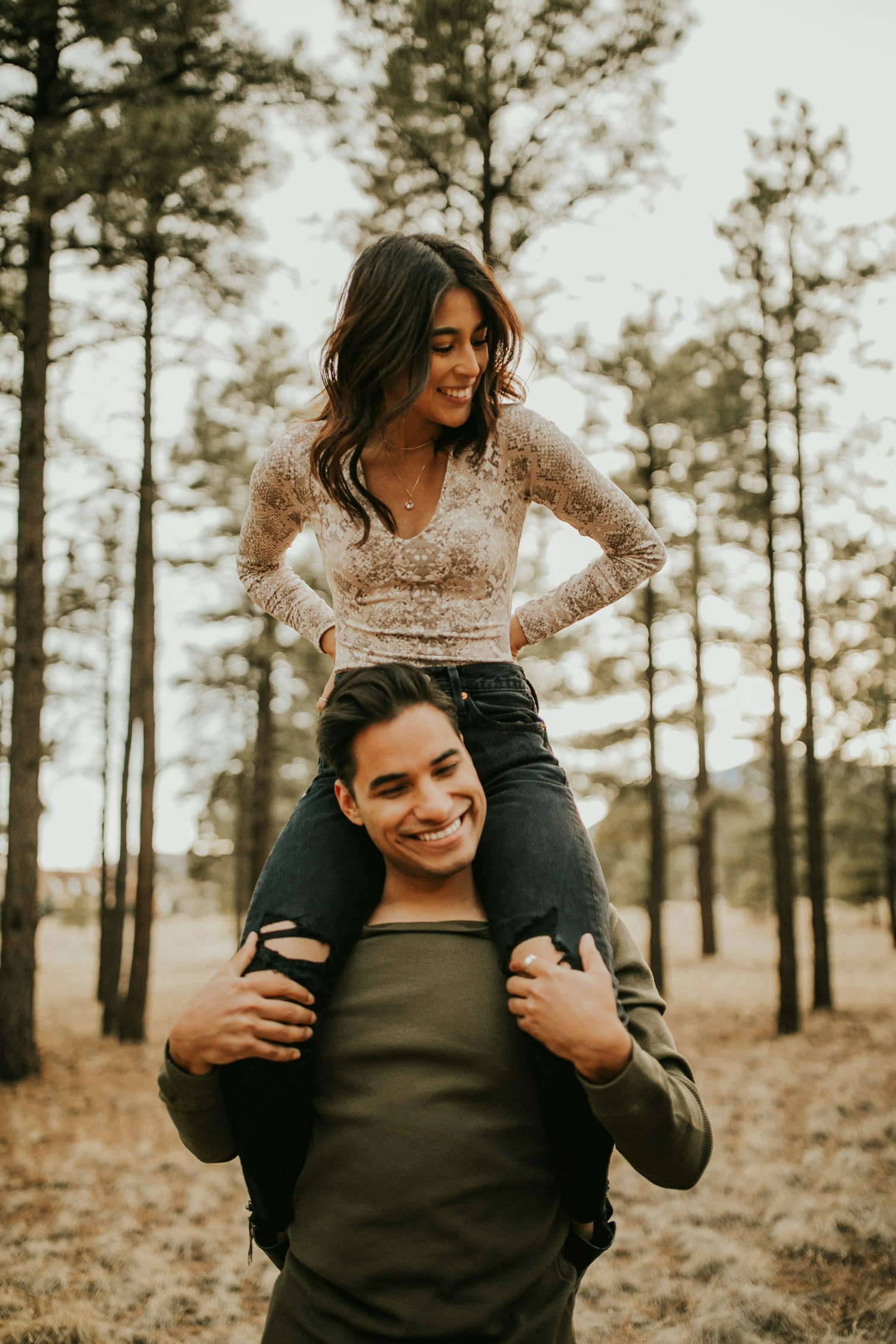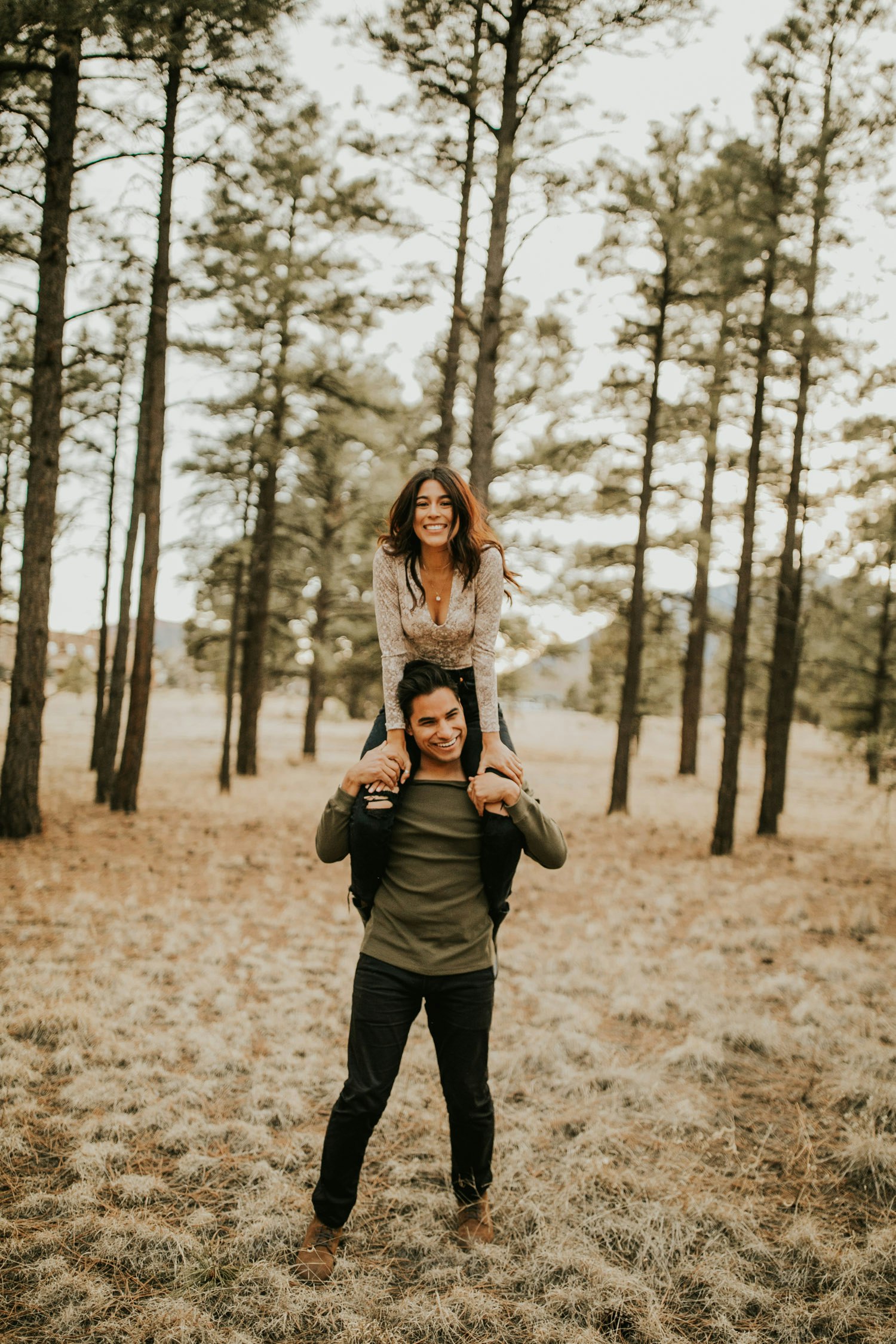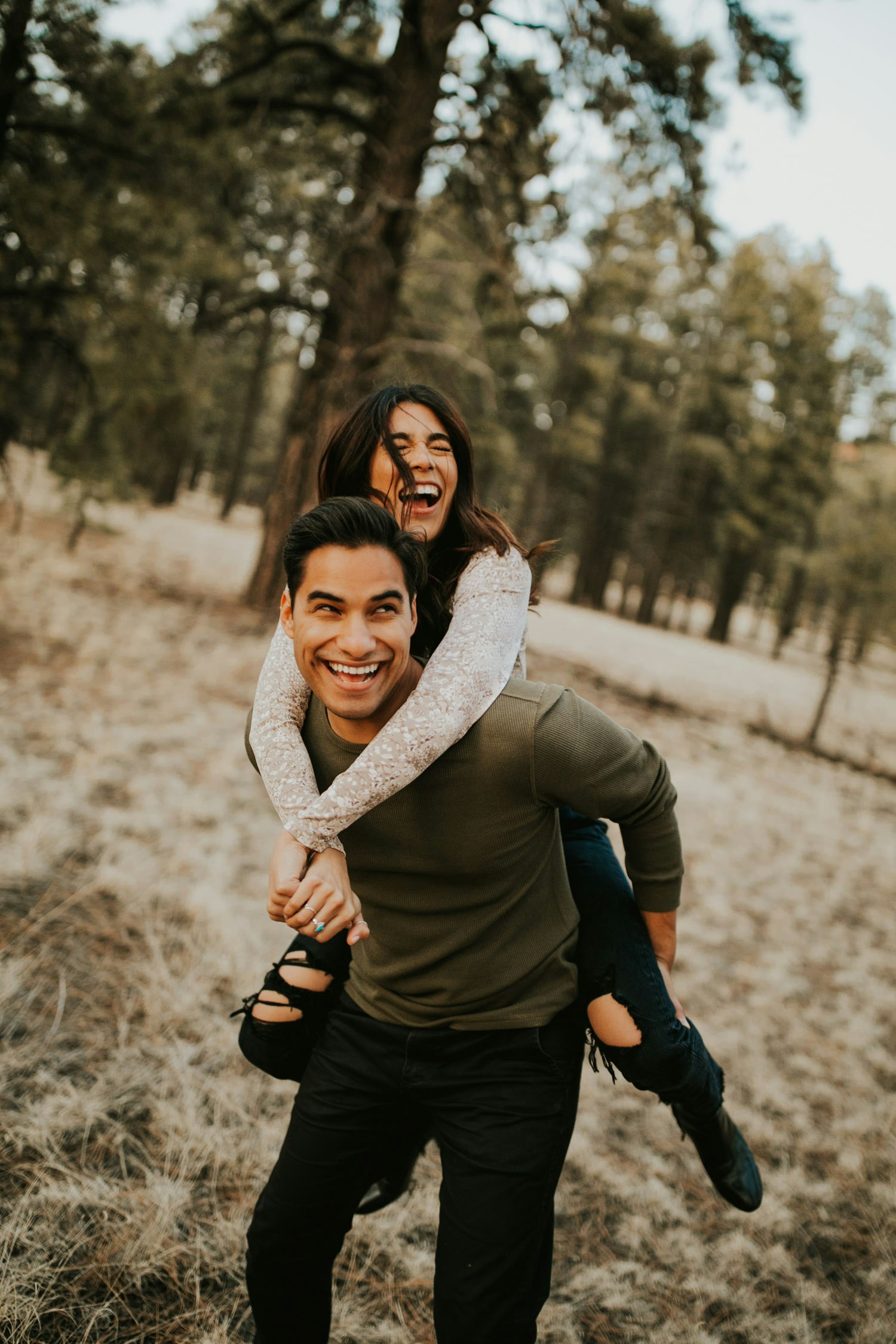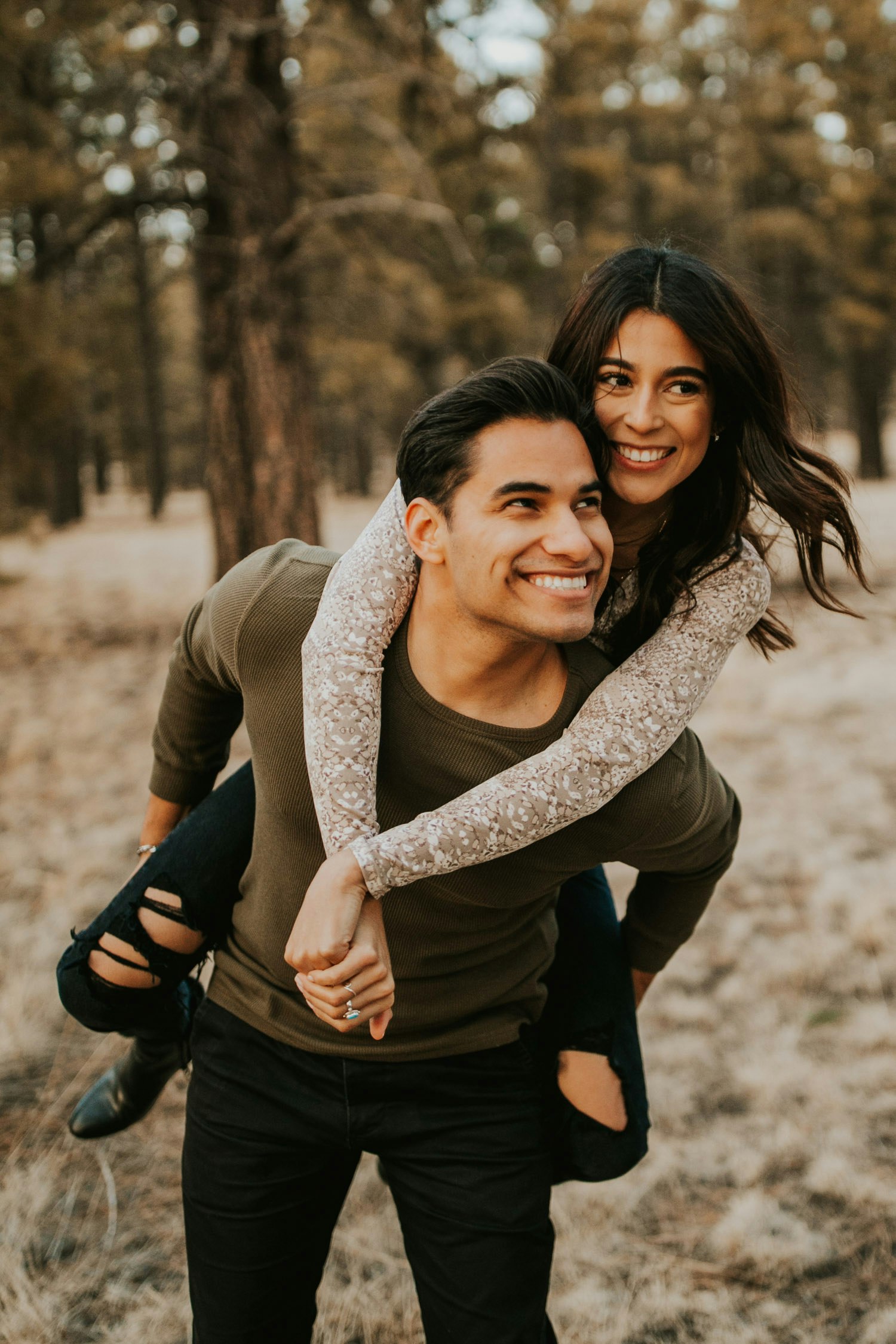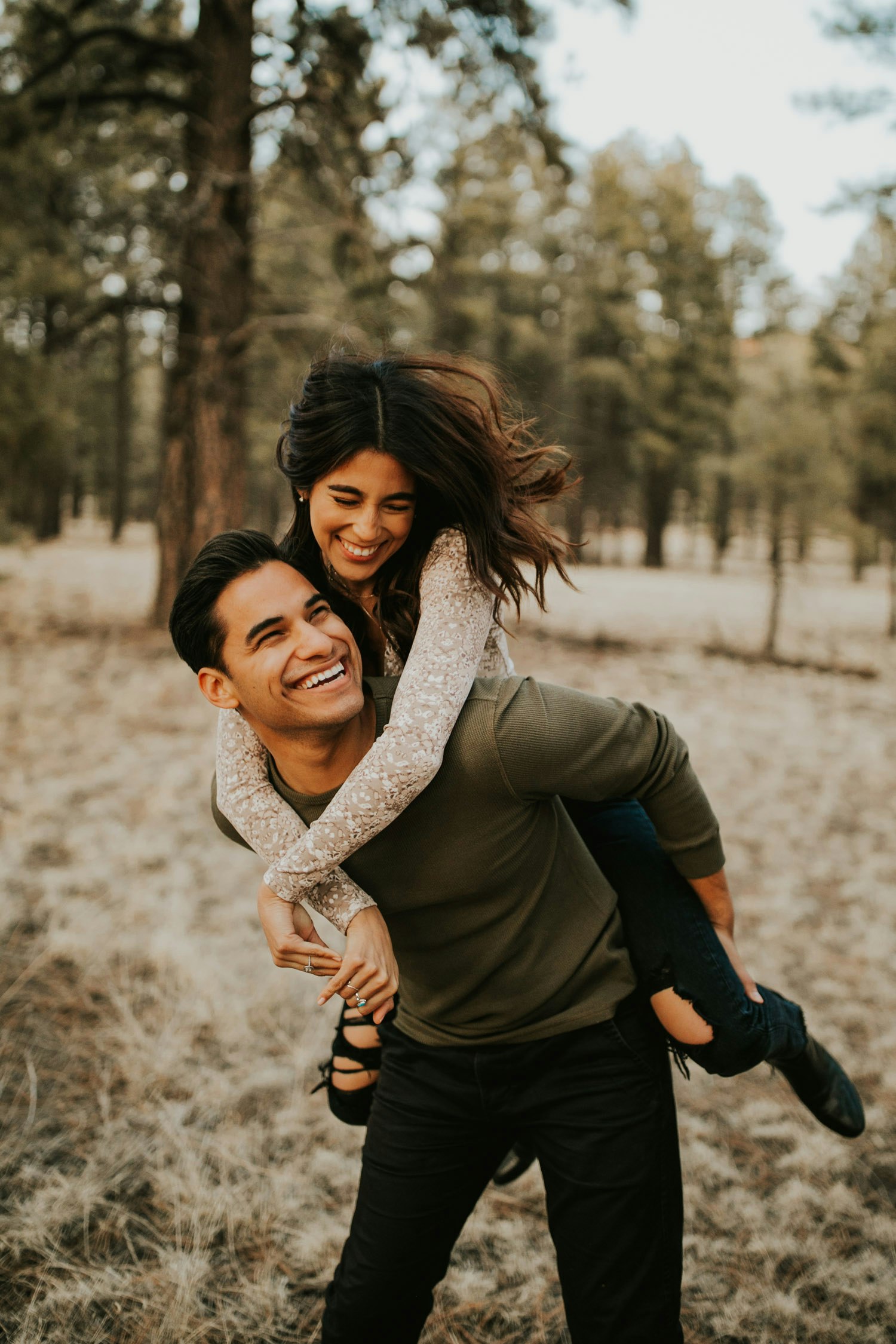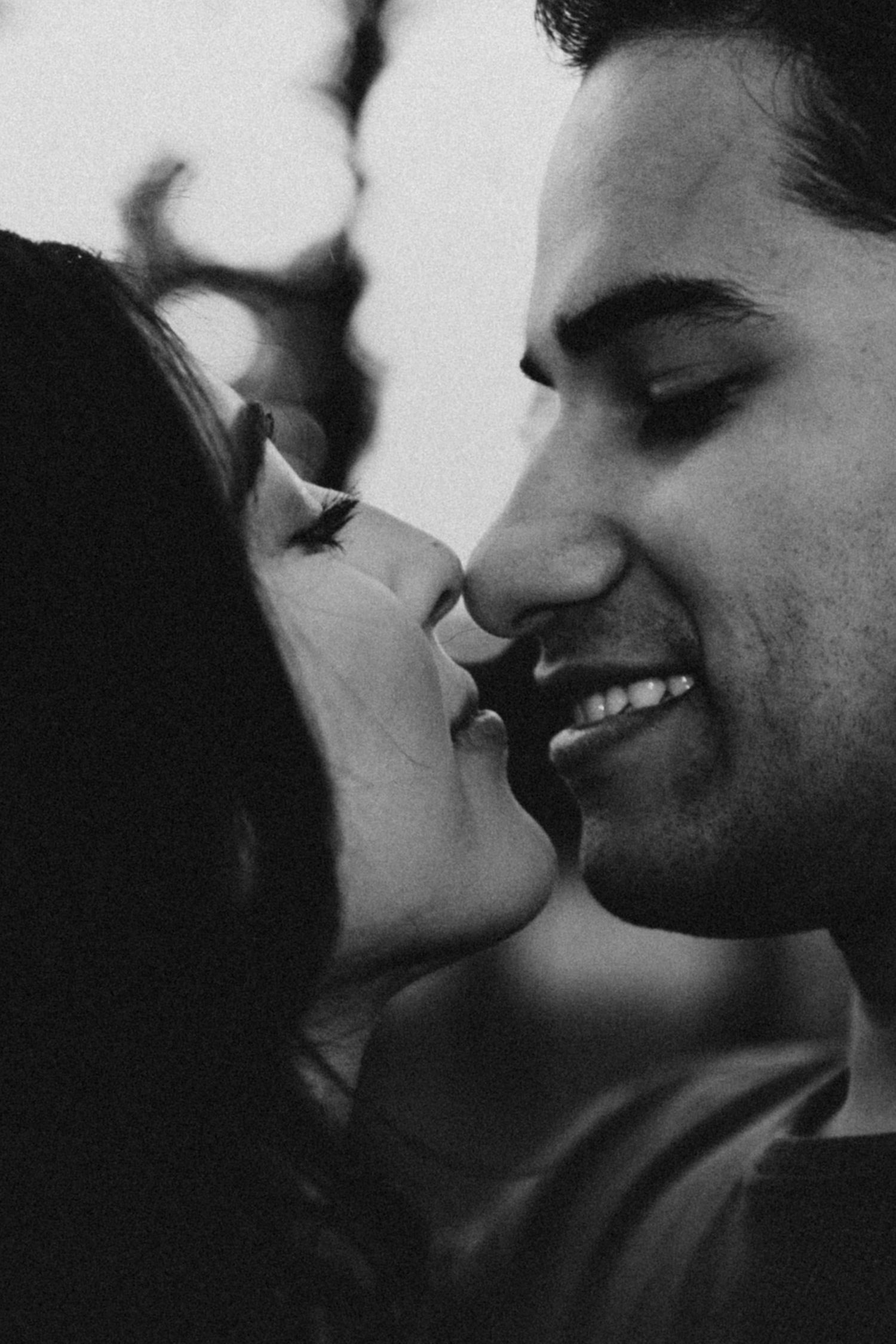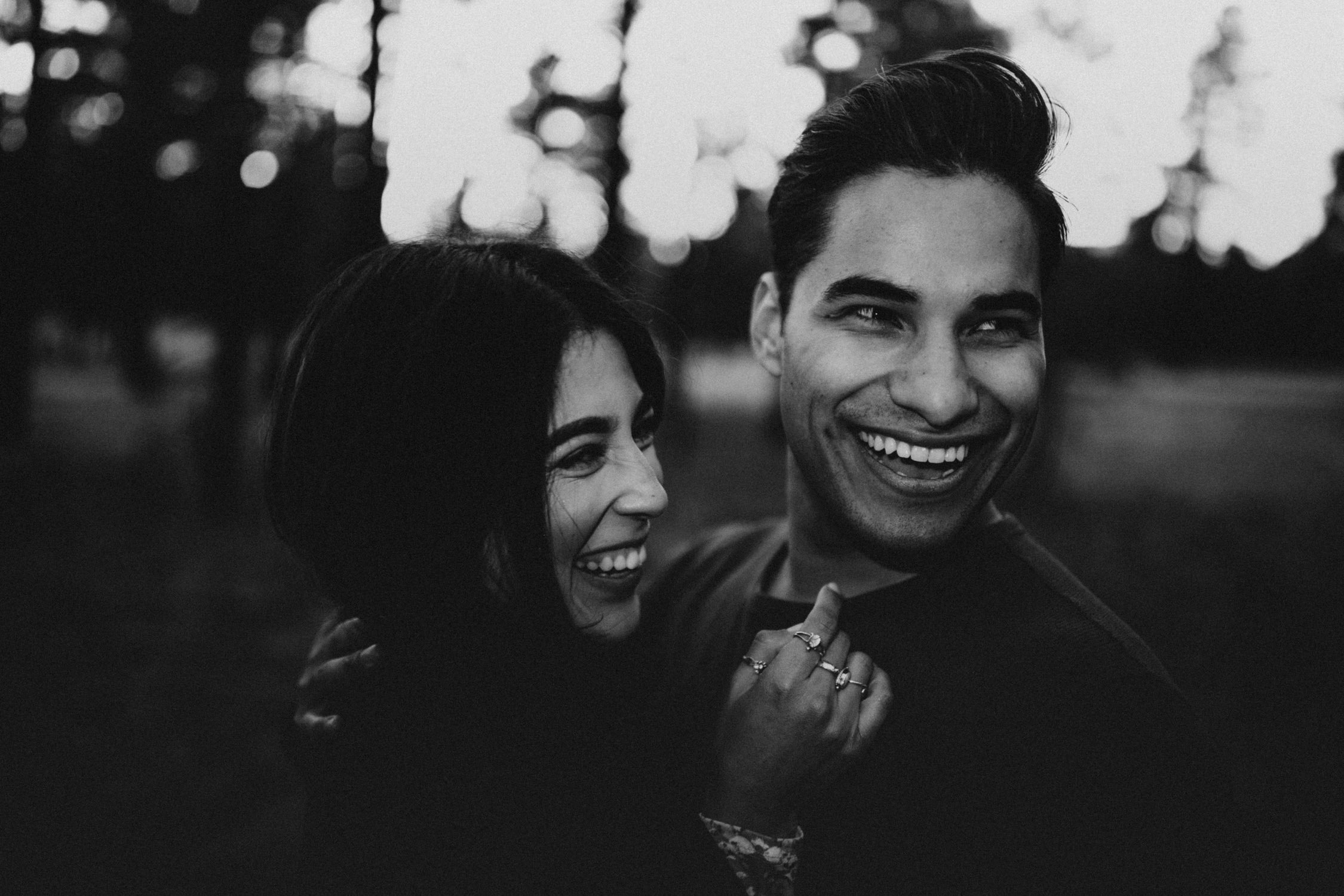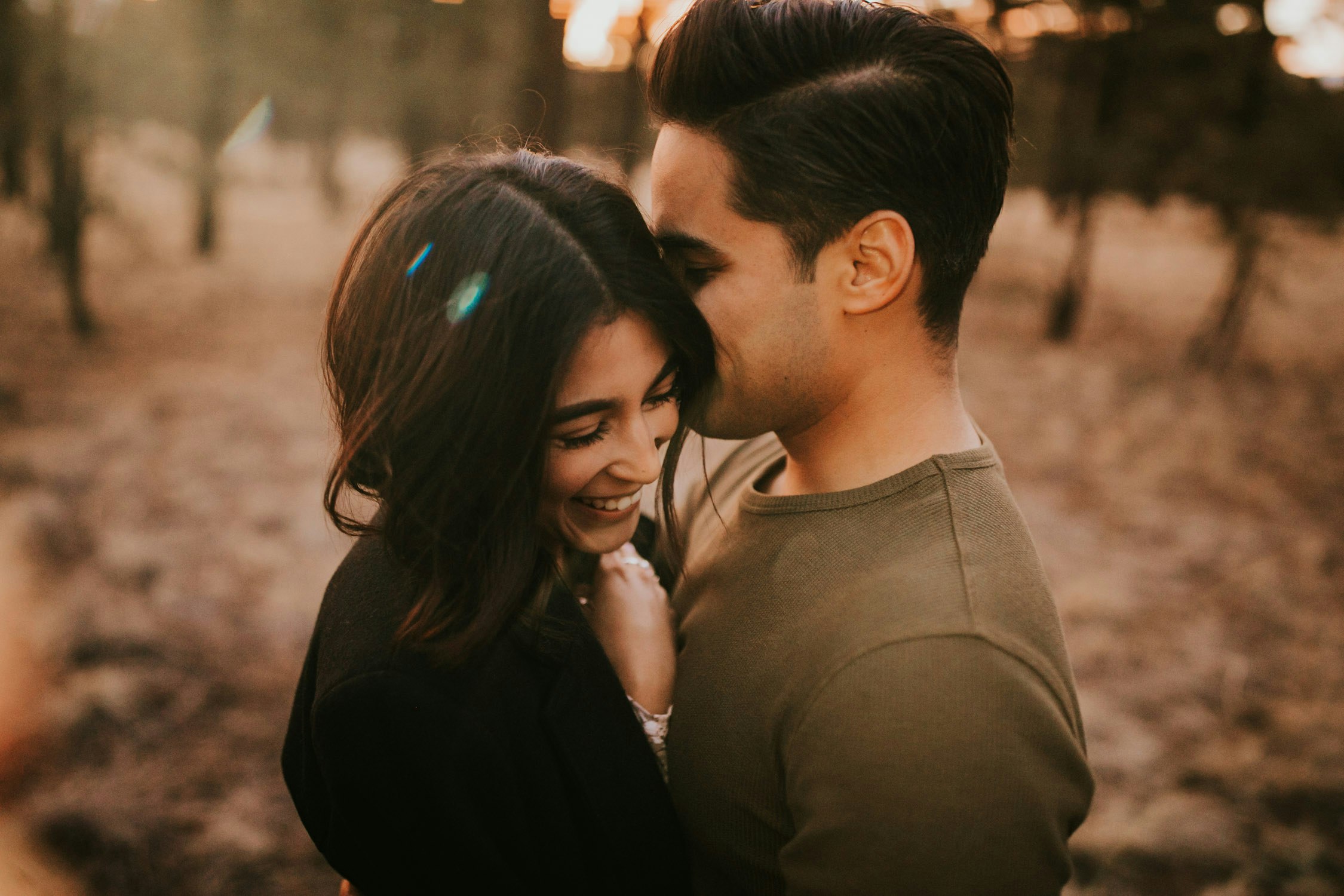 Final Stop before home: Cathedral Rock, Sedona, Az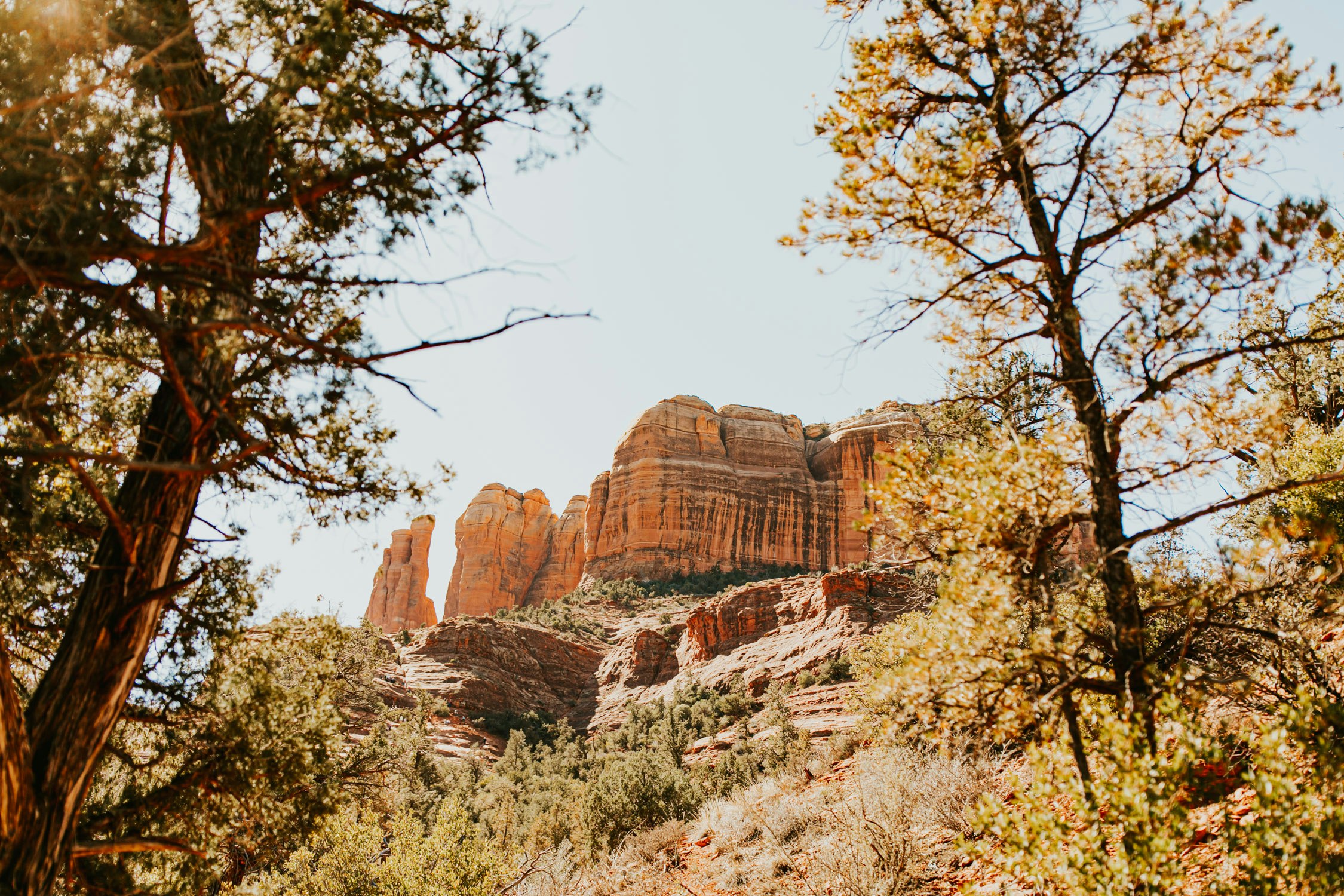 I know this trip was about Steve and Jocelyne, but honestly, this part of the trip was my FAVORITE. I honestly fell in love with Sedona, and if you have the opportunity to go during off-season (February) I would highly recommend it. Driving through Sedona while we sang Houndmouths "Sedona" is something that's kinda left a mark on my heart... every time I hear the song, my heart feels warm and I remember how at peace this city made me feel. We ran around Cathedral Rock for a bit, at noon so it was a bit warmer out, and we did not hike to the top but maybe next time! Afterward, we were on a hunt to find cool stickers, and I'll never forget that I found a rad sticker of Cathedral Rock and it was the last one, and Steve wanted it... Sorry Steve, but I'm still not giving it up. ;) We ended our trip with a local pizza joint and then said our goodbyes to one of the most beautiful cities, and headed home.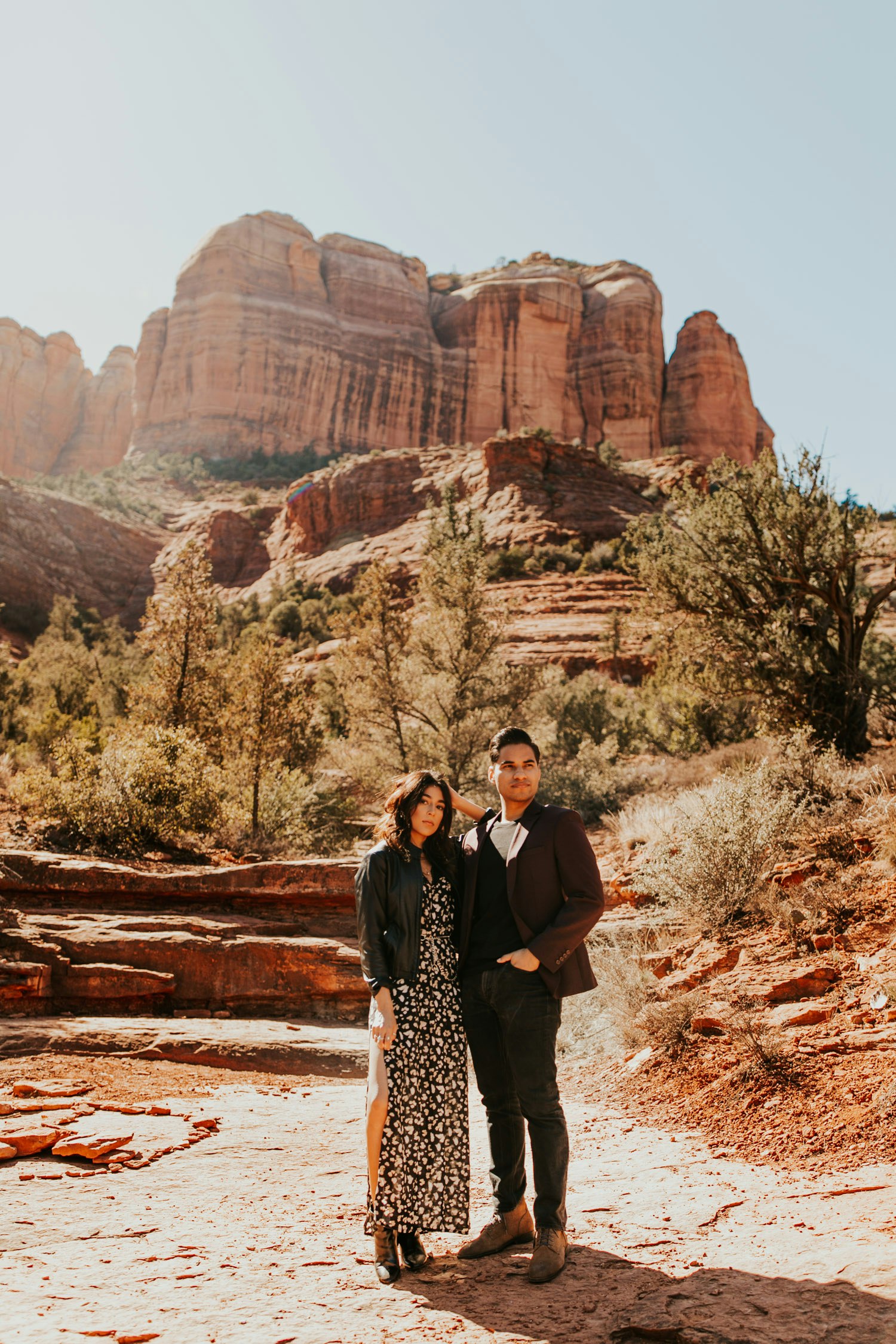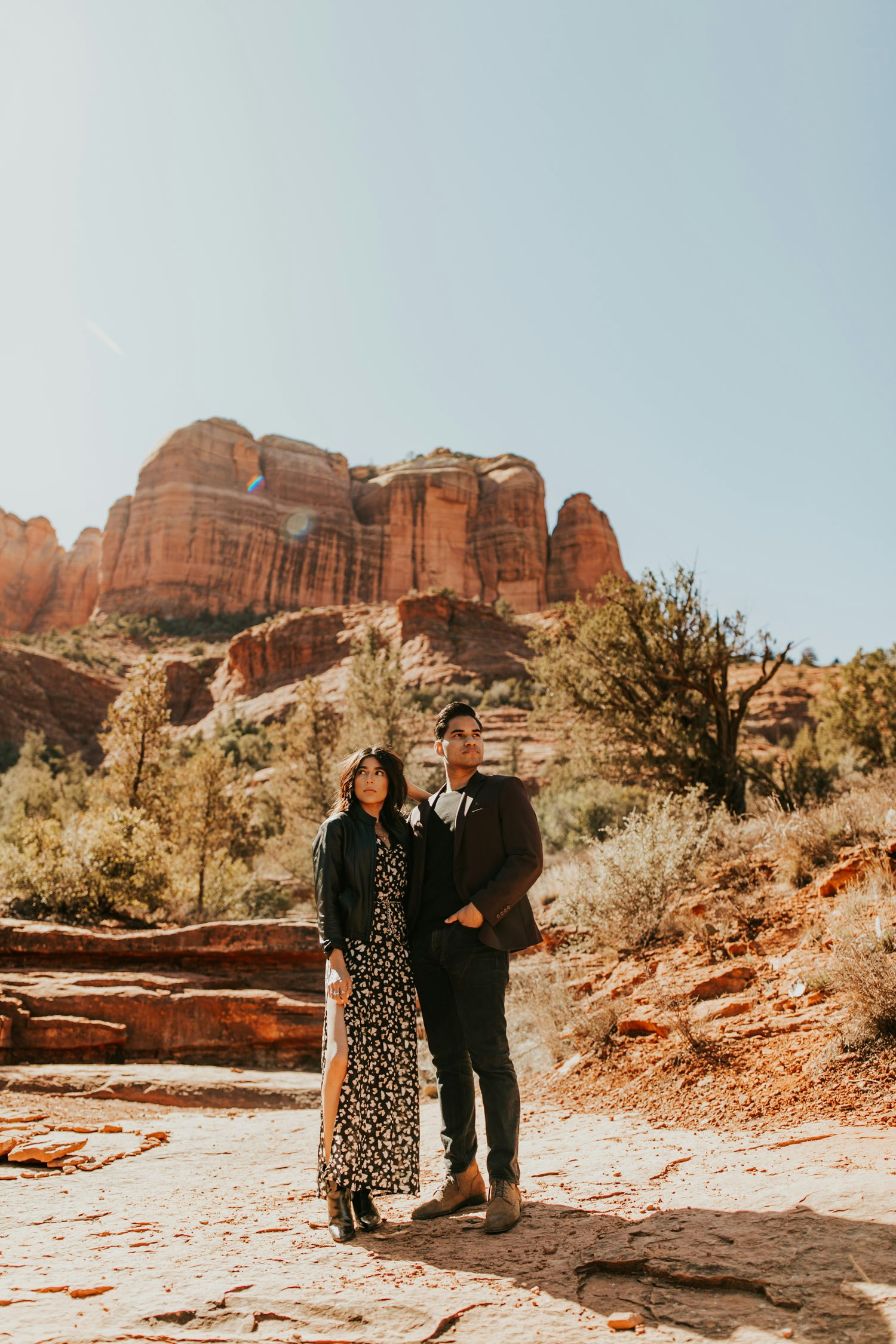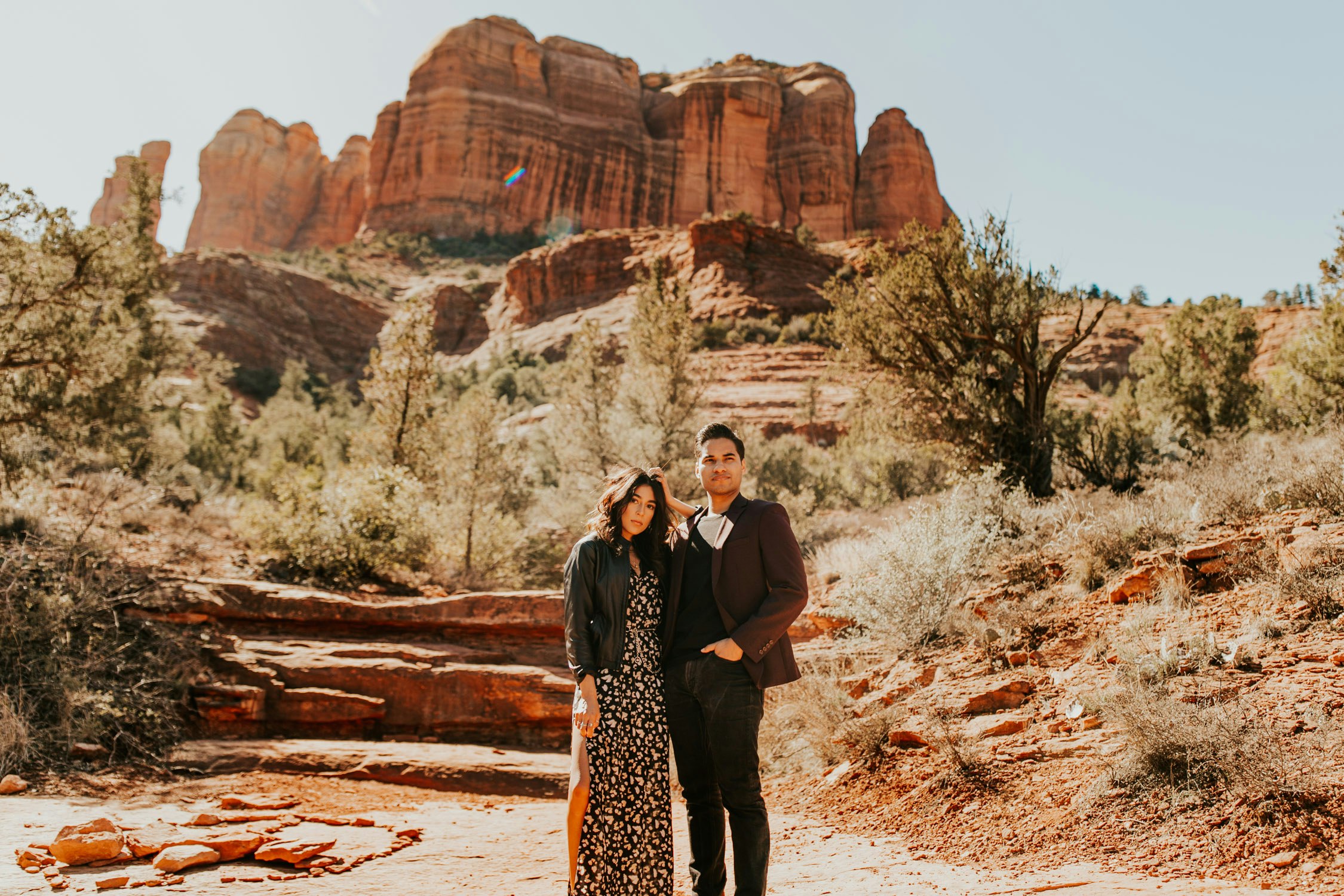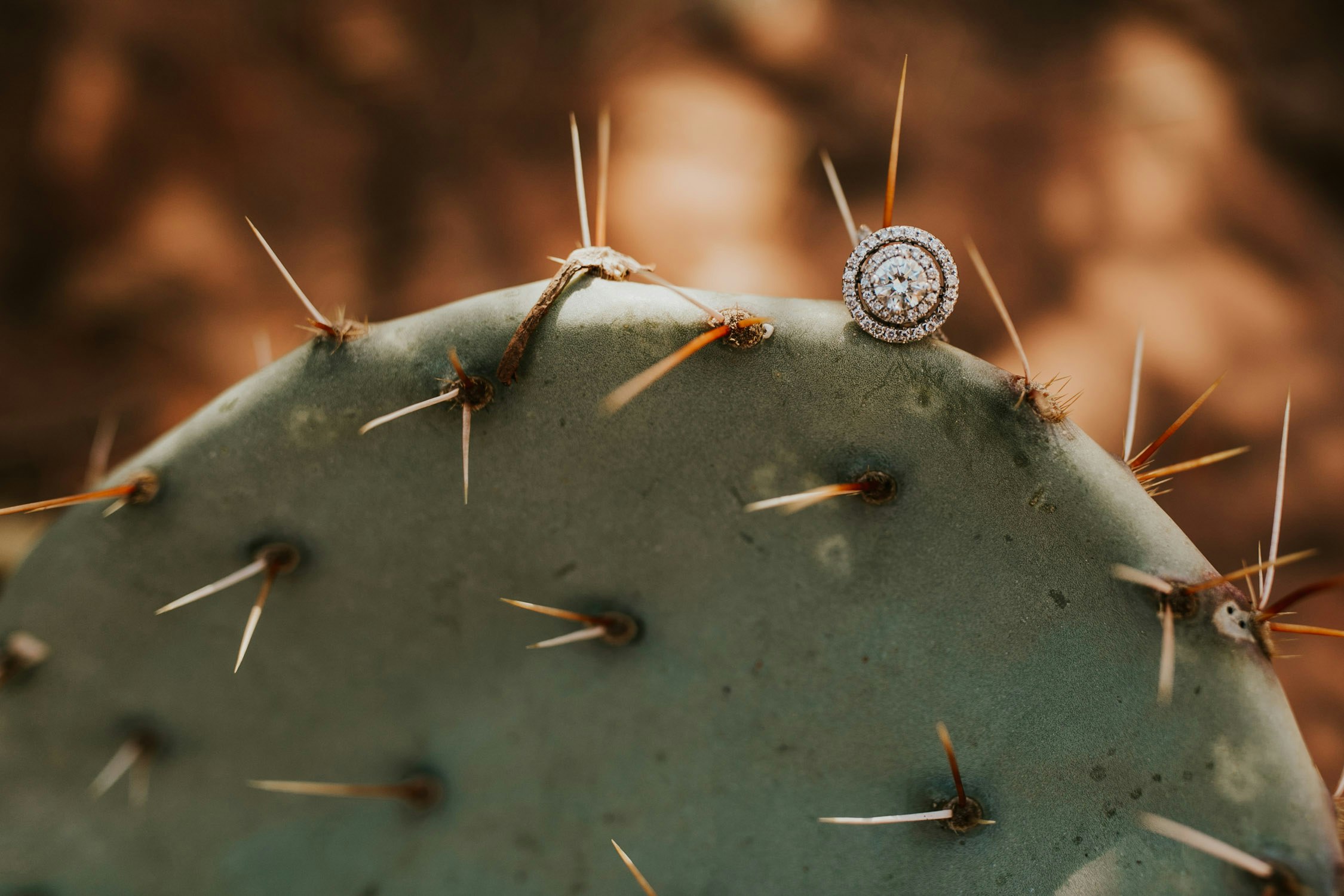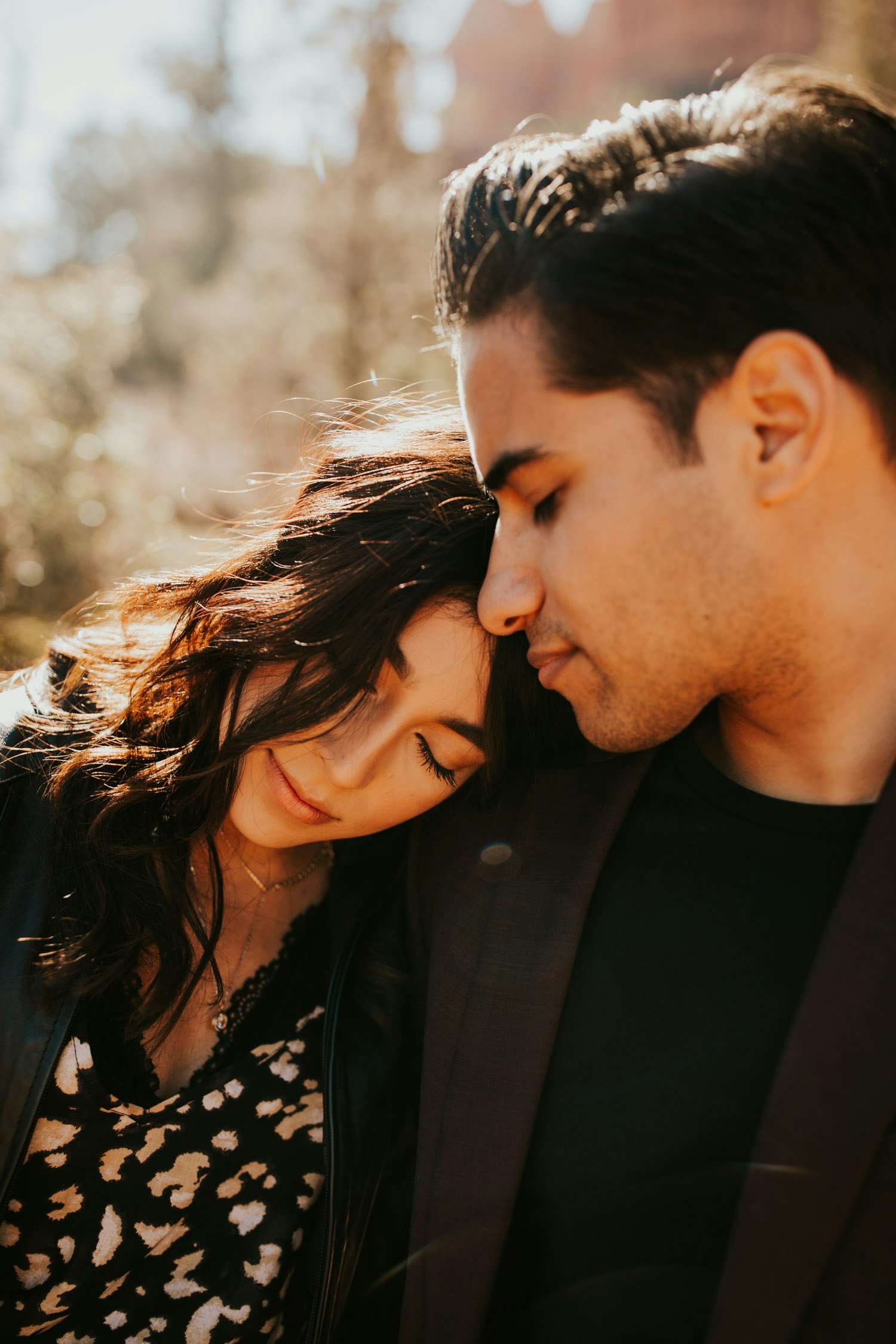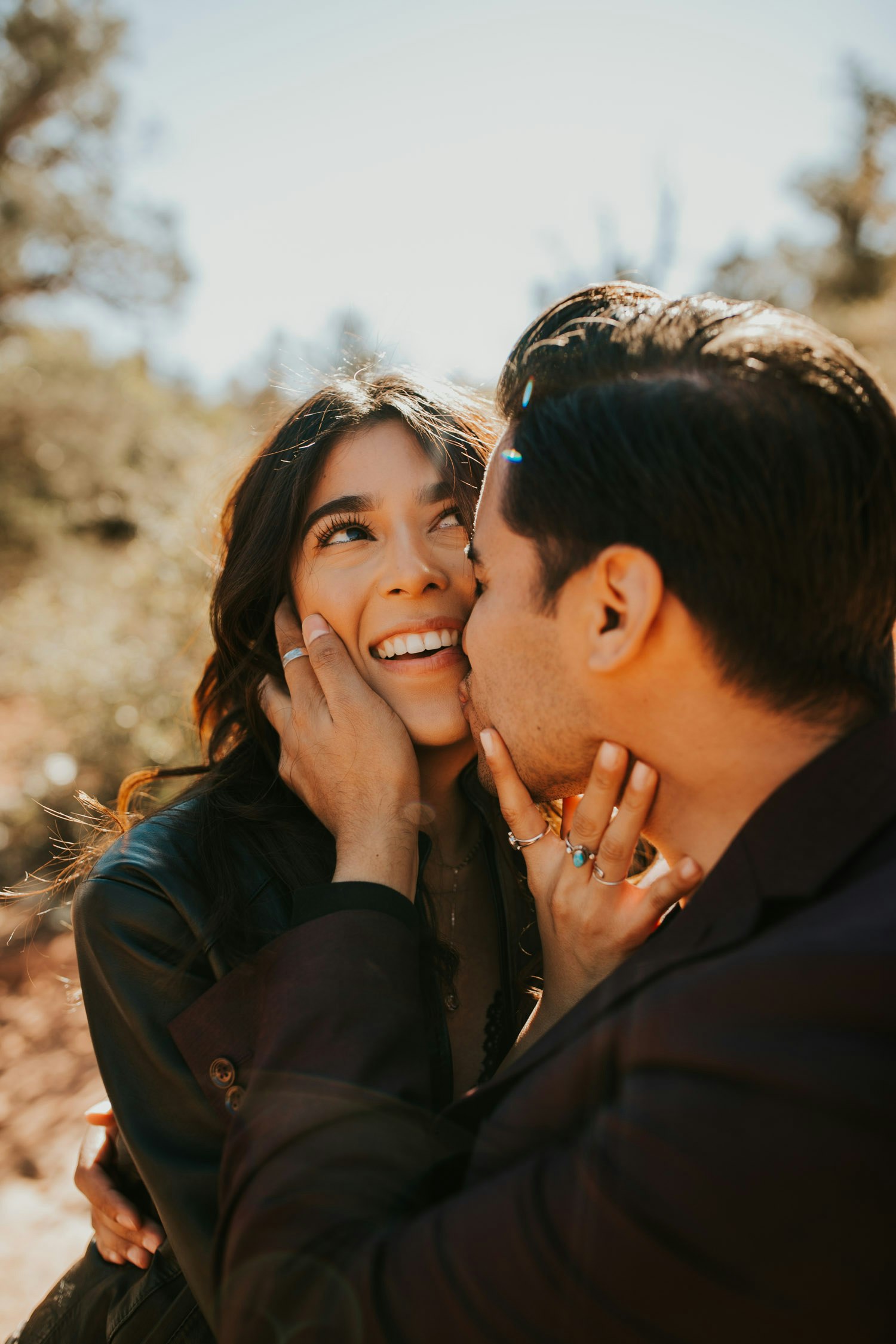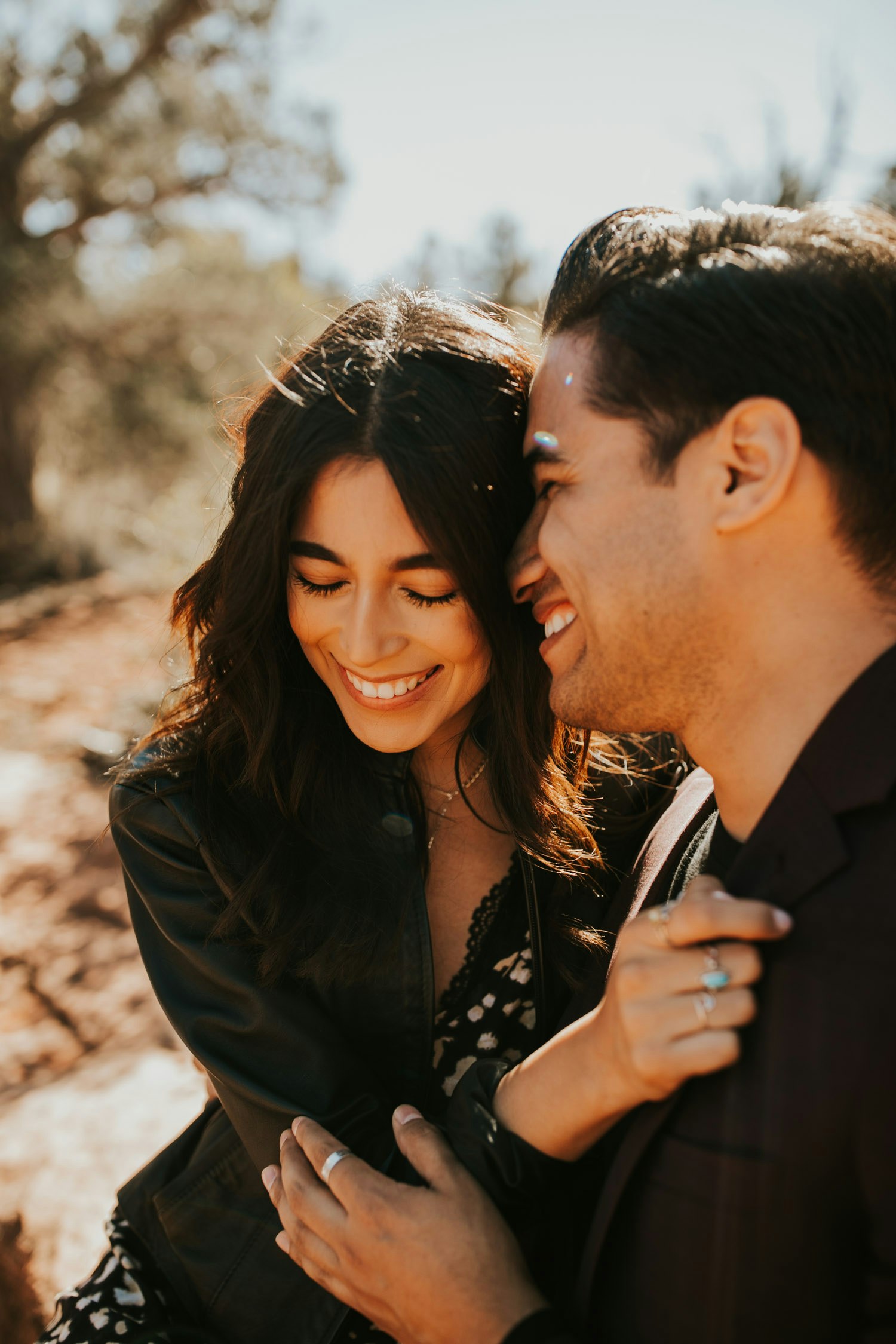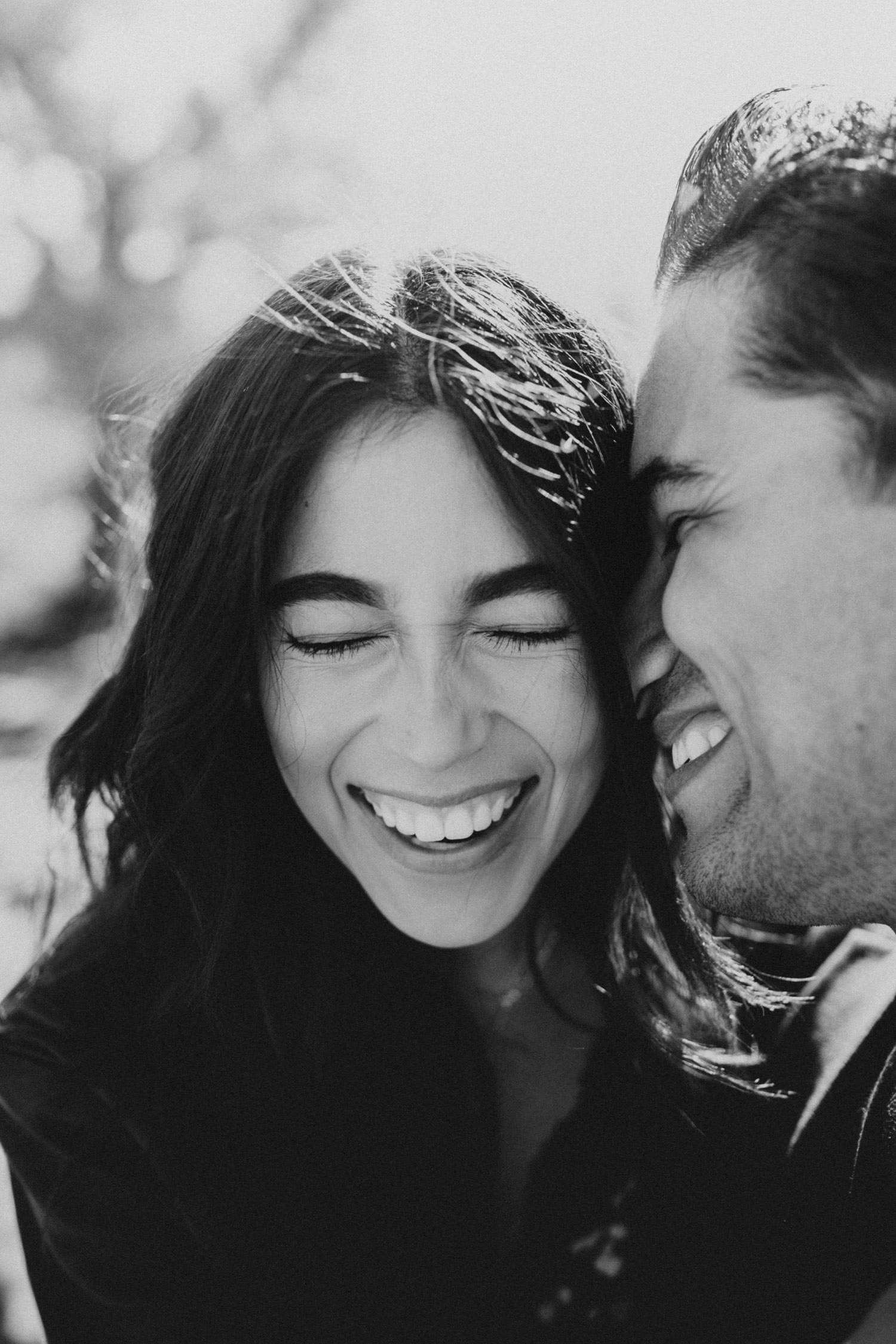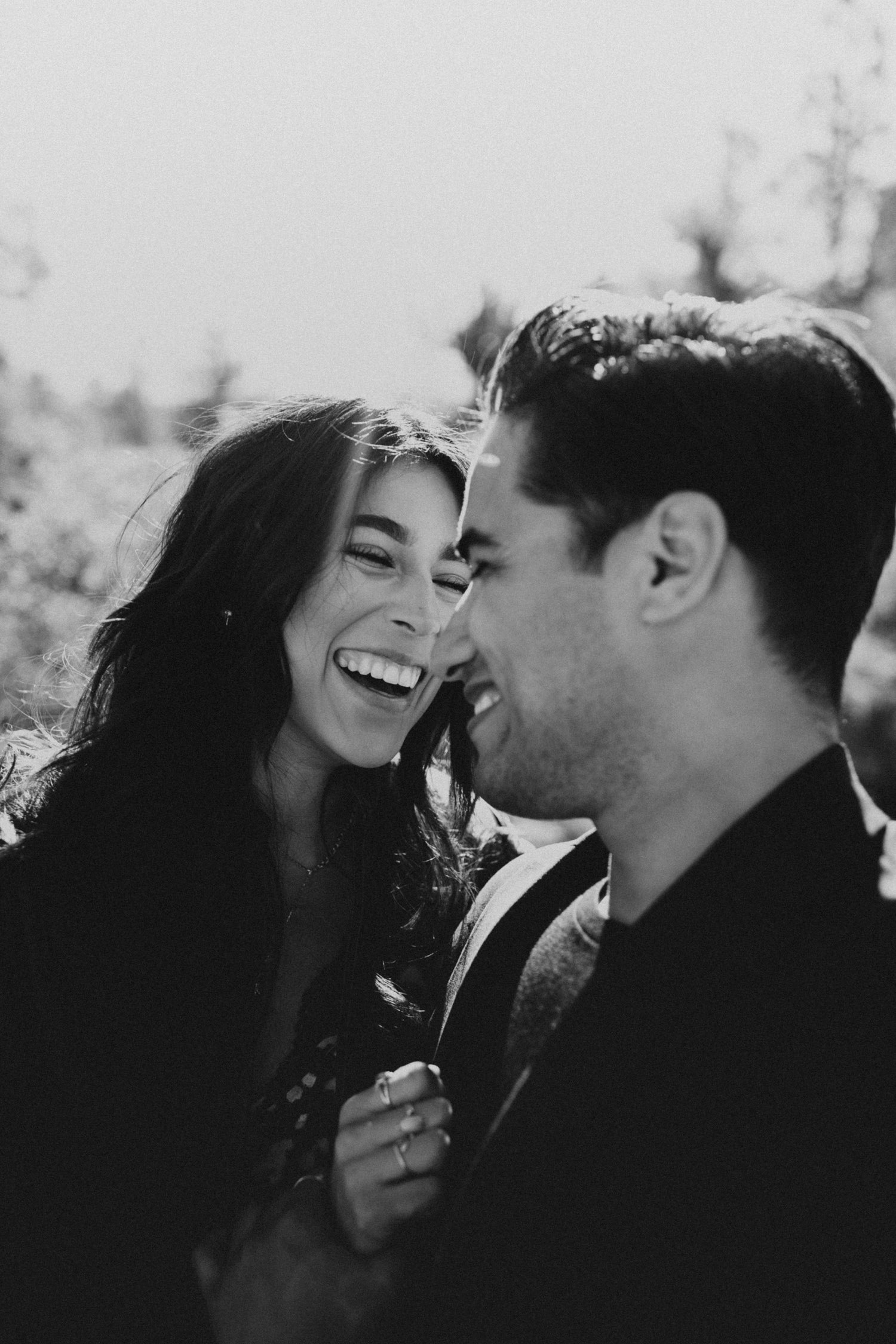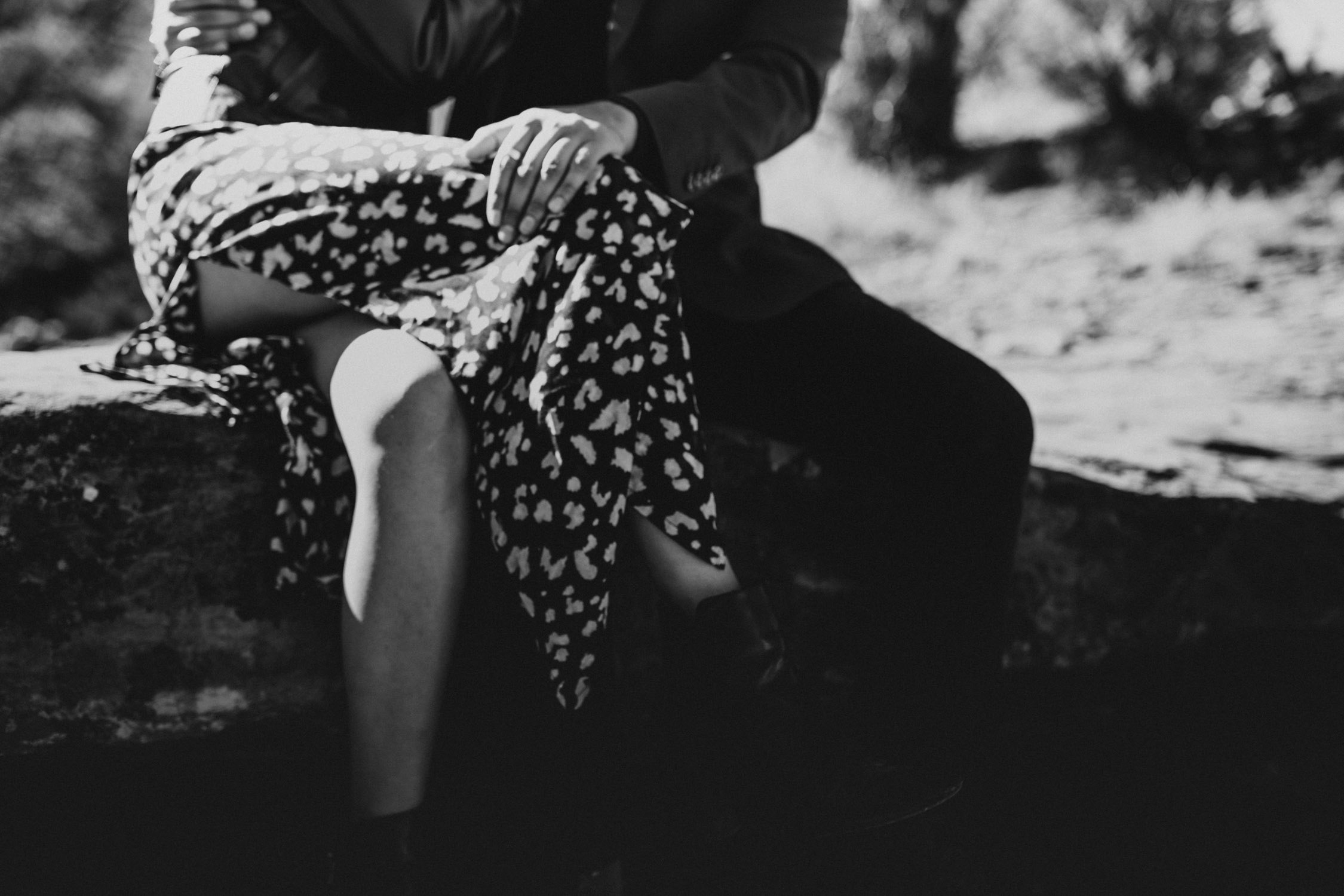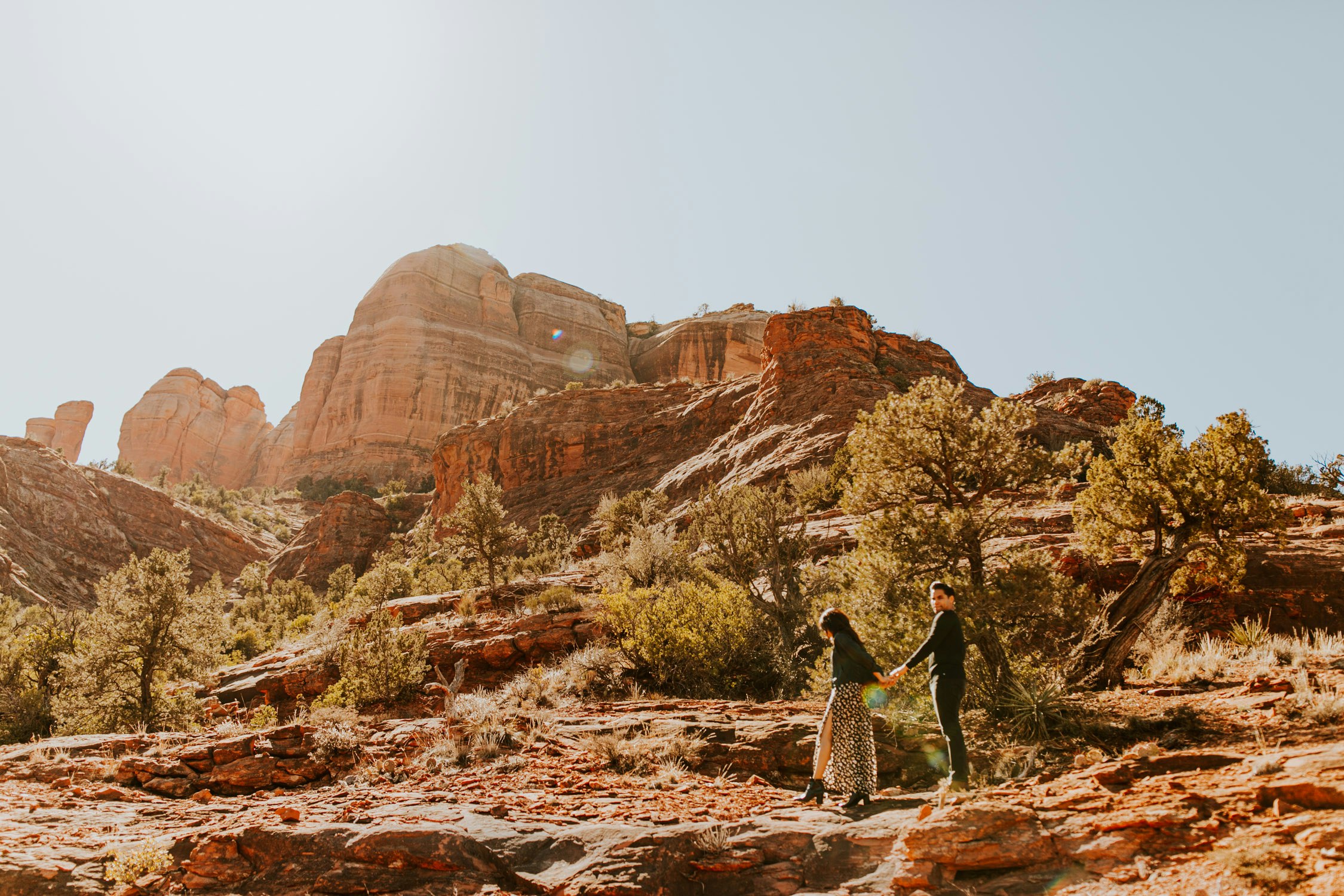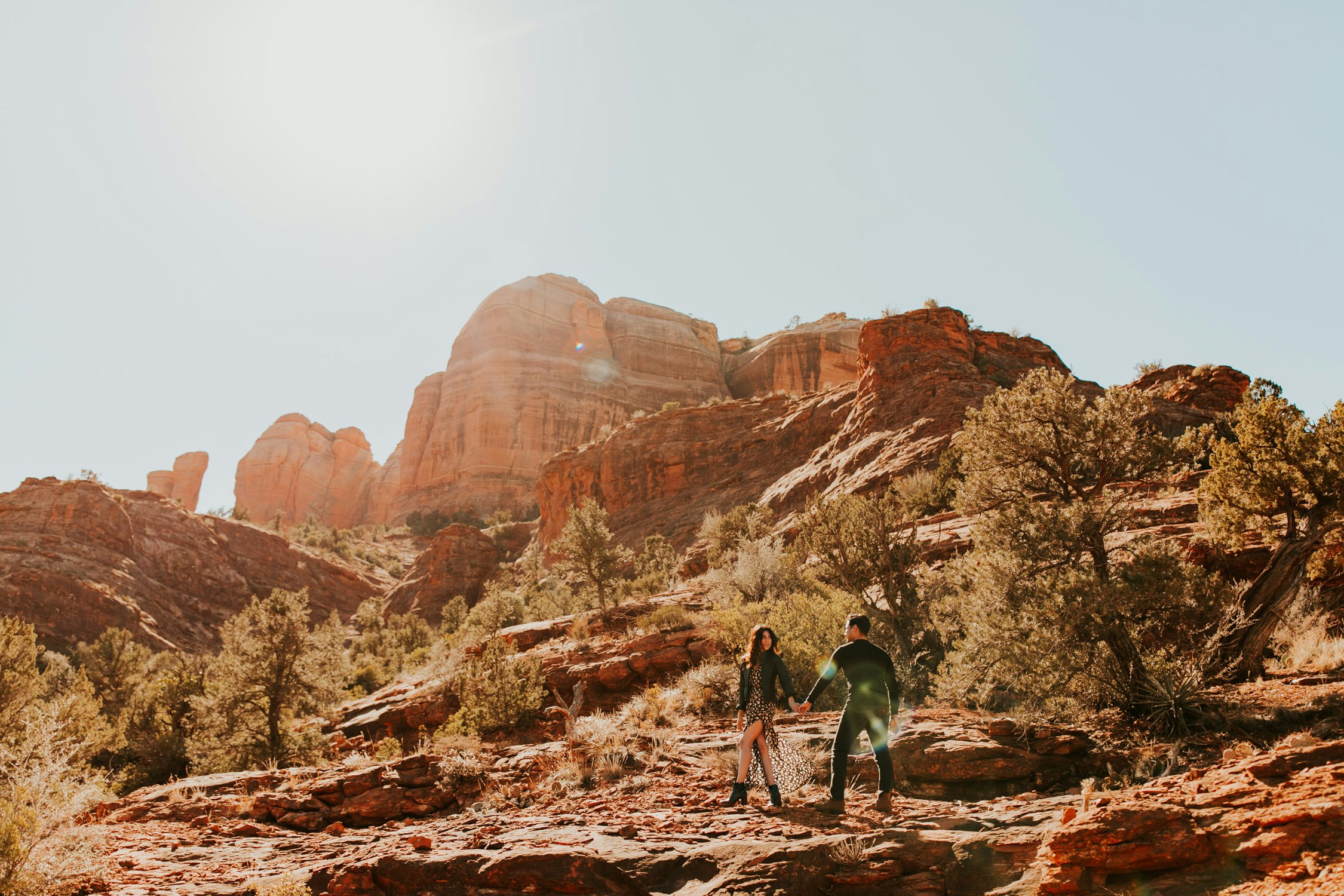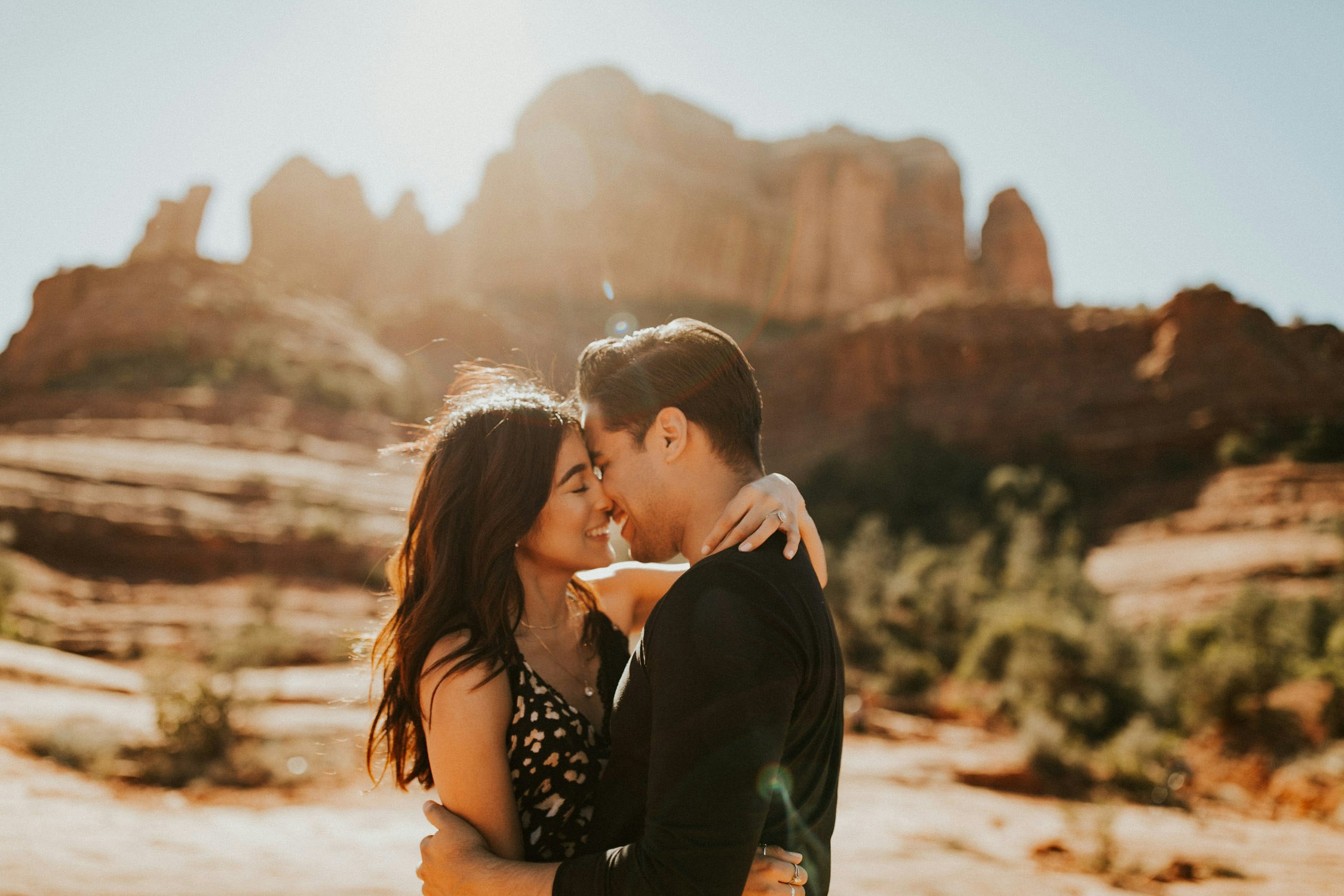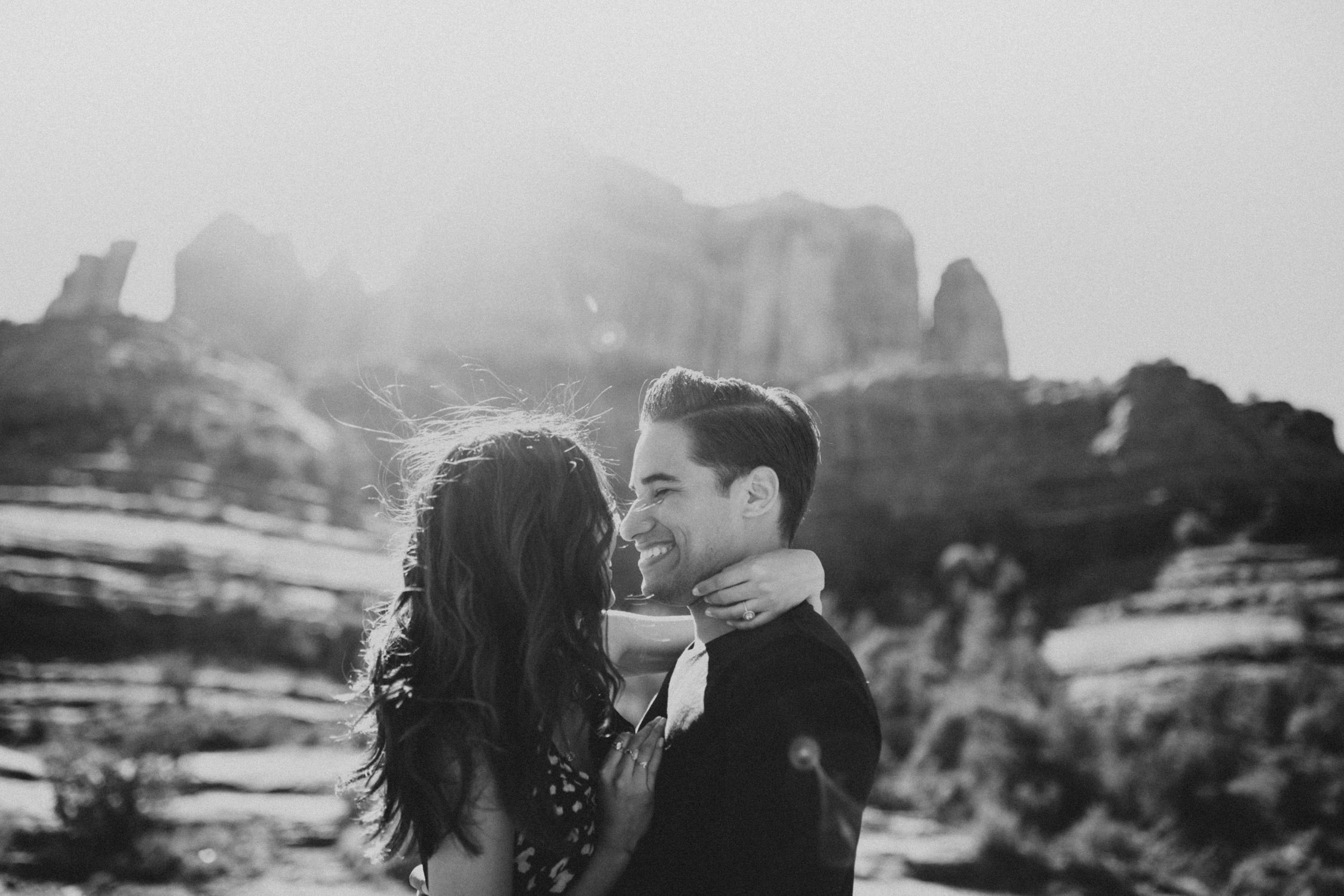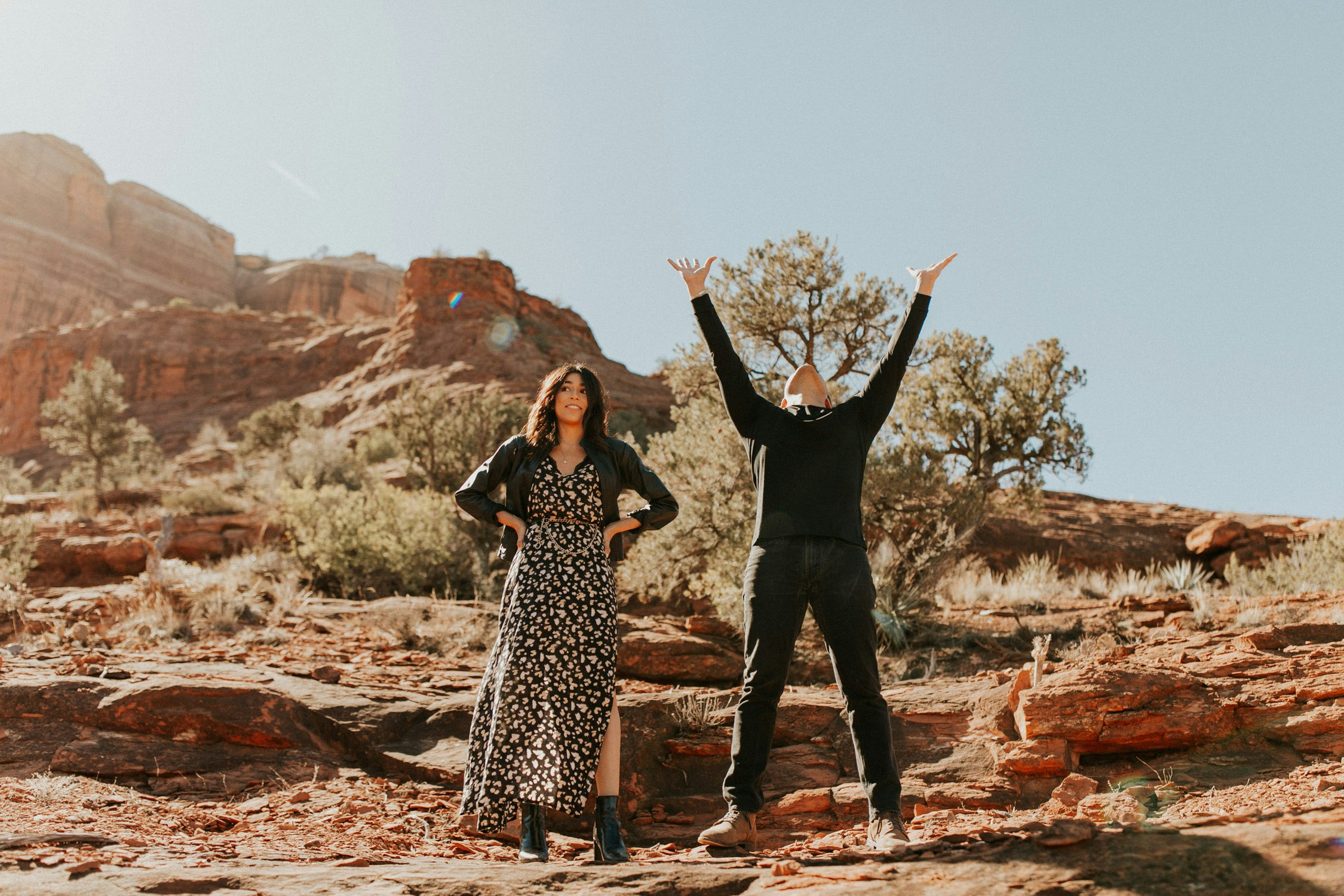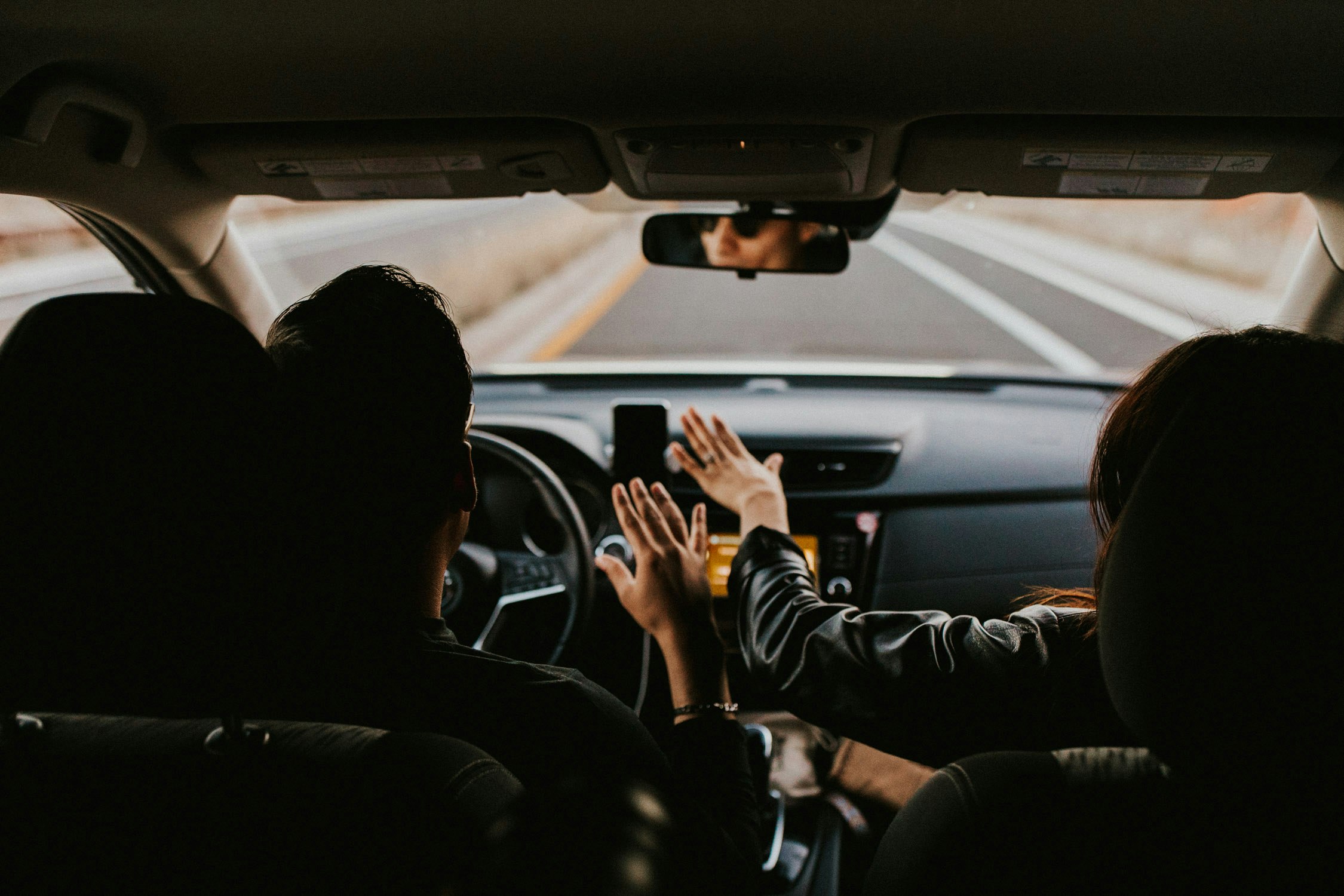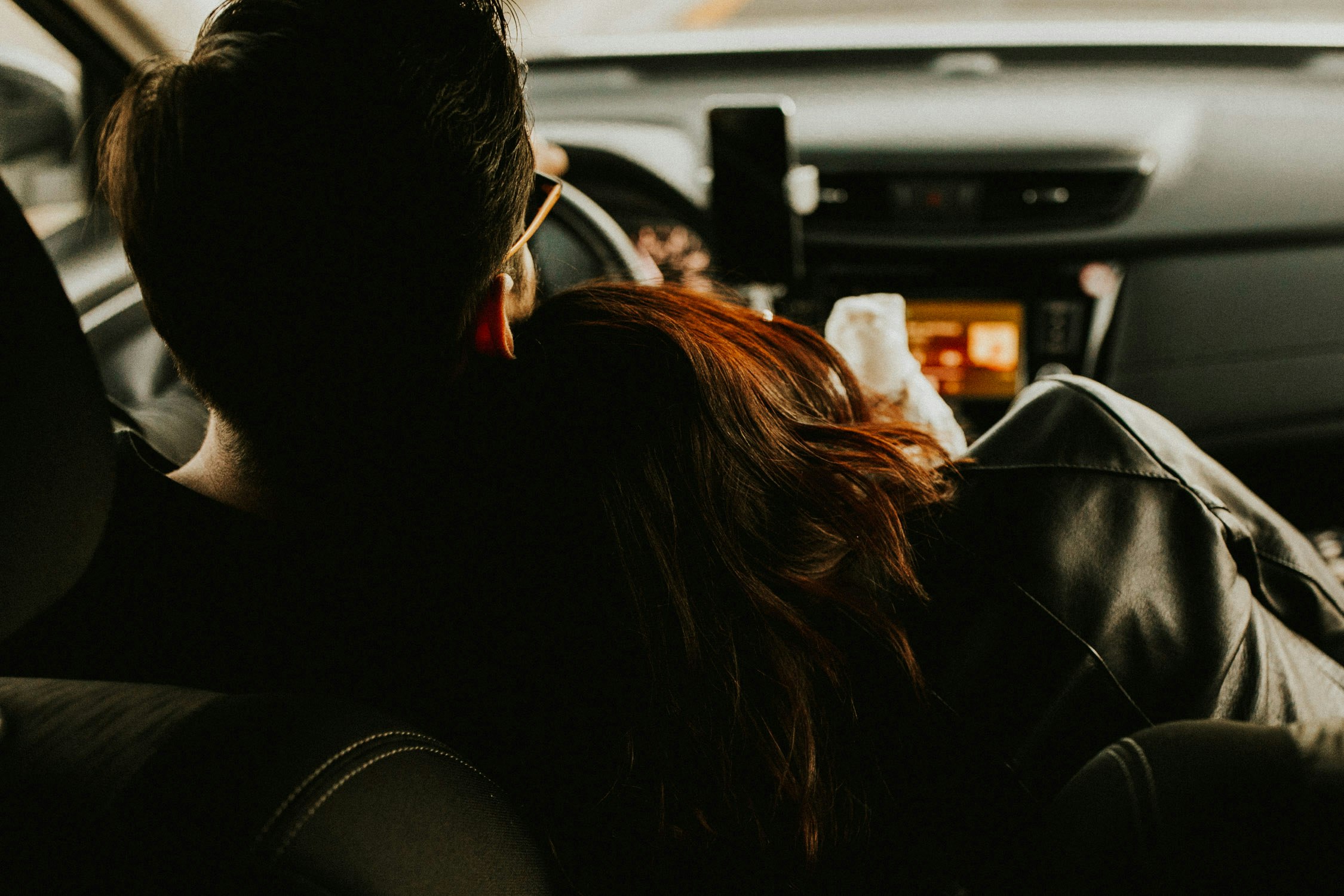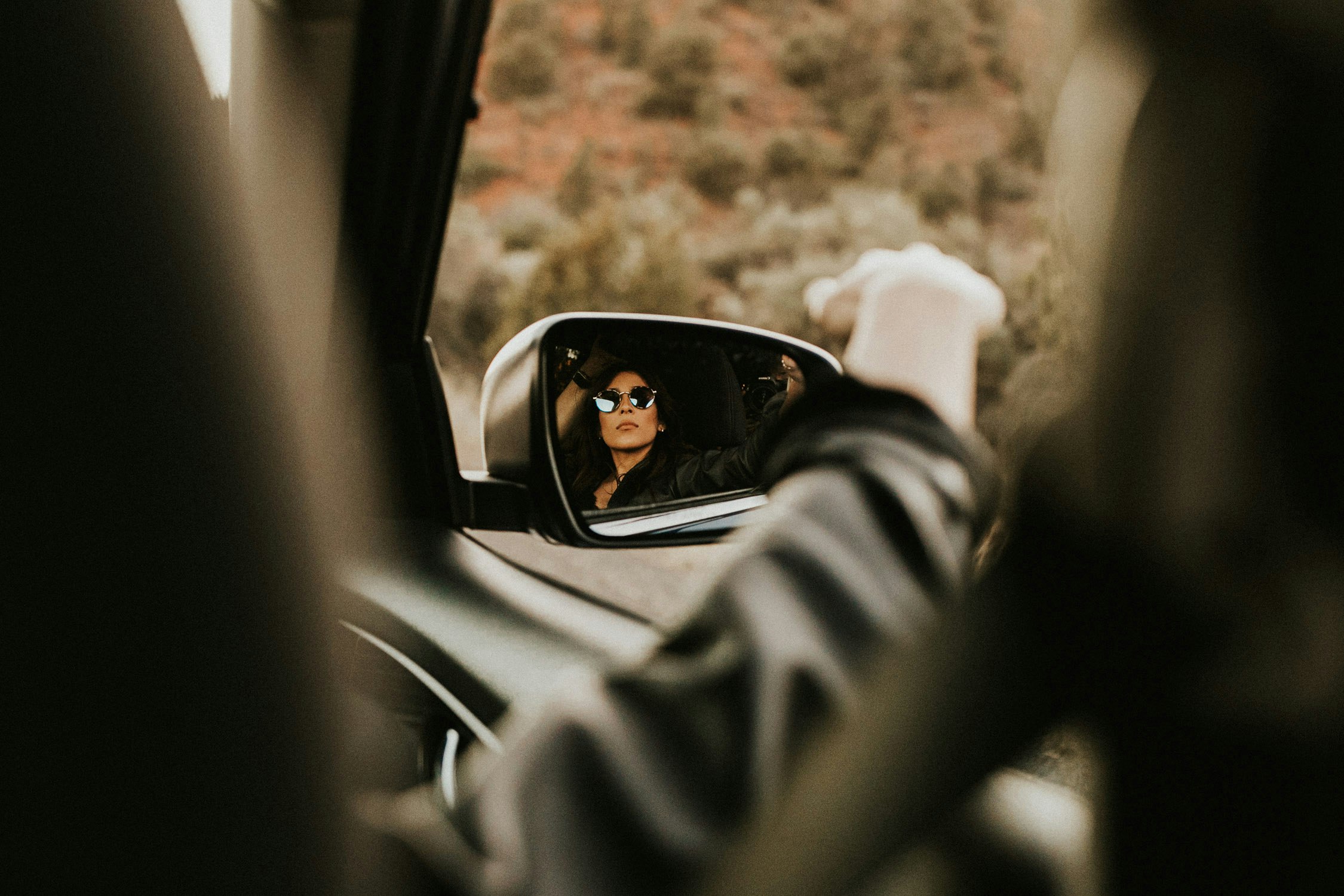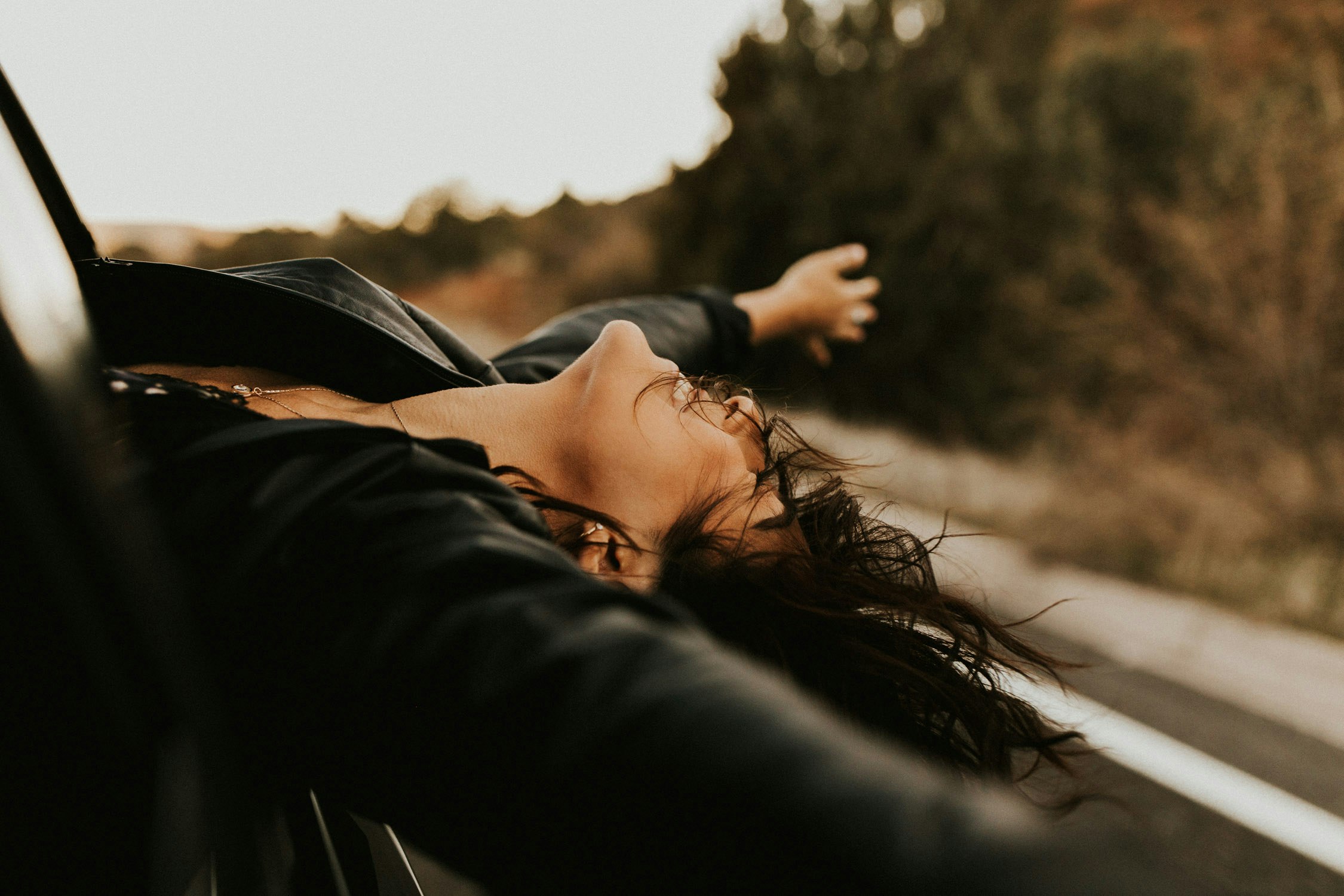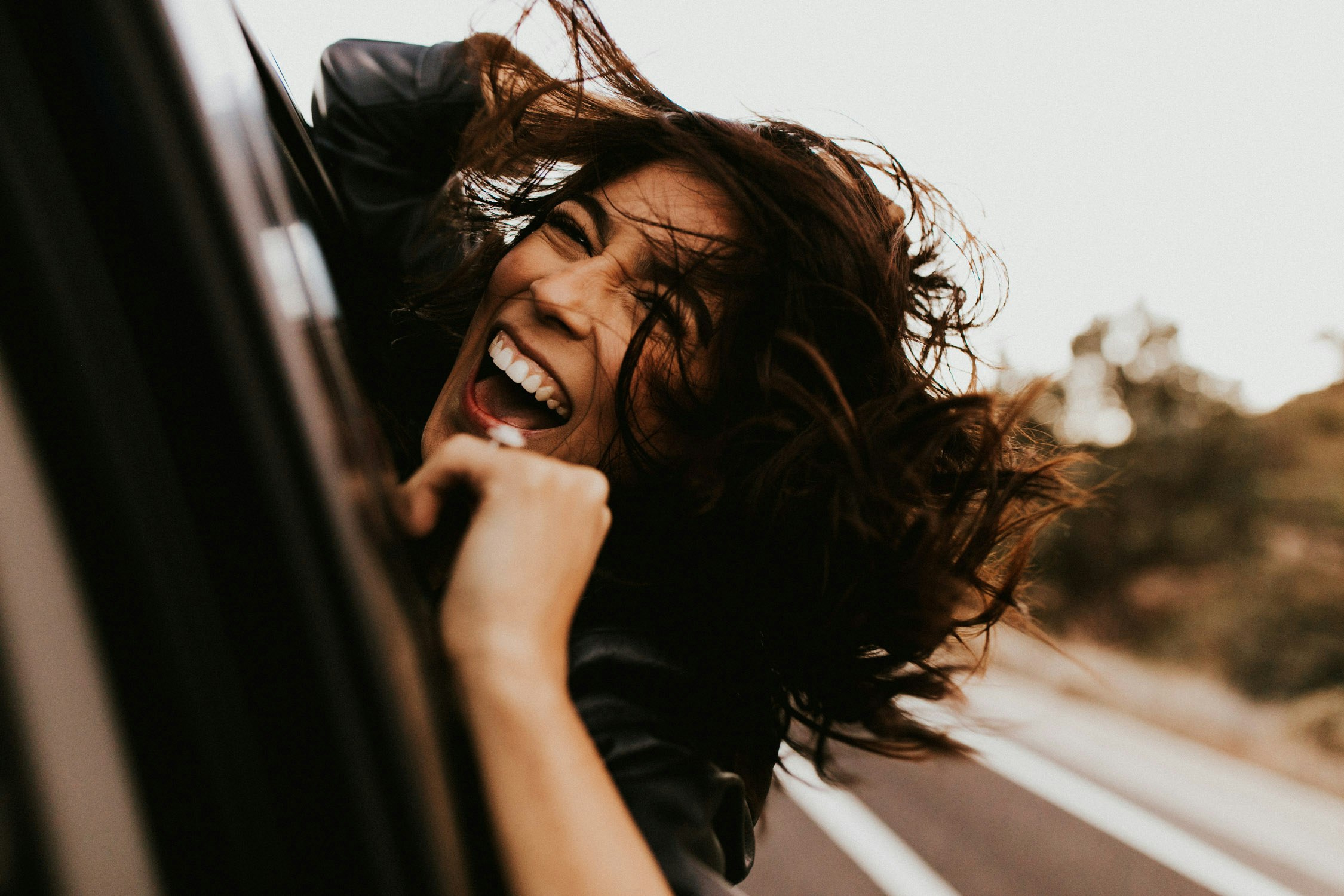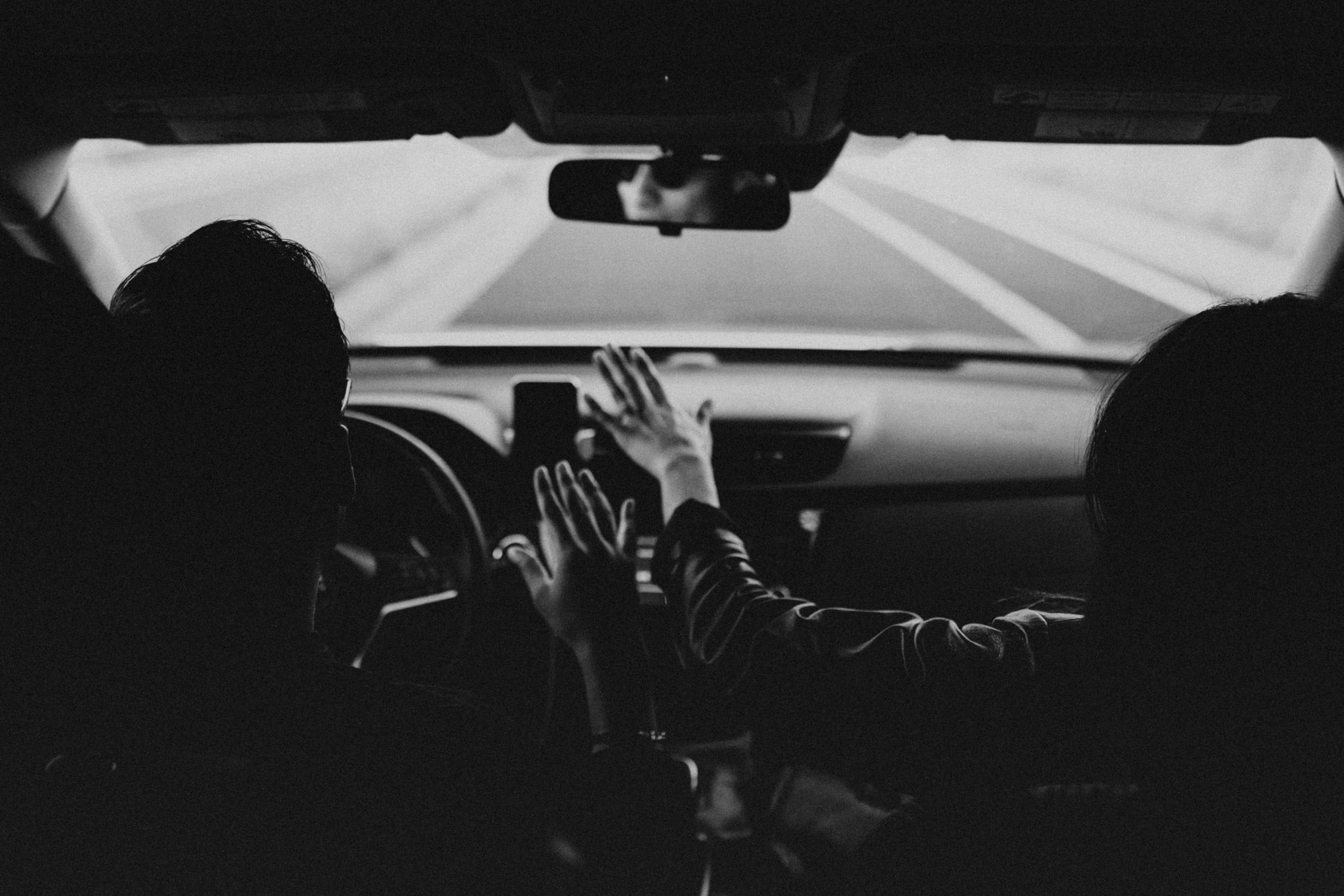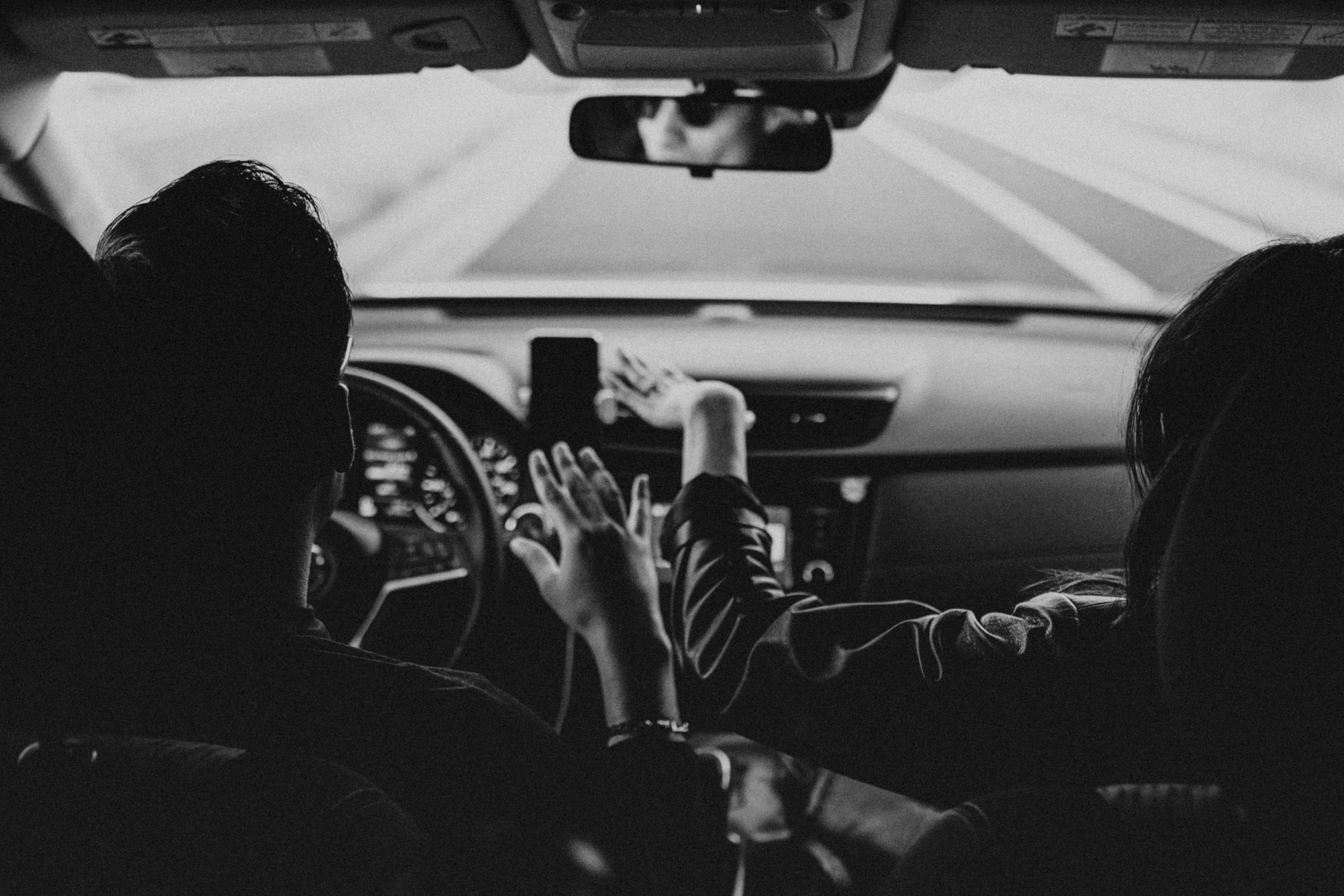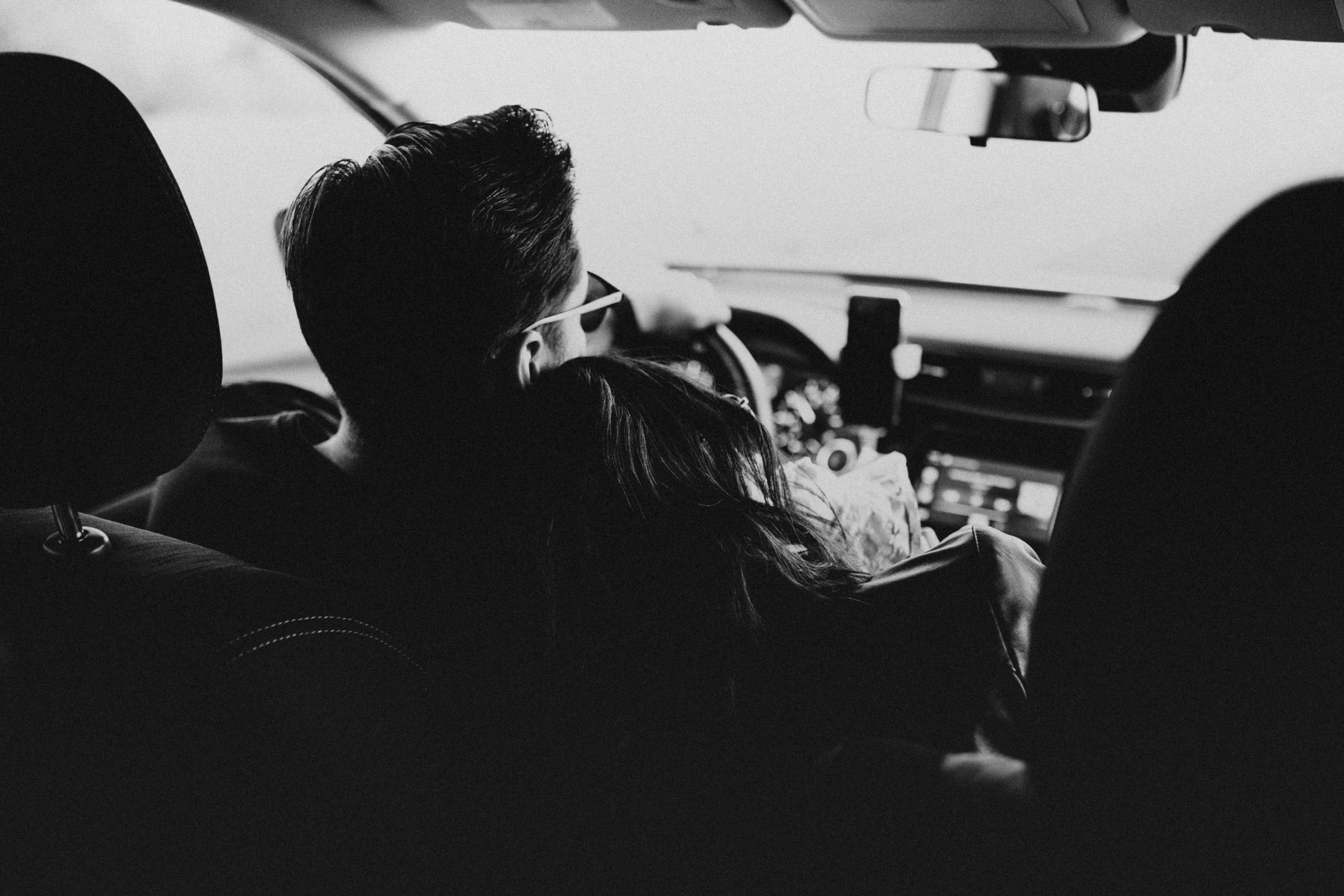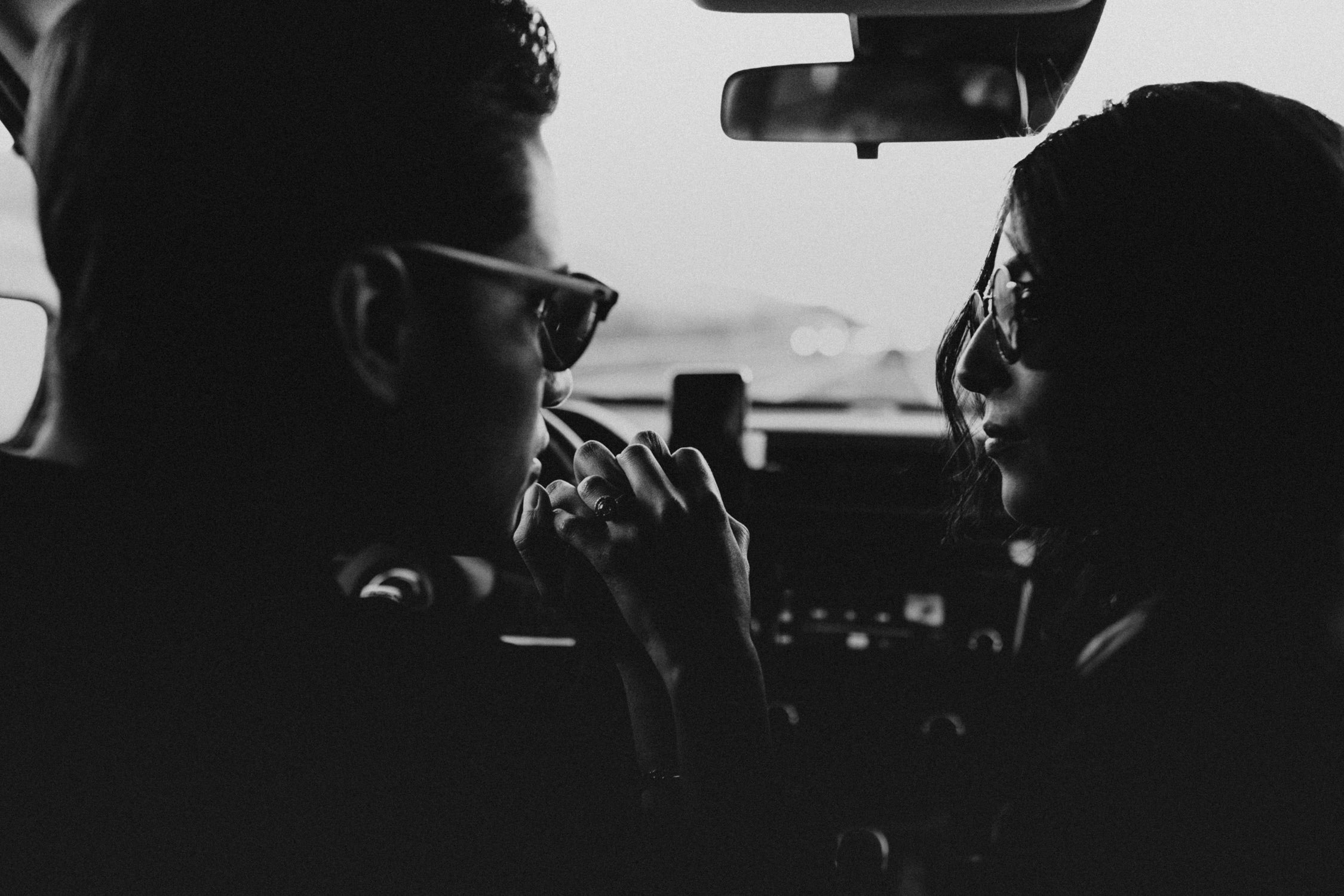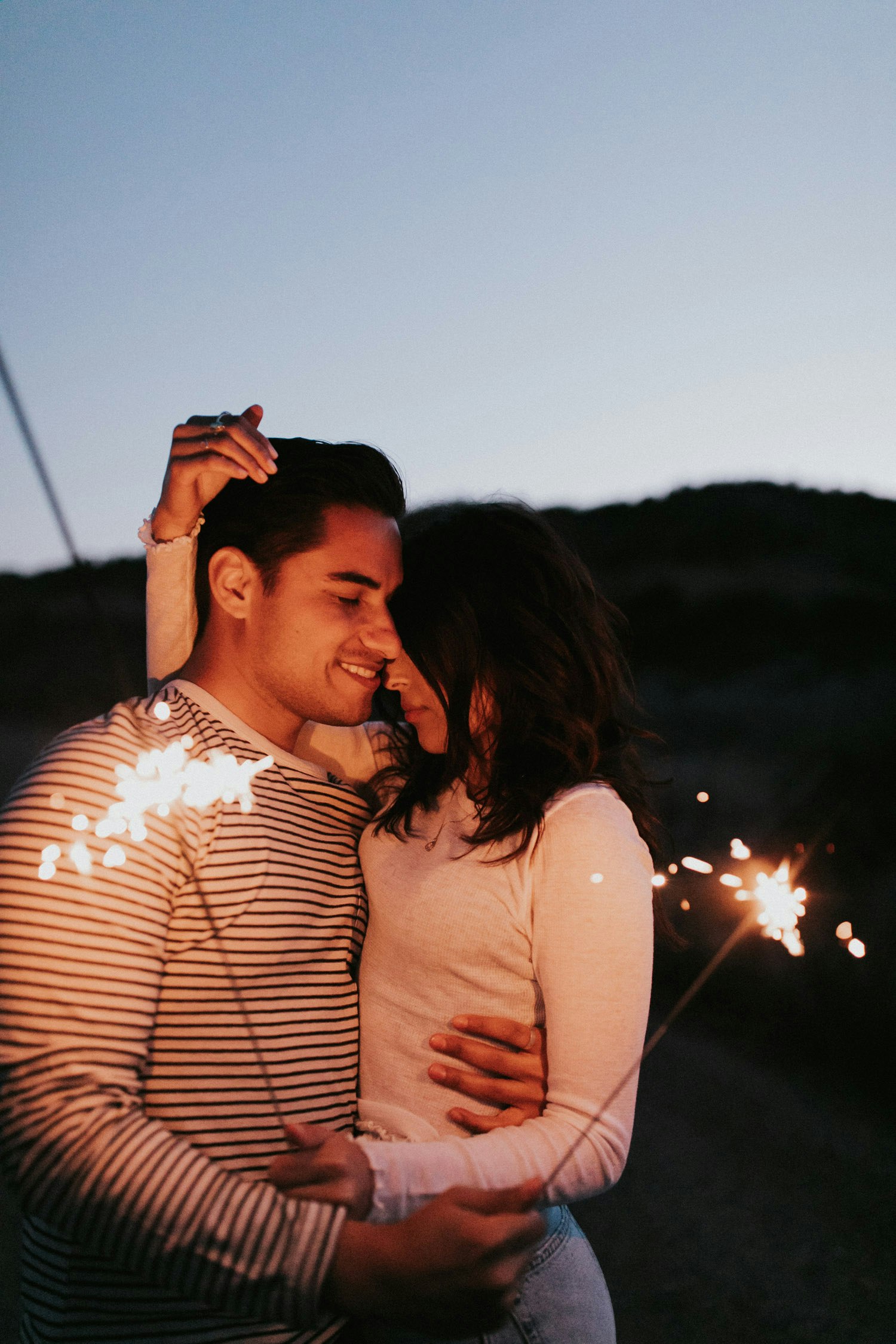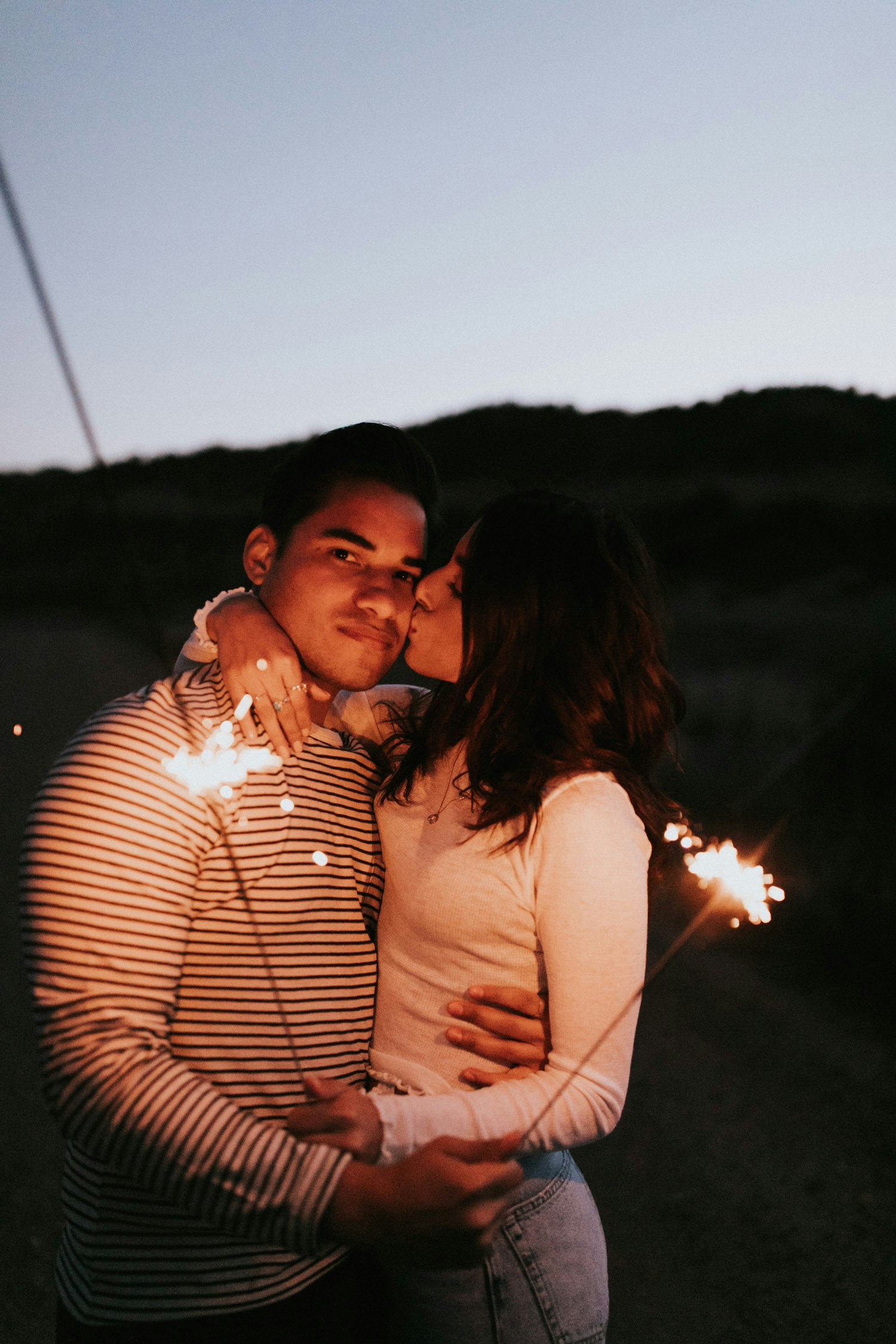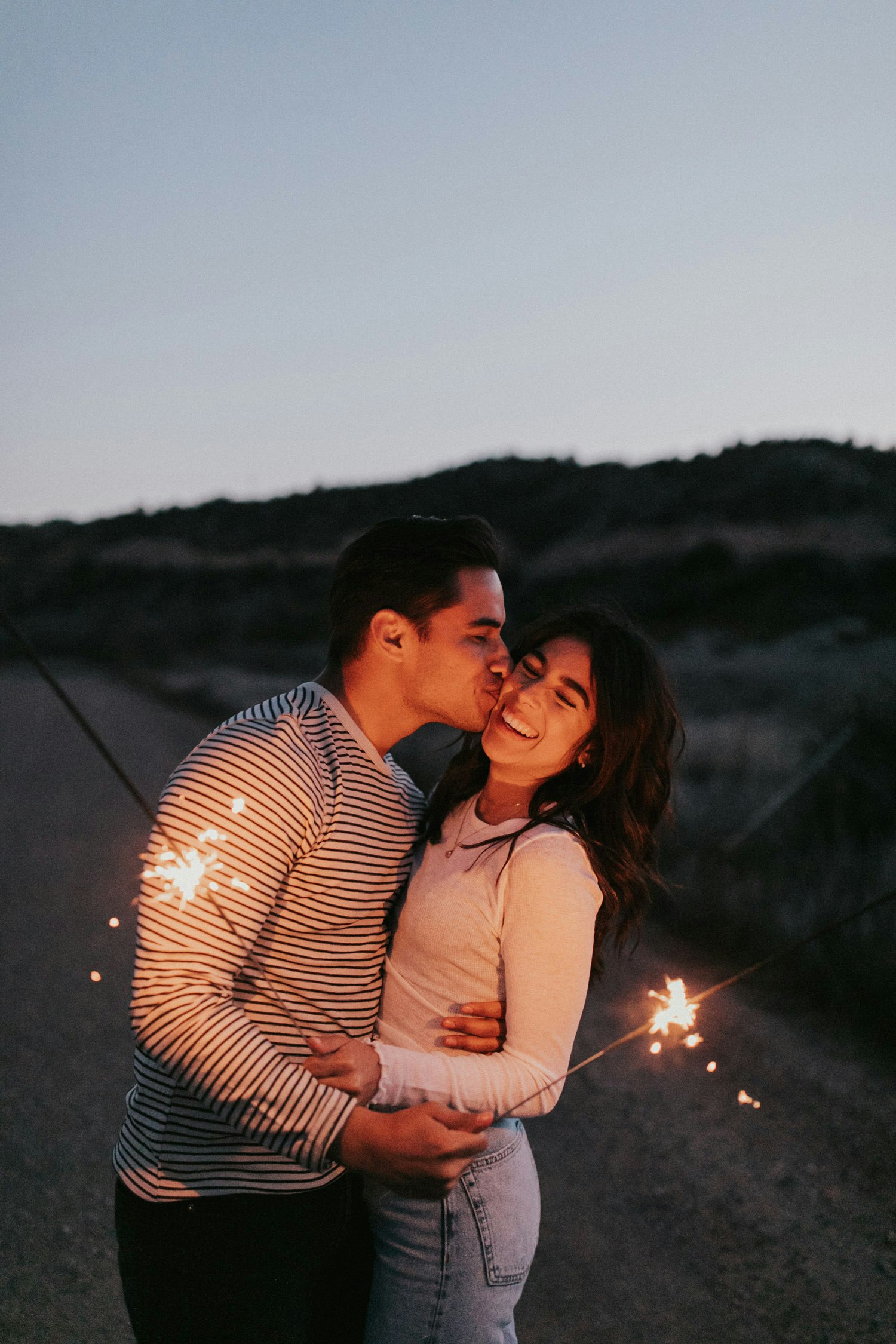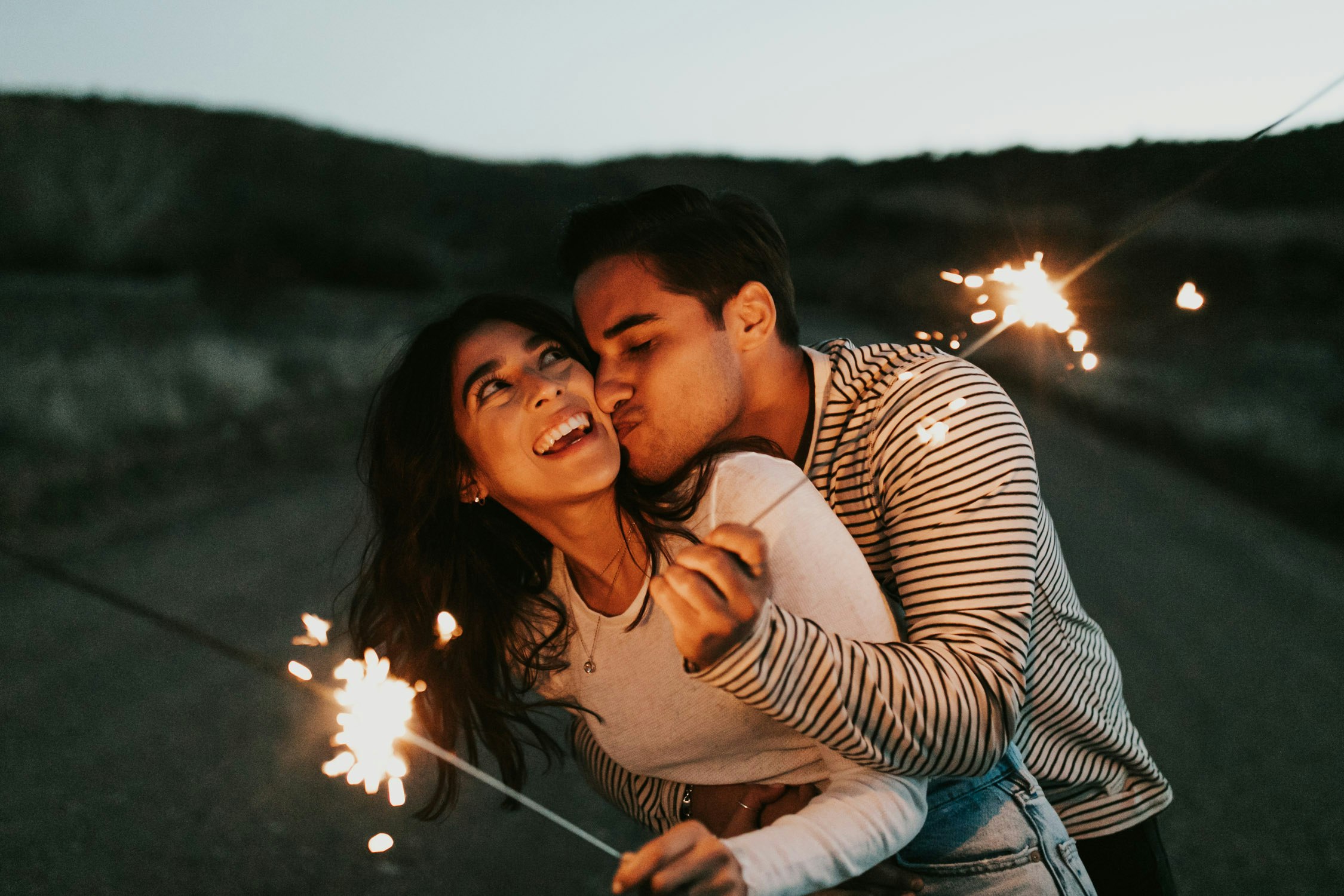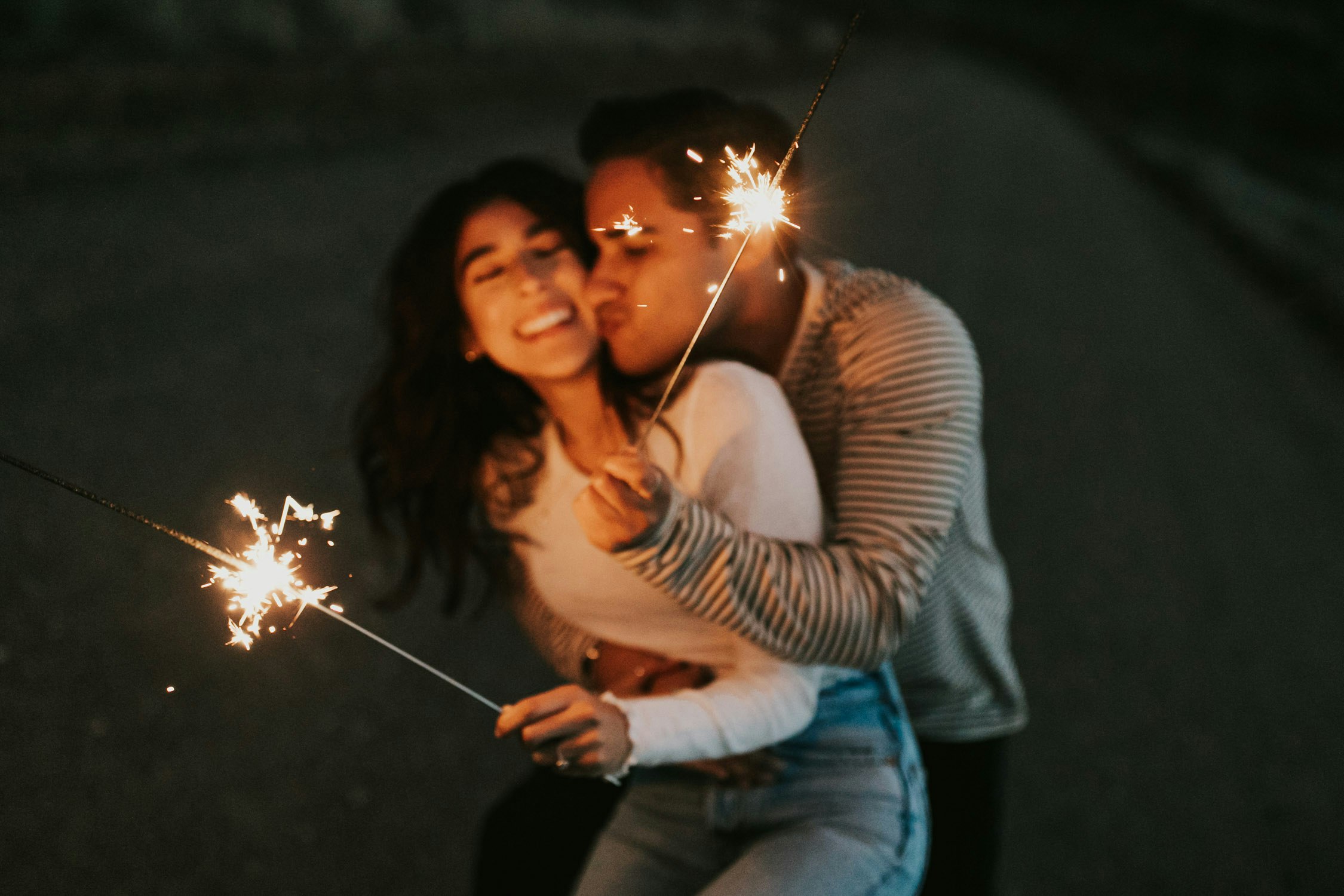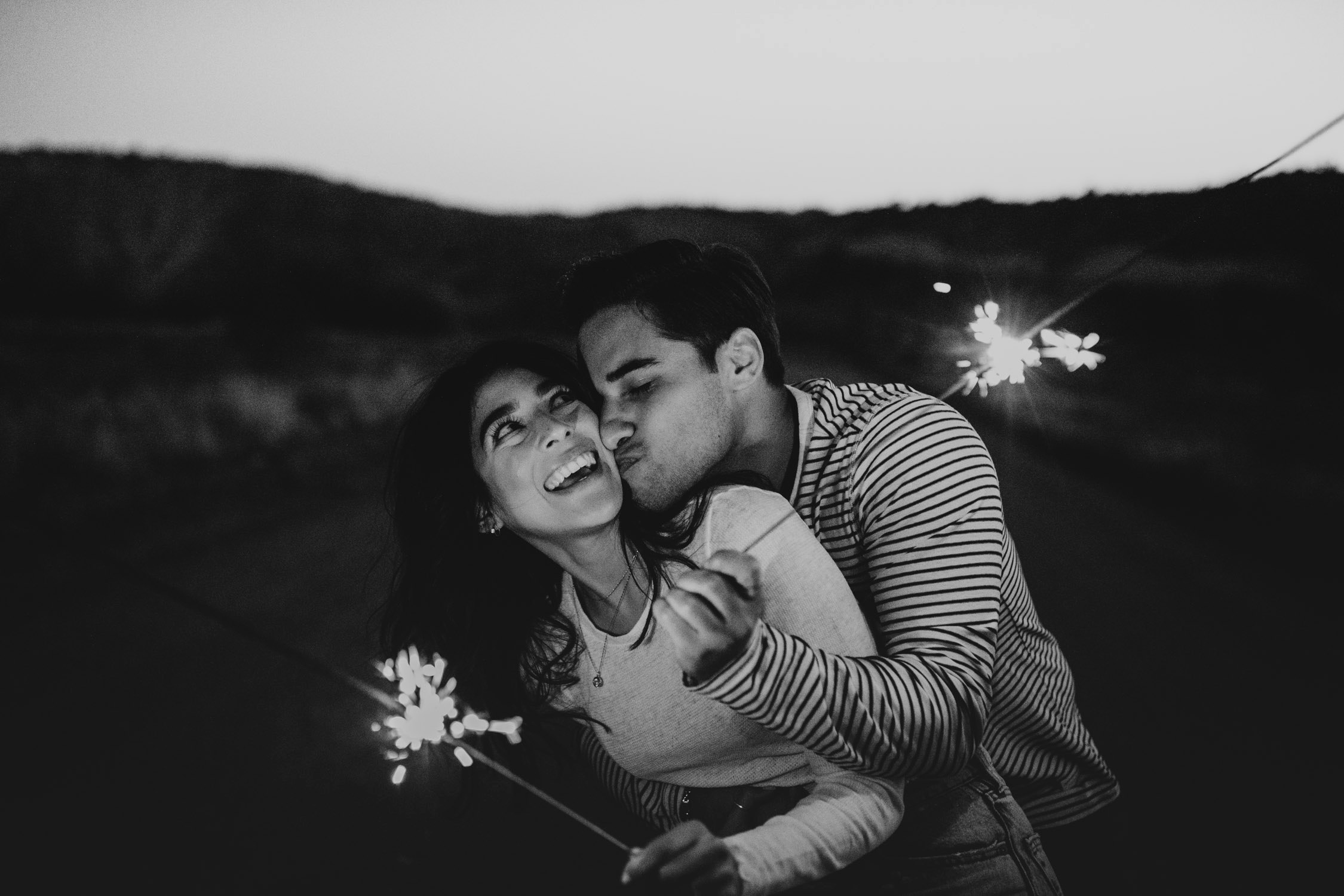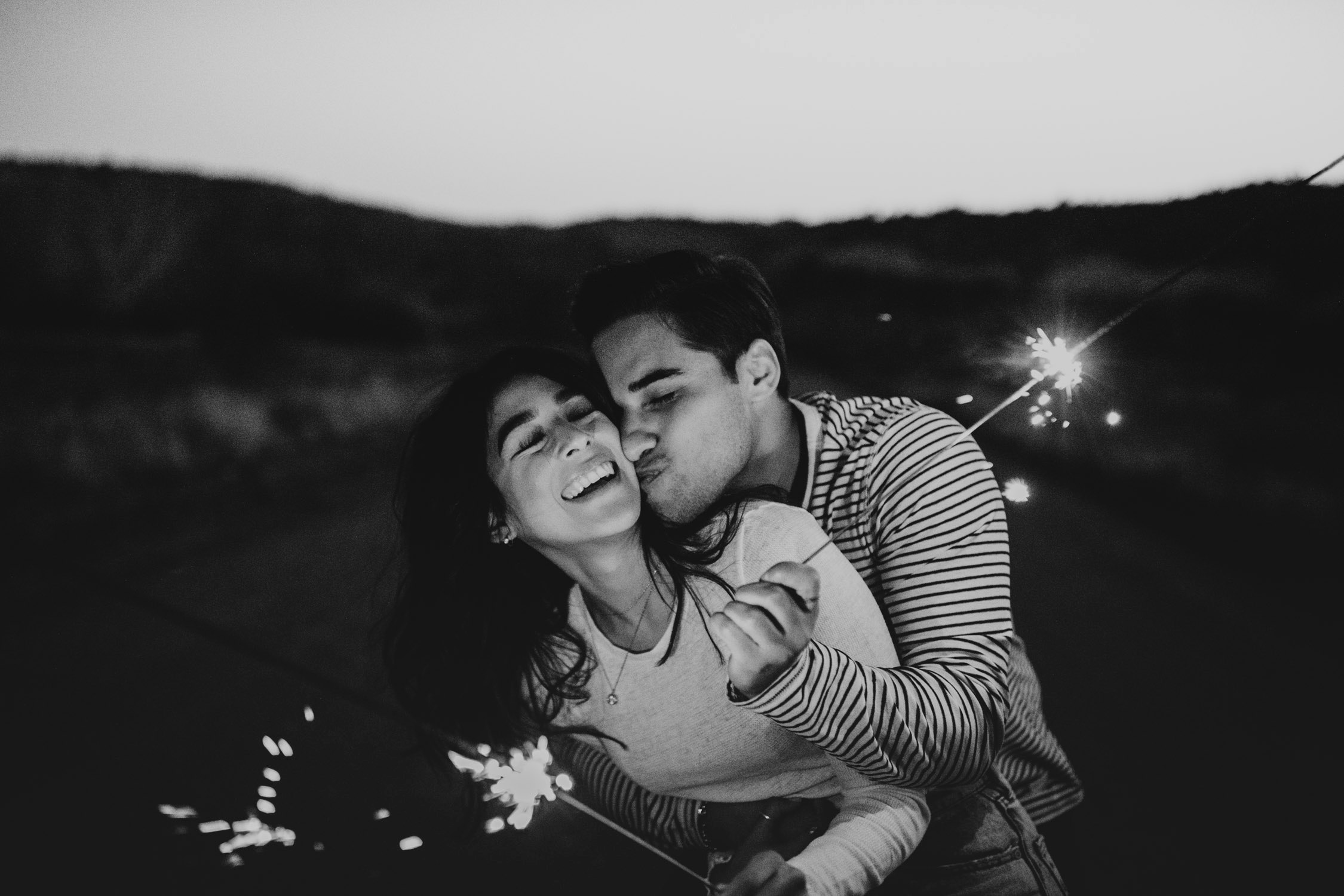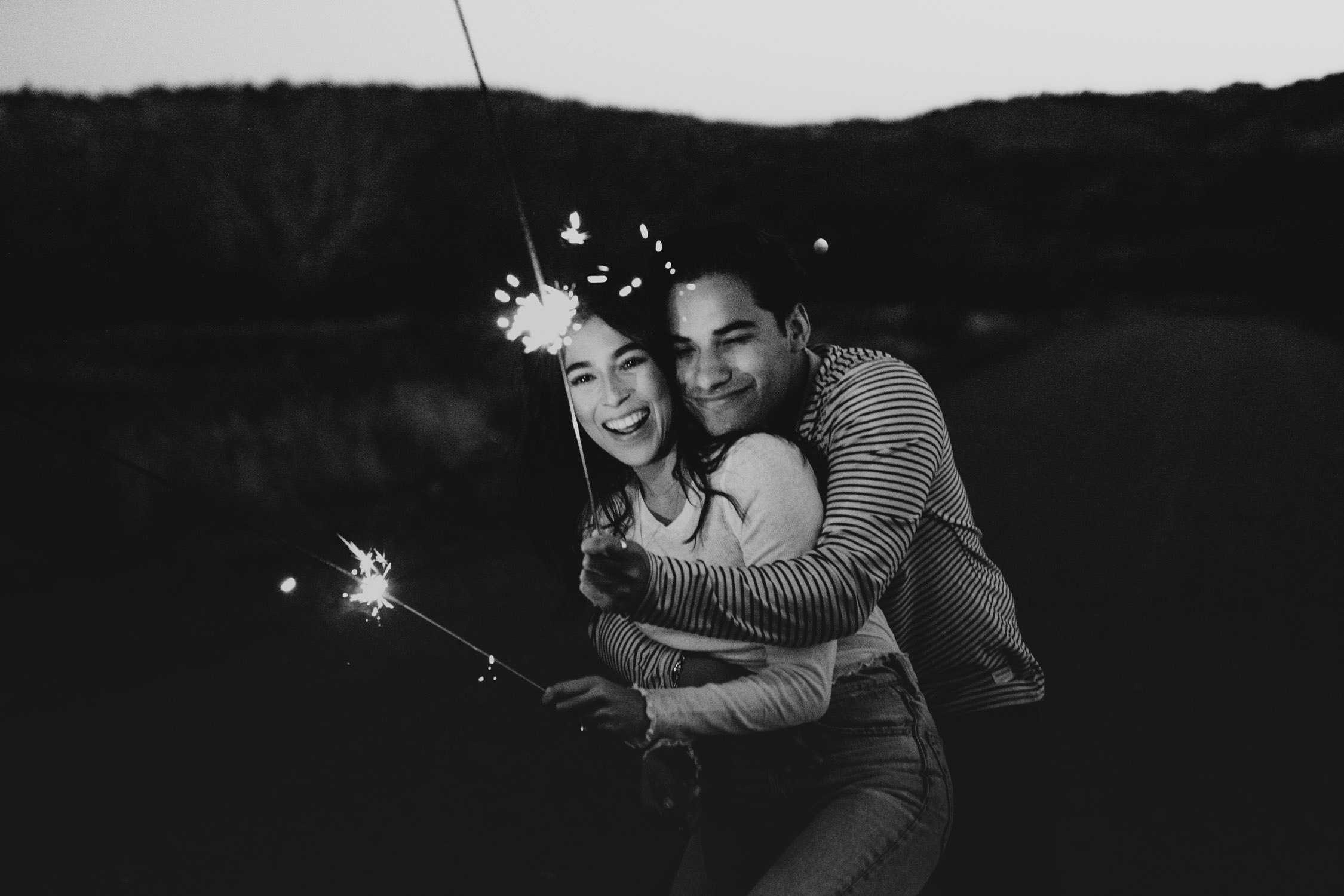 If this blog post gives any indication about how much these moments with my friends (clients) meant to me, then I know I did a good job. I am beyond honored to have been able to be apart of their love story, and capture this adventure! I cannot wait for the next!!
psst. this is your sign... that you need an adventure session with MeggyWeggy, just do it ;)